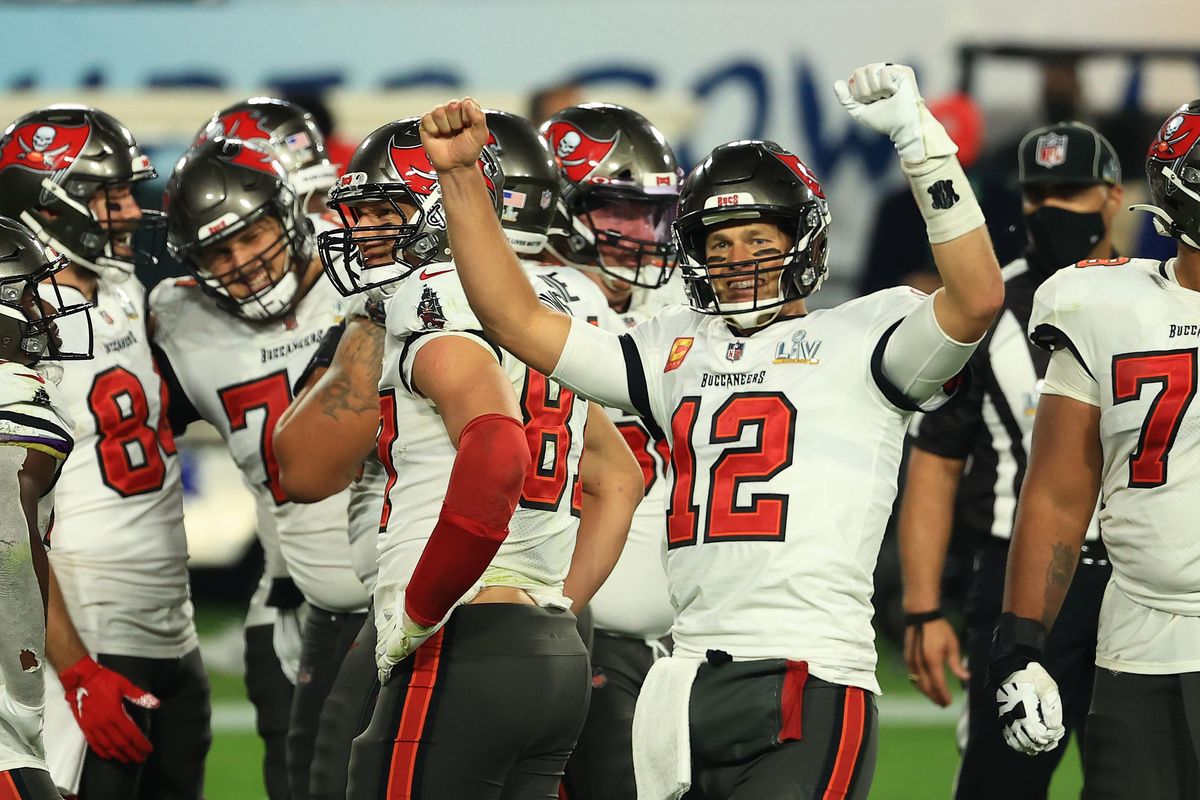 Football is a team sport. Photo by Mike Ehrmann/Getty Images.
The final seconds of Super Bowl LV were still ticking when the coronation began.
Tom Brady is the GOAT, the greatest football player of all time. Don't stop there, Tom Brady is the greatest player in a team sport of all time. Aw, why not just say Tom Brady is the greatest athlete of all time, period?
Wouldn't it be fairer and more accurate to leave it at Tom Brady is the most successful football player of all time? There's no arguing seven Super Bowls and five Super Bowl MVP Awards.
Brady was 21 for 29 with three touchdowns and no interceptions, an excellent game for sure. He also threw a pick that was called back because of a defensive holding call.
Because the "P" in MVP is a singular noun, Brady got the trophy. But really, wasn't it the Tampa Bay defense that won the Super Bowl?
Football is a team sport, so any argument of "the greatest" is subjective with many factors involved that have nothing or little to do with individual skill. Brady won his seventh Super Bowl this year, but the 2021 MVP went to Green Bay quarterback Aaron Rodgers. Three players received votes for MVP this season and Brady wasn't one of them. The others were quarterbacks Patrick Mahomes of the Chiefs and Josh Allen of the Bills.
Often the argument of "The Greatest" comes down to championship rings, and there's no argument that Brady has seven of them. You hear about rings when Michael Jordan vs. LeBron James is debated. MJ has six, while LeBron has "only" four, so that makes Jordan the GOAT, right? Well, Bill Russell of the Boston Celtics dynasty teams has 11 rings. So he's the greatest. But wasn't Russ outplayed individually by Wilt Chamberlain most of the time in their head-to-head battles? You can look it up.
Russell and Chamberlain played in an era when basketball wasn't nearly the dynamic international sport it is today. So let's leave those two statistical and physical giants aside.
Robert Horry played from 1992 to 2007, years overlapping both Jordan and James' careers, so apples to apples. Horry has seven championship rings. So maybe number of titles isn't the best criterion for the greatest of all time.
It's odd that championship rings are front and center in GOAT arguments for basketball and football, but titles rarely are mentioned when debating the greatest baseball player ever. The consensus best player today is Mike Trout. He's played 10 seasons in the big leagues and won three MVP Awards. But his team has made the playoffs only once, back in 2014, and the Angels were swept 3-0 in the first round.
The baseball player with the most World Series titles is Yogi Berra, a great Yankees catcher, Hall of Famer, three MVP Awards. He played on 10 World Series winners. It used to be, if you played on the Yankees, especially during the '30s (5 titles), '40s (4) and '50s (6), you won a lot of jewelry.
It's much easier, and no more accurate, to find the greatest athlete of all time in individual sports. Historically, whoever won the Olympics decathlon was pronounced the greatest athlete in the world. You know how that started? In 1912, the Olympics were held in Stockholm and Jim Thorpe won the decathlon. King Gustav V told Thorpe, "You are the world's greatest athlete." It stuck. That Gustav V could coin a phrase.
I dare American sports fans to name the winner of the 2016 decathlon. It was Ashton Eaton, and he happens to be an American. He also won the decathlon gold medal in 2012.
That's Ashton Eaton, the world's greatest athlete, not Adam Eaton of the Washington Nationals who's probably better known around here for his devastating home run against the Astros in Game 6 of the 2019 World Series.
It's hard to argue against Michael Phelps as the greatest athlete of all time, unless you don't take swimming seriously as a major sport. True, it's hard to find swimming on TV unless it's the Olympics every four years. Phelps has won 23 Olympic gold medals. Nobody's close. The next gold collectors are Russian gymnast Larisa Latynina, Finnish long distance runner Paavo Nurmi, American swimmer Mark Spitz and American track star Carl Lewis. They each have nine gold medals.
How about tennis superstar Serena Williams with 23 Grand Slam singles titles and counting? She looks in terrific form at the Australian Open currently underway in Melbourne. If Serena wins she will tie Margaret Court for the all-time record. But this is America, and tennis ain't football, basketball or baseball.
The real problem with debating who's the greatest athlete of all time is … does being great at one sport mean you're the single most talented athlete all things considered? Tom Brady doesn't look like a basketball player. He's too slow to survive in the NBA. Michael Jordan might be the basketball GOAT, but he batted .202 in his one year of minor league baseball.
If you're looking for multiple excellence on the highest level of professional sports, Bo Jackson is your man. He is the only player to play in an NFL Pro Bowl and a baseball All-Star Game. He could hit a 475-foot home run and climb the center field wall to rob an opponent's homer. In high school, he was the Alabama state decathlon champion. He won a Heisman Trophy while at Auburn.
Deion Sanders played 14 years in the NFL and nine years in Major League Baseball. Nobody but Prime Time has played in a Super Bowl and World Series.
You know, back in the '70s ABC Sports had a gimmick series called Superstars, where pro athletes competed head-to-head against each other in a range of contests that proved absolutely nothing. The events included bowling, bicycle racing (on a 3-speed Columbia bike from Kmart), ping-pong, swimming and hitting a baseball off a batting tee. Joe Frazier almost drowned in the swimming pool – he neglected to tell producers that he couldn't swim. Pete Maravich won the bowling competition with a 168 game.
The Superstars series ran in various forms from 1973 to 1990. Among the winners: soccer player Kyle Rote Jr., decathlete Dave Johnson, football receiver Willie Gault, running back Herschel Walker and defensive back Jason Sehorn. The series proved nothing except you might not want to enter a swimming race if you don't know how to swim.
My pick for the greatest athlete of all time? Or let's make that most talented athlete ever, taking into account speed, strength, eye-hand coordination, making instant decisions and pure guts.
It's whoever plays third base for a big league baseball team. A third baseman has to charge the plate to catch a bunt with one hand while bent over and throw out a speedy runner, grab a screeching line drive backhanded down the line, crash into the stands trying to catch a foul ball, then come to bat and try to hit a 105-mph fastball that could be coming right at his head. And then you have to answer Julia Morales' questions after the game. Those things are hard to do.
Or it's LeBron James.
Nico Collins had the best game of his career, and the Texans' defense came up huge to help Houston hand Denver its first loss since mid-October.
Collins had a career-high 191 yards receiving and a fourth-quarter touchdown, and Jimmie Ward intercepted Denver's Russell Wilson in the end zone with 9 seconds left to left to help the Houston Texans hold on for a 22-17 win over the Broncos on Sunday.
Ward leapt in front of intended receiver Lucas Krull to secure the fourth victory in five games for Houston (7-5) and snap a five-game winning streak for Denver (6-6).
Wilson was intercepted a season-high three times, all of them after halftime. Derek Stingley Jr. had the first two picks for the Texans. The Broncos had forced 15 turnovers in their winning streak but did not have a takeaway Sunday.
Houston rookie C.J. Stroud threw for 274 yards to end a streak of four straight games with at least 300 yards passing. Star rookie receiver Tank Dell injured his ankle in the first half and was carted off the field.
Texans rookie defensive end Will Anderson Jr., the third overall pick in the draft, had the best game of his young career. The former Alabama star had two sacks, four quarterback hits, deflected one of the balls that Stingley intercepted and deflected a punt.
Wilson threw for 186 yards with a touchdown in Denver's first loss since Oct. 12.
Early in the fourth quarter, Wilson's 41-yard pass to Jerry Jeudy got Denver to the 1, and the QB ran for the touchdown on the next play to cut Houston's lead to 22-17.
The Broncos got a stop and were driving on the ensuing possession when Stingley hopped in front of a pass intended for Courtland Sutton to give Houston the ball back.
Stroud was shaken up on a run on the next drive and left the game for two plays while he was examined in the medical tent on the sideline. He returned and was sacked before the Texans punted.
Sutton grabbed a 45-yard touchdown pass from Wilson that cut the lead to 16-10 with about five minutes remaining in the third. It was the 329th career TD pass for Wilson, who moved past Dan Marino for second-most in a player's first 12 seasons.
Stroud was sacked and fumbled on third down on Houston's next possession, but the Texans got the ball back. They punted, but Stingley intercepted Wilson on Denver's first play on a ball that was deflected by Anderson.
The Texans cashed in on the miscue when Collins scored on a 3-yard reception on the second play of the fourth quarter. The 2-point conversion failed to leave Houston up 22-10.
The Texans forced a three-and-out on the first possession of the second half when Anderson sacked Wilson on first down and Jonathan Greenard took him down on third down. Houston pushed the lead to 16-3 on Matt Ammendola's 38-yard field goal.
The Texans led by three in the first quarter when they went for it on fourth-and-2. Houston was called for a false start on the play, but Alex Singleton hit Stroud late to draw an unnecessary roughness penalty and give the Texans a first down at the Broncos 3.
Two plays later, Pierce bulled in for the touchdown to make it 10-0. Dell was injured when he got rolled up at the end of Pierce's run.
INJURIES
Broncos G Quinn Meinerz left in the fourth quarter with a shoulder.
Texans receiver Tank Dell suffered a fractured fibula, per NFL media.
UP NEXT
Broncos: Visit the Los Angeles Rams next Sunday.
Texans: Visit the New York Jets next Sunday.injury.
SportsMap Emails
Are Awesome