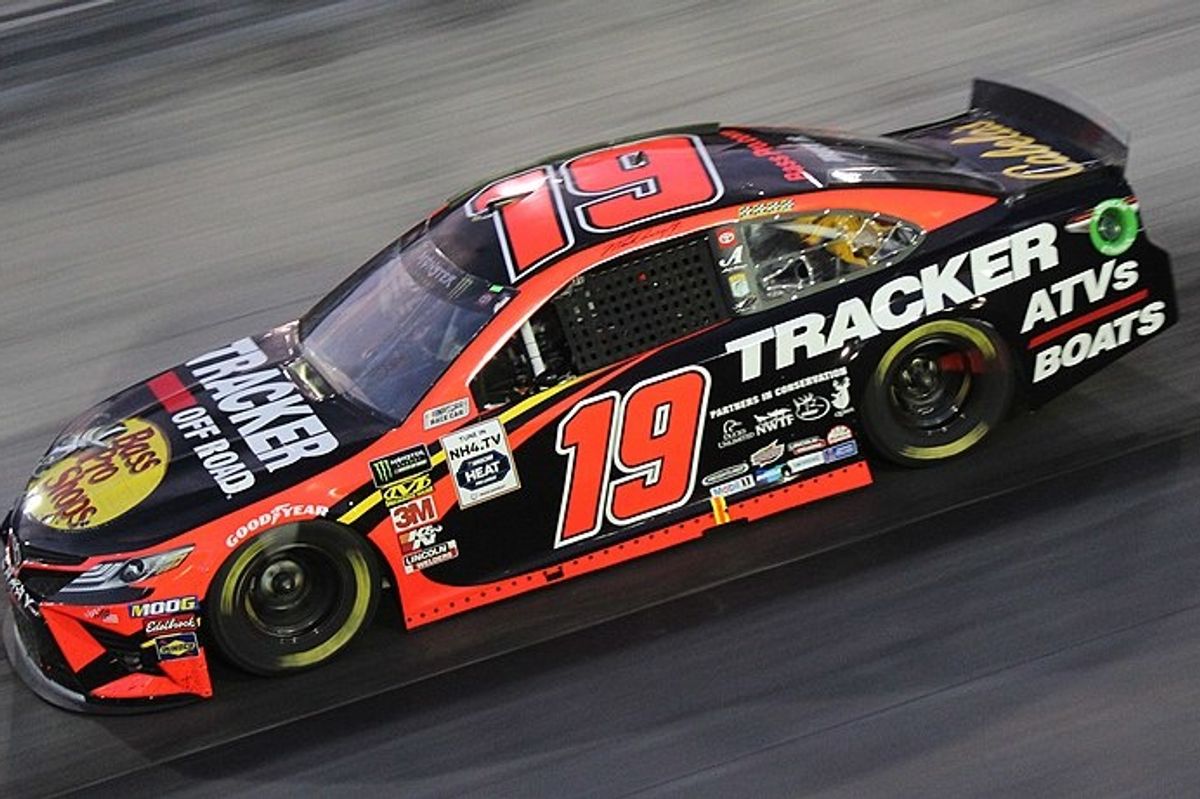 Martin Truex Jr. won his 2nd race of the season last week. Photo via: Wiki Commons.
NASCAR returns to the Commonwealth of Virginia for the Toyota Owners 400 at Richmond Raceway. This is the first of two races here at this track as they will race on Sunday afternoon. This will be different from the normal night race they usually have here as this will definitely affect the racing surface considering how much the sun could make the track slick. It should be a fun race come Sunday.

Last week, Martin Truex Jr. passed Denny Hamlin to capture his second win of the season after rain moved the race to Sunday. He became the first driver to win multiple races after a fierce battle with his teammate Denny Hamlin. The race was filled with tons of wrecks including a fifteen car pileup including Brad Keselowski and Kyle Busch. It was one of the better races of the season as there was lots of beating and banging.
The race was not without controversy but not the kind you would expect. Early in the race Rick Ware Racing teammates Cody Ware and James Davison were involved in an altercation. The two were battling towards the back of the pack when Ware decided to drive through his teammate in turn four. The race got much worse for Cody Ware as he was involved in three more cautions all throughout the race. Many people around the sport were quite perturbed by his antics including broadcaster Mike Joy as he was audibly annoyed after Ware spun out later in the race. Many have questioned if the fifth-year driver should even be in the car and overall I can understand why some of those people think that. In his five years of driving, he has finished on the lead lap one time. I hope that he is able to figure it out and find success in the future, but this was not a good look.
The slump continues for two-time champion Kyle Busch
Throughout the race, Busch was running okay for the most part but towards the closing laps of the race he and Chris Buescher got together triggering a fifteen car pileup. Despite all this, he was able to rebound to a respectable tenth place finish. This has been more than likely the toughest stretch of his career since his championship in 2019. Many would say that the omission of Practice and Qualifying has really affected his performance. Whatever the issue is, this team really needs to find some speed, or he could be in danger of missing the playoffs. I look for this team to bounce back considering how talented he is.
Prediction
The driver that I have winning this week is Kyle Larson. This has been an incredible rebound season for Larson as he currently sits fourth in points. He is also second in laps led only to Denny Hamlin. Richmond has been a great track for him as it fits his driving style perfectly as he can run the outside line and find grip where others can't. This track is also rather sentimental to him considering he won his first pole award here during his rookie season in 2014. While he may not have the results he would want he has always been extremely fast here and even won back in 2017. I look for him to capture his second victory of 2021 come Sunday.
One of the big factors that led to the Texans' loss to the Jaguars on Sunday was the secondary. Multiple flags for pass interference gave Jacksonville more opportunities to pick up first downs and score points.
Can confirm #Texans backup CB Shaq Griffin was cut.

Griffin started 6 games this year when Derek Stingley was out with a hamstring.
— DJ Bien-Aime (@Djbienaime) November 29, 2023
So it's no surprise that DeMeco Ryans is making some changes to his defense this week. According to several reports, Texans corner Shaq Griffin has been cut.
Nickel corner Tavierre Thomas was flagged for PI more than once on Sunday, and was burned badly by Jaguars receiver Calvin Ridley for a touchdown.
DeMeco was asked after the game if he considered replacing Thomas with Desmond King or Shaq Griffin. Ryans didn't give a definitive answer, but it looks like we got one today.
One has to wonder if Desmond Kings' experience playing nickel was the reason for his promotion to the active roster and why Griffin was released. If Thomas continues to struggle, King looks like the next man up to replace him.
#Texans activate Denzel Perryman, promote Desmond King to active roster, release Shaq Griffin, sign Matt Ammendola and Garret Wallow to practice squad, released Gerrid Doaks from practice squad and placed Tytus Howard (knee-patellar tendon surgery pending) on injured reserve https://t.co/knyyoqo7yC
— Aaron Wilson (@AaronWilson_NFL) November 29, 2023
The Texans also made some other adjustments to their roster on Wednesday, per Aaron Wilson. Linebacker Denzel Perryman returns from suspension, kicker Matt Ammendola and linebacker Garret Wallow join the practice squad. They also released Gerrid Doaks from the practice squad.
The other big piece of news involves left guard Tytus Howard. He heads to injured reserve, ending his season after hurting his knee against Jacksonville.
SportsMap Emails
Are Awesome