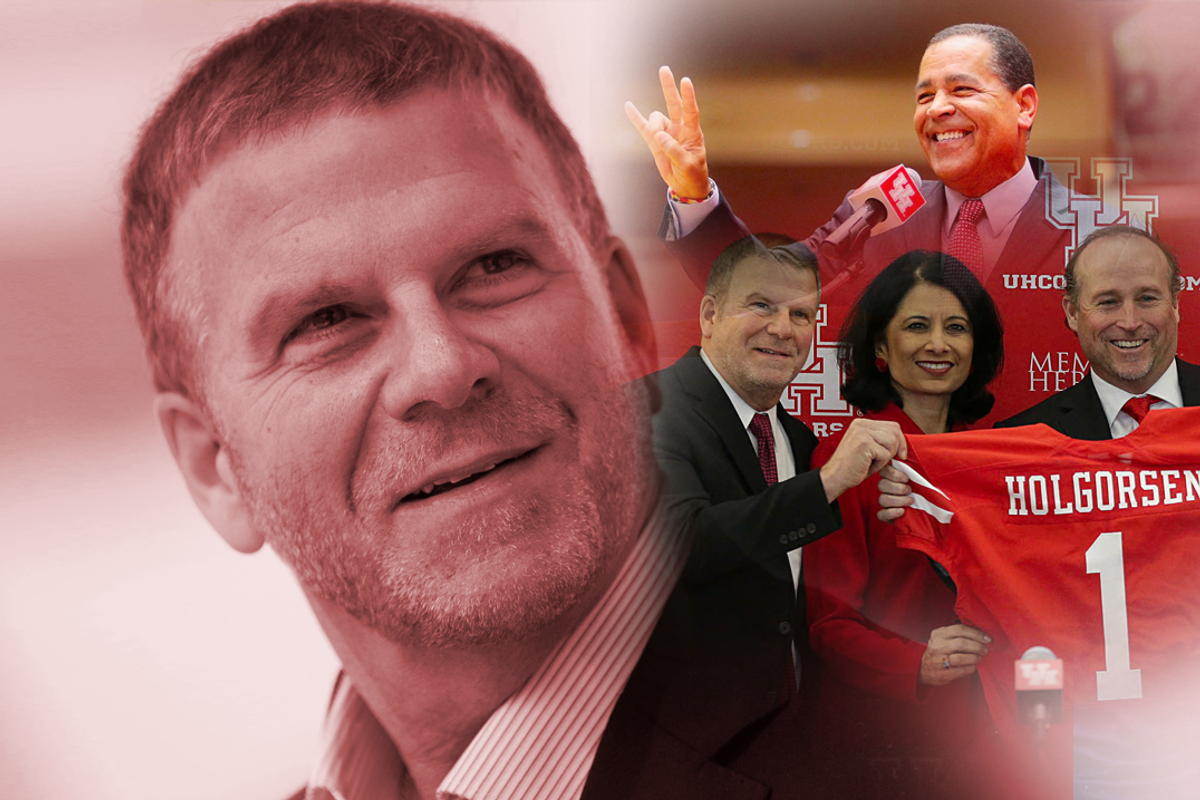 Among Houston sports owners, there appears to be a clear power broker emerging.
Jim Crane brought a World Series to Houston, which will forever endear him to the Houston sports fan. Cal McNair has just recently taken over for his late father as the owner of the Texans, so he has yet to build a profile in the city.
That brings us to Rockets owner Tilman Fertitta. In a very short time, he has made an incredible impact on the Houston sports landscape. The Billion Dollar Buyer's Rockets damned near knocked off the Warriors in his first year as owner. If the team can stay healthy, maybe they make another run this year.
He also holds the keys to a potential NHL team in Houston, controlling Toyota Center.
But Fertitta's real impact has come as chairman of the board of regents at the University of Houston.
Fertitta was instrumental in the school raiding a power five program for head football coach Dana Holgorsen. He was responsible for the shiny new Fertitta Center, perhaps the best sports experience in the city. He is the kind of high profile, high energy personality that was sorely needed at UH. He is good with the media and not afraid to step into the spotlight.
Along with president Renu Khator, Fertitta has brought big ideas and a big vision to the school. And he has put his money where his mouth is by funding the renovation of the basketball arena.
The result? When it comes to the two biggest revenue sports, UH has become one of the most successful Group of Five programs, and is better situated than most of the non high profile Power Five programs.
He has also shown is he not willing to accept mediocrity. When Major Applewhite was hired to coach the football team, it made sense. It was an attempt to continue building on Tom Herman's success. It failed.
Rather than trying to ride it out, he went after Holgorsen, who should be a big winner at UH. Fertitta and company also appear to have made a strong hire in AD Chris Pezman.
Of course, the high profile sport at the moment is Kelvin Sampson's basketball team, ranked in the Top 10 with a 26-1 record, a projected No. 3 seed in the tournament and a dark horse candidate for the Final Four. They have turned the Fertitta Center into the place to be, with stars like Chris Paul and Alvin Kamara sitting courtside.
Not every move has worked out, but the school's bigtime vision has been fun to watch. The Cougars pursued the Big 12, but were rebuffed. Instead of folding up, they spent more money on facilities.
Keep winning, and at some point UH will be valuable to a bigger conference, perhaps the Pac-12, which is lagging behind the other Power Fives. It would bring a major market to help boost a flagging TV Network, as well as a high profile program that will only get better. Or they will simply help build the AAC into something even bigger.
The key is to keep winning and people will notice.
Fertitta gets that. His name recognition alone is helping to raise the profile of the school. But he continues to dream big, and push for more for UH.
Yes, a lot of other people are responsible for what is going on at UH. This is not to diminish their impact. But Fertitta's profile and money have been a driving force. His involvement has made them relevant.
So yes, Fertitta might be the biggest management name in Houston sports right now. Rockets owner. Perhaps soon to be NHL owner. But most importantly, the leadership face of UH athletics.
Oh yes, and Billion Dollar Buyer.
How far will UH go? That remains to be seen. But it would be silly to bet against the school or Fertitta.
As Astros fans patiently wait for the club to make some moves in free agency, the Alex Bregman trade talk is picking up steam across several media outlets.
MLB Network Radio's Jim Duquette (also a former MLB GM) believes the Astros are listening to offers for Bregman because the team isn't planning on signing him to a massive contract extension.
The Astros are right up against the tax threshold, and dealing Bregman would give the team more flexibility to maneuver in free agency. He's set to make around $30 million in 2024.
This is certainly something Houston fans are used to. Owner Jim Crane has made a habit of letting his top tier players walk in free agency. They'll likely offer him a contract, like they did with Carlos Correa. But the Astros aren't usually willing to pay market value, and other teams certainly will.
To be fair to the Astros, signing Bregman to an 8-10 year deal probably isn't the best way to spend their money. So if they don't plan on re-signing him, they have two choices. Keep him for one more year, or trade him.
However, this would be a departure from their standard operating procedure. Trading Bregman before his deal expires would at least provide the team some value for one of their best players.
On the flip side, moving Bregman would absolutely weaken the team, and decrease their odds at winning a championship in 2024.
Let's face it, all good things come to an end. And the Astros have been serious World Series contenders for the last seven years. At some point, they'll have to replenish their weak farm system, and trading Breggy could help with that.
When should they trade him?
If they trade him before the season, they'll get a bigger haul than at the trade deadline. Either way, we shouldn't expect a massive return for Alex. Teams don't like trading top prospects AND having to hand out mega contracts.
Astros GM Dana Brown spoke this offseason about being creative. And doing something like this would certainly qualify.
Who would replace him?
We know the farm system is thin, so it could be as simple as playing Mauricio Dubon at third. Grae Kessinger could fill the utility infield role, and the team has plenty of options in the outfield with Jake Meyers, Chas McCormick, Yordan Alvarez, and Kyle Tucker. Corey Julks could also add some depth.
Is there a chance the Astros would consider moving their Gold Glove shortstop to third base?
Be sure to watch the video above as we cover all the angles on a potential Bregman trade!
If you enjoy the videos, subscribe to SportsMapHouston on YouTube!
Presented by Coors Light.
SportsMap Emails
Are Awesome