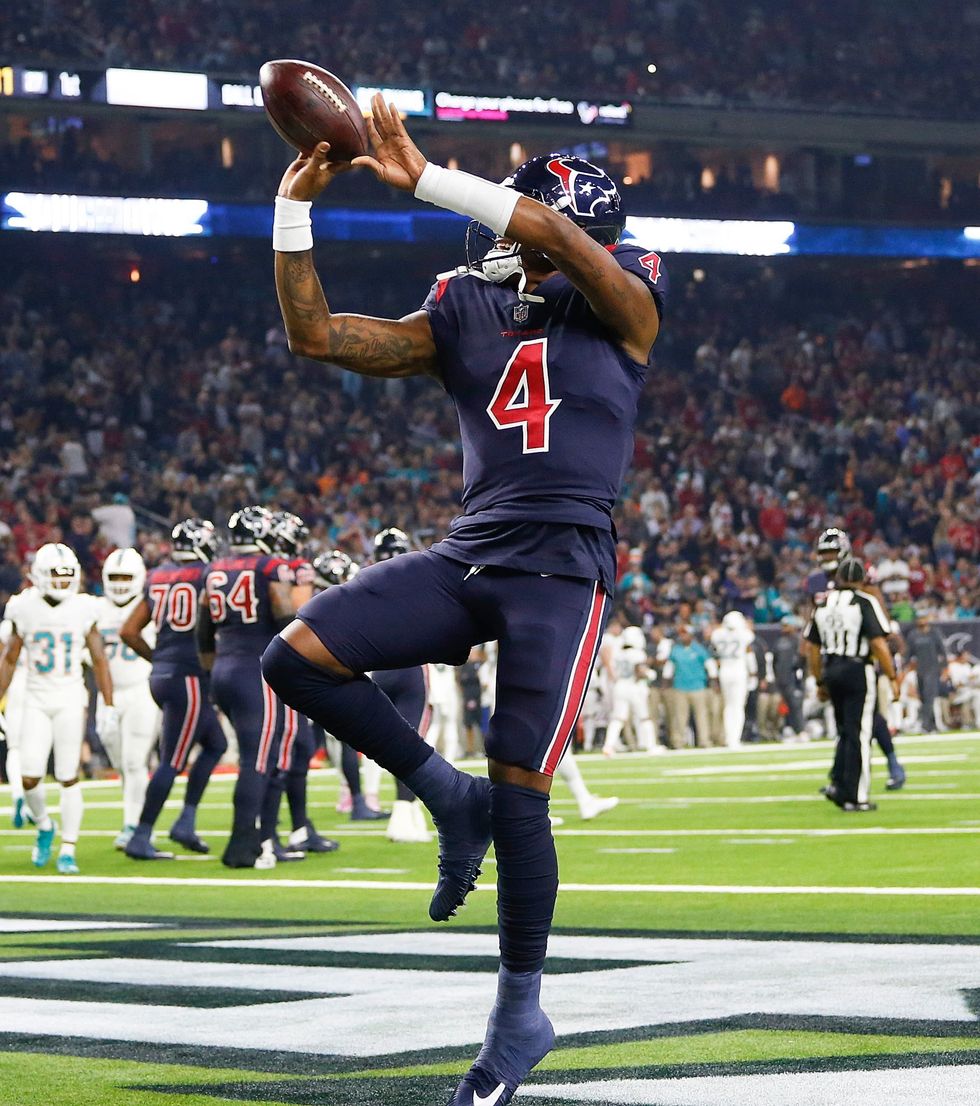 Deshaun Watson was terrific on Thursday. Bob Levey/Getty Images
Deshaun Watson has had mixed results all season. He has dealt with a subpar offensive line, bad play calling and several injuries.
In Thursday night's game, we saw what he can be at his best.
Watson was 16 of 20, threw for 239 yards, 5 TDs and for the second straight game did not turn the ball over as the Texans had their best offensive game of the season in an 42-23 win over Miami.
As a result, the Texans sit at 5-3 after the halfway point of the season. They lead the AFC South and are looking very much like a playoff team. Their last two games have been their best of the season.
Watson was a game manager last week and led the Texans over Jacksonville. Thursday night, he was the playmaker we saw last season.
Watson eluded the pass rush and made big plays. He hit long passes. He was efficient and effective. And if this Watson shows up the rest of the season? The Texans have a chance to be very good.
He threw darts against his body. He hit deep passes. He made smart decisions. In short, he looked like an elite quarterback.
The running game certainly helped, as Lamar Miller had his best game as a Texan with 133 rushing yards. The offensive line kept Watson clean - he was not sacked once.
Watson made the most of it. He was accurate, poised. When he plays like that, the Texans can beat anyone. He looked healthy for the first time in weeks, and the results showed.
Yes, the Dolphins are garbage. The Texans were supposed to beat them handily. But Watson was beyond excellent and looked like the player we all fell in love with last season.
Is he a franchise quarterback? Absolutely. Can he be elite? Maybe.
Thursday night, he certainly was.
The Texans lose a tough one to the Jags on Sunday, and the referees were certainly a factor. Are they to blame for the heartbreaker?

SportsMap Emails
Are Awesome