Tuesday morning update on the situation with potential Barry
Jul 8, 2019, 9:41 pm
Good morning, today is still going to be miserably hot with the heat index pushing towards 108 degrees. Please be careful if you are outside, and please please please check your backseat before you get out of your car if you have kids.
Now on to why you are really here - the potential storm in the Gulf.
Where is Potential Barry Going: As expected the forecast has waffled back and forth over the past couple of days, and the reality is that it will continue to do so until there is actually an organized storm. Part of the issue with a track for Potential Barry is that it is dependent on where the storm actually forms. If the area of low pressure currently over southern Georgia organizes quickly and relatively close to land once it enters the Gulf it has a better chance of staying well east of our area. However, if it dives a little further south more towards the central Gulf before it really gets spinning then it has a higher likelihood of heading further west, in this general direction. Additionally, a lot also depends on a number of factors in the upper atmosphere that will affect steering for Potential Barry. Right now there are 3 features that could affect where this storm goes and if one of them does not behave as forecasted then the track for the storm will change.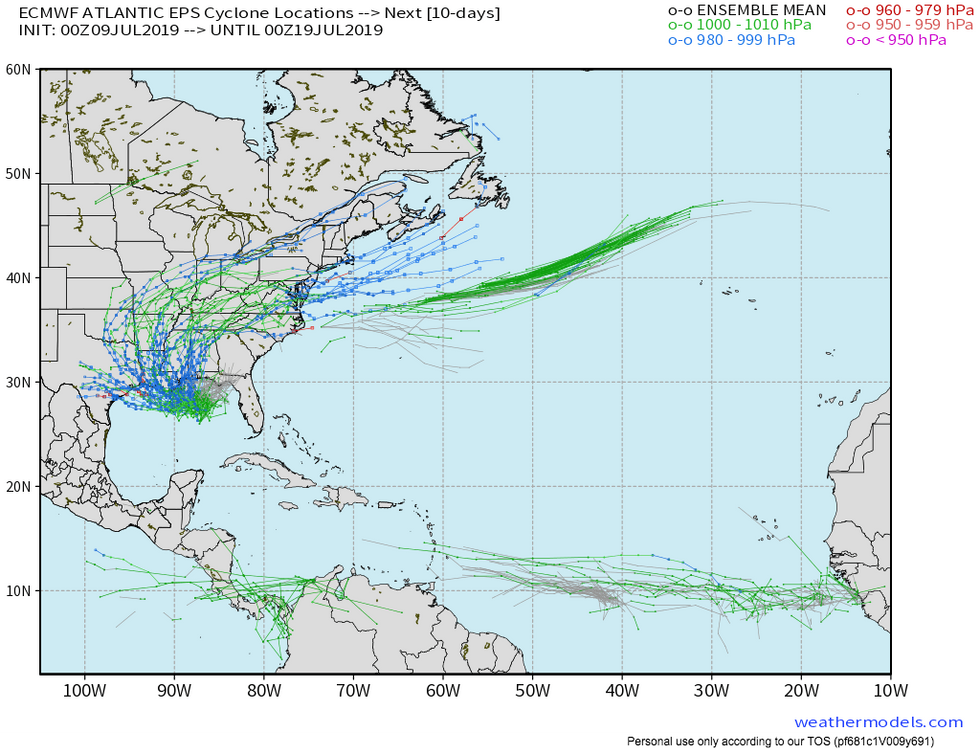 Spaghetti plot showing one model's array of potential solution on where Potential Barry may go. As you can see our area is within the range of possibilities but is far from a defined target.Weathermodels.com
Basically it is important to keep in mind that a lot of things have to break just right for us to take a direct hit from this storm. Is it within the realm of possibility? Yes. Is it more likely than not at this point though? No. I know everyone wants concrete answers but unfortunately we are still in wait and see mode with this storm, which by the way has not even formed yet.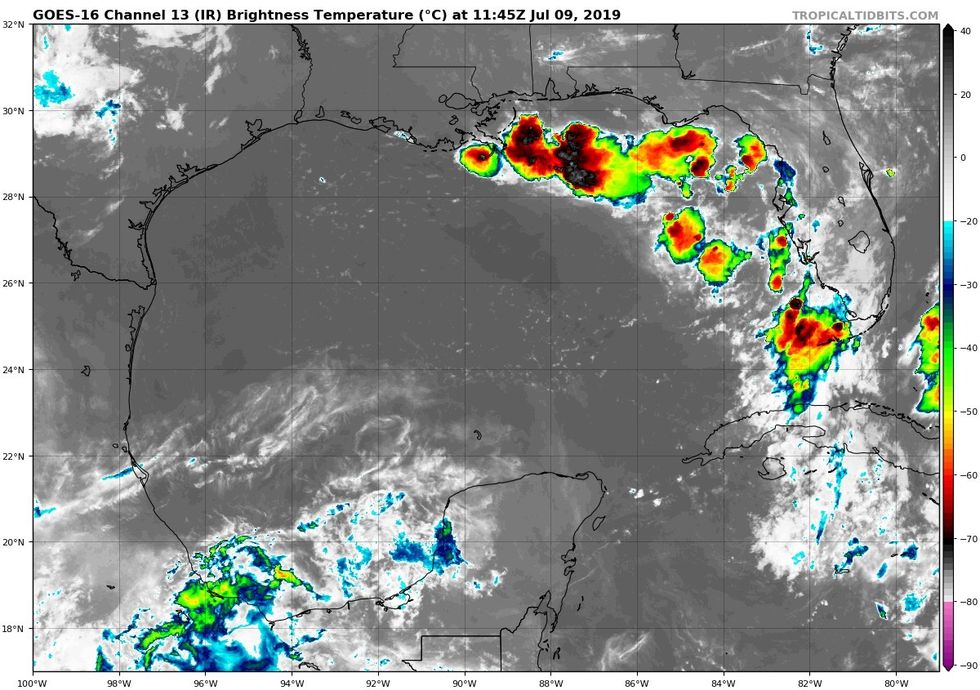 Satellite Image of Gulf Of Mexico this morning. Beginning to see some storms in the north east Gulf, but not much to see here yet.TropicalTidbits
How Strong Will Potential Barry Get: Unfortunately this is also difficult to determine right now. What we do know is that conditions over the Gulf are favorable for Potential Barry to organize and intensify. However much of its intensity will depend on its track and how long it has over the water. Right now I would say the possibilities range from raggedy tropical storm to a low end hurricane.
What Will Impacts Be: Lets say Potential Barry does move in our direction. We wouldn't see adverse impacts until this weekend with the main impact likely being heavy rain. No, this storm is not forecast to stall like Harvey, but these tropical systems are very efficient rain makers. Wind would likely only be an issue for direct coastal areas. Finally, all indications right now are that Potential Barry will be a pretty compact storm, meaning impacts will be feast or famine depending how close we are to the center. Even if the storm makes landfall near Beaumont the Houston area may see very little impact. If we are indeed on the west side of the storm the main impact for us would be even more heat.
In sum this remains a very fluid situation that can and will change over the next couple of days. Unfortunately the computer models will continue their windshield wiper like swings until a defined storm has formed, which will likely be sometime tomorrow or Thursday. The best thing you can do is make sure you have supplies ready. You may not need them for this storm but it doesnt hurt to have them since hurricane season is really only just beginning.
You can find me on Twitter @stephenuzick