Wednesday morning update on soon-to-be Barry
Jul 10, 2019, 8:20 am
Here we are another day into "Barry Watch" and unfortunately there is still a lot of uncertainty surrounding this storm. With that said here are the things I am very sure about:
1. While this storm has not technically reached tropical storm status and been given a name, it will within the next 24 hours or so. This is about as certain as the Texans whiffing on their late round draft picks.
2. Someone along the Gulf coast is going to be dealing with a tropical storm or hurricane this weekend.
This is where the certainty ends. So with that said here is where things are standing:
Happening Now: The disturbance that will become Barry has drifted out into the Gulf west of Tampa and is firing off numerous thunderstorms, however it is not organized yet.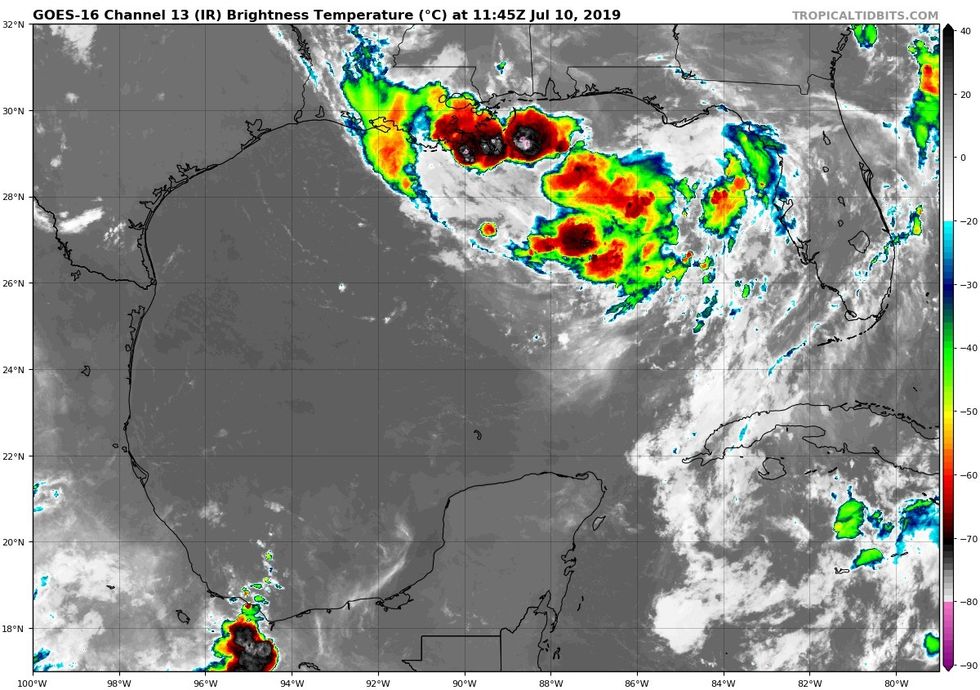 Satellite image showing thunderstorm activity in northeast Gulf. This is the embryo of Barry if you will.TropicalTidbits
How this blob of storms evolves and where it consolidates a center of circulation will be very important in figuring out where it is going.
Track: Again, there is still a lot of uncertainty with where Barry will go. Anywhere from the Mississippi/Louisiana border to Madagorda Bay is in play. There are a number of factors that are going to have an effect on an eventual track and getting them all figured out has been a challenge for the computer models thus far. Yesterday a consensus seemed to be forming that the central Louisiana coast was going to be the favored spot for landfall, however last night a number of models shifted further west (towards Texas) yet again. Unfortunately until this disturbance develops a defined center the models are going to continue to have more waffles and an IHOP.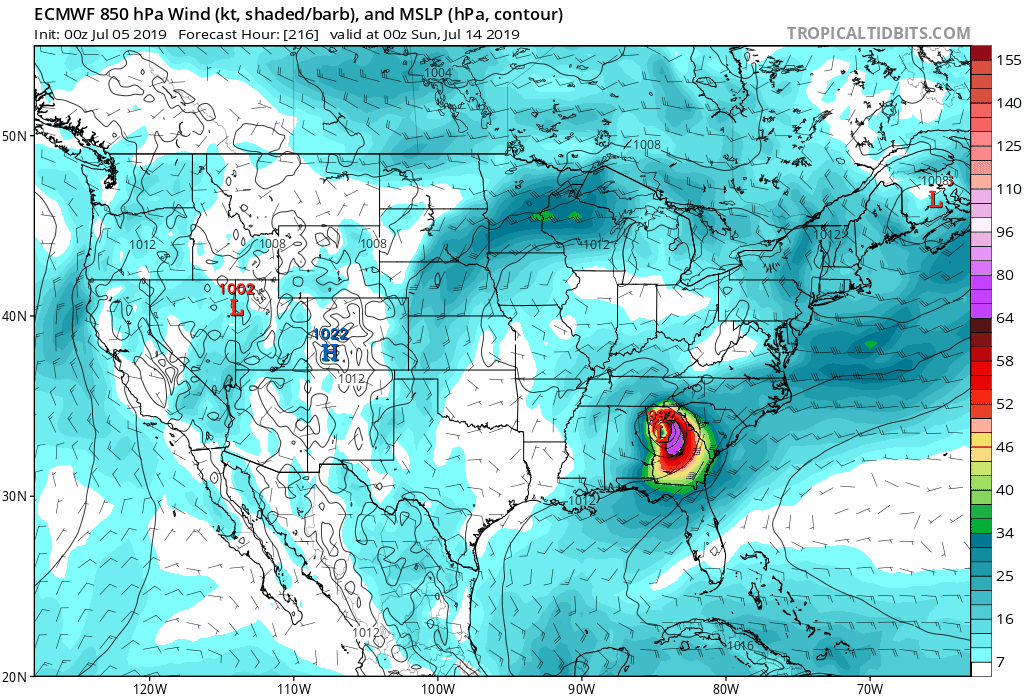 GIF showing where the European Model projected Barry to be on Saturday evening over the last few model runs. As you can see it has continued to shift around quite a bit leading to uncertainty.TropicalTidbits
Speaking of that center of circulation, where it develops will have a big impact on the track. As I mentioned yesterday, if the center develops closer to the Florida Panhandle the storm will likely stay further away from us. If it develops further south and west out into the Gulf we are more in play. Another factor in Barry's path is how strong it gets. A stronger storm is going to feel different steering flows than a weaker storm. A stronger Barry will likely push further west, and more in our general direction, while a weaker Barry will get pulled north into Louisiana the coast a bit more quickly.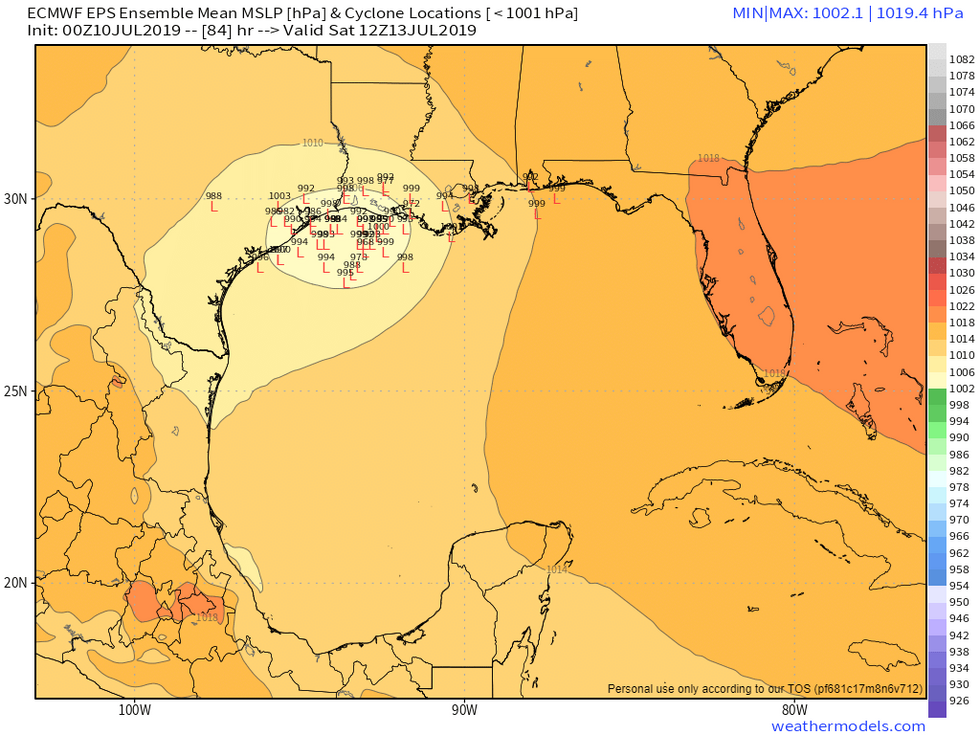 Spread in possible locations of where Barry might be Saturday morning according to this morning's European model run. All of those little "L"s represent a possible location of the center. Again this is just one model run, but I am using it to show that there is still a spread.Weathermodels.com
Strength: Similarly to the path question there is a lot of uncertainty on how strong Barry could get. Over the past day or so models have consistently trended stronger. Conditions are very favorable over the Gulf for this storm to strengthen. Right now I think realistic expectations should be anywhere from a mid level tropical storm to a Category 1 hurricane. As I mentioned above, how strong Barry gets will also play a role in where it goes. So this is something that will need to be watched closely.
Impact: Wherever Barry goes it will bring copious amounts of rain. Right now it appears that Barry will not be strong enough to bring significant wind impacts much further inland from the immediate coast. Also it is important to keep in mind that the worst of the rain and wind will be confined largely to the right (east) side of the storm. For our area this means that we would have to take a direct strike or have it make landfall south of Galveston to see the worst of it. While we are not out of the woods yet in terms of a direct strike, landfall south of Galveston is on the far edge of the periphery of possible outcomes right now.
What To Do: We are close enough to a landfall time where it doesn't hurt to make sure you have hurricane supplies stocked up. We may not need them for this storm but we have a long way yet to go in hurricane season. If we don't get a storm this year then you just end up with some extra water or extra batteries (because lord knows you always need extra batteries for the remote). Preparedness with this storm is important because if the situation does change we will not have a ton of lead time. If Barry misses its exit to the Louisiana coast Texas is the next stop for what could be a strengthening storm. While that is not a for sure outcome its better to just be prepared just in case. Finally, if you do not already, please go ahead and give @nwshouston (Houston National Weather Service Office) and @NHC_Atlantic (The National Hurricane Center) a follow on Twitter. They will be putting out important information over the next several days.
I will be back tomorrow with hopefully some more answers. In the meantime though you can always find me on Twitter @stephenuzick if you have any questions.