Barry sets its course
Jul 11, 2019, 9:46 am
National Hurricane Center
Future Barry finally began to mature a bit last night while still a bit disorganized it looks better than it did yesterday.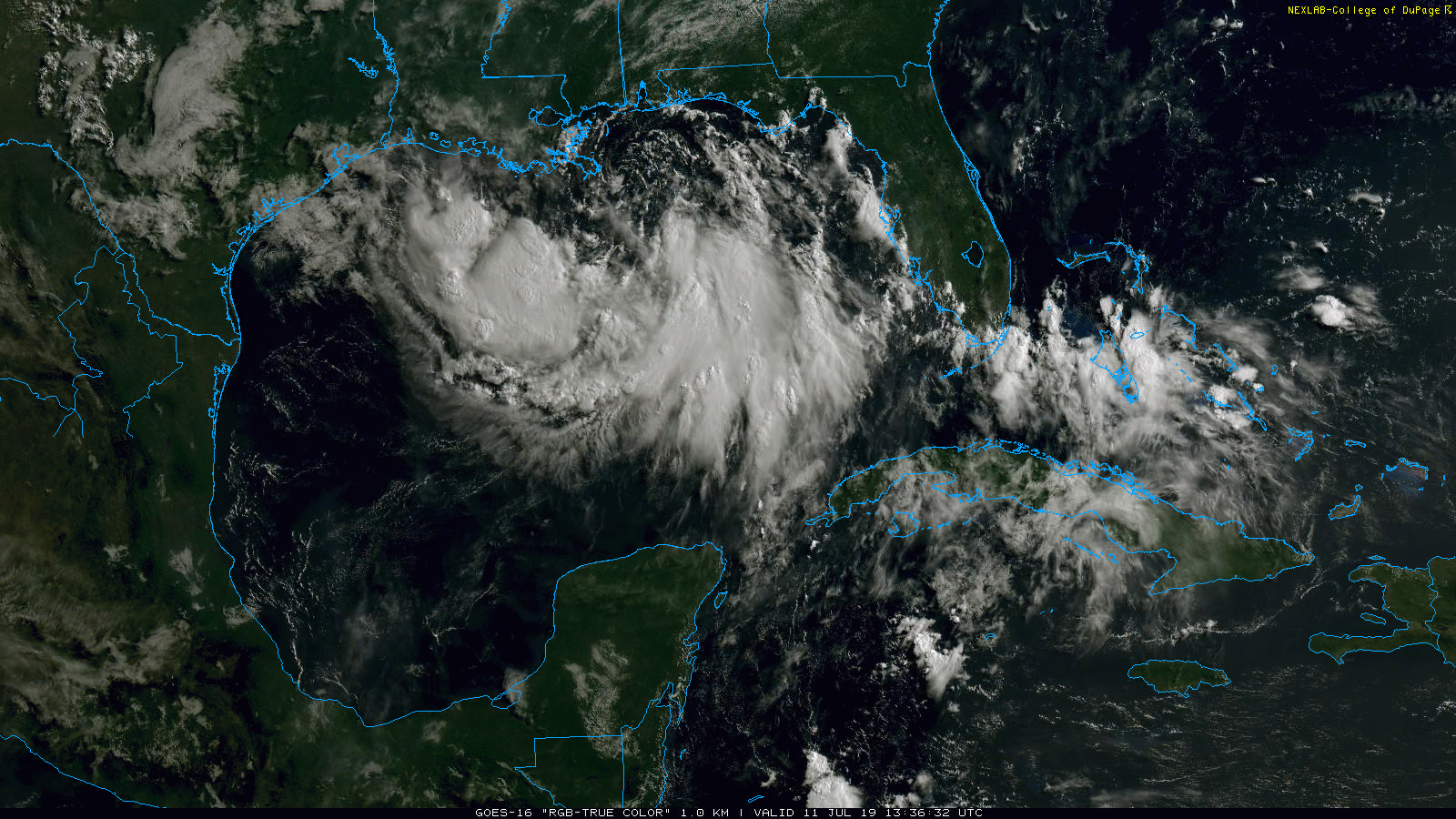 College of DuPage
This morning the storm has (finally) officially be upgraded to Tropical Depression Two. This upgrade means the National Hurricane Center has found a closed circulation around which the storm is building. Once sustained winds in this center reach 39 MPH it will be upgraded to Tropical Storm Barry. This will probably happen at some point today.
Track: Models have continued to come into much better agreement that Louisiana's central coast will be Barry's destination. The National Hurricane Center has removed all of the Texas coastline from the "cone of uncertainty" meaning barring some totally drastic and crazy surprise we are mostly in the clear. I don't want to say that our chance of significant impact from Barry is 0% until the storm is actually north of our latitude, but I feel comfortable saying that our chance is less than 5%.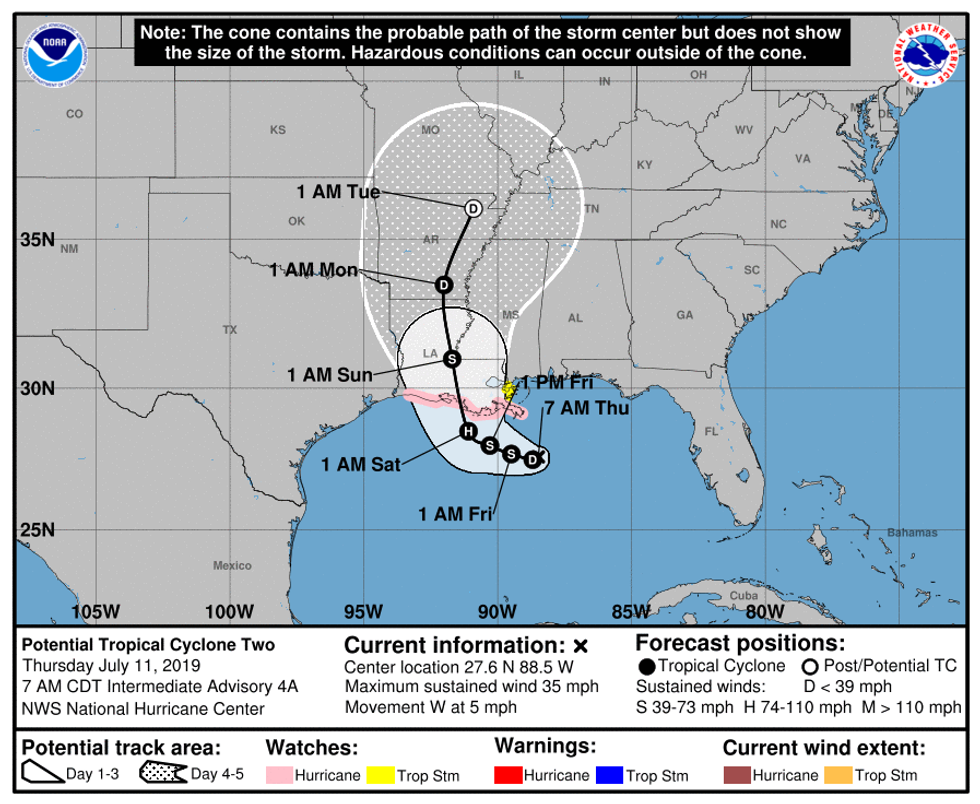 National Hurricane Center forecast track for what will become BarryNational Hurricane Center
Strength: The National Hurricane Center is still calling for the storm to make landfall as a category 1 hurricane with winds of about 75 MPH. This is a bit of a downgrade from what the potential strength looked like yesterday as the storm is going to run out of ocean real estate rather quickly. However, the winds will not be the main story of this storm, it will be the rain for Louisiana.
Impact: Locally impacts will be minor if not non-existent. Today it looks like some moisture rich air may be swung in here leading to a chance for some pop-up afternoon thunderstorms but really it isn't really any different than what we typically would see on a summer afternoon.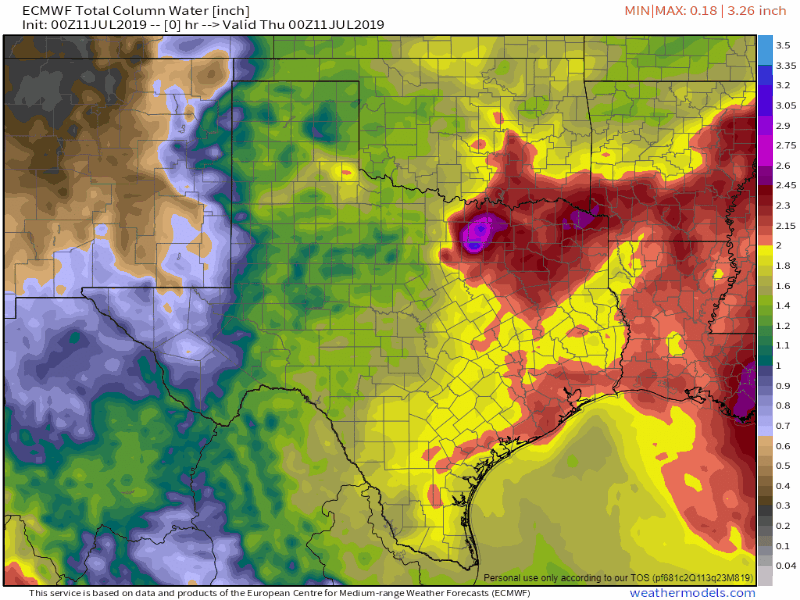 Higher moistue values (reds and purples) swinging in from the north this afternoon around the storm's circulation could lead to some pop-up stormsWeathermodels.com
However, the impact in Louisiana and especially New Orleans will be quite high. Over a foot of rain is forecast for parts of central and southeast Louisiana (including New Orleans) which is going to cause major problems.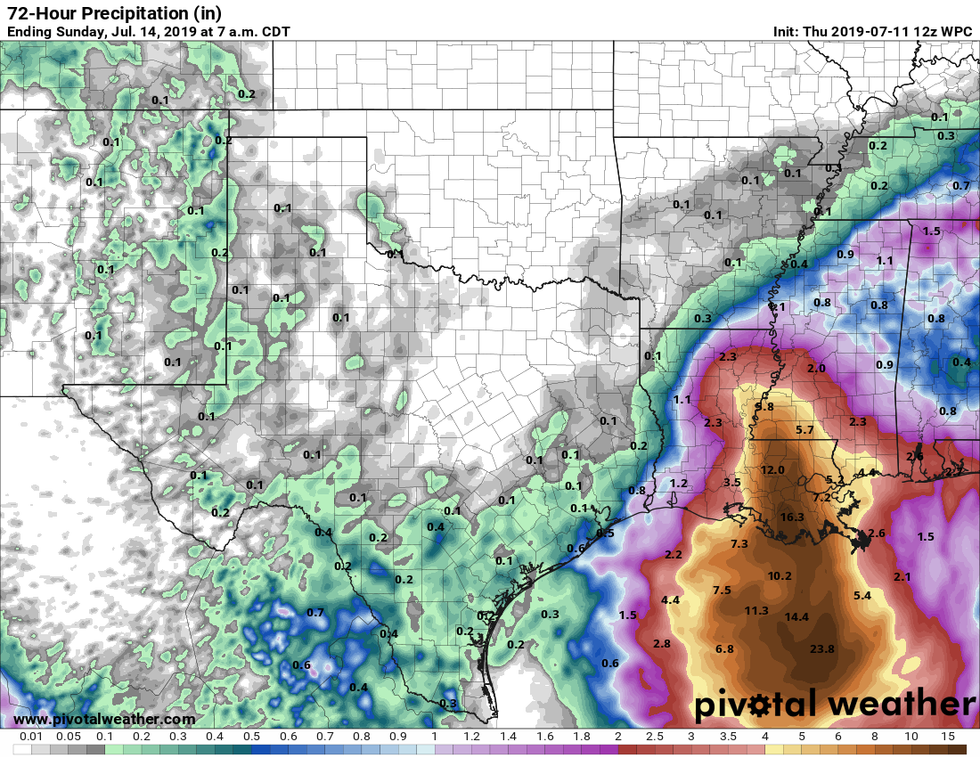 Forecast rain amounts from BarryPivotal Weather