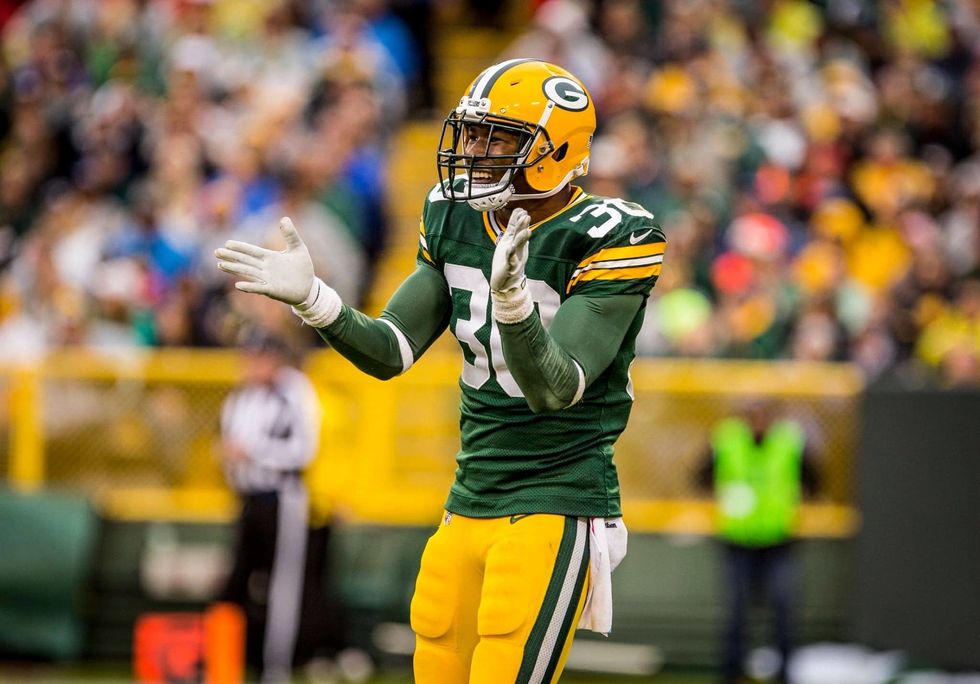 Jamaal Williams has a nice matchup against a Panthers D that has given up almost 23 points per game to the RB position over the last month.
Green Bay Packers/Facebook
Below are my early 1/2 PPR fantasy rankings for Week 15. Most leagues are using points per reception these days, so take that into consideration when looking at the ranks. Six points are awarded for every receiving and rushing TD, and four points for every passing TD. If you are playing in a non-PPR league, pass-catching running backs lose a bit of value and so do possession receivers. Make sure you check the status of players that have been limited or out of practice. The rankings will be updated on Saturday and Sunday morning. Shout-out to Tyler Frisby for the headline idea this week.
QB
1 T. Brady NE

2 B. Roethlisberger PIT

3 R. Wilson SEA

4 P. Rivers LAC

5 A. Rodgers GB  

6 D. Brees NO

7 D. Prescott DAL  

8 C. Newton CAR  

9 M. Stafford DET  

10 M. Ryan ATL

11 C. Keenum MIN 

12 B. Bortles

13 J. Garoppolo SF  

14 K. Cousins WAS

15 J. Winston TB
RB
1 L. Bell PIT  

2 T. Gurley LAR  

3 D. Freeman ATL
4 A. Kamara NO

5 A. Collins BAL

6 J. Howard CHI

7 L. McCoy BUF 

8 M. Ingram NO

9 M. Gordon LAC
10 J. Williams GB
11 L. Fournette JAC *Inactive

12 K. Drake MIA

13 C. Hyde SF

14 K. Hunt KC

15 M. Lynch OAK

16 A. Morris DAL

17 L. Murray MIN

18 R. Burkhead NE

19 J. Ajayi PHI
20 D. Lewis NE

21 J. Stewart CAR  

22 G. Bernard CIN  

23 M. Davis SEA  
  
24 C. McCaffrey CAR

25 S. Perine WAS

26 L. Miller HOU  
  
27 D. Henry TEN

28 T. Riddick DET  

29 K. Williams ARI

30 J. McKinnon MIN  

31 I. Crowell CLE

32 P. Barber TB  

33 D. Johnson CLE

34 L. Blount PHI
35 D. Martin TB
WR
1 J. Jones ATL

2 M. Thomas NO

3 K. Allen LAC 

4 A. Brown PIT  

5 D. Adams GB

6 A. Thielen MIN  

7 B. Cooks NE 

8 D. Baldwin SEA 
 
9 T. Hill KC 

10 J. Gordon CLE

11 D. Hopkins HOU *Active

12 D. Bryant DAL  

13 M. Evans TB 

14 D. Funchess CAR 

15 A. Green CIN 

16 J. Nelson GB

17 L. Fitzgerald ARI

18 M. Crabtree OAK

19 A. Jeffery PHI 
 
20 M. Lee JAC 

21 J. Landry MIA 

22 M. Jones DET 

23 G. Tate DET
 
24 C. Hogan NE *Questionable, good chance he's inactive 

25 S. Diggs MIN 

26 M. Goodwin SF  
 
27 D. Westbrook JAC 

28 C. Kupp LAR 
  
29 J. Smith-Schuster PIT

30 S. Watkins LAR 
 
31 M. Sanu ATL

32 J. Crowder WAS 

33 S. Shepard NYG 

34 M. Wallace BAL  

35 P. Richardson SEA 

36 D. Jackson TB

37 R. Woods LAR  

38 R. Matthews TEN

39 C. Coleman CLE
40 T. Ginn NO *Inactive
TE
1 R. Gronkowski NE
2 T. Kelce KC
3 J. Graham SEA
4 H. Henry LAC
5 D. Walker TEN
6 E. Engram NYG
7 Z. Ertz PHI
8 J. Witten DAL
9 O. Howard TB
10 J. James PIT
11 V. Davis WAS
12 E. Ebron DET
13 J. Cook OAK
14 C. Clay BUF
15 K. Rudolph MIN *Active
DEF
1 Jaguars 
2 Ravens  
3 Saints
4 Vikings
5 Eagles  
6 Chargers  
7 Falcons  
8 Seahawks 
9 Lions  
10 Redskins  
11 Cardinals 
12 Rams
13 Dolphins 
14 Cowboys
15 Chiefs
Kicker
1 J. Tucker BAL 
2 S. Gostkowski NE 

3 C. Boswell PIT 

4 G. Zuerlein LAR 
5 W. Lutz NO

6 M. Bryant ATL

7 T. Coons LAC 

8 H. Butker KC 

9 J. Elliott PHI 

10 J. Lambo JAC  
 
11 M. Prater DET 

12 K. Forbath MIN 

13 D. Bailey DAL
 
14 R. Gould SF  

15 G. Gano WAS
The Houston Astros were in need of some serious help in the bullpen with Phil Maton, Hector Neris, and Ryne Stanek likely leaving this year in free agency.
While some fans were getting concerned about the quiet offseason, the club has made two moves this week to get the ball rolling.
First the team signed Victor Caratini to be the backup catcher, and now they have added some relief pitching.
The Astros traded pitching prospect Carlos Mateo to the Royals for RHP pitcher Dylan Coleman.
Coleman appeared in 96 games in the past three seasons for KC, including 68 games in 2022 and 23 games last season. He has a career 3.88 ERA and 1.37 WHIP. He's fastball (95 mph), slider (81) and cutter (90) and walked 57 batters and struck out 99 in 92 2/3 innings.
— Brian McTaggart (@brianmctaggart) December 6, 2023
Coleman is under club control for the next several years, and made just over $700,000 in 2022. With the Astros right up against the tax threshold, this is a good way to add to the bullpen without having to hand out a large contract.
The Royals had a tough roster decision to make with Coleman, and the Astros made the decision easy for them by making the trade.
Something to note
There's a reason Kansas City wasn't determined to protect Coleman from the Rule 5 Draft. Despite his decent numbers over the last three seasons, 2023 was a rough year for him, posting an 8.84 ERA over 23 games.
In fact, Coleman pitched more innings (30.2) for the Royals AAA team than he did for the big league club (18.1) in 2023.
Hopefully, the Astros can get him back on track this season with some help from their highly touted player development program.
You can watch some of his 2022 highlights above.
SportsMap Emails
Are Awesome