Congratulations if you're reading this because that means you're in the playoffs. Adding free agents should be easier with many teams already done for the season. Also, be aware that other owners that are in the playoffs will be looking to block you from picking up any players that can help you, so go all-in if you need a certain player this week.
Keep in mind the owner % mentioned is for 10-team standard ESPN PPR leagues. Some of these players below are good for this week, while others could help you in Week 16. You have to make the call on what your team needs. Immediate help to start this week, or a player to stash for next week.
QB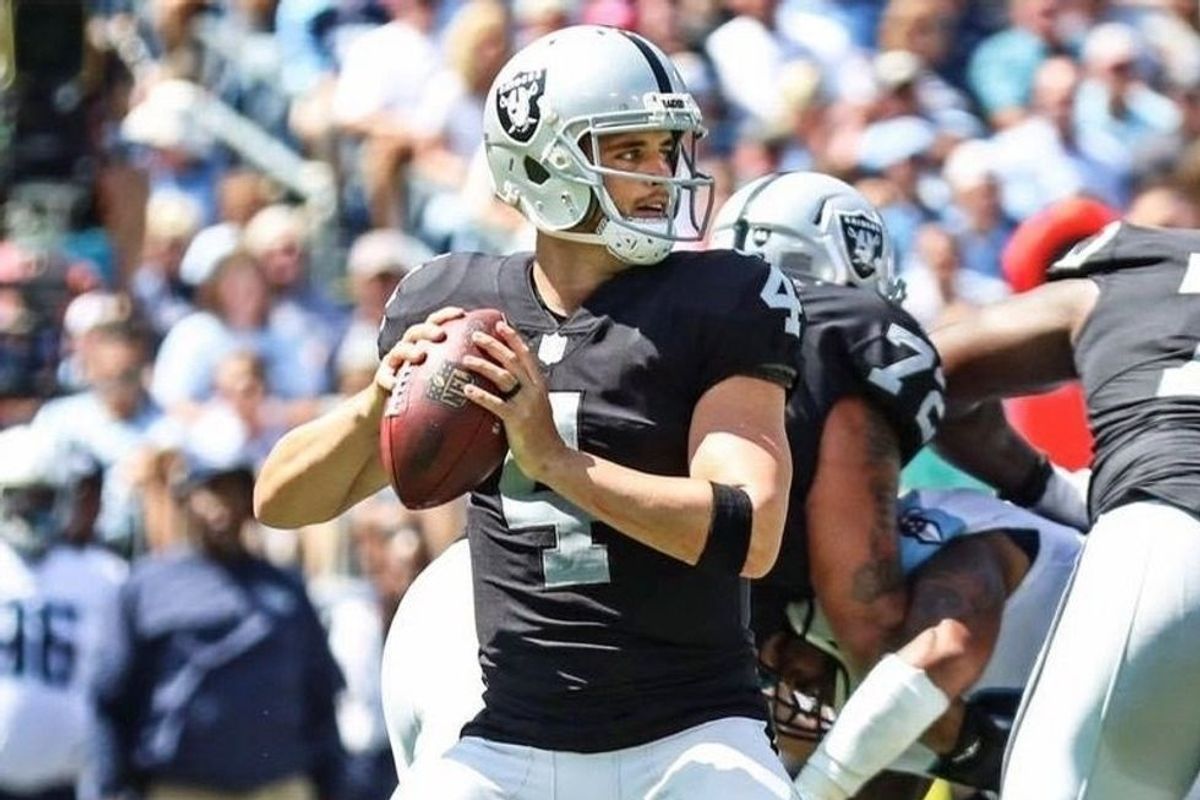 Carr's matchup this week is beautiful. Photo via: Raiders/Facebook
Ryan Tannehill: I had him as the No. 1 option in this article last week, and that certainly paid off with him throwing for 391 yards and 3TDs against the Raiders. He gets the Texans at home this week, so the matchup is good. He might also have to throw a little more with Derrick Henry playing through a hamstring injury. Tannehill is still available in about 60% of ten team leagues.
Derek Carr: Just typing this makes me sick, but you could do worse this week. The Jags have quit on the season, and Carr faces them at home this week. He's terrible in cold weather historically, so being at home really matters for Carr. The Jags on average are giving up over 20 points per game to QBs over the last 4 weeks. He's owned in about 38% of leagues.
Philip Rivers and Mitchell Trubisky: Both of these guys have put up good fantasy numbers lately, but their matchups are ugly this week. Over the last 4 weeks the Vikings and the Packers have been tough on QBs, but they haven't played many good ones. Rivers is rostered in 43% of leagues and Trubisky is more available being rostered in 19% of leagues. Trubisky should at least give you some rushing production, so I would probably choose him over Rivers.
RB
DeAndre Washington: If Josh Jacobs doesn't play, you have to like Washington's chances this week. He's playing the Jags who were ripped apart by the Chargers' RBs last week, and Jacksonville looks like they've given up on the season. He's available in 90% of leagues.
Raheem Mostert: It's hard to know which RB to start in this backfield, but Mostert's huge game against the Saints makes me think he's the best back to use. He's rostered in 24% of leagues.
Adrian Peterson: He's back... I know, he's hard to trust in a PPR league, but he has a good shot at scoring a TD every time he takes the field. And with Guice out of the picture, you could do worse. He's out there in 55% of leagues. He has a tough matchup against the Eagles, but he should get volume.
Patrick Laird: You never hope to start a Dolphins RB in the playoffs, but he's getting a lot of work, and he has a good matchup against the Giants if you need him. He's available in 90% of leagues.
WR
A.J. Brown: He recorded over 21 fantasy points in 2 of his last 3 games, and he gets the Texans this week. Tannehill is on a roll and Brown is his main weapon. He's only rostered in 31% of leagues, and he should continue his production against Houston.
Zach Pascal: He rostered in 30% of leagues and has recorded a TD or 100 receiving yards in 2 consecutive games. Over the last 4 weeks, the Saints are giving up massive production to WRs, so the matchup is great. He should continue to be involved with Hilton still dealing with an injury.
Sterling Shepard and Darius Slayton: They face Miami this week, so there is that. Also, Slayton is coming off a huge game against the Eagles in Week 14. I'd pick Slayton if I had to choose between the two.
TE
Tyler Higbee: If Gerald Everett doesn't return to the lineup, you have to like Higbee's chances to keep racking up fantasy points. If you haven't been watching Higbee, he's recorded over 100 receiving yards two weeks straight and caught a TD. He's out there in about 90% of leagues.
OJ Howard: It feels weird even typing his name, but he should see an uptick in targets with Mike Evans done for the year. Also, he has over 61 receiving yards in two straight games and has a great matchup against the Texans in Week 16. He's rostered in 39% of leagues.
Okay, that will do it. Be sure to check out my show MoneyLine with Jerry Bo on ESPN 97.5FM. We're on every Sunday morning from 10-noon, and we'll talk a lot of fantasy football and NFL gambling getting you ready for kickoff every Sunday. Good luck this week!
All of a sudden, the Houston Texans have won three straight and host the Jacksonville Jaguars for a highly anticipated game this weekend
If the Texans come away victorious, they will take possession of first place in the division, and be in position to host a home playoff game for the first time since 2019.
Which got us thinking, is this the best version of the Texans we've ever seen? Many would say the best Texans teams were the ones coached by Gary Kubiak with Matt Schaub at QB. Or some may say it was the Bill O'Brien 2019 team with Deshaun Watson pulling the trigger at QB.
Regardless of which era of the Texans you believe was the best, one thing is for sure. This year's team has us optimistic on several levels. Ownership seems to have figured things out with the Easterby days behind us. Nick Caserio is a serious candidate for Executive of the Year, CJ Stroud is a favorite for Offensive Rookie of the Year, and has a chance to win MVP. And DeMeco Ryans has a legit shot at Coach of the Year.
But let's go even further. Has DeMeco done enough already to be considered the franchise's best coach? Many would say these questions are entirely premature, but are they really?
We could also make the argument that Tank Dell is already the third-best receiver in franchise history behind Andre Johnson and DeAndre Hopkins. He already has as many touchdowns (6) as Dre and Hopkins combined in their rookie seasons.
And let's make things even more interesting. Is CJ Stroud the best Houston QB since Warren Moon?
Be sure to watch the video above as we answer all these questions!
SportsMap Emails
Are Awesome