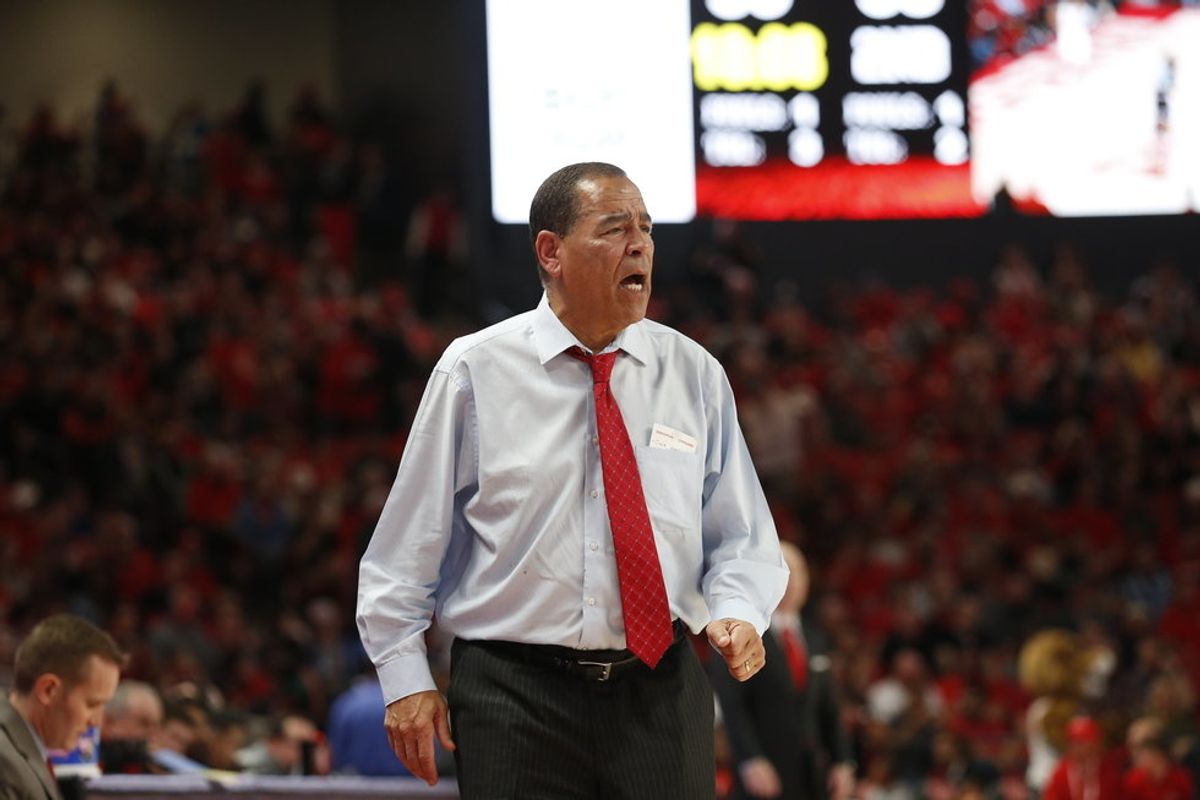 Kelvin Sampson has the Cougars rolling. Bob Levey/Getty Images
TEXAS LONGHORNS (16-11) 7-6 Big XII

Last week (1-1): L- Kansas State 71-64, W- Oklahoma State 69-57

This week: Saturday @ Oklahoma
Texas dropped a game to Kansas State at home, 71-64. Texas struggled offensively in the second half, letting their four-point halftime lead go early in the half and never recovering. Texas had improved as a 3-point shooting team in recent weeks, but they reverted to their early season ways shooting 21% from deep for the game. Kerwin Roach III was 0-5 from behind the arc, but still managed to lead the Horns with 17 points in the loss. The Longhorns followed that up with a win over Oklahoma State, 69-57. Oklahoma State started strong, but eventually wore down and the Horns were able to run up an 11-point halftime lead that they never relinquished. Roach had 16 to lead Texas, and Dylan Osetkowski added 14 in the victory. Texas won't play until Saturday, when they make the road trip to Norman to take on the Sooners.

TEXAS A&M AGGIES (10-14) 3-9 SEC

Last week (1-1): W- Georgia 73-56, L- @ South Carolina 84-77
This week: Tuesday vs. Alabama, Saturday @ Arkansas
Texas A&M got a back to back conference wins for the first time all season, following last week's win at Mizzou up with a 73-56 drubbing of Georgia. The game was an up and down affair for the first 10 minutes of the game, but the Aggies used a 22-10 run to end the half to springboard them to the win. A&M was only 6-of-21 from 3 in the game, but the Bulldogs shot a pathetic 3-of-23 from distance. TJ Starks led the Aggies with 19 points and added four steals in the victory. It looked like the Aggies were on their way to 3 in a row, but South Carolina came back from a 7-point deficit at halftime to drop the Ags 84-77. SC hit 52% from distance in the game, and had a +9 edge in rebounding. Sauvion Flagg scored 24 points for Texas A&M in the loss. The Aggies get Alabama and a road trip to Arkansas on the schedule this week.

HOUSTON COUGARS (25-1) 12-1 American

Last week (2-0): W- @ UConn 71-63, W- @ Tulane 85-50
This week: Saturday vs. South Florida
The Cougars held serve this week with two road wins against UConn and Tulane, two of the bottom-feeders in the conference. They got a 71-63 win at UConn to start the week. The game looked like it would be close through the first half, but the Coogs were able to pull away in the second half. Incredible 3-point shooting (which was a theme this week for UH) gave the Cougars a big edge, knocking down 52% from long-range. Dejon Jarreau led the way for Houston, scoring 18 points and adding 7 assists in the win. Things only got easier for the Cougars against Tulane, where they crushed the Green Wave 85-50. The Cougars hit 17 3-pointers in the game, including 8 from Corey Davis, Jr., who led the Coogs with 26 points. Armoni Brooks added 24 in the biggest conference blowout the Coogs have had this season. The 9th-ranked Cougars will try to keep things rolling at home this weekend, as the South Florida Bulls come in.
RICE OWLS (10-17) 5-9 CUSA

Last week (0-2): L- @ FIU 86-65, L- @ FAU 60-41
This week: Saturday @ UTEP
Rice had really started to look competitive after a horrible start to the season. The Owls had either won, or stayed within double digits in eight straight games before last week. They got blown out at Florida International, 86-65 to break that run. Rice had 33 turnovers in the game and only hit 3 3-pointers in the game. Freshman Quintin Millora-Brown was the lone bright spot for the Owls, posting a 14 point, 16 rebound night. Things didn't get much better at Florida Atlantic, where the Owls fell 60-41 over the weekend. They shaved 20 turnovers from the FIU game, but shot just 27% from the field. Chris Mullins led the Owls with 10 points. Miller-Brown shot just 1-8 from the field and had only 2 points. The Owls will look to rebound this weekend when they play their 3rd straight road game, this time at UTEP.
BAYLOR BEARS (16-9) 7-5 Big XII

Last week (1-1): L- @ Texas Tech 86-61


This week: Tuesday @ Iowa State, Saturday vs. West Virginia
Baylor has to get healthy, and it needs to happen fast if they are going to remain in the Big XII title picture. The Bears weren't competitive at Texas Tech, getting blown out 86-61. The Bears shot just 34% from the field, and were -10 in turnover margin. Not only did King McClure miss another game, but Makai Mason sat out as well. Mario Kegler and Jared Butler each had 16 points in the loss for Baylor. The Bears have another tough road trip coming up at Iowa State before a Saturday home date with West Virginia.
TCU HORNED FROGS (17-9) 5-8 Big XII

Last week (0-2): L- Oklahoma 71-62, L- @ Oklahoma State
This week: Saturday vs. Iowa State

Oh man. That couldn't have gone much worse. TCU lost two games, against two of the worst teams in the Big XII. First, they dropped a 71-62 decision to Oklahoma. The Horned Frogs shot just 35% from the field. JD Miller and Kendric Davis both had 14 points in the loss. Things only got worse against Oklahoma State, as the Cowboys were able to snap their 8-game conference losing streak at the expense of TCU. Desmond Bane and Alex Robinson both had 19 points for the Frogs. They made a late push, but some clutch late shots by OSU sealed TCU's fate. After this week they find themselves in a very vulnerable situation on the bubble. TCU just has one game this week, a home game against surging Iowa State.
TEXAS TECH RED RAIDERS (21-5) 9-4 Big XII

Last week (2-0): W- @ Oklahoma State 78-50, W- Baylor 86-81
This week: Saturday vs. Kansas

After a shaky run in the Big XII, Texas Tech has clearly righted the ship. They had another 2-0 week and haven't had a sweat in their last four games. They started with a 78-50 road win against Oklahoma State. The Cowboys led 5-3, and never saw the lead again. As is normally the case, turnover margin and field goal percentage killed another Tech opponent, but the Raiders were strong offensively as well. The Raiders shot 52 % from the field and 48% from 3-point range. Jarrett Culver led the Red Raiders with 19 points. Things weren't much tougher against Baylor, with Tech taking an 86-61 win over the Bears. Tech again knocked down 12 3's and got as strong an effort out of their offense as their defense. Culver led them again with 18 points. Tech has worked their way up to 14th in the polls, and only sit a half game out of 1st place in the Big XII.

SMU MUSTANGS (12-12) 4-8 American

Last week (0-2): L- @ Temple 82-74
This week: Thursday vs. UConn, Sunday @ UCF


SMU lost their fifth straight and have now lost 7 of their last 8. The once promising season has turned into a disaster. It continued this week with an 82-74 loss at Temple. The two teams shot close to even from a percentage standpoint, but Temple got to the line more and had 6 less turnovers than SMU. Jahmal McMurray was the leader for the Ponies, posting a 22 point, 4 rebound effort in the loss. Ethan Chargois added 17 and 8. SMU has a winnable home game against UConn before heading back on the road to take on UCF, who currently sits at 3rd in the conference.

LSU TIGERS (21-4) 11-1 SEC

Last week (2-0): W- @ Kentucky 73-71, W- @ Georgia 83-79

This week: Wednesday vs. Florida, Saturday vs. Tennessee
LSU had their season defining win this week, defeating the Kentucky Wildcats 73-71 at Rupp Arena. LSU got a controversial put-back at the buzzer to silence the Kentucky crowd. Tremont Waters scored 15 points for the Tigers, albeit he and Skylar Mays both shot just 3-of-13 from the field. LSU got 23 bench points compared to Kentucky's 10 in the closely contested battle. LSU trailed by 8 at the half. They followed that up with a win in a bad situational spot on the road against a weak Georgia team, 83-79. Waters had 20 this time on 8-of-14 shooting, and Javonte Smart added 19 off the bench. The Tigers shot 55% from the field in the win. LSU is now 13th in the polls and tied with Tennessee atop the SEC standings. LSU gets Florida and the aforementioned Volunteers at home this week.
The Houston Astros were in need of some serious help in the bullpen with Phil Maton, Hector Neris, and Ryne Stanek likely leaving this year in free agency.
While some fans were getting concerned about the quiet offseason, the club has made two moves this week to get the ball rolling.
First the team signed Victor Caratini to be the backup catcher, and now they have added some relief pitching.
The Astros traded pitching prospect Carlos Mateo to the Royals for RHP pitcher Dylan Coleman.
Coleman appeared in 96 games in the past three seasons for KC, including 68 games in 2022 and 23 games last season. He has a career 3.88 ERA and 1.37 WHIP. He's fastball (95 mph), slider (81) and cutter (90) and walked 57 batters and struck out 99 in 92 2/3 innings.
— Brian McTaggart (@brianmctaggart) December 6, 2023
Coleman is under club control for the next several years, and made just over $700,000 in 2022. With the Astros right up against the tax threshold, this is a good way to add to the bullpen without having to hand out a large contract.
The Royals had a tough roster decision to make with Coleman, and the Astros made the decision easy for them by making the trade.
Something to note
There's a reason Kansas City wasn't determined to protect Coleman from the Rule 5 Draft. Despite his decent numbers over the last three seasons, 2023 was a rough year for him, posting an 8.84 ERA over 23 games.
In fact, Coleman pitched more innings (30.2) for the Royals AAA team than he did for the big league club (18.1) in 2023.
Hopefully, the Astros can get him back on track this season with some help from their highly touted player development program.
You can watch some of his 2022 highlights above.
SportsMap Emails
Are Awesome