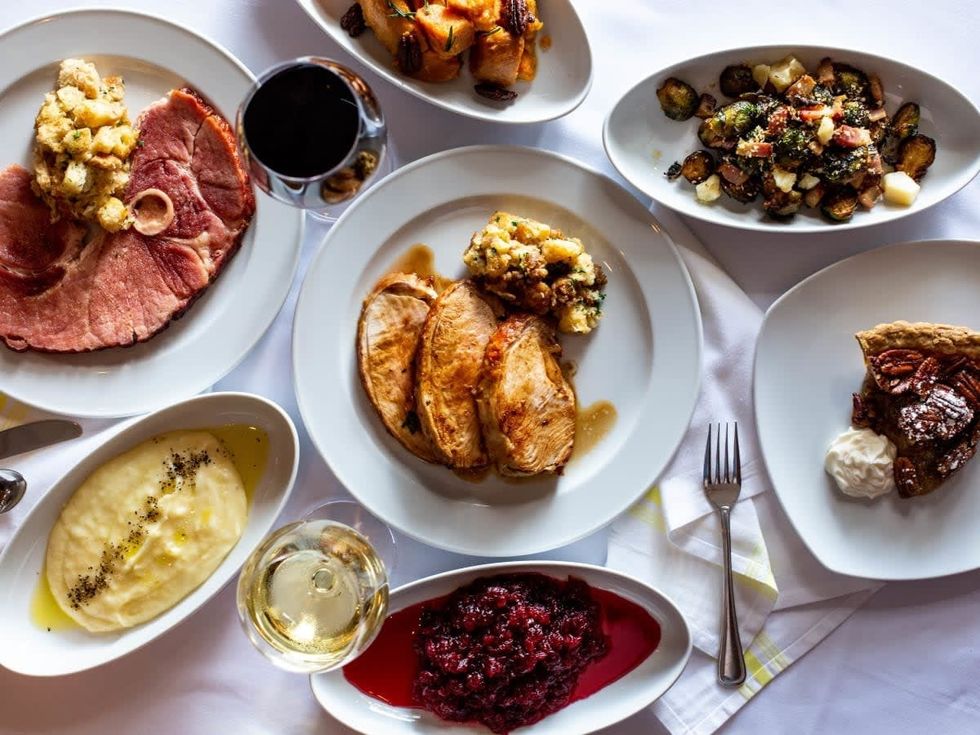 Get an Italian-American feast at Carmelo's. Photo by Jenn Duncan
This article originally appeared on CultureMap.
Making Thanksgiving dinner may be a beloved tradition in some families, but not everyone wants to spend a rare vacation day prepping and cooking a meal that will be devoured in 30 minutes. For those who are cooking, we wish you nothing but success. 
For others, we offer a few suggestions for places to dine. As always, the options include some new establishments serving Thanksgiving for the first time, as well as some fancy-pants hotel feasts that are worth a splurge. This guide even offers a few options for turkey haters; maybe spicy tuna hand rolls are a better fit. 
Act quickly. Reservations book up fast. If all else fails, never forget that select Pappas Barbecue locations are open until 6 pm.   

New this year
Bloom and Bee
The Post Oak Hotel restaurant brings its signature fresh and locally inspired take to Thanksgiving dinner. For $65, guests can enjoy a four-course meal featuring butternut squash bisque with maple cream, candied pecans, pumpernickel croutons and chive oil; fall salad with kale, Brussels sprouts and seasonal greens, dried apricot, green apple, crispy shallots, Stilton blue cheese, and champagne vinaigrette; a traditional turkey dinner with all the trimmings; and a variety of miniature desserts. The restaurant is open from 11 am to 8 pm Thanksgiving Day and reservations are recommended. 1600 West Loop S.; 346-227-5139
Bosscat Kitchen & Libations
Open from Noon to 7 pm, the Highlight Village spot has a Thanksgiving feast perfect for parties large and small. The menu includes heaping helpings of two proteins with salad, family-style sides, and dessert for $45 ($55 for three proteins; $15 for kids 12 and under). Choose from maple-bourbon brined turkey, brown-sugar baked ham or dry-aged roast beef; green bean casserole, pecan-crusted sweet potatoes, cornbread stuffing, winter spiced cranberry sauce and more; and desserts like apple cobbler with vanilla bean ice cream. Best of all,   co-owner John Reed, executive chef Peter Petro, bar director Matt Sharp, and managing partner Tai Nguyen will be serving diners while celebrating with their own families, given the experience a personal touch. They're also offering half-off all bottles of wine and $5 Texas draft beers all day. Reservations are encouraged, but walk-ins are welcome. 4310 Westheimer Rd.; 281-501-1187

Carmelo's Cucina Italiana 
This Memorial-area restaurant may be an institution, but it has a new spirit under owner Ben Berg (B&B Butchers) and his brother, chef Daniel Berg. Priced at $45 ($20 for kids 11 and under), the three-course, prix fixe menu includes choices like butternut squash soup and pumpkin ravioli to start; turkey or bourbon-glazed ham as the entree; four vegetable sides for the table; and pecan pie, pumpkin pie, or apple crumble for dessert. Call 281-531-0696 to make a reservation. 14795 Memorial Dr.

The Classic
Thanksgiving is super laid back here, with a three-course, pre-fixe menu for $40 per person. The menu includes Red Kuri Squash Soup served with gluten-free croutons and vegan herb crema, maple-glazed turkey breast, and herb-crusted roasted butchers cut with red wine au Jus, all of which are served with butter whipped potatoes and smoked turkey gravy, fall market vegetables, and challah dressing. Hazelnut and cranberry sauce is available upon request. Dessert options are sweet potato layered cake served with orange-cranberry jam or Mom's Chocolate Cake with fudge pecan icing and vanilla ice cream. 5922 Washington Ave.; 713- 868-1131
Eunice
The newly opened Cajun Creole brasserie near Greenway Plaza is serving a four-course, prix fixe Thanksgiving menu from 11 am to 6 pm. Starter options include roasted oysters, fried quail, and cajun duck poppers. Continue with chicken and sausage gumbo, butternut squash bisque, or a butter lettuce salad. The five entree options include turkey with all the trimmings ($58), Gulf shrimp and grits ($56), the signature Duck Duck Rice ($59), a grilled ribeye ($69), or drum with blue crab ($64). Finish with one of four desserts. Reserve online or by calling the restaurant. 3737 Buffalo Spdwy.; 832-491-1717
Jonathan's the Rub
Offering a dine-in option for the first time, the Memorial Green location offers a deep-fried turkey meal ($45 per person) or a beef tenderloin meal ($65 per person). Both come with green bean casserole, garlic mashed potatoes, mac and cheese, sweet potato casserole, cornbread stuffing, and rolls. Dessert is a choice of Snicker's or pecan pie, pumpkin cheesecake, or the Chocolate Blackout Cake. Dinner is available from 11 am to 5 pm on Thanksgiving Day. Reservations are encouraged and can be made online, but walk-ins are welcome. 12505 Memorial Dr., Suite 140; 713-808-9291

Mastro's Steakhouse
The popular Uptown spot goes old school for the holidays, offering Chateaubriand carved tableside with Bernaise and peppercorn sauces on the side. Available for $115, the center-cut roast augments the restaurant's steak and seafood menu. Pumpkin Spice Warm Butter Cake has been added to the dessert. It's made with pumpkin and seasonal hard spices, topped and baked with pumpkin pie spiced cream cheese, finished with caramelized raw sugar, and served with vanilla ice cream, caramel sauce, and homemade whipped cream. Mastro's is open from 1 pm to 9 pm Thanksgiving Day and reservations are recommended. 1650 West Loop S.; 713-993-2500

Roka Akor
Open from 3 to 9 pm on Thanksgiving Day, the Japanese steakhouse offers a tasting menu for $75 per person. The first course is mizuna salad with roasted beets, chopped candied walnuts, goat cheese, and orange supreme; the second is butternut squash soup with bacon bits; the third course is miso-braised short ribs, while the fourth is grilled honey miso-glazed turkey with ginger yuzu cranberry sauce served with mashed sweet potato and shiitaki gravy. For dessert, select from caramel apple cheesecake or pumpkin spice crème brulee. Reservations can be made online. 2929 Weslayan St.; 713-622-1777
Tris
The Woodlands restaurant's chef Austin Simmons put together an action station-style lunch for Thanksgiving Day. Among the selections are Jimmy Evans shrimp cocktail, Fairytale Pumpkin Soup, roasted beet and goat cheese salad, traditional roasted free-range turkey, honey-chipotle-glazed spiral ham, kimchi barbecue glazed roasted filet of sturgeon, roasted prime rib, cornbread stuffing, sweet potato mash, roasted carrots with a blood orange glaze, pumpkin pie tart, Tris chocolate cake, and Tris pumpkin pie. The cost is $59 for adults, $25 for kids six to 12 years old, and free for diners under five. Reserve via Open Table or by calling the restaurant. 24 Waterway Ave.; 281-203-5641

Fancy hotel feasts
The Hotel Granduca Ristorante Cavour
There's a taste for everyone on the Uptown hotel's buffet, which includes an array of salads, cheeses, pastas, and seafood. But you'll also find tasty traditional Thanksgiving offerings like turkey and all the trimmings, along with some incredible desserts. Available from 11 am to 3 pm on Thanksgiving Day, the cost is $85 for adults and $40 for children. 1080 Uptown Park Blvd.; 713-418-1000.
Lucienne
Thanksgiving dinner is available between 11 am and 2:30 pm in the Hotel Alessandra's airy, chic Lucienne restaurant. The three-course meal is $55 per person, and guests can choose from a first course of crab cakes, pumpkin and ginger soup, or a date and goat cheese tartlette. Main course items are roasted turkey breast, roast beef, or Gulf red snapper. For dessert, select from a double crust apple pie or chocolate bread pudding. Call for reservations. 1070 Dallas St.; 713-242-8540.
Quattro at the Four Seasons
Available from 10 am to 3 pm, the extensive brunch menu offers a raw bar, carving station, appetizers, main courses, and desserts, as well as special selections from the hotel's lobby bar Bayou and Bottle. Among the options are a thyme-crusted leg of lamb, stuffed chicken, honey-glazed Virginia ham, tri-colored potato au gratin, grilled asparagus, lemon-scented calamari, Corona steamed mussels, a sushi station, Caprese salad, dark chocolate almond cake, cranberry-orange trifle, pumpkin pie – and, of course, traditional roasted turkey. In addition to a bountiful spread, the price includes coffee, Bloody Marys, and Mimosas. The cost is $110 for adults and $49 for children. Reservations can be made online or by calling the restaurant. 1300 Lamar St.; 713-267-4700

Something different
Continue reading on CultureMap.
"Another one!"- DJ Khaled
That's the first thing that came to mind when I heard the news of Tytus Howard being shut down for the season because of a knee injury. They've had more injuries on the offensive line this season than Nick Cannon has Father's Day cards. Almost every member of the offensive line has spent time on the injury report. Howard went down in the same game in which Juice Scruggs was finally on the active roster. He missed the first 10 games due to a hamstring injury. The irony of next man up has never been so in your face.

The other thing that came to mind was the soap opera As the World Turns.
Howard had just signed an extension this offseason. So did Laremy Tunsil and Shaq Mason. They drafted Juice Scruggs, and signed a few guys too. Those moves, along with other holdovers, were expected to fill out the depth chart. Then a rash of injuries struck. At one point, only one of the original five guys expected to start was playing! In fact, they beat the Steelers 30-6 with that backup offensive line!

One can't have the expectation of backups to perform as good as the starters. They're professionals and are on an NFL roster for a reason. However, the talent gap is evident. One thing coaching, technique, and preparation can't cover is lack of ability or talent. The Texans have done a good job of navigating the injury minefield this season. While the Howard injury will hurt, I have faith in the guys there still.
As of this writing, the Texans are in the eighth spot in the AFC playoff picture. The Steelers, Browns, and Colts are all in front of them at the fifth through seventh spots respectfully. They've beaten the Steelers already. They play the Browns on Christmas Eve and their starting quarterback is out for the season. The Colts are relying on the ghost of Gardner Minshew to steer their ship into the last game of the season vs. the Texans with a possible playoff trip on the line. The Broncos and Bills are the two teams immediately behind them. They play the Broncos this weekend. Even though they're on a hot streak, this is the same team that got 70 put on them by the Dolphins. The Bills are the old veteran boxer who still has some skill, but is now a stepping stone for up & comers.
To say this team should still make the playoffs would be an understatement in my opinion. I believe in them and what they have going on more than I believe in the teams I listed above. That includes teams around them in the playoff race that aren't on their schedule. The one thing that scares me a little moving forward is the sustainability of this line. When guys get up in age as athletes, it becomes harder to come back from injuries. The injuries also tend to occur more frequently when it's a knee, foot, ankle, shoulder, elbow, or another body part critical to blocking for C.J. Stroud.
I know they just re-signed three of those guys and drafted one they believe can be a starter, but depth and contingency plans are a way of life in the NFL. We see how important depth was this season. Why not plan ahead? Don't be surprised if the Texans spend valuable draft capital on the offensive line. By valuable, I'm talking about first through third or fourth rounders. Those are prime spots to draft quality offensive lineman. Whether day one starters or quality depth, those are the sweet spots. The only guy on the two deep depth chart for this offensive line that wasn't drafted in one of those rounds was George Fant, who was an undrafted rookie free agent. While I highly doubt they spend any significant free agency dollars on the group, I'm not totally ruling it out.
The bottom line is, this team will be okay on the line for the remainder of this season. The only way that doesn't happen, more injuries. Stroud is clearly the franchise guy. Protecting that investment is a top priority. I don't care about a number one receiver, or a stud stable or singular running back if the quarterback won't have time to get them the ball. If the pilot can't fly the plane, you know what happens. So making sure he's happy, healthy, and has a great crew is of the utmost importance.
SportsMap Emails
Are Awesome