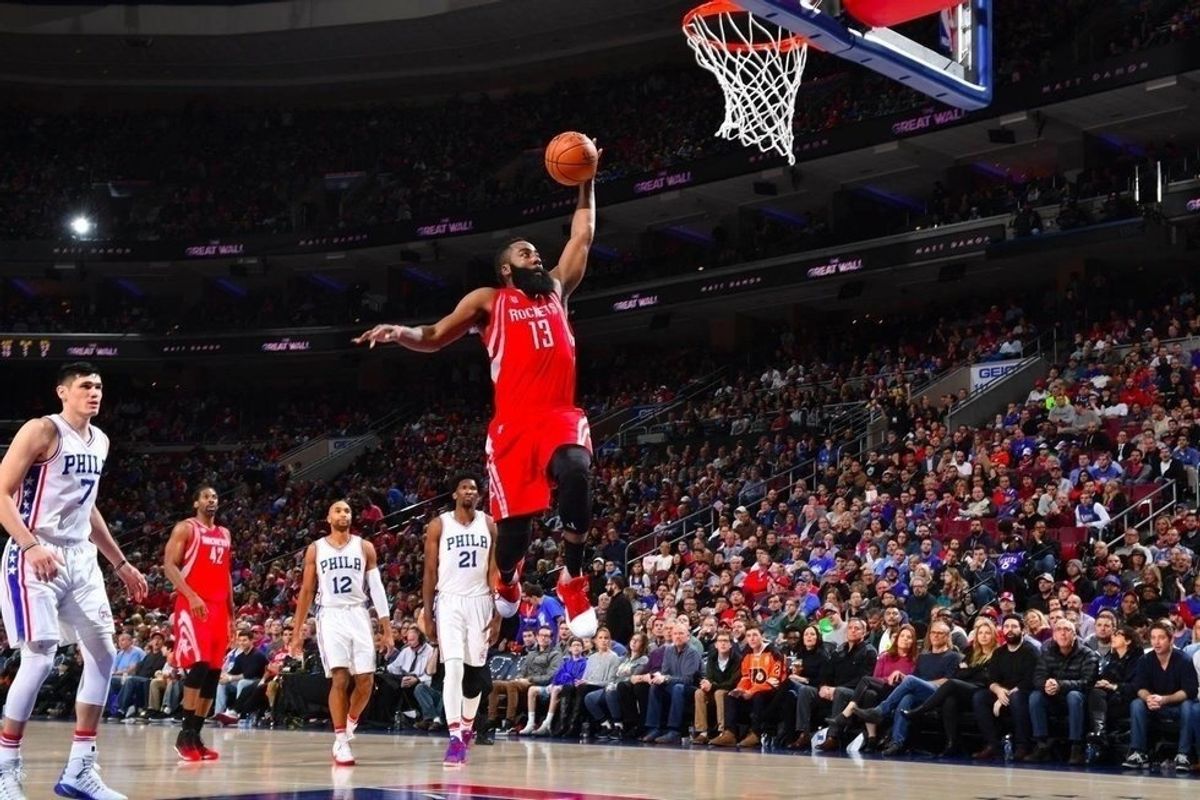 This topic will be the hardest to discuss but needs the attention. In 49 years of Rocket basketball, there have been five outstanding guards. Neither Russell Westbrook nor Chris Paul will be discussed. Those two guards were not in Houston long enough to be discussed.
James Harden, Calvin Murphy, Steve Francis, Tracy McGrady, and Clyde Drexler are guards that Houston will never forget. These guys are the greatest guards to ever play in Houston. The question is who was the best one?
Let us begin with Calvin Murphy.
Calvin Murphy was ferocious scorer in college averaging 33.1 PPG at Niagara University. Murphy was also a three time All-American in college as well. In 1970, he then was selected by San Diego Rockets. Surprisingly, Murphy went in the second round of the NBA draft. Murphy was 5'9, but that never excluded him from dominating at his position. He was extremely quick and great around the basket. Murphy was also extremely good at getting his shot off around picks. That also never stopped him from getting 57 points against the New Jersey Nets on March 18, 1978.
Calvin Murphy - Murphy's Lawyoutu.be
In 1971, Murphy became Rookie of the Year and made the NBA All-Rookie Team. Nine years later, Murphy became an All-Star in 1979. Murphy finally retired in 1983 after 13 NBA seasons. While playing 13 seasons in Houston, he had 11 1,000 point seasons, 17, 949 career points, 1,165 steals, 4,402 assist. He was inducted in the Hall of Fame by 1993. The Houston Rockets retired his number 23 in the rafters.
People could think different because of the era Murphy played in. In opinion, Wilt Chamberlin retried within two years of his career, Bill Russell retired in 1969, and the Magic and Bird era started late in his career. Murphy did not have much competition in his career besides his buddy Pistol Pete Maravich and Kareem Abdul-Jabbar. Murphy says otherwise.
"Statically you got to look a James Harden being number one. Since he is been breaking my record I got to go with number two"

Clyde Drexler was traded to Houston in the 1994-1995 season. In that season, Houston became NBA Champions again. Drexler was a huge supporter by averaging 21.5 points ppg in the NBA finals. In the three and half years with the Rockets, Drexler averaged 19.2 ppg. The majority of his career was spent with the Portland Trailblazers, where he became a 10 time All-Star, along with the Rockets. Drexler was also on the 1992 Dream Team with Michael Jordan and won a gold medal. He made the All-NBA first team in 1992, All-NBA second team twice in 1988 and 1991, and All-NBA third team in 1990 and 1995. He finished his career with 22,195 points. Drexler had both jerseys retired in Portland and Houston. His historic NBA nickname is "Clyde the Glide Drexler" because he ran the floor so smoothly. Drexler was extremely athletic and played great defense. He made almost every highlight reel when it came to dunks. Drexler also made the Hall of Fame in 2004.
Clyde Drexler: Houston Rockets Reelyoutu.be
It would be extremely hard to give Drexler the best guard in Rocket history. Drexler was in Houston for three and half years. His time in Houston was not long enough. People say that Drexler was at the end of his prime in Houston. Getting a chance to talk to TJ Ford, former NBA player, he thought different about Drexler.
"It is hard to give it Harden right now because he is still in his career. I have to go with Drexler because of his accomplishments in Houston"
Now the discussion moves to Steve Francis. In the 1999 NBA Draft, Francis was drafted by the Vancouver Grizzlies with the second overall pick. Francis was not fond of playing in Vancouver so they traded him to the Rockets. Houston loved the quickness and athletic ability he brought from the University of Maryland. Just because Steve Francis was 6'3, it did not stop him from dunking on your favorite player. He was mostly known for his exciting crossovers and flashy dunks. In his first season as a Rocket, he became the 2000 Co-Rookie of the year and made All-NBA Rookie team. He also became a three time all-star and led the Rockets back to playoffs for the first time since 1999. Fans gave Francis the nick name "Franchise." Sadly, Francis was traded to Orlando for the rights to Tracy McGrady. Francis could not get along with Coach Jeff Van Gundy. He finished his Rocket tenured with 19.2 ppg and his career with 10, 446 points.
Steve Francis Crossovers and Dunks Tributeyoutu.be
Francis was a tough keep because of his inability to not stop dribbling the ball as much. Plus the Rocket's office got afraid that his explosive ability would not keep him healthy. In reality, McGrady was the better player.
McGrady was traded to Houston in 2004 from the Orlando Magic. He was an elite scorer because of his 6'8 frame. McGrady had the ability to shoot over defenders and finish around the rim with authority. He was also a monster in the post as well. Rocket fans will never forget when McGrady scored 13 points in 35 seconds to beat the San Antonio Spurs in a comeback win. He was also a part of the Rockets 22-game win streak. McGrady is a seven time all-star, seven time All-NBA, and a two time scoring champ. In his Rocket tenured he averaged 20.5 ppg and had 18, 381 career points. McGrady entered the Hall of Fame in 2017. He went by the nick name "T-Mac".
Tracy McGrady 13 Points Vs The Spurs In 33 Seconds HDyoutu.be
In honest opinion, McGrady fell short in his career because of injuries. McGrady could never lead his team out the first round of the playoffs. If Mcgrady stayed healthy, he probably would have been in the conversation with Kobe Bryant.
James Harden's career is still ongoing but is constantly breaking NBA records. Harden brings the whole package because of his scoring ability. He has exceeded his range from behind the three point line. Harden drives defenders crazy because of his ability to get to the line. NBA refs have struggled refereeing him in the regular season and post season. Harden is already being talked about as one of the best scorers of all time. Last season, Harden averaged 36 ppg and now 37.9 ppg for this season. People are waiting to see if he will pass Chamberlin for the most points in a game this season. Harden is already a seven time all-star, made NBA First Team five times, NBA Third Team, won Sixth Man of the Year with the Oklahoma City Thunder, two time scoring champ, won two gold medals and won an MVP. He just had a streak of scoring 50 points in six straight games. Harden has been incredible for the last eight seasons in Houston.
James Harden BEST Highlights & Moments from 2018-19 NBA Season! BEAST Mode! (Part 1)youtu.be
Everyone will always question Harden in the playoffs. Even though he improved last year in the playoffs, a championship ring haunts him. Is Harden more concerned with winning another MVP or Championship? Harden has struggled with making his teammates better and keeping his composer on the court.
In reality, it is not too hard to see who the best guard in Rocket history.
Rockets' Alperen Sengun recently was a guest on Paul George's podcast and spoke about a conversation he had with James Harden.
He said Harden told him he was proud of him. This led George to saying he thinks this means the torch has been passed from Harden to Sengun.
Which made us wonder, is this now Sengun's team? Or is that a little premature and the true leader of the team is head coach Ime Udoka or Fred VanVleet?
Plus, Jalen Green has responded positively from being benched. Is this proof that Ime Udoka has the team taking more accountability and heading in the right direction?
Be sure to watch the video above as we break it all down!
If you enjoy the videos, subscribe on YouTube for our latest content.
Related Articles Around the Web
SportsMap Emails
Are Awesome