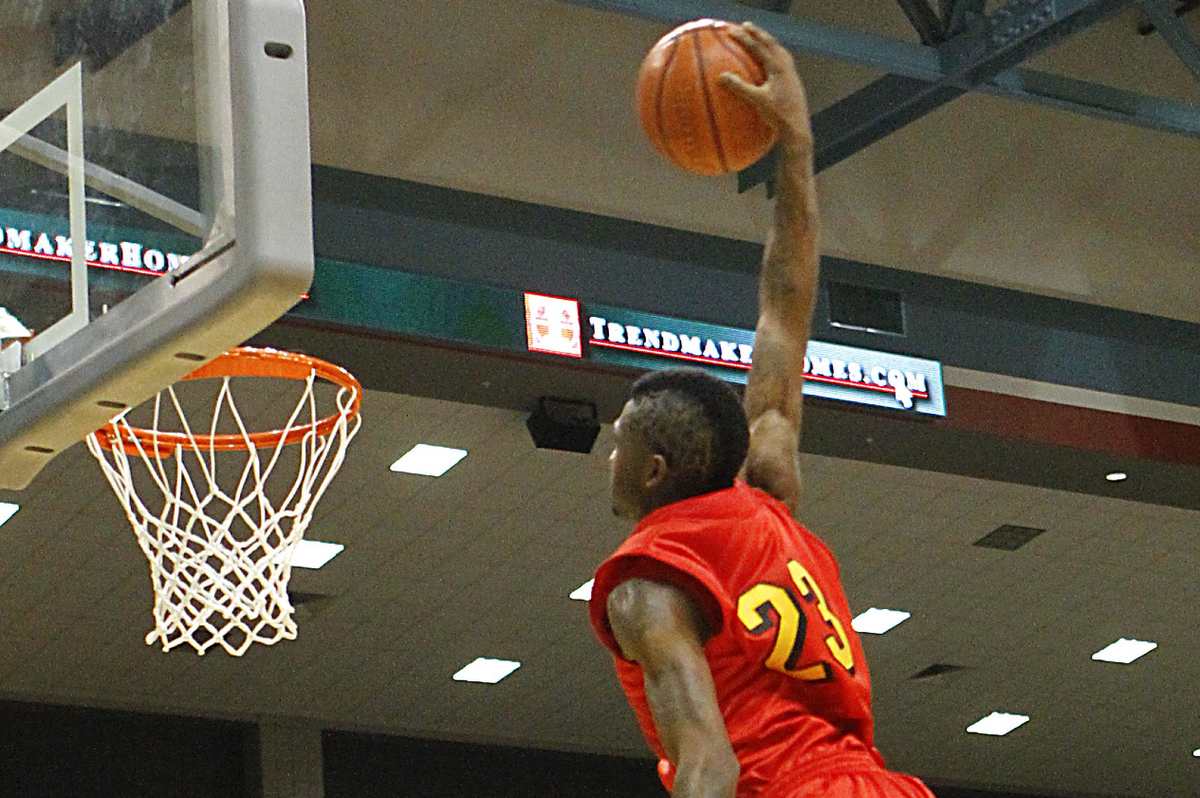 Yates has destroyed the rims in HISD for years. Via Vype
Originally Appeared on Vype
With the boys' basketball postseason a few short weeks away, it got us thinking. Who is the top hoop troop over the past 20 years?
During that time, 14 teams have won state titles, but only two schools have more than one. You guessed it, Yates (4) and Willowridge (2).
But who was the best team? Did they even win a state title? See the Atascocita Eagles a few years back.
...
The State Champs
Cypress Falls – 2015-16
This Cy-Fair ISD team made school history, winning their first-ever hoops title. Led by five starters who were juniors, the Eagles went 35-3 and beat San Antonio Wagner to win state.
...
Yates – 2013-14
Fell to Dallas Madison but won state because Madison had an ineligible player.
...
North Shore 2013-14
SMU's Jarrey Foster and UT's Kerwin Roach led this squad to a win over Converse Judson, finishing 35-3 on the season.
...
Yates – 2012-13
Fell to Dallas Madison but won state because Madison had an ineligible player.
...
Terry – 2012-13
One of the best dual-sport athletes in 20 years led Terry to state. Terry? Derrick Griffin was the Championship Game MVP as the Rangers shocked the world. Griffin would later play football and hoops at TSU.
...
Travis – 2012-13
The Harrison twins (McDonalds' All-Americans) punched their ticket to state and won the title before heading off to Kentucky.
...
Yates – 2009-10
Considered the No. 1 team in the country by several media outlets, this Lions' team could be the best in school history. Joseph Young, Snap Peters and Darius Gardner left a tremendous legacy at 3rd Ward High.
...
Bush – 2009-10
Jordan Clark and Darius Richardson led Bush to their first state title. It would be coach Ronnie Courtney's third state title from two different teams.
...
Yates – 2008-09
Same three (Young, Peters and Gardner) led the way for the Lions' first title of the 2000s.
...
Kingwood -- 2004-05
Nic Wise, the son of legendary Yates coach Greg Wise, won state with buddy Michael Singletary. Wise would move onto Arizona in college.
The story continues here
One of the big factors that led to the Texans' loss to the Jaguars on Sunday was the secondary. Multiple flags for pass interference gave Jacksonville more opportunities to pick up first downs and score points.
Can confirm #Texans backup CB Shaq Griffin was cut.

Griffin started 6 games this year when Derek Stingley was out with a hamstring.
— DJ Bien-Aime (@Djbienaime) November 29, 2023
So it's no surprise that DeMeco Ryans is making some changes to his defense this week. According to several reports, Texans corner Shaq Griffin has been cut.
Nickel corner Tavierre Thomas was flagged for PI more than once on Sunday, and was burned badly by Jaguars receiver Calvin Ridley for a touchdown.
DeMeco was asked after the game if he considered replacing Thomas with Desmond King or Shaq Griffin. Ryans didn't give a definitive answer, but it looks like we got one today.
One has to wonder if Desmond Kings' experience playing nickel was the reason for his promotion to the active roster and why Griffin was released. If Thomas continues to struggle, King looks like the next man up to replace him.
#Texans activate Denzel Perryman, promote Desmond King to active roster, release Shaq Griffin, sign Matt Ammendola and Garret Wallow to practice squad, released Gerrid Doaks from practice squad and placed Tytus Howard (knee-patellar tendon surgery pending) on injured reserve https://t.co/knyyoqo7yC
— Aaron Wilson (@AaronWilson_NFL) November 29, 2023
The Texans also made some other adjustments to their roster on Wednesday, per Aaron Wilson. Linebacker Denzel Perryman returns from suspension, kicker Matt Ammendola and linebacker Garret Wallow join the practice squad. They also released Gerrid Doaks from the practice squad.
The other big piece of news involves left guard Tytus Howard. He heads to injured reserve, ending his season after hurting his knee against Jacksonville.
SportsMap Emails
Are Awesome