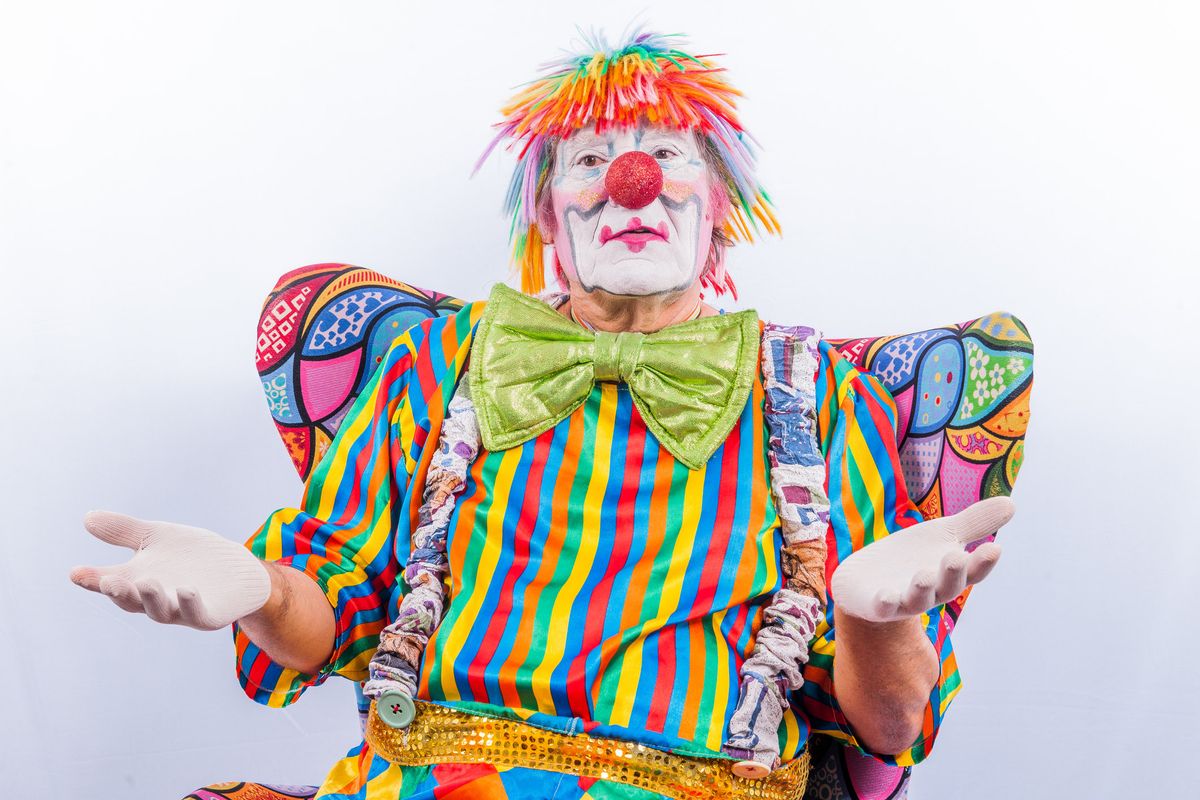 Clown column, bro. What were you thinking? Getty Images.
When news broke that the University of Houston was parting ways with Head Coach Major Applewhite, Yahoo Sports! Pete Thamel wrote a scathing article calling UH's big 3 of Chancellor Renu Khator, Regent Chairman Tilman Fertitta, and Athletic Director Chris Pezman "Houston's clown triumvirate" which is "being cackled at around college sports."
Or not.
Quite frankly it's a hatchet piece not worthy of your time. Forget the inaccuracies and the ridiculous pot shots taken at the big 3 that missed their marks, the level of disrespect is infuriating. Who the hell is Pete Thamel? A middling college sports writer calling accomplished administrators at a major university "clowns" and "puppets" who are "the definitive embarrassment of college sports" that "everyone in college sports" is laughing at is laughable in itself.
I wasn't aware that Pete Thamel spoke for everyone in college sports. He had one quote from a "Big 12 source" and if I were a betting man I'd wager that was the only person he spoke to on this subject. Of course I don't know this just as he doesn't know everyone in college sports but since it's OK to make wild assumptions on a previously well respected website we can do it here as well.
Dr. Khator, Tilman Fertitta and Chris Pezman don't need me to defend them, but they're too classy to fire back at an intellectual inferior. What these people have done in their lives is amazing and for Pete Thamel to belittle them is comical.
DOCTOR Khator, BILLIONAIRE Fertitta, ATHLETIC DIRECTOR Pezman. They're all successful and excellent at what they do.
I'm pretty sure none of the other presidents are "rolling their eyes" at Dr. Khator. Hey Pete, let's ask them what they think of a woman who sits on no less than a dozen boards ranging from Homeland Security to The Texas Medical Center. Let's ask them if they're impressed that she has guided The University of Houston from 502nd on the Forbes Top Colleges list in 2008 to 330 in 2018. U.S. News & World Report ranks UH #171 which is ahead of Texas Tech and West Virginia (a couple of those Big 12 schools that are "laughing" at her).

Tilman Fertitta probably laughed at your comment on how vain he was to call into a radio show to give the hosts the low-down on how a coaching search went. You added "(Yes, he actually did that.)" which is something that many A.D.'s and general managers and regent chairmen do after a coach is hired. (Yes, they actually do that).
We often joke that UH is Fertitta U. which is no different than T. Boone Pickens U. (Oklahoma St.) or Phil Knight U. (Oregon).
When you donate $20 million to build a basketball facility for your university, you are beloved and your opinion holds a great amount of weight. Oh and he's the chairman of the board of regents. He makes major decisions like the hiring and firing of the football coach. It's his job.
But I'm positive that that billionaire isn't losing any sleep over what Pete Thamel thinks of him. He's too busy buying professional teams, casinos, restaurants and hotels to worry about some petty sports writer.
And Chris Pezman is busy building winners. I know it's not how Pete Thamel wanted it done but oh well. Pete has the luxury to sit back and collect his check. Chris Pezman doesn't. Unfortunately ticket sales with Major Applewhite at the helm were lagging and public confidence was down, especially after a 70-14 shellacking at the hands of Army. Not Alabama. Not Clemson. Army.
I think Major is a fine coach. Did he have enough time to get it done? Probably not but the bar is high at UH. Kevin Sumlin finished third and first in his division in his first two years. Tom Herman won a New Year's Day Bowl and beat Oklahoma in his two. Yes, you have to win at UH. There's no reason not to, not with the foundation they have built.
Thamel even criticized the three for waiting until Jan. 1 to make the move to Dana Holgorsen. By waiting they saved $1.5 million. Dana's buyout went from $2.5 million to one million as the calendar turned. Thamel called it some type of GroupOn move. That's about as stupid as anything I've ever read. If they didn't wait a week to save $1.5 million it would have been moronic. They are very smart people but that didn't take a rocket scientist to figure out.
It seems Thamel has some disdain for the university trying to better itself by aspiring to be in the Big 12. Maybe they'll get there. Maybe they won't. That they are striving to be there though is not something that should be criticized. That "clown triumvirate" he referred to all came from relatively meager beginnings. What made them successful? They don't settle for good. They always want to be great. They think and act big. Nothing short of that is good enough. It's why they are hugely successful and not a website sports writer.
I have no dog in this fight. I know Tilman a little bit but Dr. Khator and Chris Pezman wouldn't know me from Adam. That a guy who's probably never met any of them would take uninformed pot shots from the cheap seats is why athletes and administrators don't trust us. People probably bought what Pete Thamel was selling that day and that's a shame because the only clown in all of this writes for Yahoo Sports!
"Another one!"- DJ Khaled
That's the first thing that came to mind when I heard the news of Tytus Howard being shut down for the season because of a knee injury. They've had more injuries on the offensive line this season than Nick Cannon has Father's Day cards. Almost every member of the offensive line has spent time on the injury report. Howard went down in the same game in which Juice Scruggs was finally on the active roster. He missed the first 10 games due to a hamstring injury. The irony of next man up has never been so in your face.

The other thing that came to mind was the soap opera As the World Turns.
Howard had just signed an extension this offseason. So did Laremy Tunsil and Shaq Mason. They drafted Juice Scruggs, and signed a few guys too. Those moves, along with other holdovers, were expected to fill out the depth chart. Then a rash of injuries struck. At one point, only one of the original five guys expected to start was playing! In fact, they beat the Steelers 30-6 with that backup offensive line!

One can't have the expectation of backups to perform as good as the starters. They're professionals and are on an NFL roster for a reason. However, the talent gap is evident. One thing coaching, technique, and preparation can't cover is lack of ability or talent. The Texans have done a good job of navigating the injury minefield this season. While the Howard injury will hurt, I have faith in the guys there still.
As of this writing, the Texans are in the eighth spot in the AFC playoff picture. The Steelers, Browns, and Colts are all in front of them at the fifth through seventh spots respectfully. They've beaten the Steelers already. They play the Browns on Christmas Eve and their starting quarterback is out for the season. The Colts are relying on the ghost of Gardner Minshew to steer their ship into the last game of the season vs. the Texans with a possible playoff trip on the line. The Broncos and Bills are the two teams immediately behind them. They play the Broncos this weekend. Even though they're on a hot streak, this is the same team that got 70 put on them by the Dolphins. The Bills are the old veteran boxer who still has some skill, but is now a stepping stone for up & comers.
To say this team should still make the playoffs would be an understatement in my opinion. I believe in them and what they have going on more than I believe in the teams I listed above. That includes teams around them in the playoff race that aren't on their schedule. The one thing that scares me a little moving forward is the sustainability of this line. When guys get up in age as athletes, it becomes harder to come back from injuries. The injuries also tend to occur more frequently when it's a knee, foot, ankle, shoulder, elbow, or another body part critical to blocking for C.J. Stroud.
I know they just re-signed three of those guys and drafted one they believe can be a starter, but depth and contingency plans are a way of life in the NFL. We see how important depth was this season. Why not plan ahead? Don't be surprised if the Texans spend valuable draft capital on the offensive line. By valuable, I'm talking about first through third or fourth rounders. Those are prime spots to draft quality offensive lineman. Whether day one starters or quality depth, those are the sweet spots. The only guy on the two deep depth chart for this offensive line that wasn't drafted in one of those rounds was George Fant, who was an undrafted rookie free agent. While I highly doubt they spend any significant free agency dollars on the group, I'm not totally ruling it out.
The bottom line is, this team will be okay on the line for the remainder of this season. The only way that doesn't happen, more injuries. Stroud is clearly the franchise guy. Protecting that investment is a top priority. I don't care about a number one receiver, or a stud stable or singular running back if the quarterback won't have time to get them the ball. If the pilot can't fly the plane, you know what happens. So making sure he's happy, healthy, and has a great crew is of the utmost importance.
SportsMap Emails
Are Awesome