HARDEN HAS TO DO LESS FOR TEAM TO DO MORE
Winning the Harden way won't get it done in the playoffs
Dec 11, 2019, 12:48 pm
When James Harden addressed the media following the team's exit from last year's playoffs, he said he knew exactly what the team had to do in order to get better and go further going forward. Not soon after that GM Daryl Morey pulled the trigger on a trade to acquire Russell Westbrook for a package that included Chris Paul and several draft picks. After the trade was finalized and Westbrook was introduced in Houston, Harden, head coach Mike D'Antoni and Westbrook all said the offense would be a work in progress and that the team would work together to find the right balance between its two best players while trying to define the roles all the players would be counted on to play.
Harden and Westbrook have been quick to say they don't care about individual statistics and that team's success is the only objective for the season. 23 games into the season there are still more questions than answers for the Rockets as James Harden hasn't changed one thing about his game, while Russell Westbrook has tried to adjust his skill set to fit the Houston offense while shooting less and trying to do more in other areas of the game. The team has shown flashes of brilliance and moments of embarrassing failure as they try to figure out how they get better on both ends of the floor. One thing seems certain if they don't change the way they play and the offense they run, as well as their effort effectiveness on defense, they will once again find themselves on the couch watching the conference finals come this summer.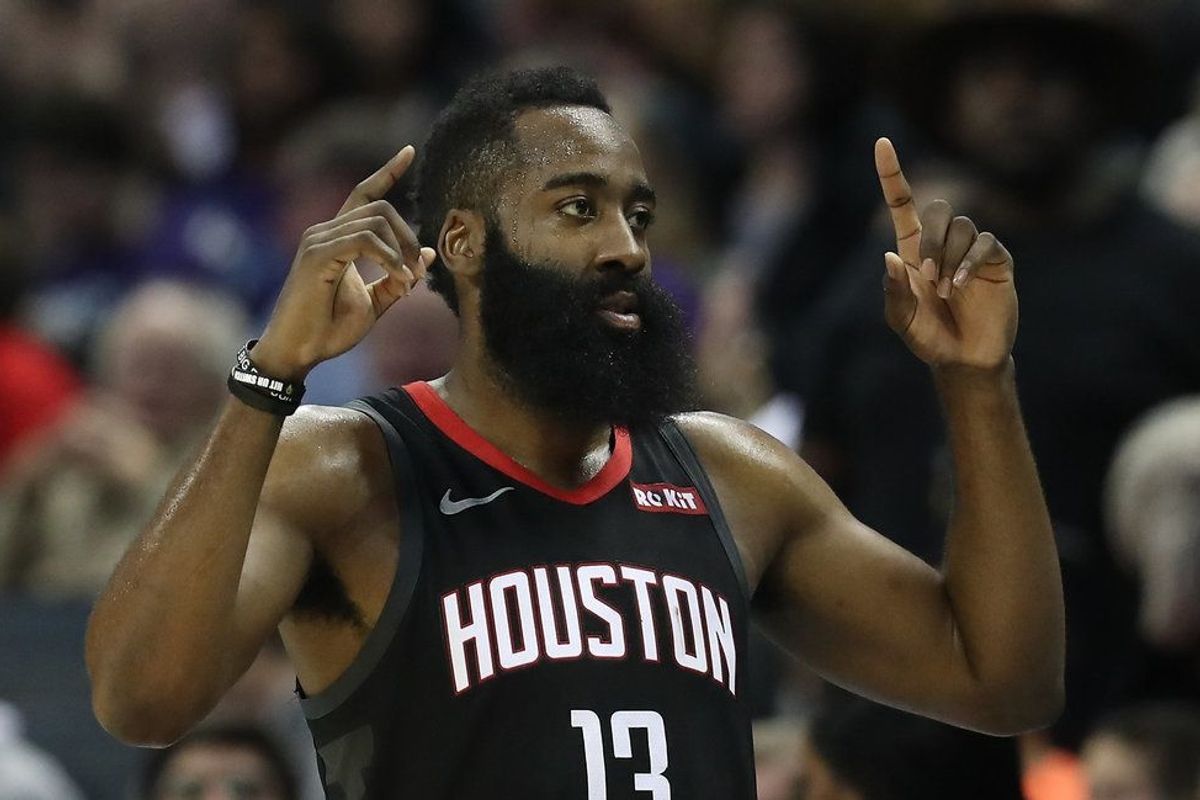 Photo by Streeter Lecka/Getty Images
No matter what James Harden says or has said, statistics and individual accomplishments are important to him and to this point in his career they are what has defined him and his Hall of Fame-caliber career. The same numbers that have put him in the elite company of names like Chamberlain, Jordan, Kobe, and LeBron are also the same stats that are holding him back from accomplishing what all four of those greats did and multiple times in their career and that's winning an NBA title. While Harden has said all the right things about sacrificing stats for more team accomplishments, he has done just the opposite.
All his numbers have gone up or maintained similar averages as he logged a season ago, as he continues to etch his name in the Rockets and NBA record books. The team as a whole still relies on Harden, and he spends a majority of every game with the ball in his hands. More times than not, the rest of the team stands around and watches while the Beard does his thing. As we've seen in the past, that's a formula that can work in the regular season but fails miserably in the playoffs.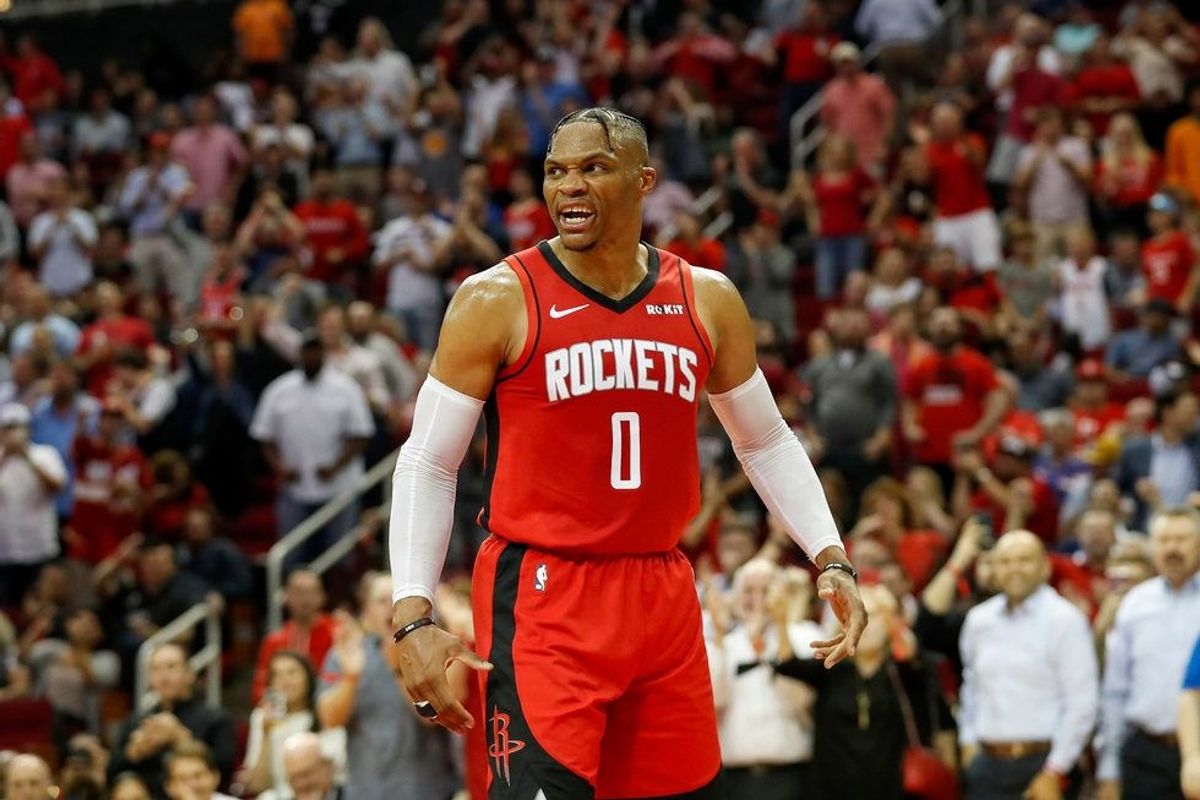 Photo by Getty Images
Westbrook has struggled to find his niche since getting to Houston and doesn't seem comfortable with his shot since joining the Rockets. The skills that have won him an MVP and allowed him to average a triple-double for multiple seasons while in Oklahoma City seem to be put on a back burner as he defers to his buddy James. When Russ is really at his best he is relentlessly attacking the rim and running the fastbreak at a feverish pace. Especially from three-point range, which you can't do in a Mike D'Antoni offense, as well as still taking too many mid-range jumpers which are a huge no-no in the Houston system.
The tempo right now is too slow for Russ, and he isn't getting enough opportunities to run in transition, drive downhill and attack the basket. Westbrook is paid too much and is far too talented to be a casual observer on the wing, watching Harden do his thing. There is still time to tweak things and fix the offensive issues and it's important to notate that things aren't broken, they just aren't clicking on all cylinders. To his credit, Russ has been a consummate pro, has remained patient and continues to facilitate when he has the ball while distributing the ball to open teammates.
In order to maximize his talents, the team needs to play faster, get the ball in his hands in the transition to push the tempo and attack the rim every chance he gets. James can still handle the ball and run the point in their half-court sets to maximize his strengths, but he needs to defer to Westbrook when the Rockets get the ball in the open court.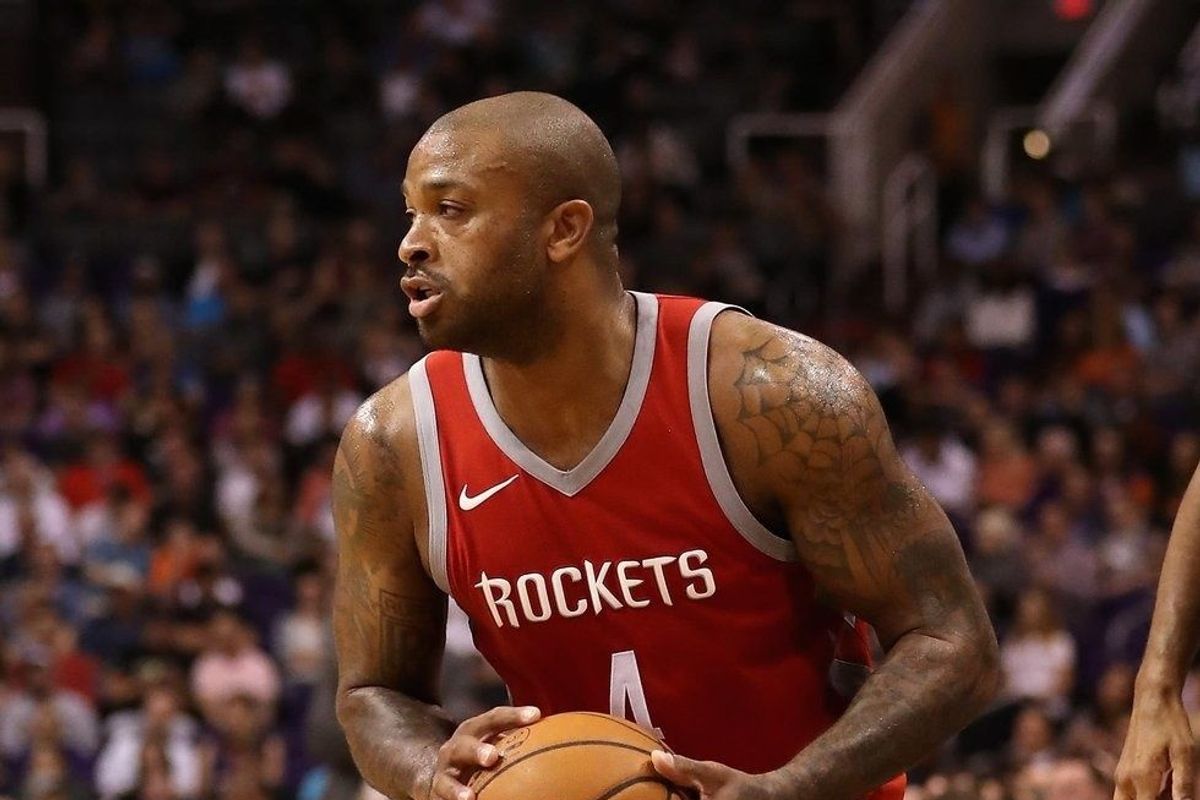 Photo by Christian Petersen/Getty Images
One final point that needs to be made is that both Harden and Westbrook need to put more effort into the other end of the floor. The team as a whole has struggled mightily on defense as they have fallen out of being one of the top 10 defensive units in the NBA like they were when they were coached by Jeff Bzdelik just a few seasons ago. With that said, it all starts with the teams' dynamic duo, who set the tone with their energy, communication and willingness to engage in getting stops. The effort is key on "D" and the Houston backcourt tandem has a tendency to relax on defense, sometimes failing to rotate and far too frequently electing to skip getting back in transition, so they can argue with officials over calls they did not get.
Houston is not a very big team and aside from PJ Tucker is not very physical, so they have to play outstanding team defense, rotate, hustle and contest shots. There is no reason why these two world-class athletes can't join Tucker, Clint Capela and a wing-like Eric Gordon or Danuel House to form a lockdown unit that can get stops at key times like the lineup two years ago that had Trevor Ariza, Chris Paul, Capela, Harden, and Luc Mbah a Moute. To be fair, both guards do an outstanding job rebounding the basketball and defending the low post, but they have to do more and be more consistent and focused on the perimeter, individually and in the passing lanes defensively if this team is going to make a long playoff run.