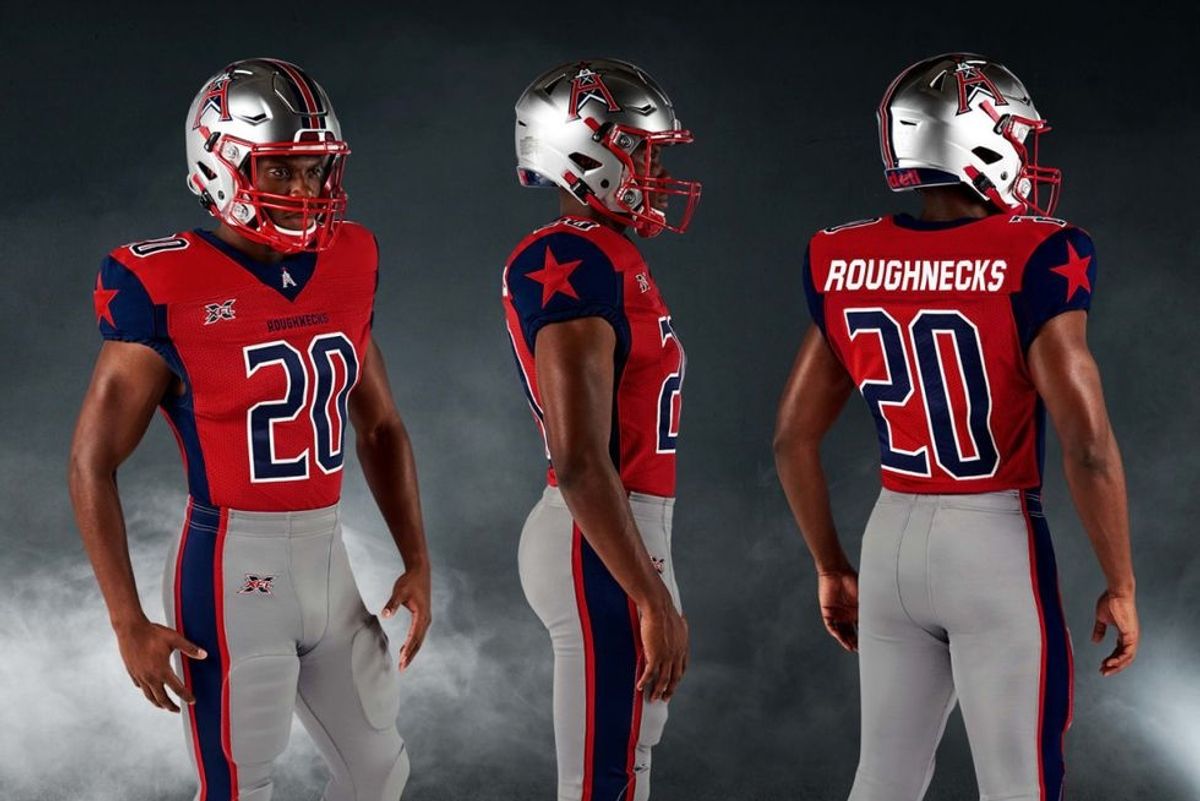 Photo courtesy of Houston Roughnecks
Your Houston Roughnecks take on the St. Louis Battlehawks this Sunday at 5pm at TDECU Stadium.
A few things to expect from St. Louis this week.
QB Talk. They don't have a PJ Walker but the Battlehawks DO have Jordan Ta'amu. The former Ole Miss QB isn't just going to throw the ball around. He's a runner… And pretty good at it. He also avoided throwing any interceptions in his XFL appearance last weekend.
RUN. Speaking of running, this team played more conservative in their game against Dallas. Unlike most of the teams in this league, the Battlehawks offense avoided airing the ball out too much. Instead, they stuck to the run game... SUCCESSFULLY. They racked up the most rushing yards in the leagues' debut. Look to see a few different backs attack the ground.
DEFENSE. The secondary in particular stood out last week. DB Darius Hilary and Safety Dexter McCoil combined for 13 tackles and 4 assists. LB Terence Garvin caught fans attention with his 6 tackles and 2 assists.
PENALTIES. No this is the Tampa Bay Bucs BUT St. Louis did rack up their fair share of penalties in game one. Most were due to false starts. (One would assume this was a key issue to work on in practice this week but it's worth noting.)
Yesterday I spoke with Roughnecks Offensive Coordinator, Chris Miller. Here's what he had to say about last week's game.
"PJ Walker was obviously the hot topic of the week, was the transition to this offense as easy as PJ made it look?"
Chris Miller: "Well, I think PJ obviously did a nice job. He played very well in the game, managed it well. Got out and made some plays with his legs outside of the pocket. I think you have to give June Jones a lot of credit with the amount of reps we've put in since early December. In training camp we probably worked more than most, I know we had a few two a day sessions. In terms of the install and what June put in, what PJ's been able to grasp. A lot of its due to how many reps he's got. We've been able to hit the ground running."
"The XFL has this new offense the fans are really into. The DC Defenders showed out with their new trick plays last week. Do we have any big surprises in the playbook?"
Chris Miller: "Well we have a few wrinkles hidden up our sleeve, but if I told ya I'd have to kill ya. I can't do that... I think that's a move line. I'm just kidding but we've been reppin' a few things and working. We have some in our repertoire, we'll see if we will need to pull them out and you'll be one of the first to know."
"I noticed we're going for a lot of 2pt conversions, is there a thought process behind the PATs? Is it all situational?"
Chris Miller: "Well I think right now we're all learning about it. It's kind of going by feel right now. If you score first, you're thinking let's go for one and be up a conventional 7-0, but LA scored first and I think they missed their conversion or they may have gone for 1 so then you try to either match them or maybe go up 8 to 7. So my theory is, if you go for 4… if you go for two 2 point plays form the 5 and you hit them, that's 4 points. And if you go for four 1 point plays from the 2 and you only get two out of four then you're only getting 2 points for that. So it's kind of mathematical theories but I think as the game goes along, it's more situational how many points you want to be up at that time. There's no exact science to it so I think right now it's kind of new and we have to feel it out. It's interesting."
"How much improvement do you expect to see from your team and league wide in game 2?"
Chris Miller: "We've all got one week under our belt, one game. I think there was a lot of good football put on from what I watched. At the end of the day, it was new and there was a lot of uncertainty as to what we would see and what we would put out there. I think you just trust in your training and then it becomes football. STL is a very good team. They have a big defense, they're a physical bunch. It's a good group. I think it'll be a good challenge for us but maybe some of the areas we were a little bit rough in or didn't execute well we hope to see improvement in those areas."
The Houston Astros were in need of some serious help in the bullpen with Phil Maton, Hector Neris, and Ryne Stanek likely leaving this year in free agency.
While some fans were getting concerned about the quiet offseason, the club has made two moves this week to get the ball rolling.
First the team signed Victor Caratini to be the backup catcher, and now they have added some relief pitching.
The Astros traded pitching prospect Carlos Mateo to the Royals for RHP pitcher Dylan Coleman.
Coleman appeared in 96 games in the past three seasons for KC, including 68 games in 2022 and 23 games last season. He has a career 3.88 ERA and 1.37 WHIP. He's fastball (95 mph), slider (81) and cutter (90) and walked 57 batters and struck out 99 in 92 2/3 innings.
— Brian McTaggart (@brianmctaggart) December 6, 2023
Coleman is under club control for the next several years, and made just over $700,000 in 2022. With the Astros right up against the tax threshold, this is a good way to add to the bullpen without having to hand out a large contract.
The Royals had a tough roster decision to make with Coleman, and the Astros made the decision easy for them by making the trade.
Something to note
There's a reason Kansas City wasn't determined to protect Coleman from the Rule 5 Draft. Despite his decent numbers over the last three seasons, 2023 was a rough year for him, posting an 8.84 ERA over 23 games.
In fact, Coleman pitched more innings (30.2) for the Royals AAA team than he did for the big league club (18.1) in 2023.
Hopefully, the Astros can get him back on track this season with some help from their highly touted player development program.
You can watch some of his 2022 highlights above.
SportsMap Emails
Are Awesome