Here's an exclusive peek at the madness inside Yankee Stadium with the Astros in town
May 6, 2021, 8:13 pm
Altuve received the most hate by far. Photo by Sarah Stier/Getty Images.
Yankee fans waited four long years to jeer and boo the cheatin', pennant-stealing, MVP-robbing Houston Astros, and like that famous New York rapper from the 1700s, Alexander Hamilton, they didn't throw away their shot.
"F-Altuve!"
"Cheaters!"
"Houston sucks!"
"Go to Hell, Astros!"
And those were Hallmark cards compared to some of the other comments hurled at the Astros this week at Yankee Stadium. I left my Astros cap back at the hotel, took the 4 train uptown to 161st Street, passed through stadium security, and sat in Sec. 408 of the upper deck.
Yankee Stadium even during the waning days of the pandemic is in full lockdown. Capacity is limited to 25 percent, and fans must present a vaccination card or recent (within 72 hours) negative Covid test to enter. Fans must wear a mask at all times, and the Yankees mean it. Blocked seats are locked in their upright position so fans can't sit in them. Security people roam the stadium the whole game like library shushers, ordering fans to wear their mask correctly, covering their mouth and nose.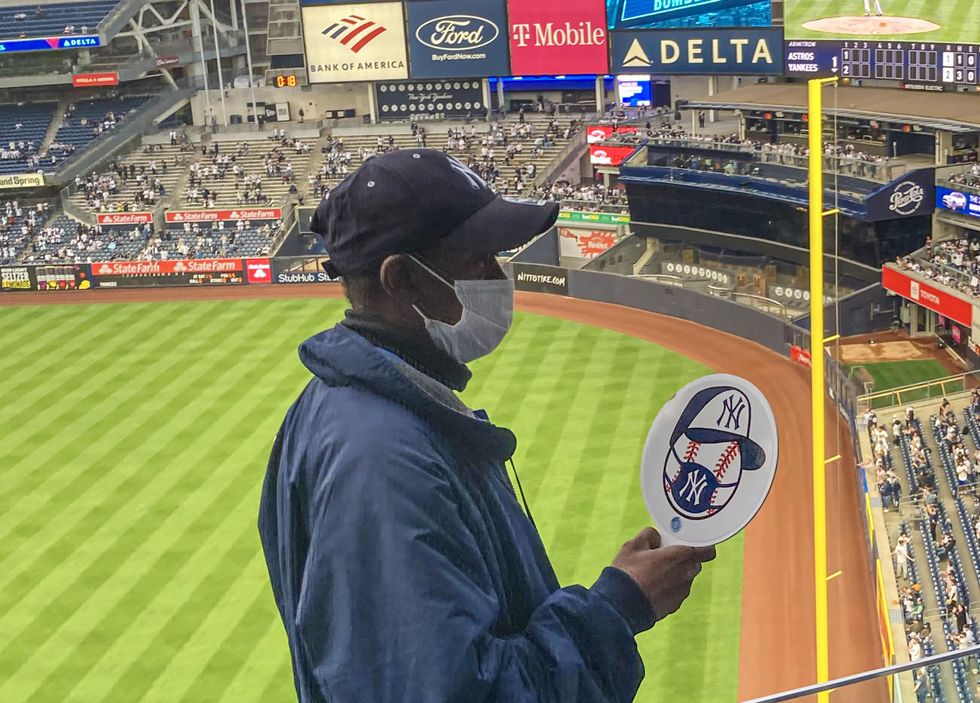 Photo by Ken Hoffman.
The whole city takes mask-wearing seriously. Out of habit, I forgot to put my mask on when I finished lunch at Joe's Pizza on Broadway and 40th. As I started walking, I noticed people moving to the side to avoid me. I was like Moses parting the Red Sea. Then I remembered and put my mask on.

Later this month, the New York Covid crackdown will loosen up and the Yankees can increase attendance. Vaccinated fans will be allowed to sit in designated sections without social distancing. Unvaccinated fans will be assigned other sections and made to observe social distancing. All fans still will be required to wear face coverings.
Yankee Stadium soon will be a Covid vaccination mega site. Get your shot, get a free ticket to a Yankee game. Something to consider, Astros management.
The Astros bashing started during pre-game warmups. When Altuve did sprints from the left field line toward center, fans let him have it good. Altuve is one of five Astros convicted of cheating during their World Series run in 2017. You may think you've heard it all, but you've never heard an entire stadium hurling F-bombs at one player for an entire game.
There were only 10,850 fans in the stadium but it sounded like standing and cursing room only. After the game, Astros manager Dusty Baker said, "They (fans) can say whatever they want, it sounded like a packed house tonight. We have to accept it."
Carlos Correa wasn't in such an accepting mood. After Tuesday night's 7-3 loss, he complained, "The Yankees allowed fans to personally attack me and, more importantly, one of the best men on the planet, Jose. New York is classless. MLB needs to step in." Carlos, this is New York, have you met?
In the seventh inning I hopped a few rows behind me to a particularly raucous group of guys and asked, "Why are you picking so much on Altuve? The whole infield was part of the trash can banging team in 2017."
One of them said, and it does make sense, at least to them: "Altuve stole the MVP from Aaron Judge that year. 'F' all of them, but Altuve the most. He never even apologized."
Actually, Altuve sort of did last year, after they were caught and the team was punished. "I want to say the whole Astros organization and the team feels bad about what happened in 2017. We especially feel remorse for the impact on the fans and the game of baseball. And our team is determined to move forward."
I guess that's an apology. For what? Well, something.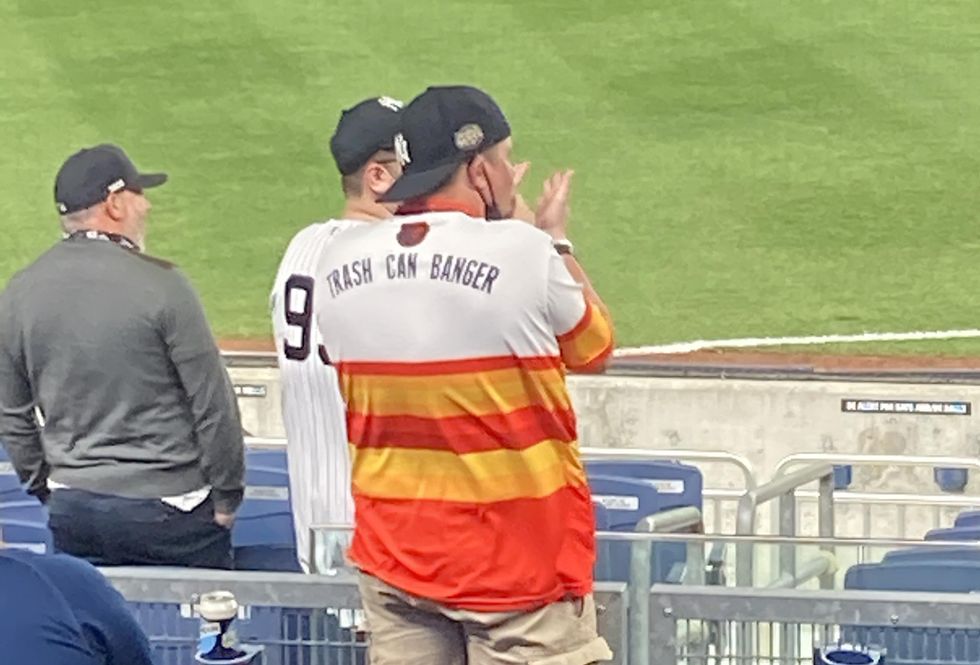 Photo by Ken Hoffman.
One fan wore an Astros jersey that had "Trash Can Banger" on the back instead of a name. There was a sign with Altuve's head sticking out of a garbage can like Oscar the Grouch on Sesame Street. A sign said "Cheater, Cheater, Pumpkin Eater." Another sign had only a simple, large asterisk on it. Sorry, buddy, the Astros 2017 championship stands.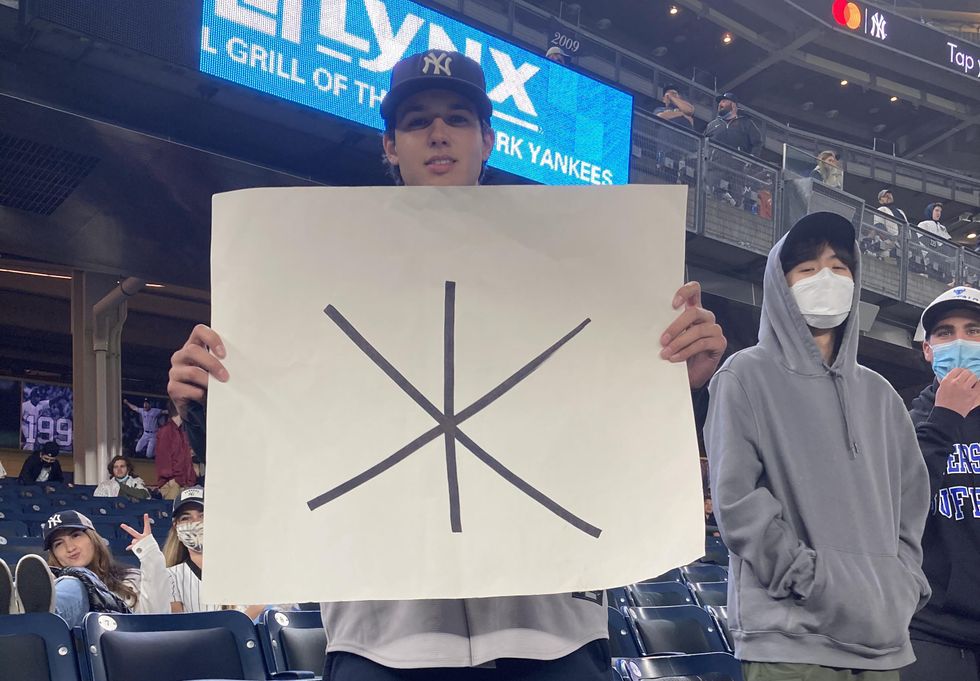 Photo by Ken Hoffman.
Concession prices at Yankee Stadium make Minute Maid Park look like a 99 Cents Store. If it's Tuesday, it must be Dollar Dog Night, right? Not in The Bronx. I've got a feeling we're not in Houston anymore. I had a hot dog, fries and Diet Pepsi and left the change from a $20. But those Nathan's French fries at Yankee Stadium are incredible.

Although Bregman hit a homer in the first inning Tuesday, his two-out throwing error in the sixth led to three Yankee runs and doomed the Astros. Altuve and Correa, the main objects of fans' bloodlust, both went 0-4. The jeering each time they swung and missed was merciless and laced with profanity. Some of what the fans yelled was physically impossible, even for professional athletes. Outfielder Michael Brantley, who wasn't on Astros in 2017, got into the act when he caught a fly ball for the third out in one inning and feigned throwing the ball into the stands for a souvenir. Instead he carried the ball back into the Astros dugout. "Boo, you d-bag, you suck!" That's called team bonding.
Back at the hotel, I watched the replay on TV. The crowd's colorful commentary came through loud and clear. It was the only baseball broadcast that needed an R-rating for "harsh language, some material may be inappropriate for children." And Astros fans.