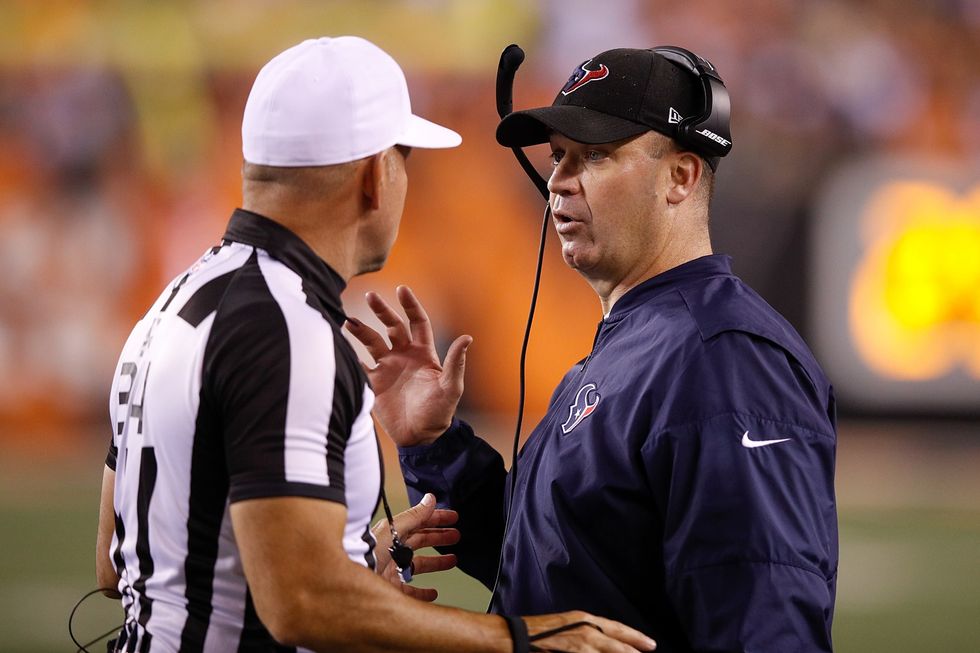 Bill O'Brien is not going anywhere. Joe Robbins/Getty Images
I'm sorry Texans fans but at 0-3, your season is all but over. Only five teams since 1980 have made the playoffs after starting the season 0-3 and the way that team looked yesterday, there is little hope they will be number six. The team looks to be in disarray on defense and cannot stop anyone regardless of how many superstars and talented players they have on the field.  The offense is mediocre at best and overall, we can all see that the coaching staff seems to be outmatched.
I'm sorry to also have to tell you that Bill O'Brien isn't going anywhere. They had an opportunity several months ago to let him play out the final year of his deal and see the results. He was heavily involved in the process of hiring a new general manager and Brian Gaine seem to be his guy, hand picked as the successor to Rick Smith. It would have been a wise decision by the organization to let these two gentlemen work together for a year before rewarding the head coach with a new contract.
However that's not how the Bob McNair decided to handle things. Instead, O'Brien got a hefty raise and a four-year extension, much to the surprise of many. The fact is, he isn't going anywhere.  There is no way that the organization and its ownership are going to pay a coach for four more years to walk away and do nothing. Dead cap money is bad, free coach money is just as painful, just without the salary cap ramifications. Absorbing all four years of a newly inked extension is not smart business, even if it makes perfect football sense. So get used to Billy O. being around for at least a little while longer and start thinking of how else the team can get better, without removing the man in charge.
For starters, how about forcing McNair to hire an offensive coordinator? Normally when someone in the business world holds more than one title it's because they are a great multitasker and have mastered their original position with the organization. We all know that O'Brien is both the Head Coach and the Offensive Coordinator for the Houston Texans, but no one will stand up and say that he has mastered either of those positions. If he turns over the offensive playcalling to someone else, he can focus on his coaching duties and the things that he has been negligent in. Things like clock management, knowing when to throw the challenge flag and of course, when to call a timeout for starters.
For a team and its fan base that was forced to admit that six games was too small of a sample size when selecting their quarterback of the future in free agency with Brock Osweiler, it's a shame to have to say that that same amount of games was also too small of a sample size to judge the offensive chemistry, play calling and statistical results of O'Brien calling plays for Deshawn Watson.
Where is the offense that we saw in those six games? Where are the results? All the yards and points and most importantly, the wins? What happened to all of the misdirection and motion and getting the quarterback out of the pocket where he has more room to operate? The offense this year is a microcosm of the team's record— unacceptable and disappointing. If O' Brien isn't leaving, why not force him to hire an offensive coordinator that can maximize Watson and his weapons, while not being quite as predictable or vanilla? The masquerade is over; O'Brien is not the offensive guru or the quarteback whisperer that everyone heard he was supposed to be when he was hired here.
Finally, remember how being a disciple of the Bill Belichek coaching tree was looked at as a huge positive? Al Groh is the only branch of the tree with a record over .500 and he was 9-7 in his only season as an NFL head coach. Everyone else has had more losses than wins and that includes Josh McDaniels (11-17), Eric Mangini (33-47), Romeo Crennel (28-45) and O'Brien now at (31-36). Take that information and then start thinking about the success of other head coaches hired after Bill got to the Bayou City. Coaches that have accomplished far more, in significantly less time. Names like Sean McDermott, who took the Bills to the playoffs in his first year at the helm, as did Sean McVay with the Rams as his squad went from worst to first. Doug Pederson did them one better, as he won the Super Bowl in his second season in charge. There are others like Dan Quinn in Atlanta, Doug Marrone in Jacksonville and Mike Zimmer with the Vikings just to name a few. In summary, McNair did what he didn't have to do, extended a coach who had no track record that warranted it and now must hope and pray that the coaching fairy comes to H-town and somehow straightens out the ridiculous mess that is your Houston Texans.
The Texans lose a tough one to the Jags on Sunday, and the referees were certainly a factor. Are they to blame for the heartbreaker?

SportsMap Emails
Are Awesome