10 Reasons why we love Buffalo Bayou Park
Sep 5, 2019, 6:27 am
Jovan Abernathy is an international marathoner and owner of Houston Tourism Gym. To claim your free tour, contact her at info@tourismgymhtx.com. Follow her on Twitter @jovanabernathy. Instagram @TourismGymHtx. Facebook @TourismGymHtx
Aside from our hospitality and our restaurant scene, I truly believe that Houston's parks are the city's pride and joy. Let' say it together with pride, "HOUSTON PARKS ARE BADASS!" One park that stands out is Buffalo Bayou Park. It is that 160 acres of green space between Shepherd Dr. and the Mosbacher Bridge. It is An amazing networkof hike and bike trails and the best natural tourism of Houston. So many reasons to love Buffalo Bayou Park. Here are mine!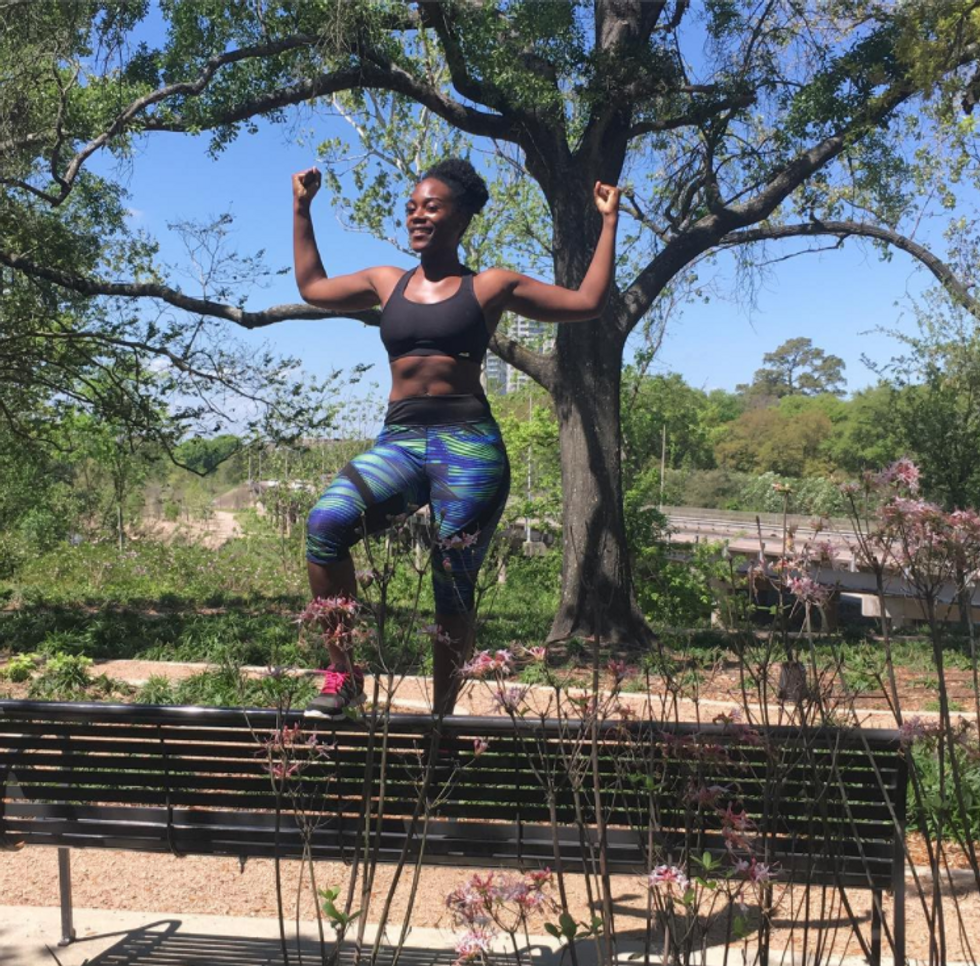 Courtesy of Buffalo Bayou Partnership
1. It is a great place to train.
I have used Buffalo Bayou Park to train for all of my marathons. It is a great connector to other parts of the city like Downtown, the Heights and Montrose. It keeps your run interesting with hills, flowers, and wildlife. It is also a great place to add mileage to your runs.
2. So Many Awesome Events.
Buffalo Bayou is home to some of Houston's best events. These are held at resident venues such as the Bud Lite Amphitheater, Eleanor Tinsley Park, and the Water Works at Buffalo Bayou. Enjoy weekly 45 minute session of Sunrise Yoga at the Water Works. All ages and fitness levels welcome. Mark your calendar for the upcoming Houston Margarita Festival, the Houston Press Tacolandia, and Octoberfest Houston 2019.
3. There are plenty of volunteer opportunities.
It takes a lot of donations to make a place like Buffalo Bayou Park possible. $58 million in fact. Not all of us have that kind of cash lying around, but we still have two valuable resources to offer: time and energy. Buffalo Bayou Park has plenty of ways to put your good time and energy to. You can volunteer to restore and protect the lovely trails of Buffalo Bayou. You can do this by weeding and picking up debris. Every third Saturday is designated as Volunteer Day where groups and individuals are welcome to join.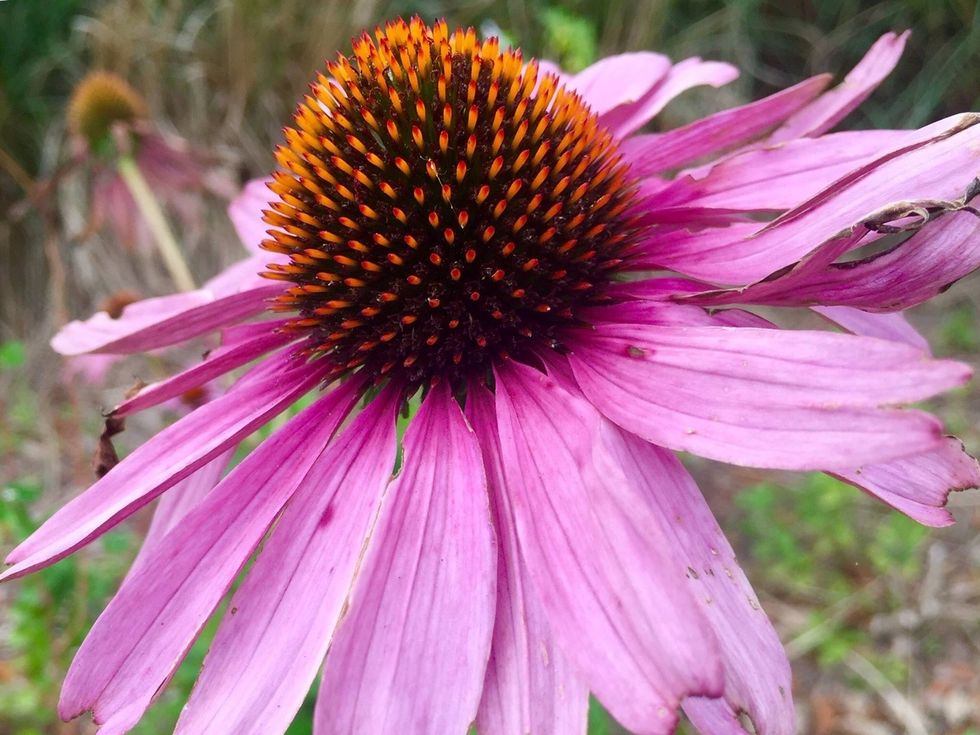 Violet Coneflower
Arthor's own
4. Houston's best place for natural views, wildlife, and foliage.
One of my favorite things about running and walking in Houston, is taking pictures of trees, flowers, and natural settings. There are plenty of opportunities to do so in Buffalo Bayou Park. You have your pick: Live oak trees, wildflowers, jumping fish, even the occasional alligator. Nothing compares to the bat colony on Waugh Bridge. Whenever you are running and you smell this overwhelming stench, don't look at your running partner, its actually 250,000 Mexican bats that live under Waugh Bridge. You can see these bats emerge most nights at dusk to feast on the many bite size insects that drive us crazy.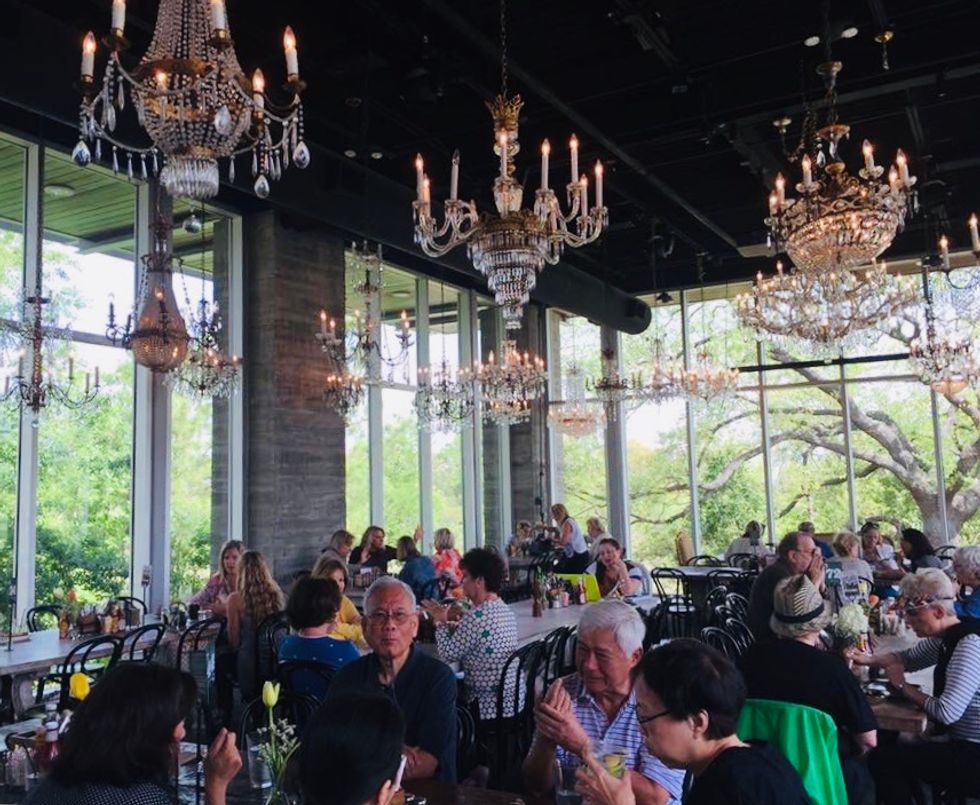 the Kitchen at Dunlavy
Arthor's own
5. Home to the Kitchen at Dunlavy
Look past the Lost Lake and you will find a fantastical tree house restaurant called the Dunlavy. The restaurant, brought to you by Clark Cooper Concepts, serves breakfast and lunch everyday. It was voted "One of the World's Most Romantic Restaurants by CNN. To Houstonians, its the best place for weddings and Super Bowl Parties. During the day, it is counter restaurant service for breakfast and lunch. It is a go to for smoothies, breakfast bowls, croquet madame, cheese and charcuterie boards, and of course, the Dunlavy burger. But on the weekends, get there quick, because it fills up fast and you will be out there with the lily pads.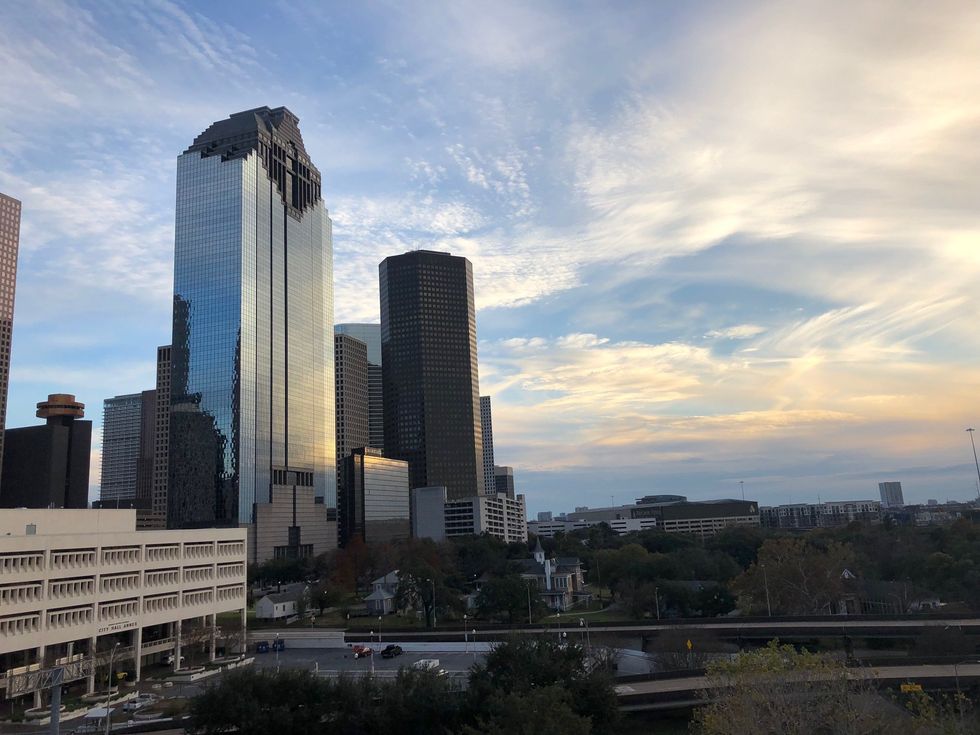 Beautiful downtown view
Arthor's own
6. The Best Downtown Views
My tourists really love taking pictures of the Downtown Skyline. Buffalo Bayou Park is home to some of my favorite views. For the best views, stop at Sabine Promenade and smaller bridges towards downtown. When you are about to walk into Downtown, don't forget to take in the amazing view from Mosbacher Bridge.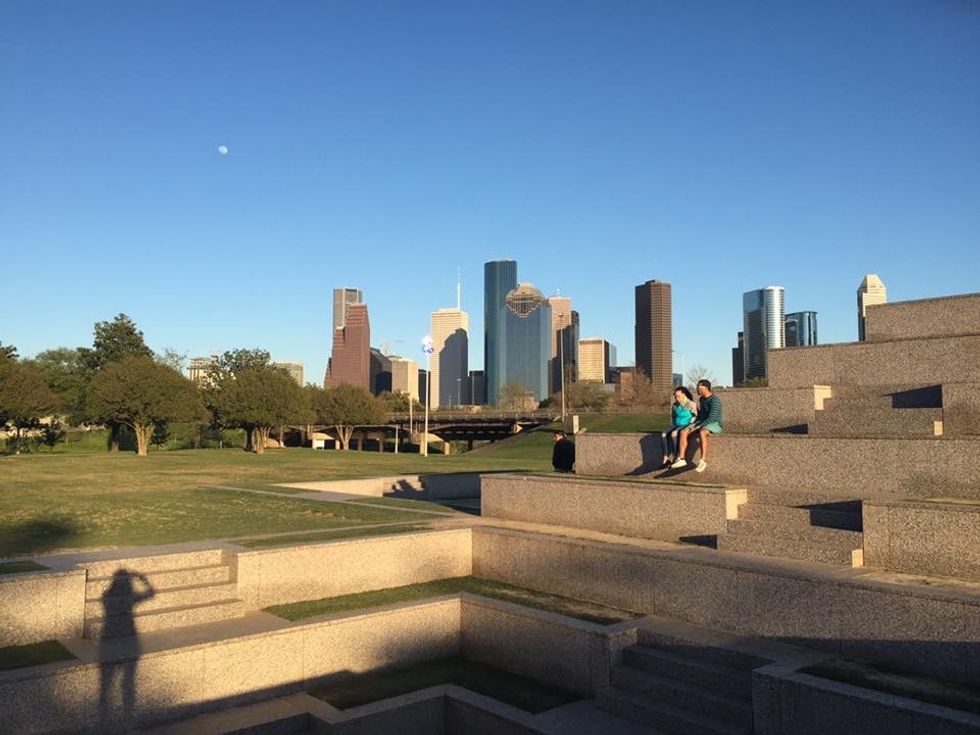 Police Officer's Memorial
Arthor's own
7. Let's honor our Fallen at the Police Officer's Memorial.
The Police Officer's Memorial. If you are traveling into Downtown from Memorial Drive, chances are you have passed this amazing structure. This memorial serves as a public recognition of sacrifices that have been made by police officers to carry out their duties. This is especially for the officers who have died in the line of duty. The memorial, including the names of over 100 fallen police officers, is made of pink granite in the shape of a Greek Cross with a pyramid for the center. You can honor these officers on the annual wreath laying ceremony.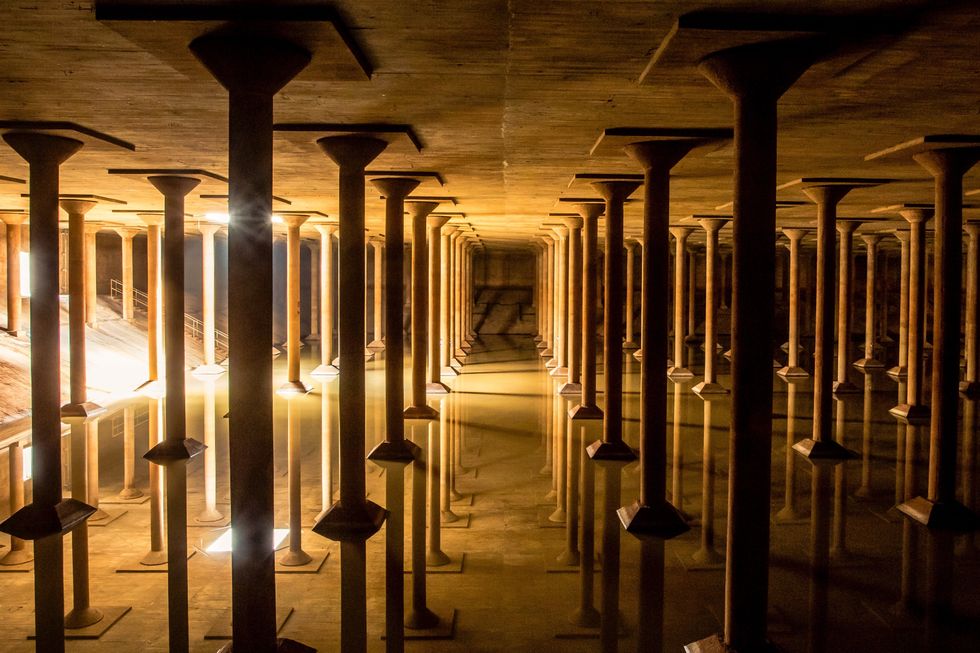 inside the Cistern
​Katy's Horner/Slight Clutter Photography 
8. Buffalo Bayou Park Cistern
This structure, the size of one and a half football fields, lay dormant as one of Houston's best kept secrets. That was until 2015 after the reopening of Buffalo Bayou Park. The Cistern, built in 1926, was used as the city's water reservoir for drinking water storage and fire suppression. Due to a leak, it was decommissioned in 2007. Today, you can enjoy tours and photography sessions inside. It has been home to art exhibits as well like Chromointerference by Carlos Cruz Diez.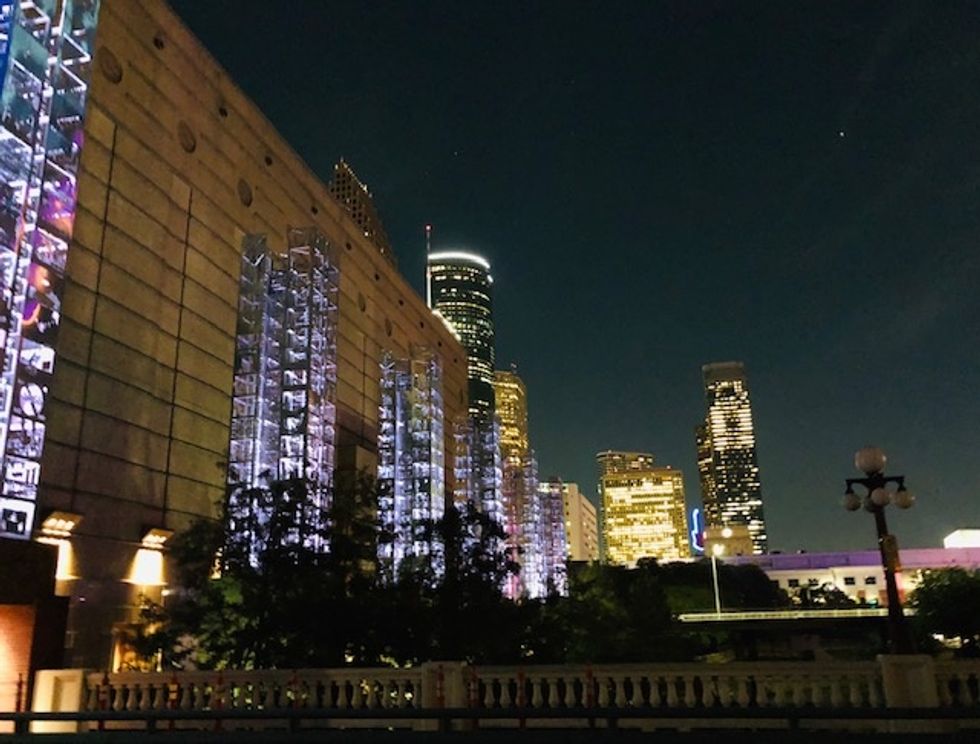 The Seven Wonders
Arthor's own
9. Oh! the Spectacular Artwork of Buffalo Bayou.
I hope you have enjoyed all of my pictures of the art in Buffalo Bayou. Here are some of my favorites that you need to look out for.
Gus S. Wortham Fountain. Also nicknamed Dandelion near Waugh Bridge. At night, this fountain lights up with alluring colors like pink, purple, and blue. It doesn't take much to see why it is called the Dandelion.
Seven Wonders. This exhibition by Mel Chin, used the art from grade school students to depict the seven pillars of Houston civilization. Agriculture. Energy. Manufacturing. Medicine. Philantropy. Technology. and Transportation.
Tolerance. This is a seven piece constellation at Montrose and Memorial. It stands for equality of all religions and nationalities of the seven continents.
The Big Bubble. This installation by Dean Ruck is a big bubble that occurs in Buffalo Bayou that is activated by a "secret button." I would say that you have to be in the know, but it has been turned off since Hurricane Harvey. Maybe one day.
10. It is resilient!
Houston was so proud at the unveiling of the park aafter its $58 million renovation. Then came Hurricane Harvey. We all saw the pictures online and on social media. They were horrible. Just like I would expect from Houstonians, we all came together and after 2300 volunteers donated 7000 man hours, 60 million pounds of sediment, 500 trail lights, 5 dump trucks full of trash and debris were removed or repaired. Over 400 native trees and 1100 flowers were planted to restore the park.
You can definitely see why we all love Buffalo Bayou Park. I can't help but think this every time I run, walk, host, or drive anywhere in or around our pride and joy!
If you want more information or have questions about Buffalo Bayou Park, email info@buffalobayou.org. BBP Instagram handle is @buffalobayou.