The work continued on day two highlighted by a star's return and a special teamer standing out
11 observations from Texans training camp, July 26
Jul 26, 2019, 1:51 pm
A star returns
MR. 99 overall in Madden, @DeAndreHopkins is practicing today! @espn975 #Texans pic.twitter.com/b6JlBo7Bo5

— Jake Asman (@JakeAsman) July 26, 2019
Texans star pass catcher DeAndre Hopkins made his return to the practice field just one day after the workouts started. He worked on some very specific drills during the workout. He practiced catching the ball from different body positions like squatting and leaning. He will be on a rep count for the Texans during camp.
Roby's run continues
Bradley Roby frequently cites how the #Texans struggled in the secondary last year. Said he wants to help correct that and play on the top defense in football.

— Cody Stoots (@Cody_Stoots) July 26, 2019
Make it two days of impressive work in a row for new cornerback Bradley Roby. He ripped down a pass for a pick-six which Bill O'Brien claimed occurred because a pass catcher ran the wrong route. Roby didn't mind how it happened though, he took the ball the 70-plus yards for a score.
Speaking of pass catchers
This may be the deepest pass catching depth in history for the Texans. It feels like everyone can catch the ball well. We know about Hopkins and Will Fuller but Keke Coutee is the first real slot the Texans have had and the tight end room is loaded with every kind of tight end you would want. Deshaun Watson has a plethora of options to hit on the field.
The other Jordan
Jordan Thomas will get a lot of love during camp, as he should. But, don't forget about Jordan Akins. Though he had some plays Friday he might want back he had plenty of play maybe only he can make. Akins should be quite the chess piece for Bill O'Brien to move around the field. A few linebackers had a rough day trying to matchup with him.
Linebackers covering
Zach Cunningham and Dylan Cole are here for among other things their reliability in coverage. The duo showed again today how athletically gifted they are as they chased down tight ends and running backs. It will be imperative Cole stays healthy this season and give the team the much needed depth for that job.
A.J. Moore day
The special teams standout from last year had a strong day between the lines today. He was all over the place breaking up plays. He hauled in a long pass for an interception which really fired up the defense. He has plenty of opportunity while Justin Reid is out to add to his resume on defense.
Reid returns next?
While there is no timetable for Justin Reid to be activated for the team Bill O'Brien didn't seem concerned about his second-year safety's timeline. Reid was hit by a drunk driver before camp started and is currently on the Active/Non-Football Injury list. In his absence Jahleel Addae, most recently with the Chargers, has been getting a good amount of work.
AJ day 2.0
Backup quarterback A.J. McCarron diced up a few defensive sets. He rolled out a few times confusing defenders and extending a play just long enough for his players to come open. He threw a laser into the back of the end zone for a touchdown. He also isn't afraid to take a deep shot.
Pads come on Saturday
The team will have their first padded practice on Saturday. This is where more can be learned about the offensive and defensive lines. The list of most interesting players to be in pads tomorrow for me is as follows:
OL Tytus Howard
OL Max Scharping
OT Julién Davenport
DE Charles Omenihu
Play of the day
Fullback Cullen Gillaspia made the play of the day. He caught a pass in the corner of the end zone over his shoulder with a linebacker right on him in coverage. The defense protested saying the catch wasn't made in bounds. Gillaspia smacked into a storage shed finishing the rep but popped right back up.
Quote of the day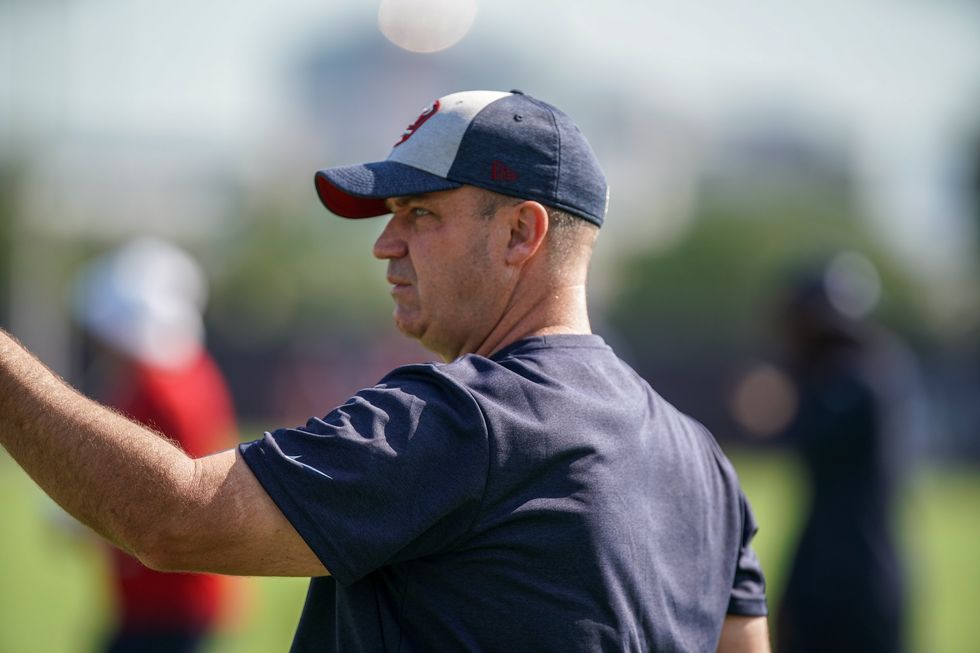 "We'll only keep him on the left side and he'll get his tackle reps."
Texans Head Coach Bill O'Brien on rookie offensive lineman Tytus Howard.