The last solo work before the Lions get to town
11 observations from Texans training camp for Aug. 12
Aug 12, 2019, 12:28 pm
Jordan Thomas Returns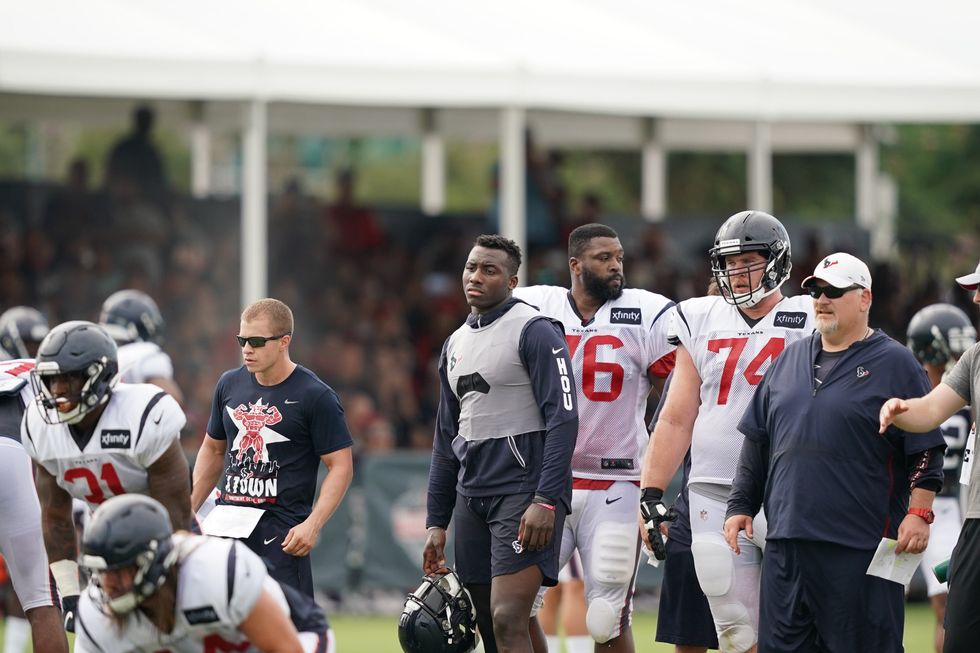 @EdClarke03/Eddie Clarke
Jordan Thomas made his return to the field today after missing quite a few dates with an injury. He looked a little rusty but he was athletic in a near one-handed grab in the end zone. He has some catching up to do. He's clearly behind Jordan Akins and Darren Fells has situations where he is more useful.
Deshaun on the move
Good thing the Texans have a quarterback that can move. Watson was running for his life on a couple of plays today. His ability to throw and move is fantastic and he is making better decisions on when to take off. It will be interesting to see if he can translate this to the regular season. If so some of the concerns about his injuries can go away.
Henderson holding up
Seantrell Henderson had more wins over J.J. Watt than I have ever seen in camp. Henderson fought Watt to a tie a few times and held up the Texans excellent pass rusher a couple of times. I feel much better about Henderson than most members of the line. I, of course, was high on him before last season too. The only concern here is health.
Kalil's day off presents opportunity
Matt Kalil seemingly got a veteran day off on Monday for the Texans. With him out Roderick Johnson and Julién Davenport worked the majority of time at left tackle in Kalil's absence. If either player stood out there is a chance Kalil would be out of a job. They have a long way to go before they could supplant Kalil. This is a big week for Kalil to keep his spot at left tackle.
Welcome back Mr. Carter
DeAndre Carter is a breath of fresh air. He can do almost everything Keke Coutee can do from the slot and won more than a few reps today. There was a play where he absolutely worked the defensive back and quarterback Jordan Ta'amu missed him much to the chagrin of some coaches who pointed out Carter's win.
Tyron Johnson's roles
Tyron Johnson got some work in the return game and one of the biggest things is he doesn't miss reps. Luck has been on Johnson's side with health and he's been getting plenty of good work in. He had an amazing catch today with Deante Burton in coverage. He used his off hand to keep Burton at bay and came down with a very nice catch with Burton right there.
Fulton a man of many talents
Zach Fulton is playing center while Nick Martin and Greg Mancz deal with injuries. Fulton filled in at center in 2017 for the Chiefs. I wouldn't be shocked if he is actually the best center on the team. With him at center there has been plenty of work for Max Scharping at guard and the rookie has been paying off on those opportunities.
Gillaspia's fingertip catch
Fullback Cullen Gillaspia had a catch today that was again impressive in his ability to do those things. It looked like it was out of his reach but he was able to haul it in and beat his man to the front of the end zone for a touchdown. His ability to haul in passes has impressed me and while I was high on that aspect of his game he's got more potential there than I realized.
Crowded room for Johnnie Dixon
Johnnie Dixon hasn't had a bad camp but by comparison to others he hasn't stood out. He has a lot of physical gifts and his quickness is certainly an asset. He had a probable fumble in a drill today that got the defense excited. There have been others who have shined brighter but I think there's something there, maybe just not for the Texans.
Play of the day
Tyron Johnson coming down with the ball in coverage or Cullen Gillaspia's fingertip snag.
Quote of the day
"I'm still having fun."
Texans defensive coordinator Romeo Crennel who has no plans of slowing down approaching his 37th season in the NFL. Crennel has a tall task this season but hopefully his experience can cover up some of the potential shortcomings on the team. Also, I imagine if the defense didn't look good this season he would be coaching year 38 in the NFL somewhere else.