One last workout before the Texans head to Green Bay
11 observations from Texans training camp, Aug. 3
Aug 3, 2019, 2:00 pm
If you have missed any of the previous looks at the Texans observations you can find them here
Light day but work day
#Texans about to get to work on an overcast day. pic.twitter.com/v3BFvble0x

— Cody Stoots (@Cody_Stoots) August 3, 2019
The Texans are deep into working against themselves and with the work against the Packers a couple of days away the team didn't hit it super hard. They got some really solid work in though. Plenty of situational work and even some goal line work. I would say the offense and the defense each had elements of they day they could be proud of Saturday.
Stout. Just stout.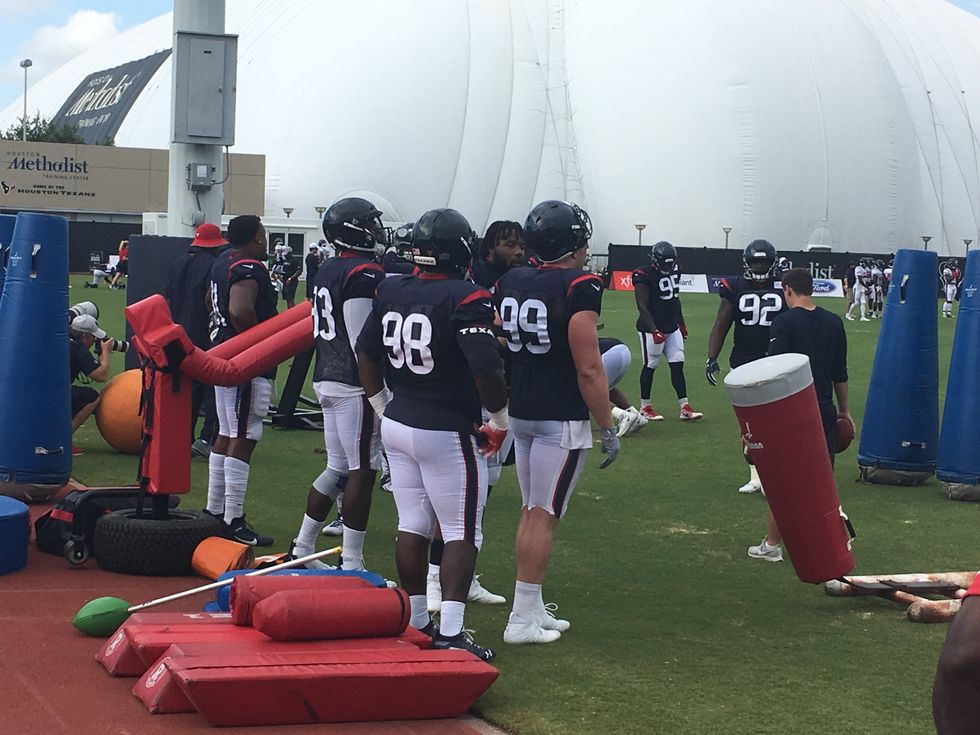 Texans defensive line at Texans Training Camp 2019
I am not sure who will be scoring on the Texans defensive line. They have rarely been pushed by the Texans offensive line on the ground. When Watt and Reader are leading the pack they just smash people. I can't wait to see them work against other teams and better offensive lines. Green Bay could be a fun test. If you want to score on the Texans in the red area you better throw.
Picking on Roby
The Texans offense picked on Bradley Roby a bunch today. He got a couple of wins but DeAndre Hopkins is a tough cover for him. Lamar Miller also put a nice move on him in the open field to score a few more yards. The Texans have to have Roby play well if they are going to succeed this season.
Surprising find
Jahleel Addae has been a real camp standout. The safety has spent the last few years with the Chargers and he's easily one of the best safeties on the team with Justin Reid and Tashaun Gipson. He earned some praise from Bill O'Brien after the workout as well. The Texans' defense has always relied on a third safety to a large degree and Addae has been a really nice find by the Texans staff.
Tytus and Thomas down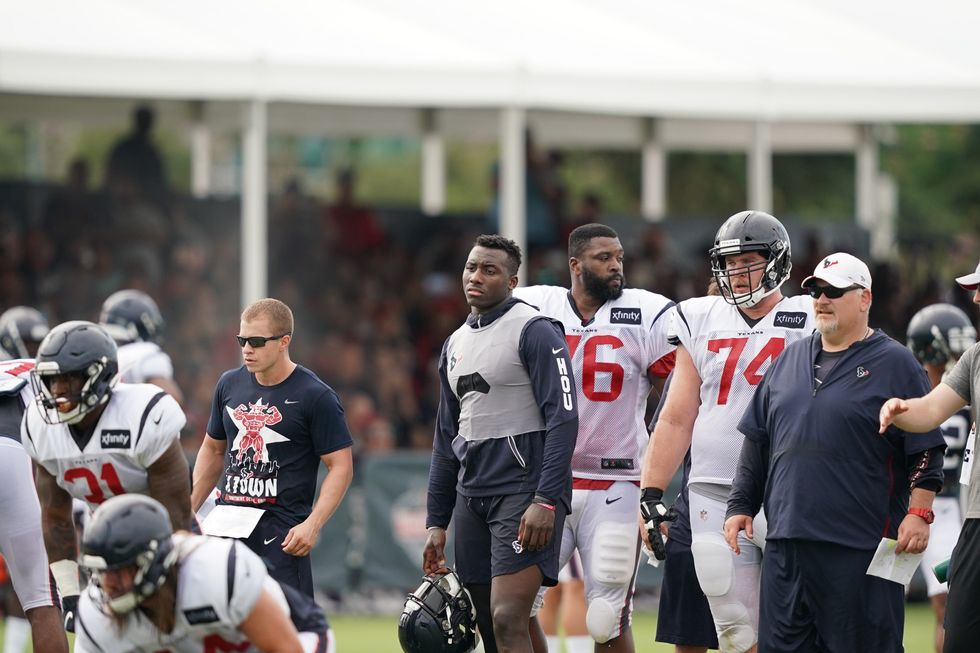 Jordan Thomas at Texans Training Camp 2019
Tytus Howard didn't work out again today despite Bill O'Brien hinting earlier in the week he expected the first round pick to be ready today. If it is nothing too serious I would expect him to work against the Packers next week. If he misses those workouts there will be cause for concern. Jordan Thomas has been down but again, if he works out against Green Bay he hasn't missed a ton.
Pass blocking woes
The running backs had a decent day against the safeties earlier in camp but they worked against the linebackers today and it wasn't pretty. Lamar Miller has the absolute best rep, as he should he's the expert on the team, stuffing Benardrick McKinney. D'Onta Foreman had a solid rep too but the rest of the backs struggled.
Watt vs the world
They've been to many games, but today was Mom & Dad's first ever training camp practice.

"And our last"
- Big John after experiencing the heat and humidity 😂😂😂😂 pic.twitter.com/xOjLlxmhwN

— JJ Watt (@JJWatt) August 3, 2019
J.J. Watt showed off for his parents at practice today working over just about everyone he faced. I feel bad for the Packers linemen. Watt bull rushed Matt Kalil almost into Deshaun Watson on one play. He has looked great in camp and frankly needs some days off so the offense can actually work. Kalil looked solid on his other reps. He's had a nice camp.
Baseball Watson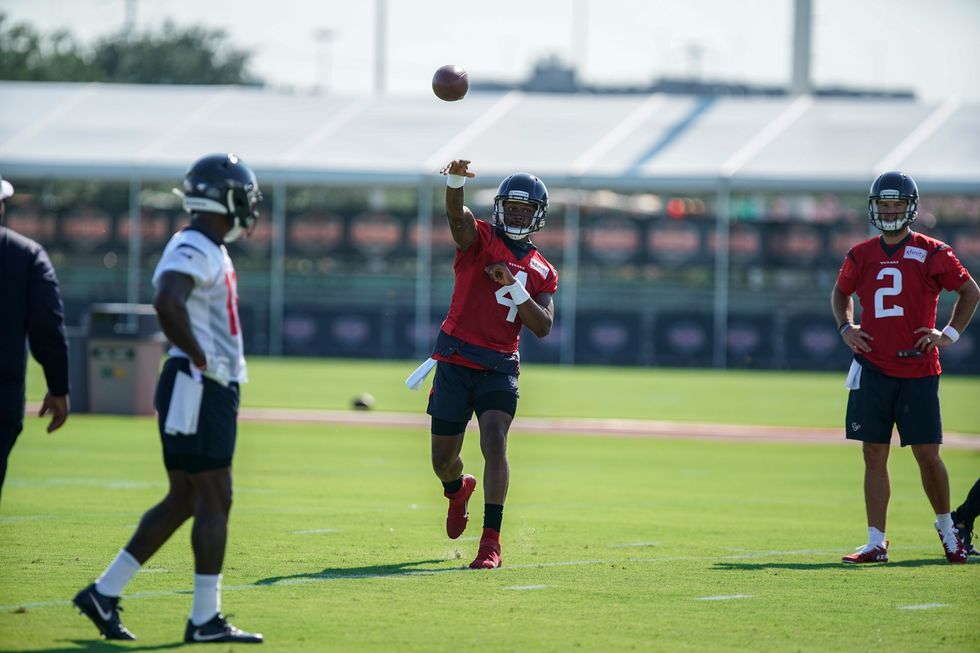 Deshaun Watson
This may sound weird but I bet Deshaun Watson would have been one hell of a baseball player. His lower body moves like a shortstop sometimes and his ability to get the ball out from angles reminds me of a middle infielder. He's smooth and it is apparent he knows so much more than previous years. He makes it look easy.
Fairbairn's first miss is no issue
Texans kicker Ka'imi Fairbairn missed the first kick I saw him miss in camp. He hit the upright and it bounced back. Again, this was the first miss I have seen in camp. Later when the A.J. McCarron led Texans offense stalled out Fairbairn hit what would have been a kick good from it seemed like 60-plus yards.
Play of the day
It felt like the first goal line rep of the day and the Texans defense was fired up after forcing a fumble. It looked like a few different defenders ended up contributing to the play. On offense, Keke Coutee kept moving when Deshaun Watson extended a play and extended out to make a great snag.
Quote of the day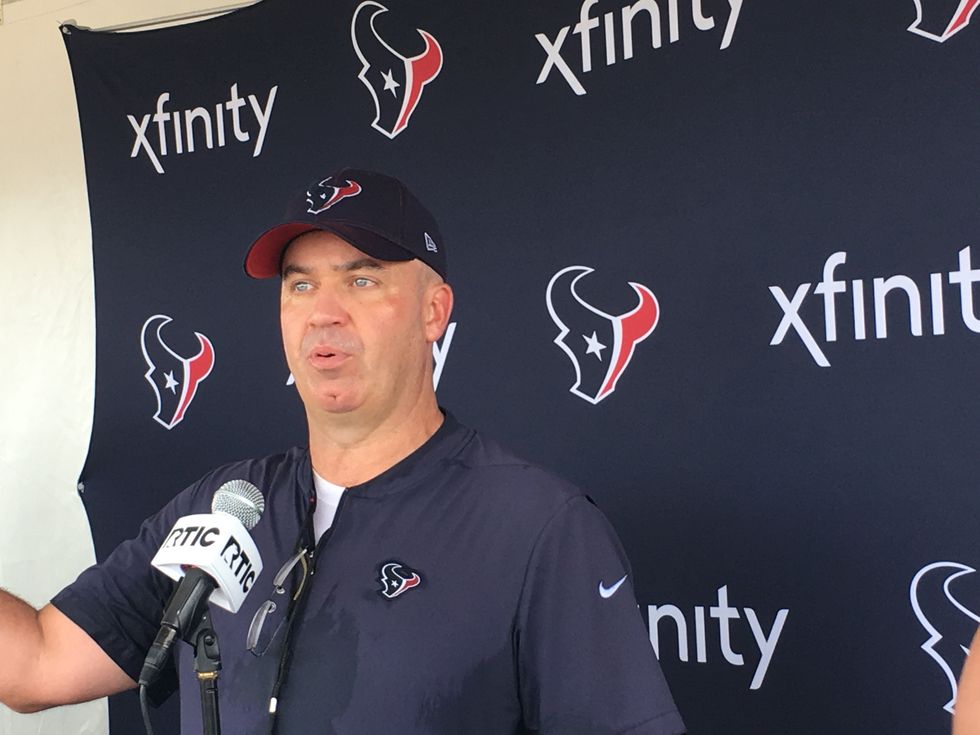 Bill O'Brien
"Greg Mancz has done a good job, but we need Nick back out there. From a leadership standpoint, from the whole deal. Taking nothing away from Greg Mancz. We think very highly of Greg Mancz, it's just from a depth standpoint and getting Nick back out there, for Nick, it's important."
Texans Head Coach Bill O'Brien on his injured center Nick Martin. Martin will go to Green Bay with the team hoping to practice.