A few players bounce back as the pads stay on for another day
11 observations from Texans training camp, July 28
Jul 28, 2019, 2:38 pm
If you missed the Saturday July 27 observations you can find them here
Good day for Tytus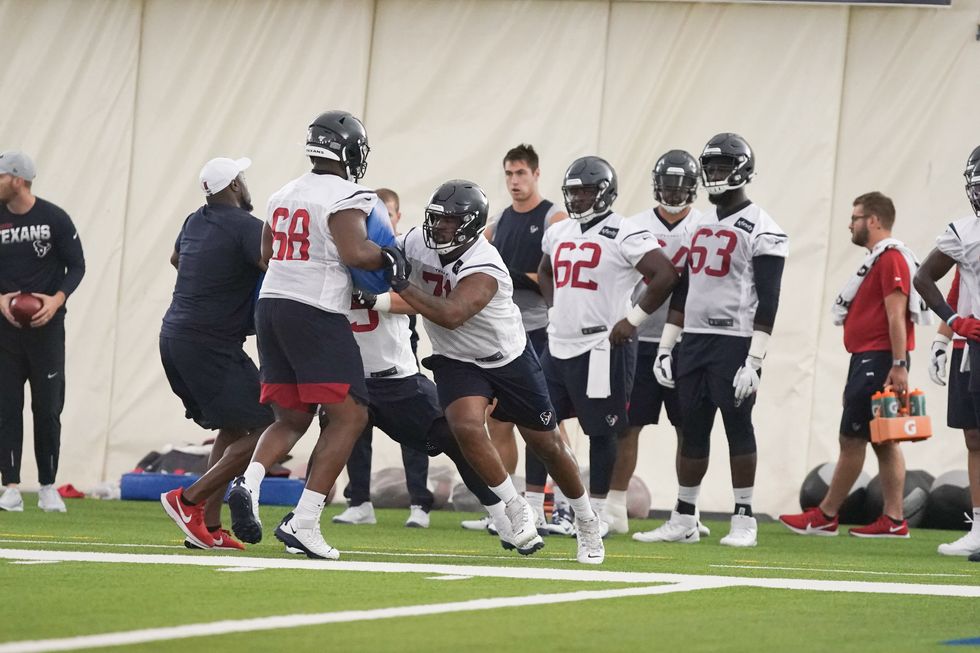 Texans OL Tytus Howard at Training Camp 2019
@edclarke03/Eddie Clarke
Tytus Howard had a very nice day. He worked a lot with some of the veterans getting an off day. The most impressive rep was him stoning D.J. Reader and stopping the veteran defensive lineman cold in his tracks. He had some nice reps against other rushers too. He even earned a measure of revenge on Joel Heath after Heath won some reps in the first padded practice. He moved around really well too getting out and leading the charge on a few blocks.
Miller's the leader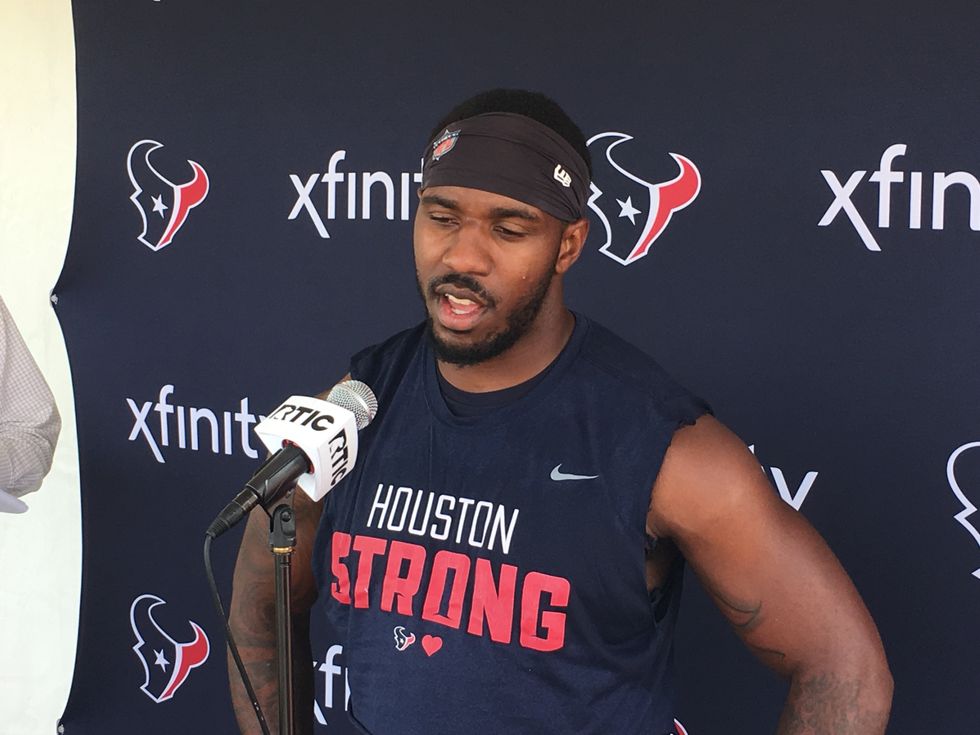 Lamar Miller at Texans Training Camp 2019
@Cody_Stoots/Cody Stoots
Lamar Miller is the best running back in camp for the Texans and it isn't even close. That shouldn't surprise you. What may surprise you is this might be the best version of Lamar Miller the Texans have ever seen. Going into his third year in Houston last year Miller slimmed up a little. This year I would say he is trimmed up. Not smaller, but lighter was the way he spoke about his body. His level of scoot, if you will, is the best I have seen it.
Concerns about Foreman
​Running back D'Onta Foreman has done a great job getting his body ready for camp. He hasn't done a great job being a running back yet. He did not have a good drill when the backs were practicing pass blocking against defensive backs. He struggled and didn't even see any premier pass rushers while doing so. A few of his movements were sluggish. With a break coming up soon how he finishes the week will be something to monitor.
More Moore
A.J. Moore was singled out by head coach Bill O'Brien on Sunday as a player who is a special teams contributor and thouroughly relishes the opportunities. Well, Moore is getting it done on defense too. He has had a strong camp. Today while watching a blocking drill Moore came running by in our sight line with the ball. I was confused at first until I realized he had run a pick-six back from his drill down the field.
Pushing for a spot
The #Texans getting some wideout work in at camp. Tyron Johnson from Oklahoma State has had some impressive moments in camp. Andre Johnson watching from the outside portion of the drill. pic.twitter.com/v9SBzpyc2u

— Cody Stoots (@Cody_Stoots) July 28, 2019
Former Oklahoma State wideout Tyron Johnson had a really solid first day and then a couple of decent days. He was back to a good day today showcasing his various talents. He has a chance to force the Texans into keeping six wide receivers on this roster. He has strong hounds, is physical, and seems to pick things up with ease. It is worth noting, before ending up at Oklahoma State he was a five-star recruit who picked LSU.
Under the radar push up front
Carlos Watkins and Angelo Blackson had a few nice plays on Sunday. They are a part of a room that has some severe competition if you'd like to stick around the Texans. Albert Huggins who was at Clemson last year had a nice play that caught my eye as well. There is a lot of talent in the defensive line room. This could be one of the most competitive units on the team.
Not as Scharping
Offensive lineman Max Scharping had a day that left something to be desired. He struggled with extending his arms and really getting into defenders. One play it took him a second to establish his grip but once he got set and could plant he slowed the rusher down. Unfortunately for him he was deep into the pocket by then.
Watt a monster, just like we like it
J.J. Watt worked today but nothing looked like work for him. He took a few strolls to the QB or the dummy posing as the QB today. Veterans and rookies alike had no shot against Watt. This isn't shocking but just your reminder we are witnessing one of the all-time greats.
Gilly bounces back
#Texans RB Lamar Miller happy to have the fullback again. Former #12thMan@CGillaspia has had a solid few days playing that spot. pic.twitter.com/a4rl4dt3cZ

— Cody Stoots (@Cody_Stoots) July 28, 2019
Fullback Cullen Gillaspia had a much better day today in pads. He held his own in the individual blocking drills looking very strong. I was worried after Saturday where he looked a little over matched but he handled his challenges today in the drills well. When he gets to working against linemen and linebackers he will need every ounce of his being to make sure he nails the assignments on them. He did whiff on one block in a team play that should have been and easy one for him to finish but it was a much better day today for him. He is smooth running routes.
Play of the day
Jordan Akins and Deshaun Watson hooked up for two magnificent plays back-to-back. The first saw Akins sky into the air and rip down a Watson bullet with one hand to move the chains for a huge gain. The very next play Watson put it right on Akins and away from the defender for a score. It was an amazing throw both times, showcasing Watson's pinpoint accuracy.
Quote of the day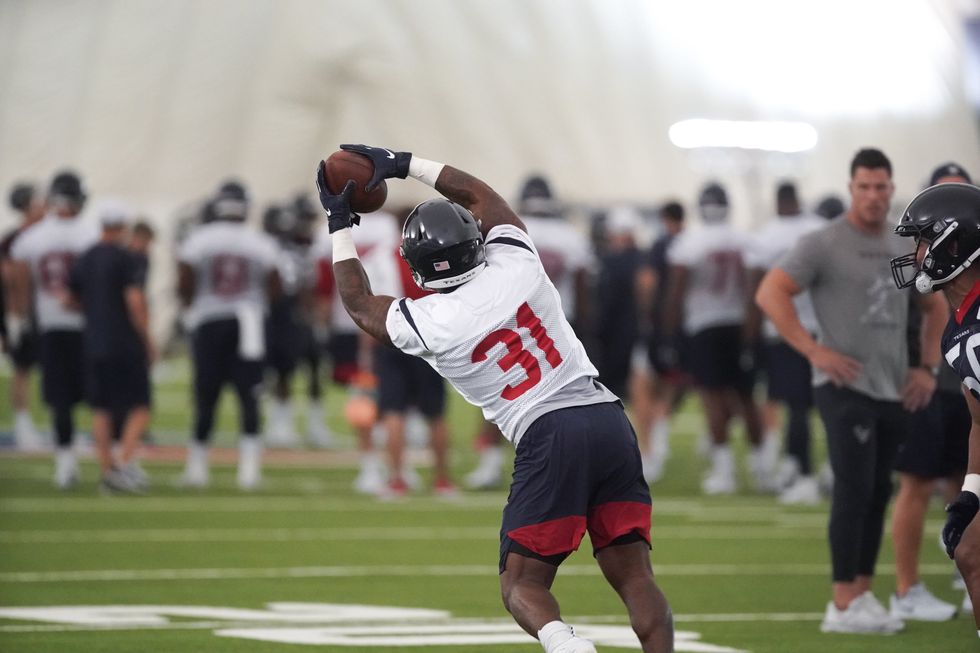 Karan Higdon at Texans Training Camp 2019
@edclarke03/Eddie Clarke
"It's wide open."
Texans Head Coach Bill O'Brien talking about the team's running back spots after Lamar Miller. There are a lot of names, and maybe even some not on the roster, to fill our the two spots behind Miller.