The first day in pads were big for a few different Texans
11 observations from Texans training camp, July 27
Jul 27, 2019, 5:07 pm
If you missed day two you can find them here.
First day in pads
There wasn't a ton of thumping in pads but there was some solid work. The defensive line had a solid day despite not having J.J. Watt or Jadeveon Clowney. The defensive backs and wideouts got good work in today with each other as well. The running backs had a long day with the linebackers.
Learning Lonnie
It's not fun as a rookie for the #Texans trying to cover the best WR in football. Lonnie Johnson won a rep against Hopkins later though. pic.twitter.com/ty2z4UDrdv

— Cody Stoots (@Cody_Stoots) July 27, 2019
Imagine being a rookie and trying to cover DeAndre Hopkins. This rep didn't go Lonnie Johnson's way but after some quick instruction and another chance later the rookie won a rep against Hopkins via solid technique and being physical. A huge asset for Johnson is he seems to pick things up quickly.
Testing Tytus
#Texans OL Tytus Howard said he mines the DL for info as well. pic.twitter.com/bPBCXmlVYB

— Cody Stoots (@Cody_Stoots) July 27, 2019
Tytus Howard has a solid day. There were certainly some moments where he looked less than impressive but he held his own on a few different reps including a pseudo-pancake of D.J. Reader. He got a little tired and the technique was a little loose later in the practice. These early days will be huge for testing his conditioning and ultimately improving it. O'Brien noted he worked more at left guard but got some tackle work as well. Howard said he uses Matt Kalil as a resource to learn.
Key piece on the line
D.J. Reader was a terror today for all the offensive linemen. Wherever he worked he annoyed the offense. He got into the backfield more than a few times. He will be a key piece to the Texans defensive line this season. Nobody else can do his job.
Welcome to the NFL moment for Scharping
Max Scharping looks the part and he had a decent day on the offensive line. He did have some moments where he will likely want those reps back. There's plenty to work on for the second round pick but there are moments where it is clear why the Texans invested in him.
Healthy Heath
Joel Heath has been around the Texans for a few years and has been in and out of the lineup. He had a really good day Saturday and showcased his length and athleticism. There are plenty of options for the Texans to choose from on the defensive line but the numbers will start filling up quick. Heath will need to build on this day and stay healthy but he looked solid.
Tougher than college
Fullback Cullen Gillaspia had a long day. His first year playing fullback was last season for his college team Texas A&M. There were moments where he looked like he had a tough time with the strength of some of the defenders he was asked to block. He also had a few miscues in the passing game. O'Brien mentioned technique and fundamentals are an early emphasis for the younger players.
Omenihu stands out
Rookie defensive lineman Charles Omenihu stood out a few times. He flashed strength and speed on a couple of occasions. He looked like he was more ready than some for pads. I will be anxious to see a rep against Matt Kalil down the line for Omenihu to see if the veteran can use his experience to tame the young defender.
Johnnie Dixon's opportunity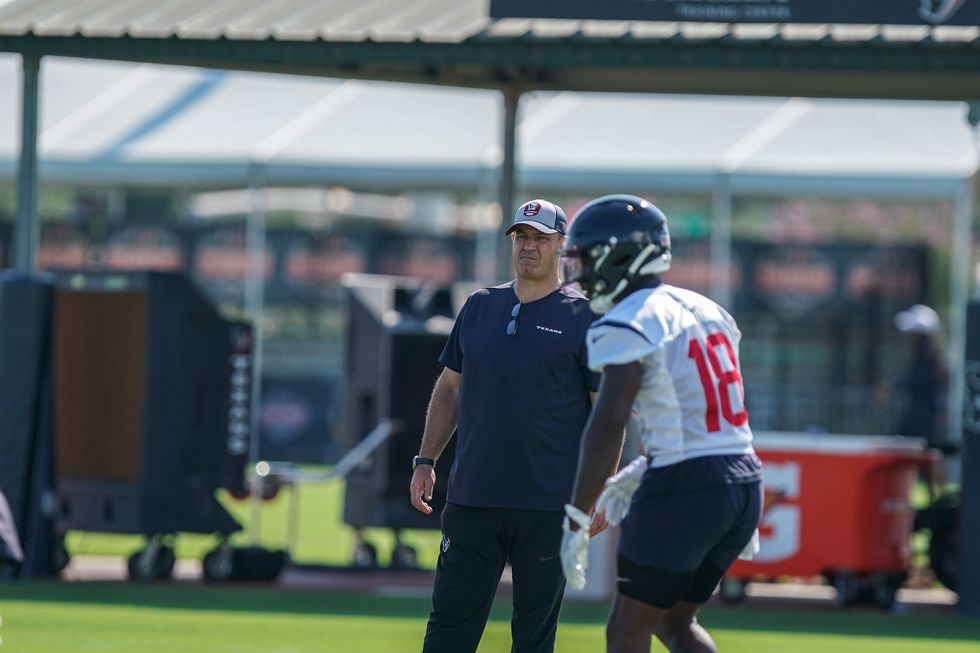 ​Former Ohio State wide receiver Johnnie Dixon has been stringing together solid days. He has an opportunity for this team with the final two wideout spots up for grabs and maybe some special teams action as well. He has a lot of competition but among the young wideouts he had one of the best plays of the day. He used his agility to dip away from a defender and create a ton of separation.
Play of the day
Will Fuller had a couple of plays where nobody was even close to him. He's making it look easy.
Quote of the day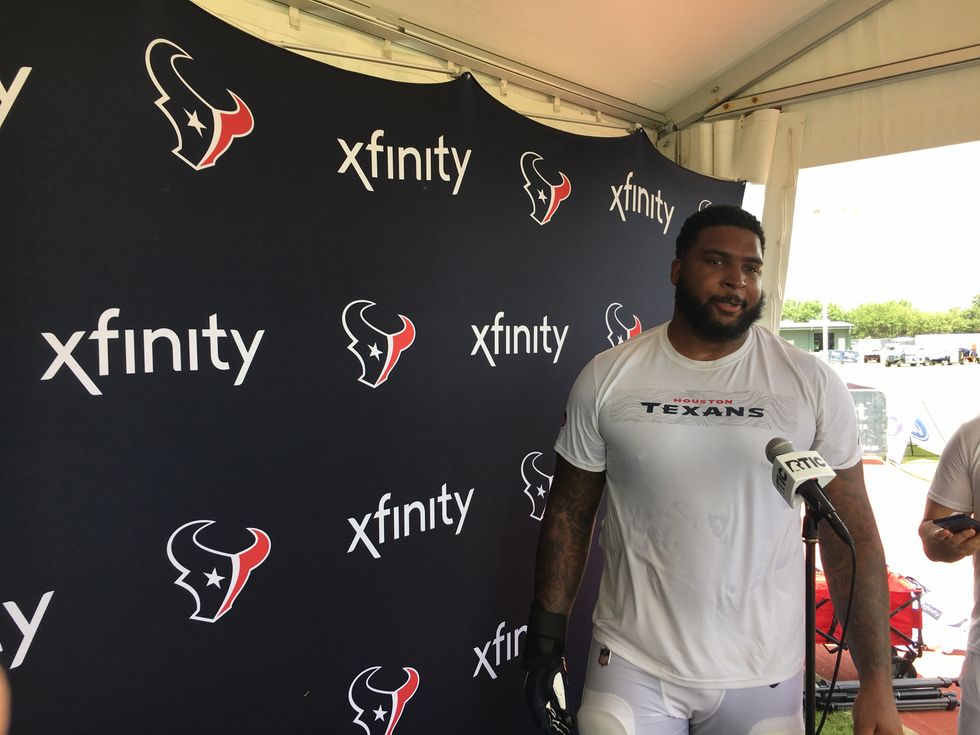 Texans OL Tytus Howard
Cody Stoots
"70 yards"
Texans OL Tytus Howard when asked if he can still throw the ball far. Howard was a former high school quarterback.