Watt returns, Watson's dimes, and much more from the first day of workouts.
11 observations from Texans training camp
Jul 25, 2019, 1:46 pm
@PatDStat/StateoftheTexans

Some of my observations from the first day of workouts for the Texans
Texans want Clowney
Bill O'Brien on Jadeveon Clowney's absence from camp.

Makes it clear he wants him back but wouldn't say he's personally spoken to him when I asked. @espn975 pic.twitter.com/yQMLmvGaA8

— Jake Asman (@JakeAsman) July 25, 2019
Bill O'Brien didn't mince words when stating his desire to have his star player back. He made it clear they obviously have to work with Clowney and his agent to make it work for both sides.
Texans have Watt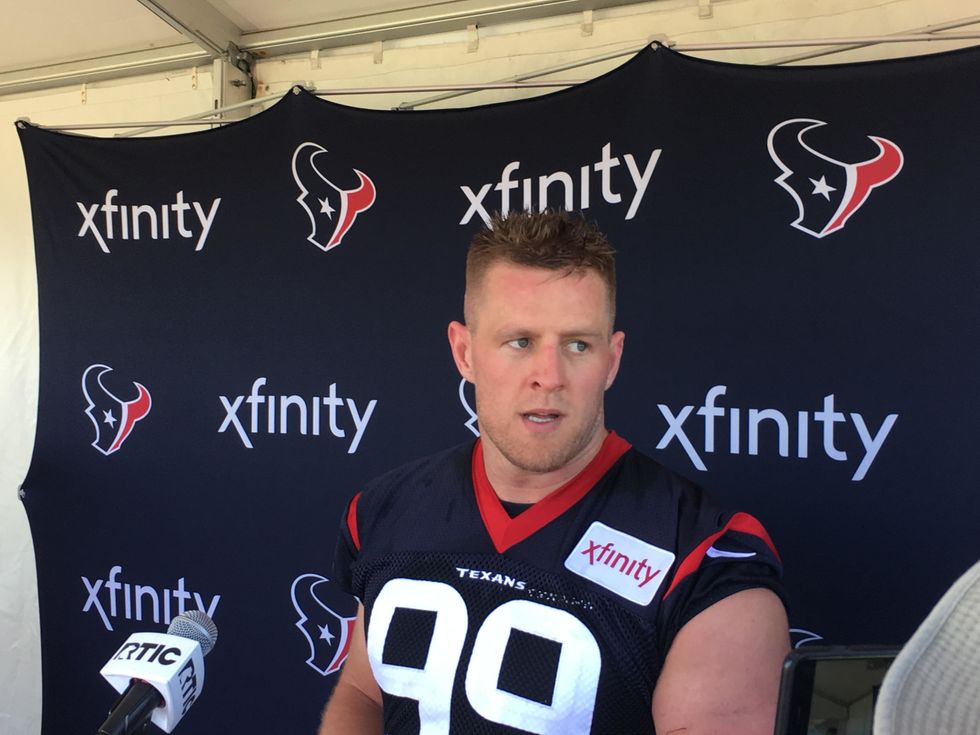 J.J. Watt at Texans Training Camp 2019
Cody Stoots/SportsMap
A surprise for sure to see J.J. Watt out and practicing. There was some expectation he would miss a couple of days when he was announced to be on the physically unable to perform list. He missed nothing. Watt joked he found out Thursday morning. He also said his plan was always to practice day one.
He didn't look like he has missed a beat from last season either. He gets limited reps because when he is in the offense can't execute their plays in practice. It's light work the first couple of days but offensive linemen have to breathe a sigh of relief when Watt exits the field.
The first round pick
True to form with most of the Texans offensive linemen Tytus Howard gets work at plenty of positions. He is getting a lot of reps and it will be fun to watch him work when the pads come on. Howard handled Brennan Scarlett on one rep and kept hand fighting with the linebacker for a few moments after the drill was over. He also held his own against Whitney Mercilus in one rep as well.
The young lineman showed good feet and a solid base in some of the drills. Saturday, when the pads are on for the first time, will tell a lot more.
The former first round pick
Matt Kalil was out working with the Texans. The former Vikings and Panthers left tackle got plenty of work for the Texans which was nice since he was recovering from injury earlier in the year. Ideally a veteran presence like him would help should there be a first or second year player next to him at left guard. The experience may not matter if Kalil can't play. He wasn't tested much Thursday.
Is your refrigerator running routes?
I say this with the utmost respect: Jordan Thomas is the size of a refrigerator and he shouldn't move as well as he does. He showed some huge progress as a rookie last year and developed a solid relationship with Deshaun Watson. That has only gotten stronger. Watson and Thomas are always on the same page and I am not sure how teams are going to guard Thomas but I know they aren't going to have an easy time if this continues.
Will Fuller is back
Some of the WR work from #Texans camp today. pic.twitter.com/BKf6RsuhDZ

— Cody Stoots (@Cody_Stoots) July 25, 2019
One of the best surprises of training camp is the fact Will Fuller is practicing from day one of the workouts. He looked crisp and on the same page with the quarterbacks. There was a toe-tap back of the end zone catch he easily hauled in. He also snatched a ball out of the air with ease that was a rocket. His hands are worlds better than his last year at Notre Dame and first year in the NFL.
Kinda coach Andre Johnson
Andre Johnson's official title is special adviser to the head coach. Today, and most days, he was working with the wideouts. He coaches like you would expect Andre Johnson to coach. He is quiet and deliberate. Everyone is listening and watching when he shows something. Today he was delivering advice on footwork in a certain drill. Later he pulled second-year wideout Vyncint Smith aside to coach him up.
Lonnie Johnson learning
Lonnie Johnson gets his back. #Texans pic.twitter.com/GrbR6b9tN2

— patrick (@PatDStat) July 25, 2019
There were some teachable moments for Lonnie Johnson the team's second round pick this year. He was coached up on how much to use his hands and when to use them. He's a physical corner and when he lines up with any of the wideouts it is apparent what the Texans liked to see. He lost a rep earlier in a drill only to recover later and beat that same wideout to the ball for an interception. There's a ways to go but there is something there.
Bradley Roby 
The free agent corner was a terror in drills. He is freaky athletic and played wideouts multiple ways to his success. Very impressive day for a guy the team is counting on.
Play of the day
Deshaun Watson is a wizard. The drills obviously aren't full contact and they don't even have pads on but there is still a pass rush. J.J. Watt looked to have blanketed Watson on one drill. It was moments away from being blown dead. Then the wizarding started. Watson, off balance, slipped one past Watt's massive mitts into the corner of the end zone for a touchdown. It was incredible.
Quote of the day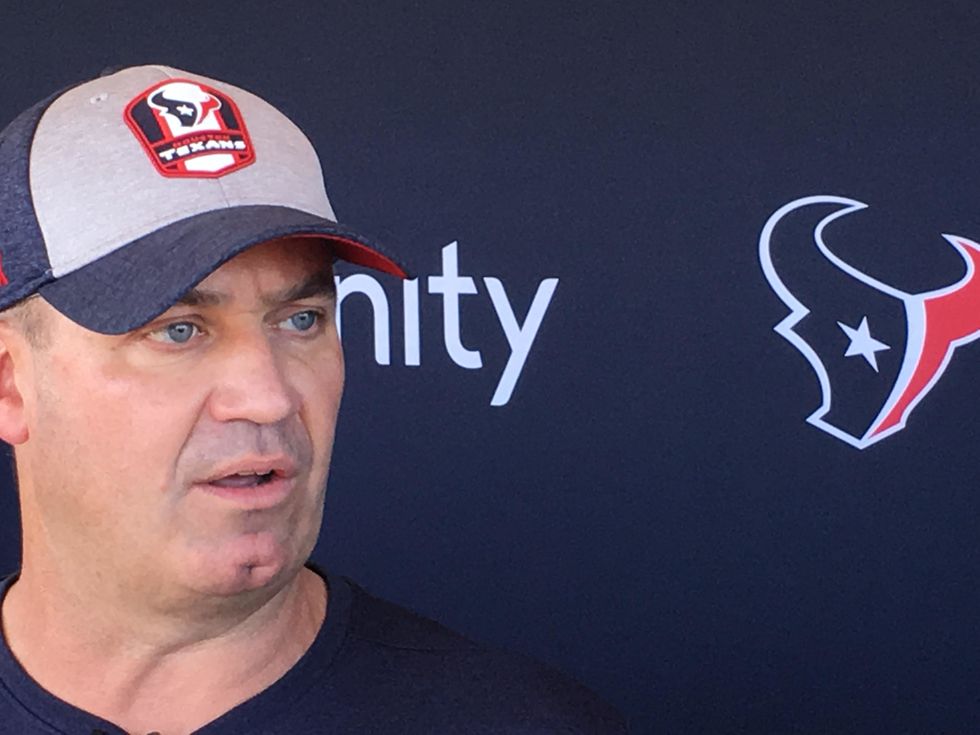 "I've always been involved in personnel decisions since I've been here. It'll be no more or no less."
Said by Texans Head Coach Bill O'Brien.