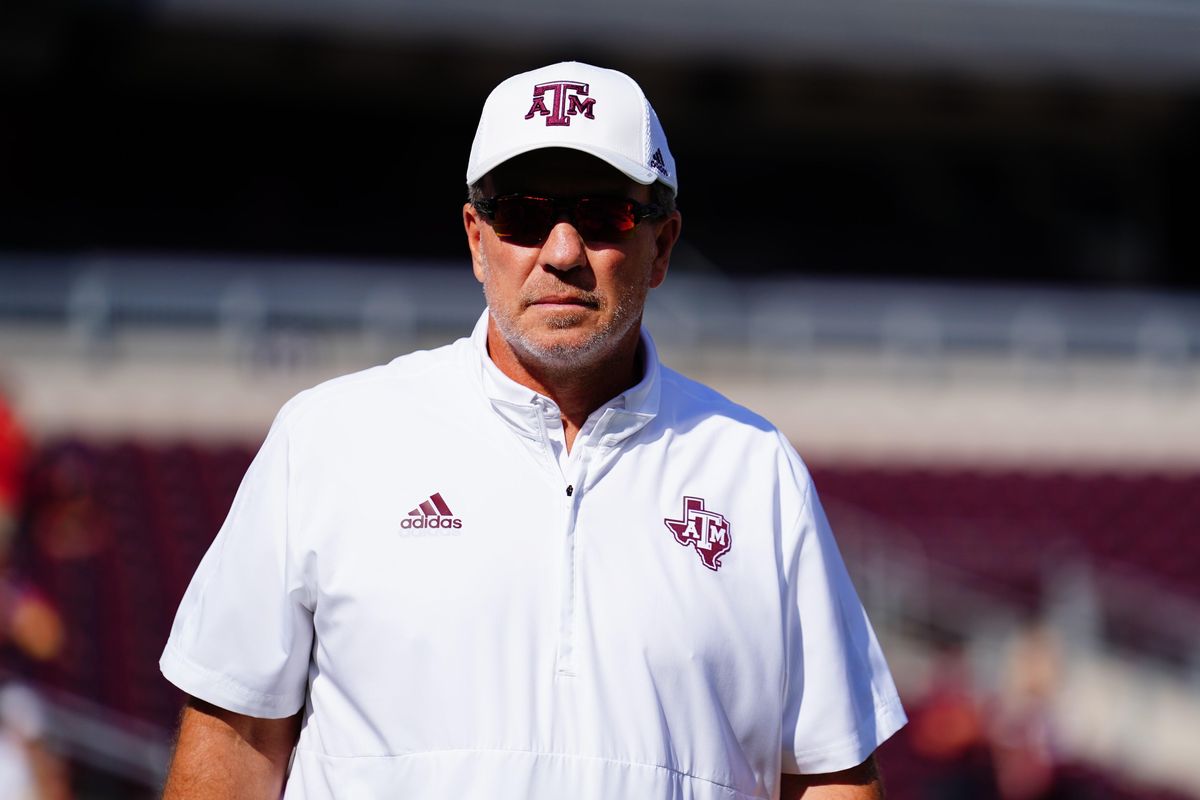 The Aggies are off to a 1-0 start on the season. Photo by Alex Bierens de Haan/Getty Images.

Texas A&M kicked off their 2022 campaign against the Sam Houston Bearkats last Saturday with a commanding 31-0 victory. Kickoff was at 11:03 A.M. The final whistle was not blown until 5:04 P.M. An almost three-hour halftime due to inclement weather at Kyle Field made the matchup feel like two different games.
The two halves saw two different Texas A&M teams. The first half team answered questions that were pondered during the offseason and raised some somewhat concerning questions as well. The second-half team eased the minds of some Aggie faithful but still was not particularly convincing. Let's examine what we saw from the Maroon and White in week 1.
Something that surprised the 90,000 plus that were in attendance at Kyle Field was how many true freshmen played for Head Coach Jimbo Fisher and the Aggies. Most notably, two wide receivers who seem to have what the Aggies have been lacking for a long time, big play capability. Evan Stewart and Chris Marshall got the starting nod in Fisher's offense and did not disappoint. They combined for 9 catches and 98 yards, which on paper does not look like a lot, but watching them play felt like a lot. Outside of Ainias Smith, Texas A&M has severely missed a big play threat on the outside. These two true freshmen seem to be exactly what Jimbo was looking for as he wasn't afraid to target them early and often.
On the defensive side of the ball, plenty of true freshmen saw meaningful snaps, and not in garbage time either. The #1 recruit in the nation DT Walter Nolen collected 3 tackles, defensive back Denver Harris, safety Bryce Anderson and defense lineman LT Overton combined for 6 tackles. Adding these freshmen in with an already salty group of veteran defenders put to bed any concerns of a possible regression in the defense under new Defensive Coordinator DJ Durkin. Granted it was against an FCS opponent, but the unit looked as dominant as ever, holding the Bearkats to under 200 yards of total offense and keeping them off the scoreboard completely.
Now on to the more concerning questions that were raised on Saturday, quarterback play and offensive line struggles. Statistically, Haynes King had one of the best passing days by an A&M QB since the 2020 season. King threw for 300+ yards for the first time since October 10th, 2020, when Mond threw for 338 yards and 3 touchdowns in an upset win over #4 Florida. Despite this accomplishment, King's performance left many Aggie faithfuls uneasy. Haynes looked uncomfortable in the pocket and hesitant to run. He also threw 2 more interceptions, which gives him 5 in 5 quarters of play. These concerns are fair, but it could be argued that it is due to inexperience, and a little more time under center for the maroon and white will bode well for King.
The offensive line was also dealing with a fair bit of inexperience. Outside of Duece Fatheree and Aki Ogunbiyi, three Aggie offensive linemen saw their first full game of action. The unit pass protected well but was very ineffective when it came to run blocking. The explosive Devon Achane was held to only 42 yards on 18 carries. Jimbo Fisher credited Sam Houston's Defensive Line for mixing things up against the inexperienced line, but the group needs to make a big stride from week 1 to week 2 as the Appalachian State Mountaineers come to College Station.
App State comes off of a heartbreaking loss against the North Carolina Tar Heels and will look to shock the college football world by upsetting another top 10 team on their home turf. I think the Mountaineers will make things uncomfortably close throughout this one but look for the Ags' defense to smother App State and allow for the home team to pull away. The Aggies win 41-21 to improve to 2-0.
The Houston Astros were in need of some serious help in the bullpen with Phil Maton, Hector Neris, and Ryne Stanek likely leaving this year in free agency.
While some fans were getting concerned about the quiet offseason, the club has made two moves this week to get the ball rolling.
First the team signed Victor Caratini to be the backup catcher, and now they have added some relief pitching.
The Astros traded pitching prospect Carlos Mateo to the Royals for RHP pitcher Dylan Coleman.
Coleman appeared in 96 games in the past three seasons for KC, including 68 games in 2022 and 23 games last season. He has a career 3.88 ERA and 1.37 WHIP. He's fastball (95 mph), slider (81) and cutter (90) and walked 57 batters and struck out 99 in 92 2/3 innings.
— Brian McTaggart (@brianmctaggart) December 6, 2023
Coleman is under club control for the next several years, and made just over $700,000 in 2022. With the Astros right up against the tax threshold, this is a good way to add to the bullpen without having to hand out a large contract.
The Royals had a tough roster decision to make with Coleman, and the Astros made the decision easy for them by making the trade.
Something to note
There's a reason Kansas City wasn't determined to protect Coleman from the Rule 5 Draft. Despite his decent numbers over the last three seasons, 2023 was a rough year for him, posting an 8.84 ERA over 23 games.
In fact, Coleman pitched more innings (30.2) for the Royals AAA team than he did for the big league club (18.1) in 2023.
Hopefully, the Astros can get him back on track this season with some help from their highly touted player development program.
You can watch some of his 2022 highlights above.
SportsMap Emails
Are Awesome