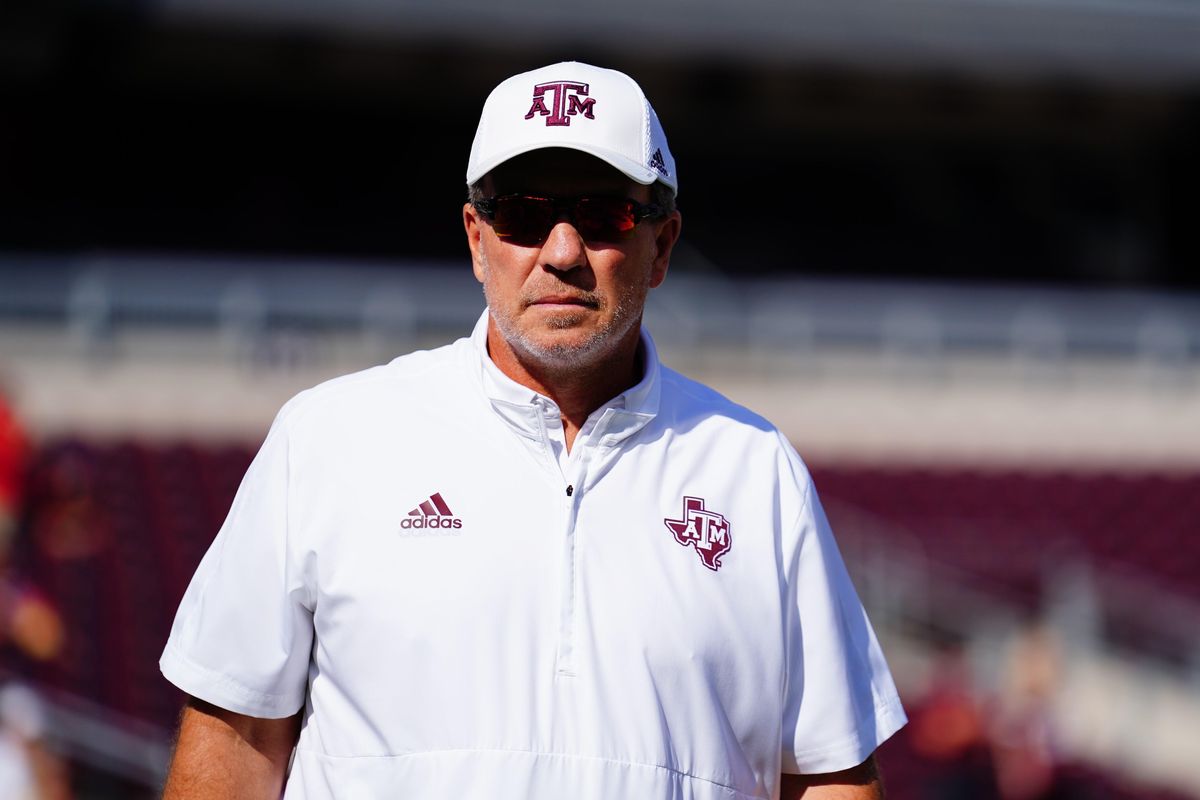 Alabama is up next for the Aggies. Photo by Alex Bierens de Haan/Getty Images.
One step forward, two steps backward. That's how it has felt to be a Texas A&M football fan for the past 2 seasons. After a disappointing 2021 season which saw the Aggies as a preseason #7, only to wind up with an 8-4 record, the Maroon and White entered 2022 fresh off a #1 recruiting class and a preseason #6 ranking. Only five weeks into the season, the Ags are headed for another step backward after a lackluster performance against Mississippi State. Even after the loss to App State, there was still hope that A&M could right the ship in SEC play. However, after a trip to Starkville, the Aggies look on track to have their worst season in over a decade.
A&M struggled in Starkville, to say the least. They were shut out in the first half, special teams struggled, Max Johnson was getting abused behind a bad offensive line performance and the defense had their worst performance of the season. Mississippi State was the better team for the entire 60 min. If you're Texas A&M and headman Jimbo Fisher trying to propel your program to the level of Alabama and Georgia in the SEC, you must beat teams like the Bulldogs. But every year under Fisher a team that Texas A&M is more talented than always seems to get the better of them. After yet another disappointing SEC loss, the Ags have more problems and questions it seems now than after the week two App State loss.
The biggest issue facing the Aggies in my opinion is the offense. It has been anemic all season long, ranking dead last in the SEC in total offense and 105th in the nation. Here in College Station, much of the conversation has been around Jimbo and his play calling. Much has been made about how complex his offense is and the many wrinkles and details his quarterbacks need to learn to be successful in it. My question is why? Why does it have to be so complicated? Why do his plays require such a level of execution that if one of the eleven men on the field misses an assignment, then it is doomed? In college football, it seems like the most prolific offenses are simple, straightforward and easy for the players to understand. This allows them to play with freedom and looseness to make plays. I am not saying I know anything more than Jimbo, trust me, but I do think a change on the offensive side is in order. Whether that means Jimbo changes his philosophy and system that he runs or if it means bringing in a new offensive coordinator to redefine his offense a la Nick Saban in 2014.
Speaking of Nick Saban, things don't get easier for the falling Aggies as they travel to Tuscaloosa this coming Saturday for the much-anticipated rematch against the Alabama Crimson Tide. Unfortunately for Texas A&M, they'll be without starting QB Max Johnson most likely, as he could be out with a hand injury. That means they will once again turn to Haynes King for a spark. King has been extremely turnover prone throughout his collegiate career, and for the Aggies to once again pull off the upset over Bama, King will need to limit turnovers. It will take a lot more to go right for the Aggies to hang into this game, but I expect this one to get ugly. The Crimson Tide handle business with a 45-14 win over Texas A&M.
Trevor Lawrence went down with an ankle injury in a loss to the Bengals, which puts the Texans within reach. Can they overcome the injury to Tank Dell and win the AFC South?
Watch the video above to learn more!
SportsMap Emails
Are Awesome