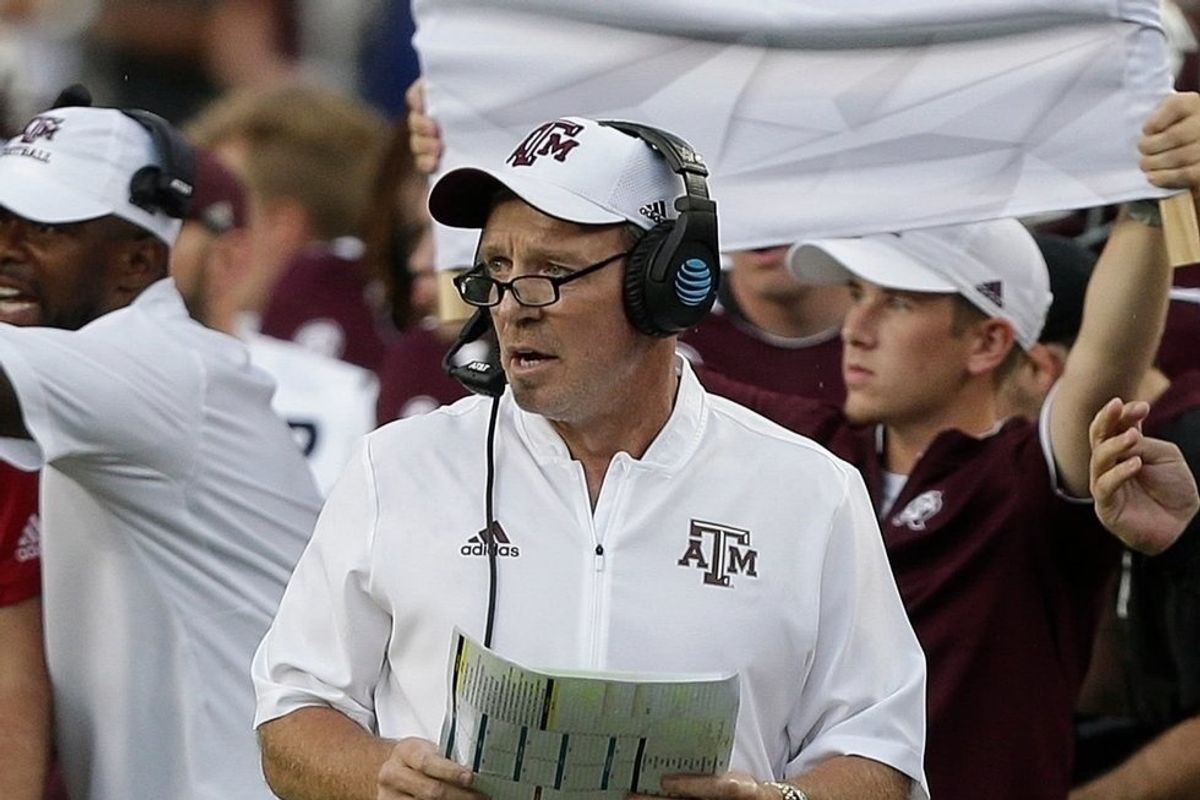 The Aggies will try to right the ship against Miami. Photo by Bob Levey/Getty Images.
In a shocking, unexpected, and flat-out unacceptable turn of events, the Texas A&M Aggies of the SEC lost to Appalachian State of the Sun Belt Conference 17-14 at Kyle Field last Saturday. It had been 15 years since the Mountaineers shocked the college football world in 2007 by upsetting the Michigan Wolverines at The Big House. Even though App State did not pull off any upset since that win in 2007, the small school in North Carolina has developed a reputation for being David, always ready to knock off Goliath. We saw it come true on Saturday at Kyle Field once again.
Early in the season, I wanted to focus on the three things that I thought would be most important to the Ags' success in 2022. That being quarterback play, freshman impact, and DJ Durkin's first year as Defensive Coordinator. All three of those things failed the Aggies Saturday as well as many other factors.
Trends and storylines for the Aggies be damned for the 2022 season, no one saw this one coming. The Aggies were less than impressive against Sam Houston in week one but still took care of business handly with a 31-0 win. The Aggies had a prime-time matchup on the horizon against Miami in week three to look forward to, but it was up to Coach Jimbo Fisher to get his men ready for a scrappy and experienced Appalachian State team. He did not succeed as the Mountaineers were more physical, more energized, and just flat-out more determined than the Aggies last Saturday and the scoreboard reflects that.
For a program trying to reach the levels of Alabama, Georgia, Ohio State, and Clemson, something like this cannot happen. Teams with superior talent and skill do not lose to lower levels of competition. These seem like obvious statements but it all comes into play when a program wanting to become a powerhouse loses to a group of five opponents. As a graduate of Texas A&M writing this article is not fun, plenty of jokes have been made, and lots of ridicule from family and friends, but the eternal optimist in me says that the season is far from lost, and here's why.
Texas A&M welcomes the 13th-ranked Miami Hurricanes to town this Saturday for a prime-time matchup at Kyle Field. The Aggies are a 5.5-point favorite at the time of writing this and will have a packed stadium of anxious fans behind them. If the Maroon and White can flip the script and pull off the big win, it will not only completely rebuild the teams' confidence heading into SEC play, but it will reinstill confidence in Jimbo Fisher. Fisher has had plenty of big wins in his time at A&M to earn some grace, even after such an embarrassing defeat. Beating Miami would tally another win of that caliber on his resume and set up the Aggies well heading into their first SEC matchup against Arkansas in Dallas.
Make no mistake, Jimbo Fisher and his Aggies took an uppercut to the jaw from App State last Saturday, they are dazed but it's still early in the fight. If the Ags' can get up off of the mat this Saturday and fight angry against the Hurricanes, then the season might not be lost just yet… The Aggies win 28-24.
One of the big reasons the Houston Texans were able to come away with a victory over the Denver Broncos was the monster performance from rookie pass rusher Will Anderson.
After Sunday's game, Anderson is now up to 5 sacks on the season, 1 more than Defensive Rookie of the Year favorite, Jalen Carter. Anderson also tipped a pass that led to an interception, and got his hands on a punt that gave Houston great field position. And let's not forget, he blocked a field goal earlier in the season, which is no small feat.
So with 5 games left to play, there's a legit possibility Anderson could snatch the DROY award away from Carter if he can get close to 10 sacks on the season.
Also, DeMeco Ryans is becoming the standard for what teams are looking for in a head coach. CJ Stroud is the front-runner for OROY.
With all this in mind, is there any argument against the Texans being the most exciting young team in the NFL?
We're already seeing the national media come around, and the NFL flexed the Texans-Broncos to get more eyes on Stroud.
And not to mention, it's starting to look like Nick Caserio nailed 3 out of 4 first round picks, with Derek Stingley recording 4 interceptions in his last 3 games.
It's been a long time coming for Texans fans. Every level of the organization appears to be in contention for prestigious awards.
Be sure to watch the video above as we discuss the most exciting young team in the NFL and what that means for Houston moving forward.
If you enjoy the videos, subscribe to SportsMapTexans on YouTube for our latest content!
SportsMap Emails
Are Awesome