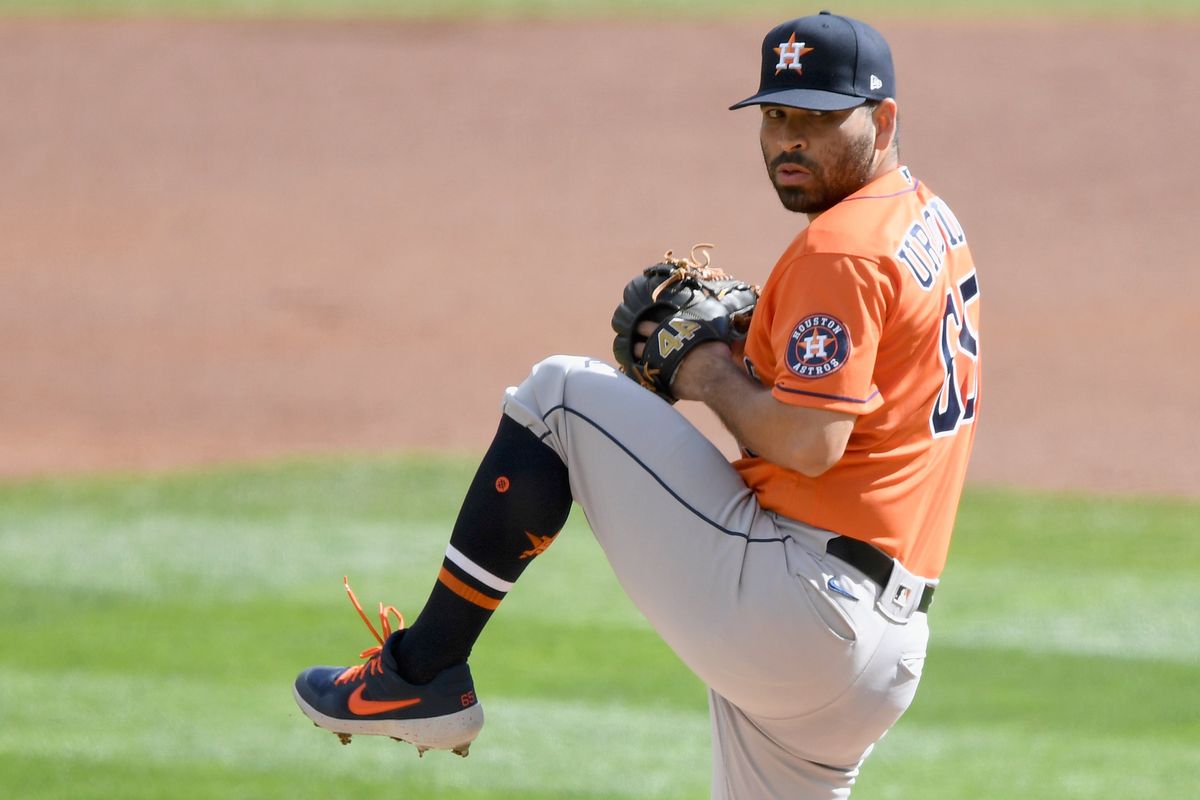 Photo by Hannah Foslien/Getty Images
With the 5-2 win over the A's in Game 2, the Astros remained undefeated in the 2020 MLB postseason. If Houston can improve to 5-0 with a Game 3 victory, it will mean a clean sweep of the A's in the ALDS, advancing them to their fourth-straight ALCS to face the winner of the other ALDS between the Yankees and Rays. Here's how the game shapes up:
Game Facts
When: Wednesday October 7th, 2:35 PM Central.
Where: Dodger Stadium - Los Angeles, California.
TV: TBS.
Streaming: Watch TBS App.
Pitching Matchup: Jesús Luzardo vs. Jose Urquidy.
Series: HOU leads 2-0.
Series Schedule
| | | | |
| --- | --- | --- | --- |
| | Date & Time | Pitching Matchup | Home Team |
| Game 1 | Astros 10, A's 5 | Lance McCullers Jr. (ND) vs. Chris Bassitt (ND) | A's |
| Game 2 | Astros 5, A's 2 | Framber Valdez (W) vs. Sean Manaea (L) | A's |
| Game 3 | Wed 10/7, 2:35 PM | Jesús Luzardo vs. Jose Urquidy | Astros |
| Game 4* | Thu 10/8, 2:35 PM | TBD vs. TBD | Astros |
| Game 5* | Fri 10/9, 2:35 PM | TBD vs. TBD | A's |
All games played at Dodger Stadium.
* If necessary
Game Storylines
Keep swinging away and letting it fly
The baseball has been flying out of Dodger Stadium in a hurry so far in this ALDS, with eleven total home runs, six in Game 1 and five in Game 2. Six of those have been by the Astros, three in each game. They'll face Jesús Luzardo, who was on the mound twice against the Astros in the regular season, combining for 12.2 innings while allowing four earned runs as Oakland would win both of those games. He didn't, however, face this lineup as hot as they are right now.
Even though he hasn't had his trademark leadoff dinger to start the game, George Springer has been raking so far in this series. Springer is 6-for-9 against Oakland so far with four RBI and fresh off his two-homer day in Game 2. If he can stay hot to lead this offense, they can go toe to toe with anyone as they continue to have one of the best top-to-bottom lineups in the league.
Keep throwing strikes and trust the bullpen
In ALWC Game 2 against the Twins, Urquidy made the start and, despite allowing only one run, was given an early hook by Dusty Baker in the fifth inning at just 76 pitches. In his last four starts of the regular season, he was able to go 7.0 innings twice and 6.0 innings twice, including a six-inning, two-run, 88-pitch start against the A's on September 10th in Oakland. If he can replicate that success and pass the ball to the bullpen deep into the game, that will be ideal for Houston.
Speaking of the Astros' bullpen, they have been terrific in this series's first two games. After Lance McCullers Jr. allowed five runs (one unearned) and lasted just four innings in Game 1, four of Houston's relievers were able to avoid giving up any more earned runs in their five innings of work. Framber Valdez flipped that script in Game 2, going seven frames with two relievers finishing off the win. Unfortunately for Houston, with Enoli Paredes having pitched in both games, he will likely be unavailable for Game 3, but they still have plenty of arms available to contribute if needed.
Be sure to check SportsMap after the final out for an in-depth recap of the game, and follow me on Twitter for updates and reactions throughout each playoff game: @ChrisCampise
The Texans lose a tough one to the Jags on Sunday, and the referees were certainly a factor. Are they to blame for the heartbreaker?

SportsMap Emails
Are Awesome