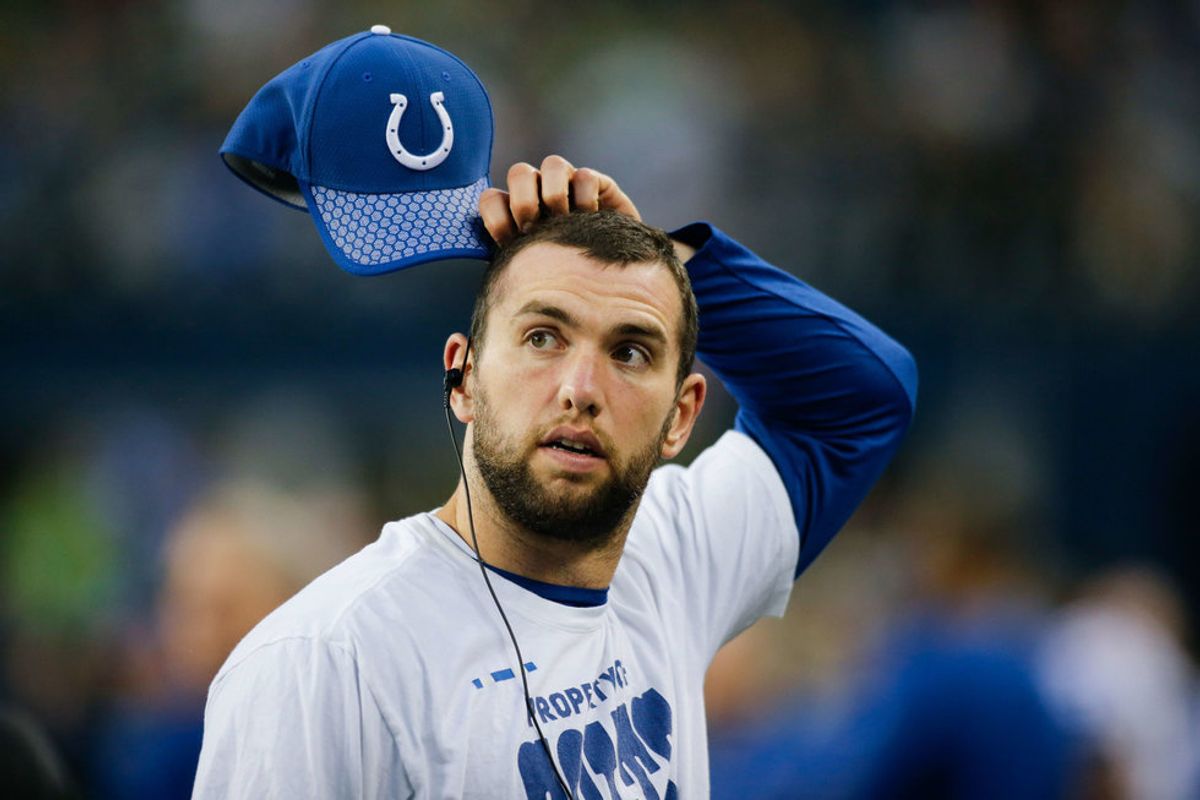 The news came out of nowhere. It was like one of those crack back blocks on an interception return. That defensive tackle has been getting shut out all game long. He hasn't been able to stop the run or push the pocket. The quarterback has been teasing him all game long and talking mad trash. And then it happened. He finally got some pressure, forced an interception, now he's looking to through a block. Soon as he turns around...WHAM! He lays the quarterback out with as vicious of a legal hit he can.
That's the best way I can describe Colt's quarterback Andrew Luck's abrupt retirement. I was taking a shower and shaving my head. I heard my phone buzz a few times and saw my good friend Joe Hutchinson texted me twice. I quickly did a search and saw the news had just come out and was confirmed by several reliable sites within the minutes of me looking it up. My initial thought: Texans fans are about to hit the roof with excitement. But should they? How does Luck's sudden retirement effect the chances the Texans have in winning the division this year? What are some obstacles they'll face?
History of mediocrity
"We went 9-7 and won the AFC South two years in a row." Bill O'Brien's statement is the epitome of them being mediocre. This organization has been satisfied with average since its inception. Their obsession with the Patriots is akin to a little brother who's not happy with his C average level of work constantly trying to replicate big brother's A average work and always falling short. Way short. With Luck out of the way, this should open the doors to the car and hand the keys to the Texans. But can they drive the car?
Watch out for the rest of the division
The Jags finally have a capable quarterback. The Titans are in year two of the Vrabel era. The Colts still have a ton of talent. If the Texans don't win the division this year, it won't surprise me. If they miss the playoffs, that will throw me off. Two wins a year was gifted to them if they take advantage. T.Y. Hilton can't kill them because Jacoby Brissett can't get him the ball like Luck did. The Jags are still a team that went 5-11 last season. The Titans still have Marcus Mariota under center and they're not sure if he's their franchise quarterback. The division just became that much more winnable.
O'Brien's ego
Another obstacle in taking advantage of Luck's departure is O'Brien's ego. When I spoke on this a few weeks ago, it seemed to resonate with a lot of you. You guys seem to feel the same way I do. His ego is bigger than the Toyota Center, NRG, and The Juice Box put together. If O'Brien can't contain himself and learn to not be this franchise's worst enemy, this team will be able to fulfill its potential. If O'Brien continues with status quo, well, you already read about the history of mediocrity earlier.
Overconfidence
Teams with as many deficiencies as this Texans squad should never feel overconfident. But when your biggest rival loses its franchise quarterback, it can inflate your sense of self-worth. Teams can often feel as if they were anointed and preordained to their destiny as division champs. This can lead to taking things for granted, taking opponents lightly, and losing focus. If they take those keys, get that car, start to drive, and get distracted, they'll eventually crash and burn. Being arrogant without putting in the work everyday, taking things serious, and focusing in on the task at hand will cause them to fall hard.
Pressure
I was told long ago that pressure can bust pipes or make diamonds. The end result is up to you. The Texans have a golden opportunity to make some beautiful diamonds, but they can't succumb to the pressure. Giving in to the pressure and busting like one of those pipes could prove to be a fatal blow. O'Brien and several others would be held responsible and fired or released. A total rehaul of the coaching and front office staff would be necessary in my opinion. Considering there's no general manager, that new hire would be charged with bringing this team to prominence. With the amount of talent already here, and the cap space, he wouldn't have much grace in doing so. The pressure is enormous, but it shouldn't be crippling. It should fuel the fire.
I'm always fair and objective in my assessments. I even posted a pic of how I feel Texans fans are feeling upon hearing the news. I truly hope this is the stroke of luck the fanbase needs (#DadJoke). These fans have been so hungry for football, and a winner, that there are roughly 32,000 people on the waiting list for season tickets! Another good friend of mine put his name on the list in 2011 and just got a call to purchase them a few weeks ago! This city, more specifically this fanbase, deserves a consistent winner for the way they support this team. But if the powers that be don't take advantage of the opportunity given to them, I'd hate to see the backlash. Luck equals opportunity plus preparation. Let's hope the Texans are prepared for this opportunity and get lucky.
Luka Doncic had 41 points, nine rebounds and nine assists, and the Dallas Mavericks prevented the Houston Rockets from advancing to the quarterfinals of the NBA In-Season Tournament with a 121-115 victory on Tuesday night.
Kyrie Irving added 22 of his 27 points in the second half for the Mavericks, who had already been eliminated. Their victory allowed the New Orleans Pelicans to win Group B in the Western Conference with a 3-1 record.
Doncic fell just short of his 59th career triple-double. That would have tied him for ninth place all-time with Larry Bird. He shot 15 of 29, 3 of 10 on 3-pointers.
"Sometimes we take him for granted, and we shouldn't," Mavericks coach Jason Kidd said. "He's about winning, but it just so happens he's a walking triple-double.
"The Mavericks, who trailed by nine points in the third quarter, grabbed the lead for good at 99-98 with 6:25 to play on a drive by Irving. Leading 103-100 with 5:25 left, they went on an 8-2 run that included three free throws by Derrick Jones Jr. when he was fouled by Dillon Brooks on a 25-footer with the shot clock about to expire.
Jabari Smith Jr.'s 3-pointer with 8 seconds left pulled the Rockets within 119-115 before Dallas closed it out.
Doncic played after sustaining a low-grade sprain of his left thumb on his non-shooting hand early in Saturday's game. He wore a wrap on the thumb.
Doncic made a hook shot from the free throw line after recovering a loose ball near the baseline.
"I'm 2 for 2 in my career on the hooks," Doncic said, saying the other came while playing for the Slovenian national team against Sweden.
Irving shot 2 for 11 in the first half, 1 for 5 on 3-pointers, with no free-throw attempts. He was 6 for 11 in the second half, hitting 1 of 2 behind the arc, and sank all nine free throws.
"I told the team, 'Played well enough to win, not smart enough to win,'" Rockets coach Ime Udoka said. "We were extra-aggressive, especially at the end of the third quarter. Had multiple players make a few dumb fouls, put Kyrie at the line and got him going when he didn't have a lot going. You can be aggressive, obviously, but slapping somebody on a 3-point shot on the arm is an unintelligent play. It has nothing to do with aggression."
Alperen Sengun had a season-best 31 points for the Rockets, who had six scorers in double figures. Fred VanVleet had 10 points and 12 assists.
The Rockets have lost all six of their road games this season. They went into play leading the NBA by allowing an average of 104.4 points per game.
The Mavericks didn't use the specially built court for either of their home tournament games, citing dissatisfaction with the quality.
UP NEXT
Rockets: Will finish a back-to-back at Denver on Wednesday.
Mavericks: Host Memphis on Friday.
SportsMap Emails
Are Awesome