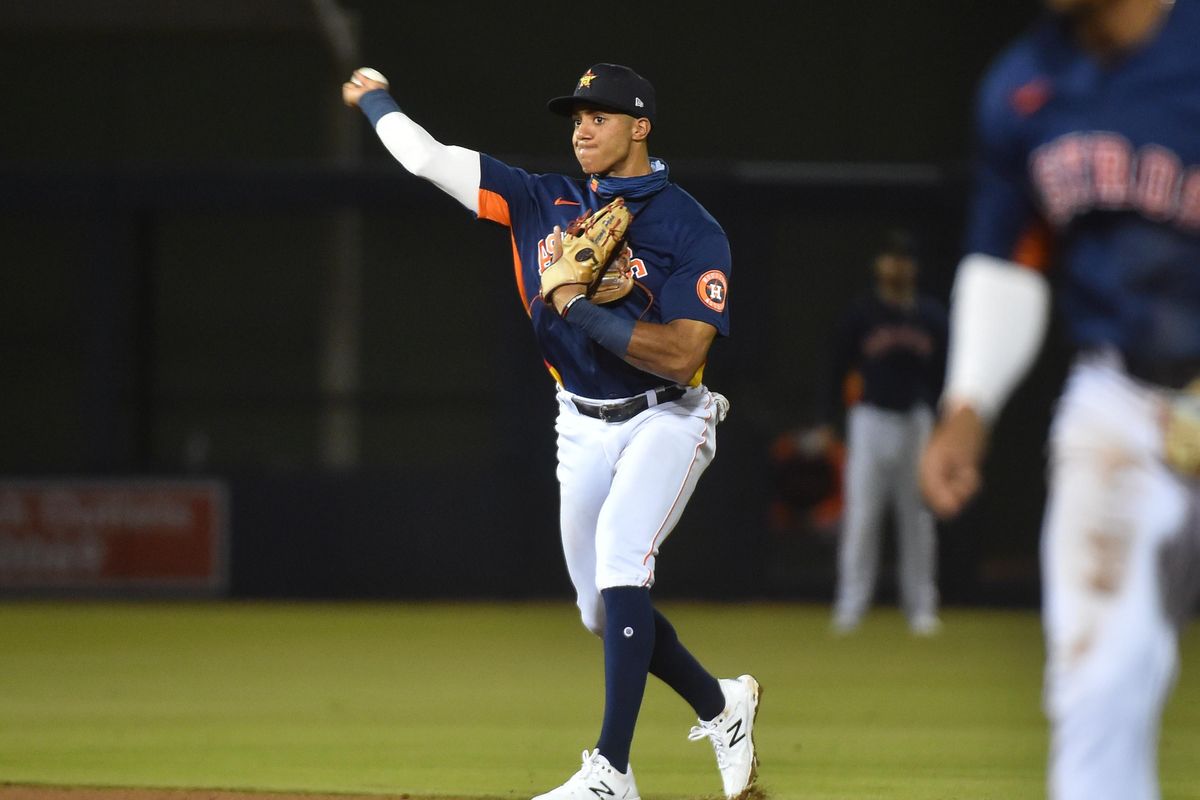 Jeremy Pena could have some big shoes to fill. Photo by Eric Espada/Getty Images.
MLB and the MLBPA are embroiled in yet another labor dispute. The owners and players have both dug in their heels and refuse to budge. No end is in site for the lockout as Spring Training is drawing more and more near each passing day. So what does that mean for our 2022 Astros' season?
One sigh of relief came when Justin Verlander signed his new deal. Two years for $50 million dollars isn't bad at all. Factor in he's closer to my age than my son (coming off Tommy John surgery), and some may worry. Not me. He's the closest thing to Tom Brady MLB has seen since Nolan Ryan. Jim Crane and James Click did a great job bringing him back. His spot as the ace with the rest of the staff they have should help shore up the bullpen if one or two starters can make that transition. I know I said I didn't want him back a few months ago, but time has passed, and wounds have been healed.
When it comes to Carlos Correa, I'm growing more and more comfortable with the thought that he may not be back. I talked about his potential replacement months ago. Maybe the reason being is that the club loves Jeremy Peña at that same position, and Pedro Leon could also factor in. Plus, Peña is tearing the cover off the ball in the winter leagues.
At 24 years old, turning 25 in September, he'll be under team control for the foreseeable future. That truly depends on the new labor agreement. So does Correa's new contract. His contract will be largely based on the parameters set in the new labor agreement, since he didn't sign before the lockout took place. And now we know that contact will be negotiated by Correa's new agent, Scott Boras.

I'm all for the doom and gloom when it comes to an MLB labor issue because they've historically screwed over fans. The most notable and egregious was the '94 World Series being canceled. However, there's way too much money at stake right now. More money than ever to be exact. That said, it's precisely why there's a dispute. That, and the fact that the owners have always gotten over on fans and players, and the players are poised to get their just due.
When the season starts, the Astros should be contenders yet again. Don't look for them to come out the gate firing on all cylinders as this team may look a bit different. Guys may not be fully ready after a lockout and there will be some roster turnover. The bulk of the core will be here, ready, and healthy. Whether Correa is a part of that group remains to be seen. Am I concerned? Hell no! This team has enough to fill that void at least partially and will have either guy under team control for a while. Think about this upcoming season as the time you fixed up your older car. New tires, headlights restored, rims polished, inside made over, and a fresh coat of paint after the transmission rebuild. It still has over 150,000 miles on it, but you wouldn't trade it in for anything because it still runs well and has sentimental value. You know one day it'll give out and need to be put out to pasture, but you're holding on and riding until the wheels fall off. Enjoy Astro fans, because the ride will be over one day. Hopefully much later than sooner.
Alex Bregman has been mentioned in trade rumors lately. Would the Astros listen to offers? How does this affect their window of contention?

Don't miss the video above as we discuss the likelihood of the trade, and what the Astros should expect in return.
If you enjoy the videos, subscribe to ESPN Houston on YouTube!
SportsMap Emails
Are Awesome