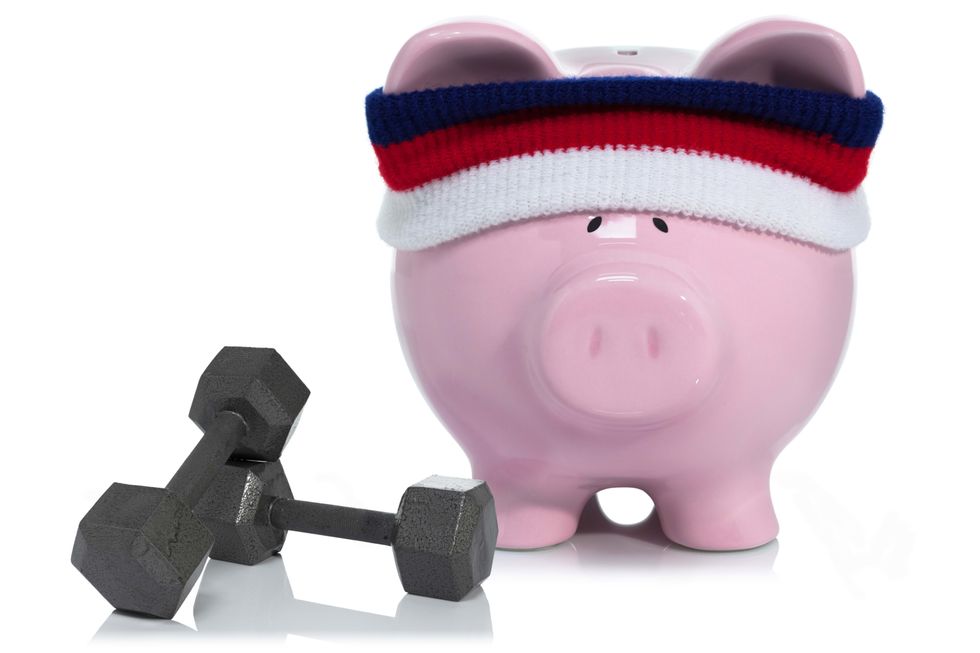 Is your piggy bank getting healthier? It is if you are following Bookie Busters. Getty Images
In the gambling world, many people aim to be just above 50% to be able to beat the vig and consider themselves winners, or at least not losers over time.

What we have established here with the Bookie Buster movement is incredible. Consistency! Now, last week saw us start sluggish, but I emphasize the ups and downs of the game, that's where you will find the keys to becoming a winner. Knowing how to take losses and minimizing the hurt and keeping a level head is something that you'll learn over time.

Have fun with it, learn, experiment. It's whatever gambling environment you create; it's your world, so you dictate the plot and ending.
LAST WEEK PLAYS
Tottenham vs. West Ham
West Ham PK  +109 5U MAX
Lakers-7 -120 5U MAX -5
Lakers TT over 120.5 2U  -2.2
James over 28.5 points 3U MAX  +3
J. Cook over 4.5 Receptions  -3U
76ers TT 3rd Q over 27.5 3U MAX   +3
Saturday Money truck
Liverpool/Arsenal
Liverpool TT over 1.5 MAX  -9
Over 3  MAX -3.9
Salah scores 1U  -1.2
Germany
Dortmund/Wolfsburg
Over 2,5 5U MAX  -5
Leipzig/ Berlin
Over 2.5 5U mAX+5
France
Lyon -1   3U MAX -4.2
NFL
C.McCaffrey pass receptions over 5½ 3U MAX -4
T.Kelce pass receptions over 5½ 3U MAX  +3
Kelce TD 1U  +1
Seahawks  ML -2
Steelers+3  +3
Miami/Jets Under 42   +2
NFL Halftime   1:35 PM CST
Jets/Mia
Under 21 2nd half 1U  +1
Bills TT under seven 3U  -3
Halftime   4:40 CST

HOU/DEN 2nd half over 23.5   2U -2
UPDATED 4:42 CST
Seahawks TT over 10.5 2nd half 2U -2
NO/LA
3rd Q over 13.5   3U MAX
J.Edelman receiving yards over 75½   5U MAX- 6.3
My Bookie prop of the Night
Brady over 20 fantasy points   5U MAX -5.9
Patriots over 13.5 2nd half TT    5U MAX of the Night
Zeke Over 92.5 rush yards 3U -3.9

MAX Titans TT Under 17 5U
Champions League  1:19 CST
PSG/Napoli BTTS and over 2.5 -145 5U MAX  -5.5
ATLÉTICO MADRID VS BORUSSIA DORTMUND
1st half over one 5U MAX PUSH

Peoples Parlay 1U -1
Atl/Dortmund BTTS
Barca BTTS
Napoli BTTS

UPDATE HALFTIME  2:50 CST
Tottenham ML DNB -180 5U MAX  +5
Game over 2.5  5U mAX +5


Other live added play
Tech/OU over 81.5 Live +2
OU TT 1st half O +3
Bama/LSU under f 1st U   +3
2nd H Uner +3
OU TT over game 46 +3
Cormier by sub +2
Vikings live TT O 27.5 -1
White first TD +2.5
Pats TT 2nd H O +5
Saints Live O 41.5 +5
Man City first half +5
Raptors first Q over 30.5 +5
NO TT over 25.5 +3
Texans +2
Pats TT over 30.5 +5
Panthers TT over 30.5   +5
OKC/NO Live over  -3.7
cowboys first half 6.5 -2.2
NO/OKC 3rd Q over +2

I tried to list everything, there are many live plays with the volume I release. Also, didn't list most of the NFL I released which was at least another +20 units with the parlay. Play smaller units if your bankroll is not sufficient enough to get in all the action. Remember the volume will be there so spread that out accordingly.

Last week read +206.8 +18.5U+ = 225.3
New Plays
Champions League   11/7
Juventus ML -150 2U
UPDATED   1:00 PM
Hoffenheim/ Lyon
BTTS and over 2.5  -175 5U MAX
Juventus TT over 1.5   5U MAX
Parlay 1U
Hoff/Lyon BTTS
Juventus TT over 1.5   
Halftime UPDATE    2:50 CST
Manchester City -3  -150   5U MAX
TNF
B. Roethlisberger TD passes over 2 5U MAX
J.Conner pass receptions over 4½ over 1U +120
J.Smith-Schuster pass receptions over 5½ 3U MAX
Steelers TT over 27.5 3U MAX
Steelers TT Over 6.5 first Q   1U
For any questions or comments reach me  @JerryBoKnowz Twitter.

Be sure to check out my show MoneyLine with Josh Jordan on ESPN 97.5. We're on every Sunday from 10-noon, and we'll talk a lot of fantasy football and NFL gambling. Also, be sure to follow us @Moneyline975 on Twitter.
"Another one!"- DJ Khaled
That's the first thing that came to mind when I heard the news of Tytus Howard being shut down for the season because of a knee injury. They've had more injuries on the offensive line this season than Nick Cannon has Father's Day cards. Almost every member of the offensive line has spent time on the injury report. Howard went down in the same game in which Juice Scruggs was finally on the active roster. He missed the first 10 games due to a hamstring injury. The irony of next man up has never been so in your face.

The other thing that came to mind was the soap opera As the World Turns.
Howard had just signed an extension this offseason. So did Laremy Tunsil and Shaq Mason. They drafted Juice Scruggs, and signed a few guys too. Those moves, along with other holdovers, were expected to fill out the depth chart. Then a rash of injuries struck. At one point, only one of the original five guys expected to start was playing! In fact, they beat the Steelers 30-6 with that backup offensive line!

One can't have the expectation of backups to perform as good as the starters. They're professionals and are on an NFL roster for a reason. However, the talent gap is evident. One thing coaching, technique, and preparation can't cover is lack of ability or talent. The Texans have done a good job of navigating the injury minefield this season. While the Howard injury will hurt, I have faith in the guys there still.
As of this writing, the Texans are in the eighth spot in the AFC playoff picture. The Steelers, Browns, and Colts are all in front of them at the fifth through seventh spots respectfully. They've beaten the Steelers already. They play the Browns on Christmas Eve and their starting quarterback is out for the season. The Colts are relying on the ghost of Gardner Minshew to steer their ship into the last game of the season vs. the Texans with a possible playoff trip on the line. The Broncos and Bills are the two teams immediately behind them. They play the Broncos this weekend. Even though they're on a hot streak, this is the same team that got 70 put on them by the Dolphins. The Bills are the old veteran boxer who still has some skill, but is now a stepping stone for up & comers.
To say this team should still make the playoffs would be an understatement in my opinion. I believe in them and what they have going on more than I believe in the teams I listed above. That includes teams around them in the playoff race that aren't on their schedule. The one thing that scares me a little moving forward is the sustainability of this line. When guys get up in age as athletes, it becomes harder to come back from injuries. The injuries also tend to occur more frequently when it's a knee, foot, ankle, shoulder, elbow, or another body part critical to blocking for C.J. Stroud.
I know they just re-signed three of those guys and drafted one they believe can be a starter, but depth and contingency plans are a way of life in the NFL. We see how important depth was this season. Why not plan ahead? Don't be surprised if the Texans spend valuable draft capital on the offensive line. By valuable, I'm talking about first through third or fourth rounders. Those are prime spots to draft quality offensive lineman. Whether day one starters or quality depth, those are the sweet spots. The only guy on the two deep depth chart for this offensive line that wasn't drafted in one of those rounds was George Fant, who was an undrafted rookie free agent. While I highly doubt they spend any significant free agency dollars on the group, I'm not totally ruling it out.
The bottom line is, this team will be okay on the line for the remainder of this season. The only way that doesn't happen, more injuries. Stroud is clearly the franchise guy. Protecting that investment is a top priority. I don't care about a number one receiver, or a stud stable or singular running back if the quarterback won't have time to get them the ball. If the pilot can't fly the plane, you know what happens. So making sure he's happy, healthy, and has a great crew is of the utmost importance.
SportsMap Emails
Are Awesome