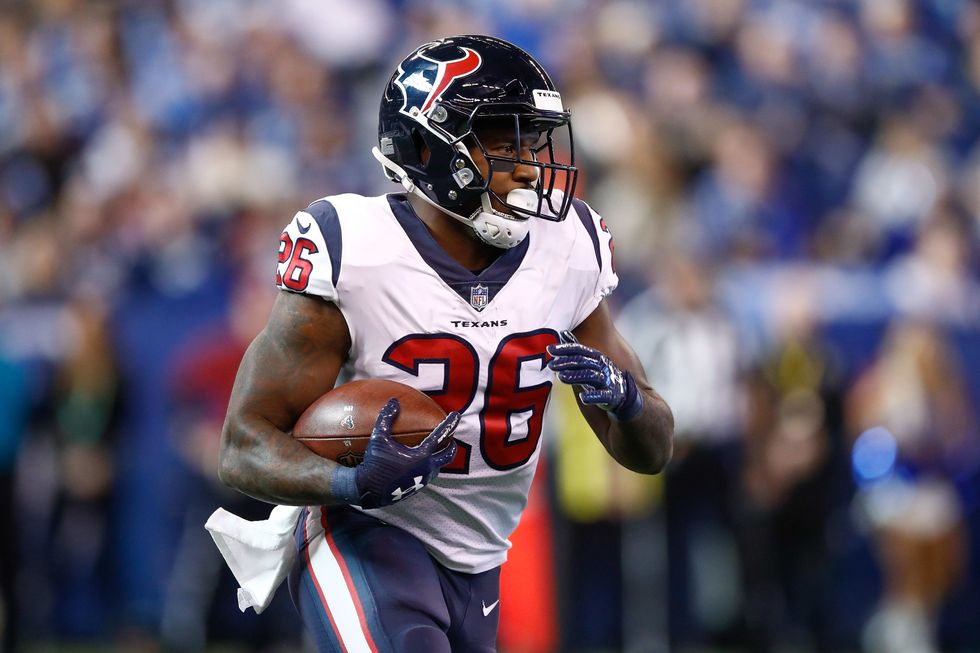 Lamar Miller heads up the running back group. Andy Lyons/Getty Images
The Texans have one preseason game to play but if they had to make the cuts today and get to 53 players this is how I see it shaking out. 
Quarterbacks - 3
Deshaun Watson
Brandon Weeden
Joe Webb
Analysis: Joe Webb is making it as a quarterback but he is here because he can do a lot of different things. He can help on special teams whereas a typical third quarterback would be inactive or useless when the other two quarterbacks are healthy. Webb really earned this because of his versatility and showcasing it during the preseason. One of the fun stories in camp. 
Running Backs - 3
Lamar Miller
Alfred Blue
Troymaine Pope
Analysis: D'Onta Foreman will start the season on the physically unable to perform list unless he miraculously gets healthy. Alfred Blue doesn't do anything spectacular but the current staff seems to like him for special teams and trust him to do the basics of being a running back. Troymaine Pope is a pass-catcher and has seen some return action. Tyler Ervin has gotten a ton of reps as a returner despite showcasing little as a ball carrier but with the abilities of the pass catchers someone else can do what he has done. 
Fullback - 1
Jay Prosch
Analysis: For a little time I thought the Texans would finally go without the archaic position of fullback. I can't see Bill O'Brien really pulling the trigger this year. He played 13.2 percent of snaps last year. So, he's here, well, to do whatever fullbacks do in 2018. 
Wide Receiver - 6
DeAndre Hopkins
Will Fuller
Bruce Ellington  
Keke Coutee
Sammie Coates
Braxton Miller
Analysis: Keke Coutee's injury opened the door for the Texans to need to keep six wideouts. Sammie Coates is on this team. He played his way onto the team and is the lone true backup at outside wide receiver. Braxton Miller has been up and down throughout the preseason but his versatility to help outside and inside and potentially on returns earns him the spot until Coutee is fully ready to play. Bruce Ellington is on the team without a doubt and it would be a shock and mistake to let him go. 
Tight Ends - 3
Ryan Griffin
Jordan Thomas  
Jordan Akins
Analysis: One of the easiest calls on the team. These three have separated themselves from all the other tight ends. Jordan Thomas seems to be slightly ahead of Jordan Akins. 
Tackles - 4
Julie'n Davenport
Seantrell Henderson
Martinas Rankin
Kendall Lamm
Analysis: Kendell Lamm is making this team because Martinas Rankin missed a few weeks with this injury and the team can't afford that much inexperience as the swing tackle. Seantrell Henderson's irregular health makes this tackle situation one that requires bodies with experience. 
Guards - 4
Zach Fulton
Senio Kelemete
David Quessenberry
Chad Slade
Analysis: Chad Slade can help at tackle and David Quessenberry has played his way onto the roster. Kyle Fuller didn't do enough to make the roster considering both of the team's centers can help at guard in a pinch. The team held Fuller over from last year but he didn't outplay those in front of him. 
Center - 2
Nick Martin
Greg Mancz
Analysis: Easy decisions here. There wasn't much competition. 
Offense (26)
Defensive Line - 6
J.J. Watt
Christian Covington
D.J. Reader  
Angelo Blackson  
Carlos Watkins  
Brandon Dunn
Analysis: Joel Heath and Brandon Dunn are really fighting each other for this spot and this likely is a tough cut as both can help out a team and deserve a spot on a roster. Dunn has been more consistent but Heath has more upside. This will be a tough decision and don't be surprised to see both of them end up making the team at the expensive of another position. 
Outside Linebacker - 4
Jadaveon Clowney
Whitney Mercilus
Duke Ejiofor
Brennan Scarlett
Analysis:  Jadeveon Clowney gets counted as an outside linebacker despite his versatility and ability to help the defensive line. Whitney Mercilus has been out with an injury but should be ready to go soon. Duke Ejiofor flashed early but consistency is going to be key with him. Brennan Scarlett has improved over last year. 
Inside Linebacker - 4
Benardrick McKinney
Zach Cunningham
Dylan Cole
Brian Peters
Analysis: Josh Keyes flashed early and likely stayed on the radar but I can't see him making it when there is pressing needs on offense he literally becomes player 54. Brian Peters is back because of experience with the team and his help on special teams. Peters also showed a little when pressed into playing inside linebacker. The other three have been beasts this preseason. 
Cornerbacks - 5
Johnathan Joseph
Aaron Colvin
Kevin Johnson
Johnson Bademosi
Kayvon Webster
Analysis: Dee Virgin couldn't get it done in camp with his opportunities and no other players flashed enough to make the roster over the practice squad. Kevin Johnson should be back soon. Johnson Bademosi has gotten some solid work in the preseason with Johnson's injury but he is here for special teams. The third side of the ball gets better if Kayvon Webster can contribute. He was a special teams player for the Broncos championship team. 
Safeties - 5
Tyrann Mathieu
Kareem Jackson
Justin Reid
Corey Moore
Kurtis Drummond
Analysis: Treston Decoud has a lot of tools but a lack of results that can't justify him being on the roster over Corey Moore and Kurtis Drummond. Moore has plenty of experience, despite getting benched and falling out of favor last year.  Drummond has played well and his experience at safety helps him make the team over Decoud. 
Defense (24)
Specialists - 3
Shane Lechler
Ka'imi Fairbairn
Jon Weeks
Analysis: Almost had an upset here but I just can't see this team going with a young kicker and a young punter. If there was some way to guarantee Trevor Daniel would be on this roster and ready for next year after Lechler likely hangs it up. I'm not wishing he would stub his toe really hard and end up on injured reserve but it wouldn't be the worst result ever. 
Hopeful Practice Squad Signees
WR Vyncint Smith
WR Jester Weah
CB Andre Chachere
CB Jermaine Kelly Jr.
OLB Peter Kalambayi
"Another one!"- DJ Khaled
That's the first thing that came to mind when I heard the news of Tytus Howard being shut down for the season because of a knee injury. They've had more injuries on the offensive line this season than Nick Cannon has Father's Day cards. Almost every member of the offensive line has spent time on the injury report. Howard went down in the same game in which Juice Scruggs was finally on the active roster. He missed the first 10 games due to a hamstring injury. The irony of next man up has never been so in your face.

The other thing that came to mind was the soap opera As the World Turns.
Howard had just signed an extension this offseason. So did Laremy Tunsil and Shaq Mason. They drafted Juice Scruggs, and signed a few guys too. Those moves, along with other holdovers, were expected to fill out the depth chart. Then a rash of injuries struck. At one point, only one of the original five guys expected to start was playing! In fact, they beat the Steelers 30-6 with that backup offensive line!

One can't have the expectation of backups to perform as good as the starters. They're professionals and are on an NFL roster for a reason. However, the talent gap is evident. One thing coaching, technique, and preparation can't cover is lack of ability or talent. The Texans have done a good job of navigating the injury minefield this season. While the Howard injury will hurt, I have faith in the guys there still.
As of this writing, the Texans are in the eighth spot in the AFC playoff picture. The Steelers, Browns, and Colts are all in front of them at the fifth through seventh spots respectfully. They've beaten the Steelers already. They play the Browns on Christmas Eve and their starting quarterback is out for the season. The Colts are relying on the ghost of Gardner Minshew to steer their ship into the last game of the season vs. the Texans with a possible playoff trip on the line. The Broncos and Bills are the two teams immediately behind them. They play the Broncos this weekend. Even though they're on a hot streak, this is the same team that got 70 put on them by the Dolphins. The Bills are the old veteran boxer who still has some skill, but is now a stepping stone for up & comers.
To say this team should still make the playoffs would be an understatement in my opinion. I believe in them and what they have going on more than I believe in the teams I listed above. That includes teams around them in the playoff race that aren't on their schedule. The one thing that scares me a little moving forward is the sustainability of this line. When guys get up in age as athletes, it becomes harder to come back from injuries. The injuries also tend to occur more frequently when it's a knee, foot, ankle, shoulder, elbow, or another body part critical to blocking for C.J. Stroud.
I know they just re-signed three of those guys and drafted one they believe can be a starter, but depth and contingency plans are a way of life in the NFL. We see how important depth was this season. Why not plan ahead? Don't be surprised if the Texans spend valuable draft capital on the offensive line. By valuable, I'm talking about first through third or fourth rounders. Those are prime spots to draft quality offensive lineman. Whether day one starters or quality depth, those are the sweet spots. The only guy on the two deep depth chart for this offensive line that wasn't drafted in one of those rounds was George Fant, who was an undrafted rookie free agent. While I highly doubt they spend any significant free agency dollars on the group, I'm not totally ruling it out.
The bottom line is, this team will be okay on the line for the remainder of this season. The only way that doesn't happen, more injuries. Stroud is clearly the franchise guy. Protecting that investment is a top priority. I don't care about a number one receiver, or a stud stable or singular running back if the quarterback won't have time to get them the ball. If the pilot can't fly the plane, you know what happens. So making sure he's happy, healthy, and has a great crew is of the utmost importance.
SportsMap Emails
Are Awesome