O'Brien's clock management as well as penalties are a topic of discussion after the Indy loss
Did O'Brien really botch the clock?
Oct 21, 2019, 11:01 am
Photo by Bob Levey/Getty Images
3 Headlines 2 Questions 1 Bet as the Texans try to rebound from the Colts loss and get ready for the Raiders:
Penalty problems abound
Here are the defensive penalties by down, distance, and the Colts eventual result on that drive.
1a. 3rd and 15 - Defensive Holding (Joseph) - Turnover on Downs
1b. 2nd and 4 - Neutral Zone Infraction (Watt) - Turnover on Downs
This drive really didn't cost the Texans too much in way of field position thanks to their defense stuffing the Colts on their fourth down try.
2a. 1st and 10 - Defensive Holding (Gaines) - Offset by Colts Penalty
2b. 3rd and 11 - Defensive Holding (Crossen) - Touchdown
2c. 3rd and 12 - Unnecessary Roughness (McKinney) - Touchdown
2d. 1st and G - Defensive Holding - Touchdown
This drive went from a Colts punt to a Colts field goal to a Colts touchdown thanks to the penalties. This one hurts as it goes from a five point Colts lead to a 12 point lead after burning half a quarter of clock as well.
The McKinney penalty is the one that makes no sense whatsoever. It was just a momentary lack of focus it seems. Not going to crush the fifth cornerback too bad for a defensive holding. The Texans had plenty of chances between that penalty and the touchdown to stop the Colts.
Officiating Watson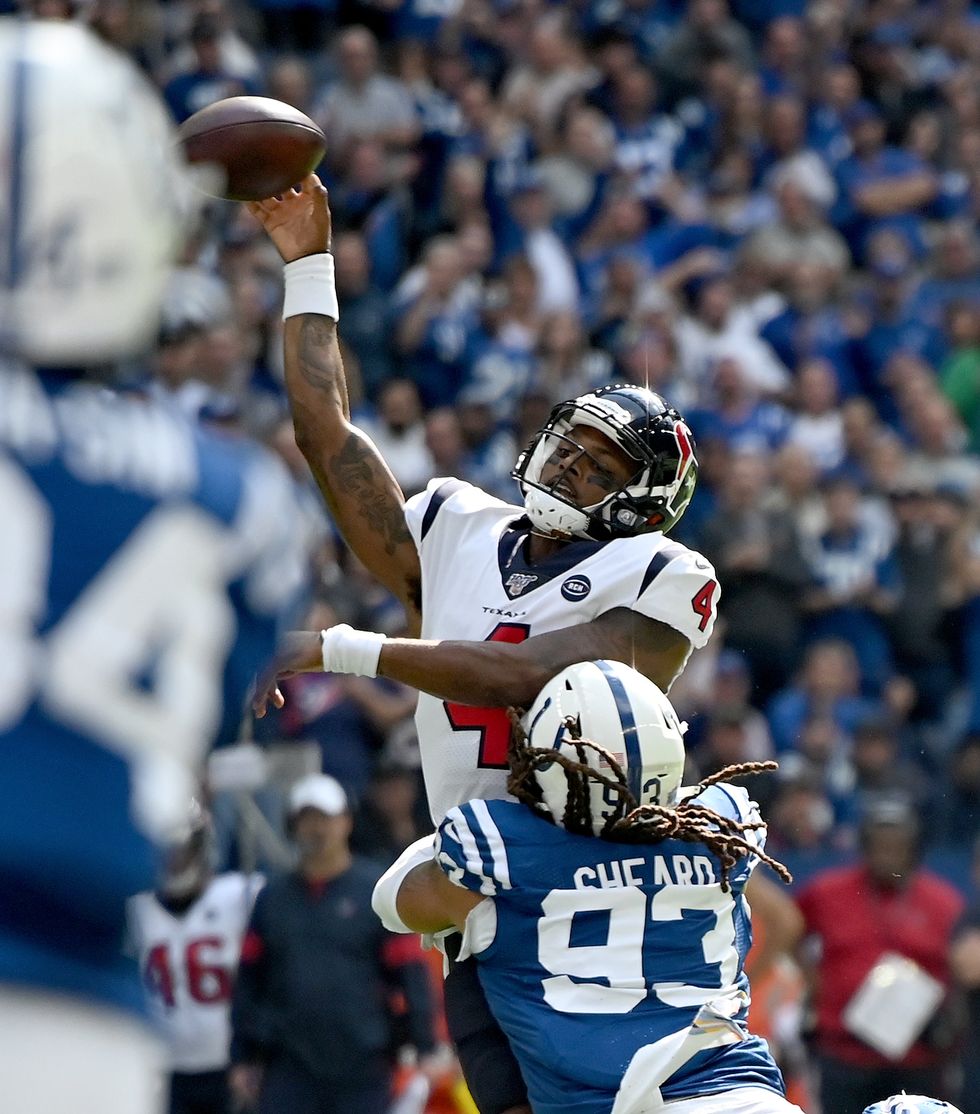 Houston Texans v Indianapolis Colts
Getty Images
The officials have to give Deshaun Watson more credit than they did on Sunday. It isn't right they called the whistle early on the Texans but, also, I understand that's how the rule is executed.
The grasp, to me, has always been more about the upper body than lower body. Quarterbacks, and Aaron Rodgers does this a lot, give themselves up when their lower body is grabbed. It's unfortunate the whistle got blown, especially when Watson was able to still make a play.
Bill O'Brien wasn't in the mood to talk about the officiating, and rightfully so he would probably get fined. He did mention they would reach out to New York for clarification though.
I understand the spirit of the rule, but the application of it needs to be better by the NFL.
It wasn't always going to be clean
The Texans finally allowed a sack and regular pressure again. Some would say, it's fun while it lasted, but this is closer to an anomaly than the standard. I'm not foolish enough to think Deshaun Watson will be clean every game he plays but I think the Colts deserve some credit with their scheme and attack.
Roderick Johnson had a rough day at right tackle. Pro Football Focus charged him with three pressures and a hit in the game before he left with injury. Dan Skipper, who was signed last Wednesday, filled in admirably but he has a long way to go before he is up to speed. It will be interesting to see if Johnson's injury lingers if Skipper or the newly signed Chris Clark is a factor in the future at right tackle.
Max Scharping had one of his worst games as a pro in this one. He allowed pressure that blew up the fourth and one call in the fourth quarter. Watson probably gets the first down without the pressure. He was also a problem in the run game as well. He can bounce back though, he's had some nice performances. This is just one the Colts had the advantage over him.
Did the time crunch hurt as bad as we think?
So, to recap#Texans sacked at 3:23

Timeout at 2:44

Punter burns a few seconds taking safety. #Colts get ball at 2:35 and run one play. #Texans elect not to use timeout and let two-minute warning happen.

Total time lost: Around a minute
Timeouts wasted: one

— Cody Stoots (@Cody_Stoots) October 20, 2019
O'Brien's clock management will be heavily criticized, as it should if it ended up mattering a huge amount.
Yes, the above is true. O'Brien burned close to a minute without much reasoning or seeing how it made sense in the moment.
Monday he said he felt like since they had three timeouts they could call that timeout and make that decision. The Texans, of course, still had the two-minute warning.
I'm not sure the play goes off the right way if they don't use the timeout but it does seem like some forethought was needed in that situation. If it wasn't until the team got out on the field the thought to go for two popped up that is something that should have come up sooner.
Ultimately, they were always using two of the timeouts to stop the Colts as well as the two-minute warning. So, in reality O'Brien only cost the Texans one timeout when he used it to then decide to take the safety.
Would the one timeout have come in handy on the final drive? Of course. Could the extra minute or so of time have been useful with that timeout? Of course. Does it keep Watson from throwing the interception? Not necessarily.
Let's be real about the issue here going forward, this isn't a one-off. It is a constant mismanagement of the clock when it goes wrong and that hinders the potential success of the Texans. O'Brien needs someone to help with this. He has for a while. Anyone tasked with it currently either isn't respected by O'Brien enough for him to listen or is getting it wrong.
How long will Will Fuller be out and can Kenny Stills be the option?
Texans wide receiver Will Fuller's hamstring injury, which forced him out of Sunday's game, is regarded as serious and expected to sideline him for multiple games, according to a league source.

— Aaron Wilson (@AaronWilson_NFL) October 21, 2019
UPDATE: Fuller will be out for a few
Will Fuller has a hamstring injury. Hamstring injuries feel like they almost always cost a player one game. I would expect Fuller isn't available for the game against Oakland and might even miss the London trip.
Kenny Stills has been a godsend for this offense. At first, a throw-in addition for in the Laremy Tunsil trade, Stills has been a key contributor. Stills was able to take the top off the defense with a late "go" route that O'Brien said Monday Stills called himself.
With Fuller's injury potentially lingering, it is a great time to have the veteran Stills.
I bet the Raiders are better than you think they are
Oakland stood nearly toe-to-toe with the Packers Sunday. The final score is deceiving. It wasn't until the late third quarter the wheels started to really fall off for Oakland. They were stuffed deep in the red zone after having first and goal and then Derek Carr tossed an interception that Green Bay followed up with a touchdown to essentially ice the game. The Raiders are a worthy opponent and if they don't turn the ball over, will be a physical and tough out for the Texans.​