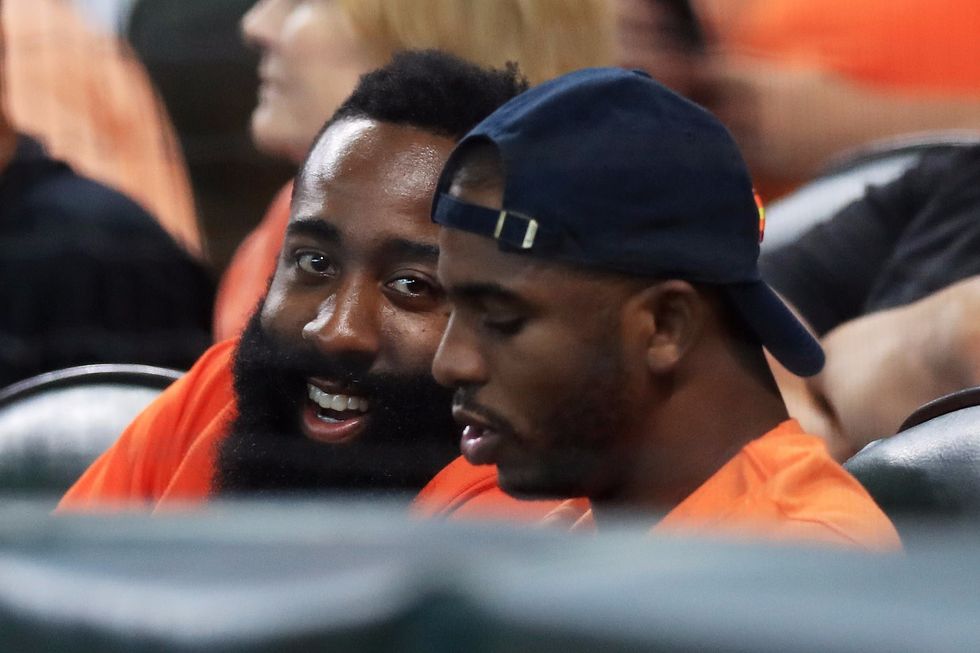 Can James Harden and Chris Paul lead the Rockets past Golden State? Ronald Martinez/Getty Images
The NFL celebrations have officially dissolved and the NBA All-Star weekend is now in the rearview. With teams having from 21-27 games left on their schedules, the race for seeding is getting tight. This year's Western Conference is currently overseen by two dynamic outfits. The Rockets are on a historic pace and have shown they can compete in the era of "super teams," while the defending champions are dominating as expected.

Flashback to last seasons All-Star break and Golden State sat at 47-9. Coming off the historic 73-9 campaign, the league-leading record had the feeling of being less than stellar according to the team's expectations. This year, the Warriors own a 45-14 record, their worse pace in three years. Even worse for the defending champions, they don't even hold the No. 1 seed in the West at the moment. Leading the way this year are the Houston Rockets at 44-13 ( played two games less than G.S.). The Western Conference seems to be a two horse race with the gap between the second and third seeds being 10 games. According to the playoffsatus.com, the Warriors and Rockets are 51% and 49% to win the top 2 seeds. The Timberwolves and Spurs are the next seeds, and both have less than 1% chance of catching the two front runners. After the No. 3 and 4, the drop off is also substantial on projected seeds, with Minnesota and San Antonio both having a greater than 30% chance of securing the 3 and 4 seeds while the next contenders have an 8% to end in the top 4.

Let's look at the similarities in the 2 leaders
2016-2017- Warriors
Offensive rating: 114.2 (1st)
Defensive rating: 101.6 (2nd)

2017-2018- Warriors
Offensive rating: 115.8 (1st)
Defensive rating: 107.7 (22nd)

2017-2018 Rockets
Offensive rating: 114.1 (2nd)
Defensive rating: 105.4 (12th)

As you can see, Golden State has increased their offensive scoring, but they have dropped off drastically on the defensive end.
The Warriors have the second best record straight up but ATS they have not been profitable, going 25-32-2  (26th).

Their nemesis Houston wins 77.2% of their games straight up and are dead even at 28-28-1 ATS (17th).

Getting home court advantage in the playoffs is paramount for the Rockets, where they have been majestic going 23-6. The only problem is the books have caught up to the success they are having and have made them an expensive buy, day in day out. For gamblers, Houston is 11-17-1 ATS only covering 39.3% of the games played at the Toyota Center. If these two juggernauts indeed face off in the playoffs, how many home games would Houston even be favored in? The last time they played in Houston, the Warriors opened as 3.5 point road favorites. Houston also holds the tie breaker and these teams have no games scheduled the rest of the regular season.

Here are some futures odds for the Western Conference:

To Win the West:
Golden State Warriors        5/12
Houston Rockets                  11/4
Oklahoma City Thunder     16/1
San Antonio Spurs               16/1
Minnesota Timberwolves   25/1
Utah Jazz                               40/1
Denver Nuggets                    80/1
New Orleans Pelicans        125/1
Portland Trail Blazers        125/1
Los Angeles Clippers          150/1
Los Angeles Lakers            250/1
Memphis Grizzlies           1000/1
Dallas Mavericks              2500/1
Phoenix Suns                    2500/1
Sacramento Kings            2500/1

At first glance, you might be enticed to jump on the Rockets to win the West at those odds. But an interesting fact to keep in mind is that the Warriors have the easiest strength of schedule in the entire West to close out the season. The Rockets, on the other hand, play the fifth toughest schedule in the conference down the stretch. If getting home court is a priority, Houston will have to keep the pace they are playing at and close out strong. Their final four games will all be against potential playoff teams, playing at Spurs, then finishing on a three-game homestand vs. the Wizards, Blazers and Thunder.

Golden State will have it fairly easier in the closing games of the season, where in their final six contests they get Phoenix twice, the Kings, Thunder, Pacers, and the Pelicans.

The race for the top seed will go come down to the final weeks, and the final stretch of games will be the deciding factor. If Houston wants to host the Western Conference finals, they need to continue the success this season.

For any questions or comments reach me at @JerryBoKnowz on twitter

 
Rockets' Alperen Sengun recently was a guest on Paul George's podcast and spoke about a conversation he had with James Harden.
He said Harden told him he was proud of him. This led George to saying he thinks this means the torch has been passed from Harden to Sengun.
Which made us wonder, is this now Sengun's team? Or is that a little premature and the true leader of the team is head coach Ime Udoka or Fred VanVleet?
Plus, Jalen Green has responded positively from being benched. Is this proof that Ime Udoka has the team taking more accountability and heading in the right direction?
Be sure to watch the video above as we break it all down!
If you enjoy the videos, subscribe on YouTube for our latest content.
Related Articles Around the Web
SportsMap Emails
Are Awesome