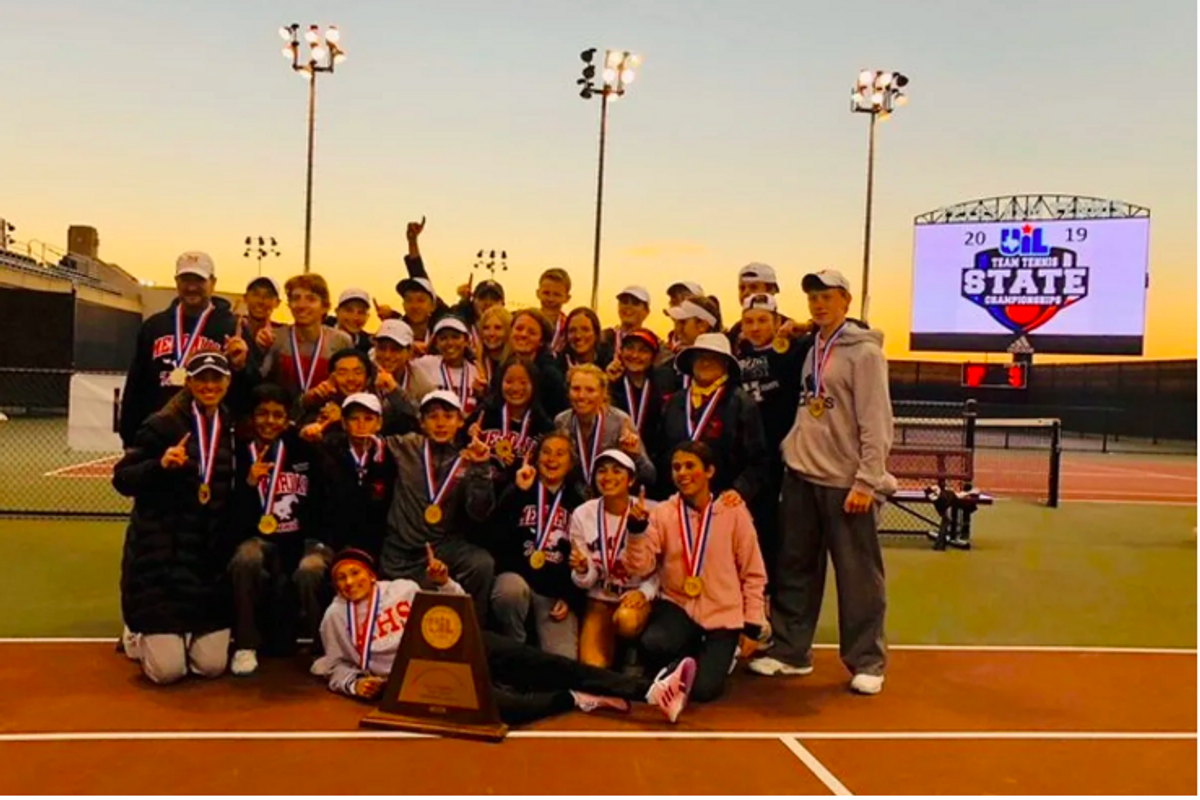 Originally appeared on VYPE
Mother Nature hasn't been kind in the past week.
A pair of cold fronts that have blown through the state the last week have brought with it blistering winds, diving temperatures and in some cases rain. Those conditions don't bode well for an outdoor sport such as team tennis.
The Memorial Mustangs overcame the first front on Friday when it sat through a pair of weather delays before eventually playing and defeating Seven Lakes 10-5 to punch its 11th-straight ticket to the UIL State Tournament this week in College Station.
With the state semifinals matches set for Wednesday, of course, here came another front. This one postponing the matches to Thursday and forcing whichever teams that would advance to play both rounds of the state tournament on the same day.
Not ideal.
But in the end, Memorial persevered. With a pair of 10-7 victories, the first over Southlake Carroll and the second over Plano West, the Mustangs captured the program's second Class 6A State Championship in the past three seasons. The last time Memorial won a state title before this year was 2017.
With the pair of wins on Thursday, Memorial completes the perfect season going 19-0. The Mustangs will not turn their attention to spring tennis where the program could bring home even more hardware on the individual level.
The story continues here
The Houston Texans missed an opportunity to move into first place in the AFC South with Sunday's loss to the Jacksonville Jaguars.
Despite the 24-21 defeat, star rookie quarterback C.J. Stroud is confident the Texans will bounce back and continue to exceed expectations this season.
"It's about the mindset, though. What are we going to do? Not play anymore? (Are) we just going to tuck our tail and not play hard? No, I don't really believe in that type of mindset," he said. "I'm going out there every play, every game trying to win. So, I don't really think that our season is over at all. It's a long year … you can see the trajectory we're on."
Houston (6-5) fell into a tie with the Indianapolis Colts for second place in the division behind the first-place Jaguars (8-3) with the loss.
The Texans had a chance to force overtime with 34 seconds left Sunday, but Matt Ammendola's 58-yard field-goal attempt bounced off the crossbar.
Before that, Stroud had another strong game. The second overall pick in the draft threw for 304 yards and two touchdowns to give him 3,266 yards passing to overtake Justin Herbert (3,224) for most yards passing in NFL history through a player's first 11 games.
Stroud also became the first rookie in NFL history to throw for 300 yards or more in four straight games.
He moved effectively to avoid the rush Sunday, averaging 3.8 seconds to throw each pass, which is the longest time by anyone in a single game this season according to NFL Next Gen Stats.
Both his touchdown passes against Jacksonville came on extended drop-backs of four or more seconds.
"C.J did a really good job of being able to move around and extend plays," coach DeMeco Ryans said. "Made a couple of big plays for us … I thought he moved around well when he had to, took what the defense gave him."
WHAT'S WORKING
Stroud's stellar play continues to make Houston's passing game the strength of the team. His yards passing rank second in the NFL and Houston's 276.2 yards passing a game also come in at No. 2 in the league.
He's done a great job of spreading the ball around, and the Texans had four receivers with at least 40 yards Sunday.
WHAT NEEDS HELP
Houston was down to just one timeout for the last drive Sunday after Ryans had to burn two earlier in the second half to avoid penalties.
"It's tough for us not having those timeouts, having to waste them on procedural things that we need to clean up," Ryans said. "All those timeouts were just self-inflicted things that we have to be better at. Whether it's making sure we got the right amount of people on the field, getting the calls in quicker, getting to the line of scrimmage quicker, we just have to be better."
STOCK UP
WR Nico Collins led the team with seven receptions for 104 yards and a touchdown Sunday. It was his third 100-yard game of the season, which is a career high for the third-year player. It's the first time he's had more than 100 yards receiving since finishing with a career-best 168 yards receiving in a win over Pittsburgh Oct. 1.
STOCK DOWN
CB Tavierre Thomas was called for pass interference on two plays on the same drive that helped the Jaguars to a touchdown in the third quarter.
INJURIES
LG Tytus Howard injured his knee against Jacksonville and is questionable for Sunday's game. … WR Noah Brown missed a second straight game against the Jaguars with a knee injury. … RB Dameon Pierce returned against Jacksonville after missing three games with an ankle injury.
KEY NUMBER
0. The Texans didn't have a sack Sunday for the first time all season.
NEXT STEPS
The Texans look to get back on track when they wrap up a three-game homestand with a visit from Denver Sunday. The Broncos (6-5) have won five in a row after dropping five of their first six games.
SportsMap Emails
Are Awesome