Everything you need to know about the new members of the Texans
Get to know the Texans 2019 draft class
Apr 26, 2019, 6:28 am
Plenty of info, video, and thoughts about the newest members of the Texans.
Tytus Howard - OT Alabama State - 23rd overall
The Texans selected Howard one pick after Washington State tackle Andre Dillard and while fellow tackles Jawaan Taylor (Florida) and Cody Ford (Oklahoma) were also on the board. He was often ranked between the 4th-7th best tackle.

A lot projections have him playing left tackle at the next level.
Howard is seen as a project by some so immediate help may be an issue if that is the expectation.
Howard played quarterback in high school and initially tight end at Alabama State. He bulked up to tackle where played both right and left.
Twitter: @levelstothis_2

Instagram: tytushoward58
SportsMap and ESPN's Lance Zierlein: Ascending tackle prospect who will require additional work with technique and in the weight room to fully realize his potential. Howard is a gifted athlete with rare quickness and fluidity as both a run and pass blocker and his play issues are correctable with more work.

If Lance sees a possible Duane Brown, there won't be one person upset if he turns out to be Duane Brown.
The Athletic's Dane Bruglar: Overall, Howard is a talented lump of clay with sloppy tendencies, but all the raw tools are there for him to develop into an NFL starter.
People rave about Howard's performance against Auburn here is that tape.
He might want this Senior Bowl rep against now Washington DL Montez Sweat back
That was their second rep though. Here was the first.
Another good Senior Bowl rep.
Here are his measurables.
Lonnie Johnson - CB Kentucky - 54th overall
A big cornerback from Kentucky who had just one interception in college but loves to play man coverage. He is athletic but has only been playing cornerback for three years after previously being a wideout.
He was recruited by Ohio State but didn't academically qualify. When he was leaving JUCO he was recruited by Georgia and Kentucky before choosing the Wildcats.
Jaguars standout CB is a fan
Nickname is lotto because he says he is lucky.
Twitter: @Lonnie30johnson
Instagram: lonniejohnson06
He just proposed.
SportsMap and ESPN 97.5 Lance Zierlein: His physical gifts could get him overdrafted, but he can become an eventual starter if he hones his ball skills and finds the right scheme fit.
NFL Draft Analyst Bucky Brooks said the buzz around Johnson is he will be the "best cover corner in the league" in a few years.
D.K. Metcalf has a nice play over Johnson, but, of course, this wouldn't be a catch in the NFL.
Lonnie Johnson brings the wood.
Max Scharping - OT Northern Illinois - 55th overall
He played every snap in college for a total of 53 straight games. He played ever snap in 2018 which was 998 plays. He played mostly tackle but some guard in his time in college. He said he is ready to play guard if he needs to play guard. He is another player from the Senior Bowl the Texans selected.
Twitter: @MaxScharping
Instagram: mscharps
He has a Masters and earned a 3.99 GPA in college only slipping in an English class his freshman year.
SportsMap and ESPN 97.5 Lance Zierlein: Scharping has the ability to handle bull-rushers and finds ways to recover and get guys blocked after getting beat early. However, NFL rushers will look to exploit the inconsistent footwork and balance that shows up when his pass sets become hurried and unfocused against true edge speed. He might get a shot at left tackle, but might be best-suited on the right side where he has the potential to become an above-average starter.
He got rave reviews for his work against first round pick and former Florida State pass rusher Brian Burns.
He showed some moves at right tackle too.
Kahale Warring - TE San Diego State - 86th overall
His full name is Kahale Kuio Kalani Michael Wodehouse Warring
He was a former water polo player who also played basketball. He said he thinks basketball helped him as much and maybe more than water polo did. Didn't start playing football until senior year of high school. He walked on to the San Diego State team and earned a scholarship.
Twitter: @kahale23
Instagram: kahale_warring
SportsMap and ESPN 97.5 Lance Zierlein: Exciting and ascending, Warring is still a relative newcomer to the game, but he has the size, speed and athleticism to become a versatile, high-impact player on the pro level. He has the competitiveness to handle run-blocking duties and the talent to line up in the slot.
He was fourth tight end on The Athletic's Dane Bruglar tight end rankings.
He led the Aztecs in significant pass catching categories the past two seasons including touchdowns the past two and yards last season.
He is no stranger to contact.
He has some wiggle to get loose too.
He will need to work on his blocking but there is a solid base there.
Really find Kahale Warring to be and underrated blocker. He is a willing blocker and watch how he's able to create a hole for the running back on this play. pic.twitter.com/TCzbyH5fOF
— PNScouting (@PnScouting) April 21, 2019
You can see his athleticism in the numbers above.
Charles Omenihu - DE Texas - 161st overall
Charles Omenihu was the Big 12 Defensive Lineman of the Year. He was also the Big 12 sack leader. He combined his sacks and tackles for a loss for a whopping 27.5.
He was tied for 17th in the nation in tackles for loss and sacks in 2018.
Twitter: @charless_94
Instagram: comenihu
SportsMap and ESPN 97.5 Lance Zierlein: As a 4-3 end, Omenihu sets a stronger edge and has shown some potential to mix power with get-off as a rusher. His game lacks instincts and consistency, but he's got the traits and potential to become an eventual starter if he can continue his development.
The Athletic's Dane Bruglar: Overall, Omenihu flashes on film and boasts the long levers and raw power worth developing, but his spotty instincts and playmaking skills create consistency issues, projecting best as a base end who requires patience.
Omenihu said he wore 7 in high school because Jadeveon Clowney wore 7 in college and he wore 90 because Clowney wore 90 in the pros.
Blows through a USC player for a sack on Sam Darnold.
Big play at Senior Bowl practice against a guard.
He isn't just a pass rusher.
Xavier Crawford - CB Central Michigan - 195th overall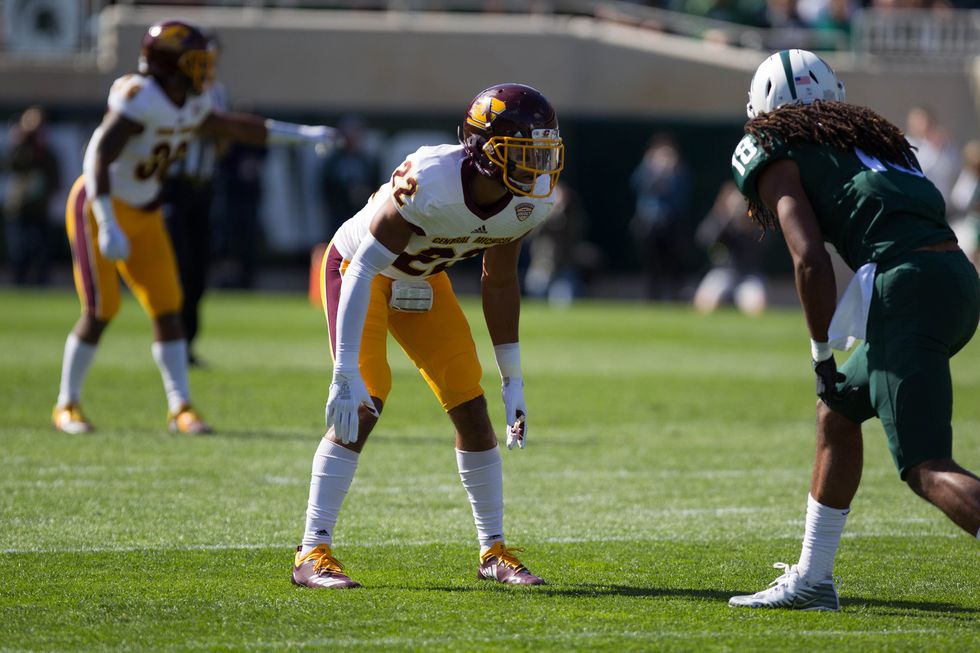 Central Michigan University Athletics
The Chippewas were one of the worst teams in all of college football last year but Crawford joins teammate Sean Bunting as a draft pick from the team.
He ran a 4.3 40-time at his pro day.
Twitter: @XCrawford_22
Instagram: xcrawford_22
SportsMap and ESPN 97.5 Lance Zierlein: Long, thin press corner with the agility, foot quickness and balance to allow for stickier coverage. Crawford's average speed and slim frame could make him a target downfield. His ability to hound routes underneath is impressive, but he doesn't have the size or demeanor for frequent run support.
He was first-team All-MAC in his one year with Central Michigan.
He said his favorite coverage is man.
"I'm man to man," he said. "I wanna see you versus me and I wanna see what you're going to do on me."
His interception from last season.
INTERCEPTION! Central Michigan CB Xavier Crawford (@XCrawford_5) picks off Kentucky QB Terry Wilson. He read the pass and stayed in bounds to give the ball back to the Chippewas. pic.twitter.com/izW6qKBEqb
— Evan Petzold (@EvanPetzold) September 1, 2018
Cullen Gillaspia - FB Texas A&M - 220th overall
He is the first "12th Man" in Aggies football history to get drafted. He said this is for every "12th Man" before him.
A former walk-on from Katy Taylor high school. He said he grew up a Texans fan and all his friends and families are Texans fans. He played defense and so Bryan Braman and Brian Cushing were the two Texans he looked up to on the Texans. He joked he would have to make a tackle without his helmet soon.
He will play fullback for the Texans initially but did a little bit of everything for the Aggies from catching the ball to rushing it and even playing linebacker. He only started playing fullback a year ago. He is a special teams ace.
Twitter: @CGillaspia
Instagram: cgillaspia1133
SportsMap and ESPN 97.5 Lance Zierlein: Will need extensive film work to develop a running back's vision in order to become more accurate and effective as a lead blocker. His fearless playing style and soft hands are both positive traits in his conversion from linebacker to fullback, but he may be too far away from a true positional fit to make a team as a special teams demon.
Rushing the ball.
Blocked punt