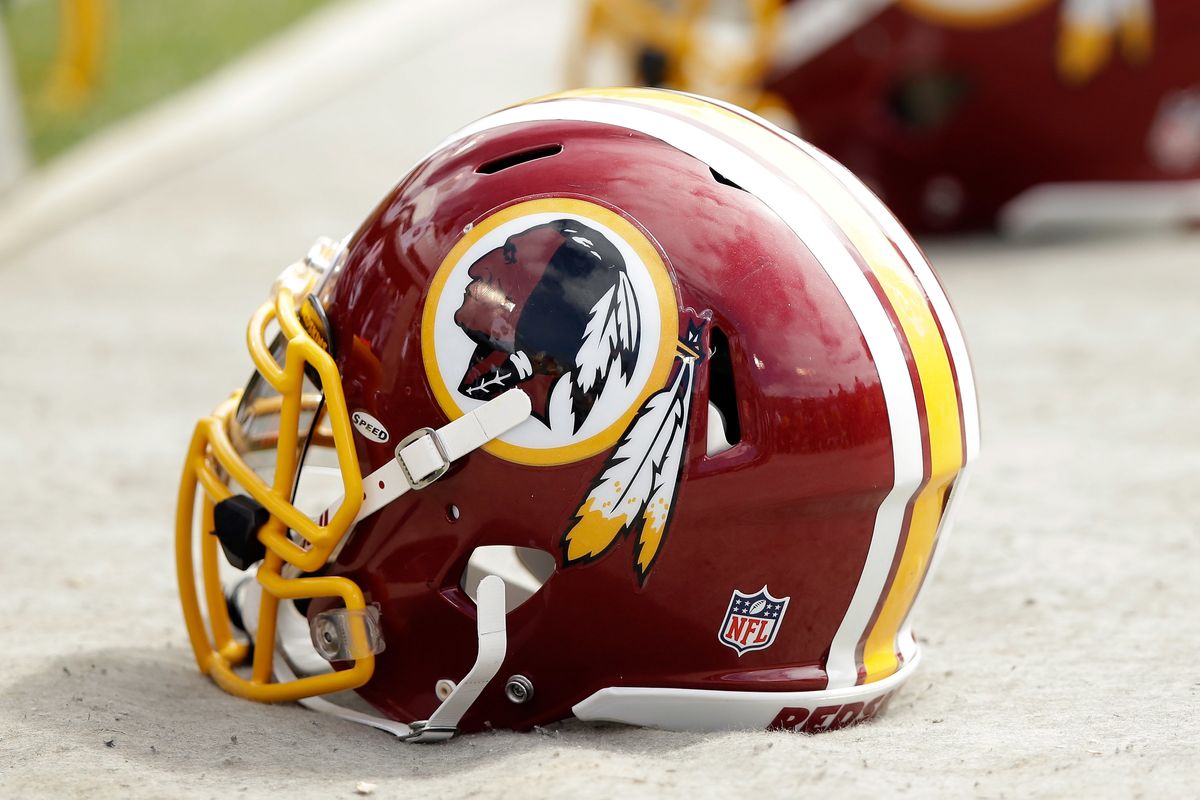 Photo by Ezra Shaw/Getty Images.
When Brett Favre was lighting up the scoreboard as quarterback for the University of Southern Mississippi in the late '80s and early '90s, the school's nickname was "The Golden Eagles." But when Jimmy Buffett went to Southern Miss in the mid '60s, the nickname was "The Southerners." And a few decades before that, the nickname was "The Confederates."
Both times, "The Southerners" and "The Confederates" made students uncomfortable and they voted to change the nickname, landing on "The Golden Eagles," which happens to be one of the best nicknames in college sports, that everybody can rally behind, and nobody's offended.
See? That didn't hurt.
The NFL's team in Washington, our nation's capital, appears ready, finally, to drop "Redskins" in favor of something that isn't a horribly offensive racist slur against Native Americans. Owner Daniel Snyder is doing this totally on his own, without any pressure from sponsors or retail stores that are pulling his team's gear off their shelves, or polls that show Americans are repulsed by the term "Redskins." He just wants to do the right thing. Yeah, right.
This isn't the first time an NFL team has changed its nickname – about one-quarter of teams have done it. The Washington case is unique for one reason, however. It's unbelievable that the league allowed a team, since Washington's inception in 1932, to call itself a racist epithet. And allowed its owner to defend the nickname for so long and promise never to change it. Now Snyder says he's committed to a "thorough review" of possibly changing the nickname. I'm guessing he wants to thoroughly review how much money this is going to cost him.
Several college programs have changed their nickname from Native American imagery to less offensive, more socially acceptable terms. Stanford was the "Indians," for decades, changed it to "Cardinals" in 1972 and shortened it to "Cardinal" in 1981. It hasn't seemed to put a dent in Stanford's winning ways. St. John's University changed its nickname from "Redmen" (including an unflattering cartoon logo of a Native American in full headdress) to "The Red Storm" in 1994. Miami University (Ohio) teams were called "Redskins" until 1997, when they switched to "RedHawks."
A very similar controversy, changing a school's nickname from something unimaginably offensive to something everybody could cheer for, happened in Houston less than 10 years ago, and I eavesdropped on it many times in my living room.
In 2014, under orders from Houston Independent School District officials, Lamar High School changed its nickname from "Redskins" to "Texans." Some of the school's athletes and, this surprised me, some of the parents were very angry about the change. I heard several of the players say, "We're still going to call ourselves 'Redskins.' We're still going to break huddles by shouting 'Redskins.' That's not going to change."
I stuck my nose into the discussion. It's not one of my more attractive qualities, and it wasn't the first time I heard, "Why can't you just stay upstairs and leave my friends alone?"
"Let me tell you something, guys. I know this nickname business is important to you now, but I promise it won't matter one bit once you leave high school for college or the military or a work career. This isn't a big deal. If the nickname hurts people's feelings, that's enough to change it. I went to Thomas Jefferson High School. Our nickname was 'The Minutemen.' Not once, not for a moment, have I identified as a Minuteman or thought of myself as a Minuteman. Although I was called that a couple of times early on … and it wasn't a compliment."
Three other HISD schools were directed to change their "culturally offensive" nicknames: Hamilton Middle School switched from "Indians" to "Huskies": Westbury High School went from "Rebels" to "Huskies"; and Welch Middle School dropped "Warriors" for "Wolf Pack."
Two years later, HISD officials changed the names of eight local schools named for leaders of the Confederacy. Among them, Robert E. Lee High School became Margaret Long Wisdom High School, and Jefferson Davis High School became Northside High School.
I believe these were positive steps for Houston. The names of Confederate heroes belong in history books, not on school buildings. Nobody is denying our history or heritage, but history belongs in museums, not on school uniforms worn by descendants of slaves. If it hurts people's feelings, stop doing it.
One big difference between HISD becoming enlightened about school names and mascots and the situation with the NFL team in Washington? It cost HISD about $1.5 million to research the name changes and buy new uniforms and logos. In Washington, owner Dan Snyder will make millions from longtime fans buying up old Redskins gear and hitting the Nike store for first-edition T-shirts and jerseys with the new name and logo. The early favorite seems to be "Warriors" without any images of Native Americans or feathers. It's about time – just long, long overdue.
"Another one!"- DJ Khaled
That's the first thing that came to mind when I heard the news of Tytus Howard being shut down for the season because of a knee injury. They've had more injuries on the offensive line this season than Nick Cannon has Father's Day cards. Almost every member of the offensive line has spent time on the injury report. Howard went down in the same game in which Juice Scruggs was finally on the active roster. He missed the first 10 games due to a hamstring injury. The irony of next man up has never been so in your face.

The other thing that came to mind was the soap opera As the World Turns.
Howard had just signed an extension this offseason. So did Laremy Tunsil and Shaq Mason. They drafted Juice Scruggs, and signed a few guys too. Those moves, along with other holdovers, were expected to fill out the depth chart. Then a rash of injuries struck. At one point, only one of the original five guys expected to start was playing! In fact, they beat the Steelers 30-6 with that backup offensive line!

One can't have the expectation of backups to perform as good as the starters. They're professionals and are on an NFL roster for a reason. However, the talent gap is evident. One thing coaching, technique, and preparation can't cover is lack of ability or talent. The Texans have done a good job of navigating the injury minefield this season. While the Howard injury will hurt, I have faith in the guys there still.
As of this writing, the Texans are in the eighth spot in the AFC playoff picture. The Steelers, Browns, and Colts are all in front of them at the fifth through seventh spots respectfully. They've beaten the Steelers already. They play the Browns on Christmas Eve and their starting quarterback is out for the season. The Colts are relying on the ghost of Gardner Minshew to steer their ship into the last game of the season vs. the Texans with a possible playoff trip on the line. The Broncos and Bills are the two teams immediately behind them. They play the Broncos this weekend. Even though they're on a hot streak, this is the same team that got 70 put on them by the Dolphins. The Bills are the old veteran boxer who still has some skill, but is now a stepping stone for up & comers.
To say this team should still make the playoffs would be an understatement in my opinion. I believe in them and what they have going on more than I believe in the teams I listed above. That includes teams around them in the playoff race that aren't on their schedule. The one thing that scares me a little moving forward is the sustainability of this line. When guys get up in age as athletes, it becomes harder to come back from injuries. The injuries also tend to occur more frequently when it's a knee, foot, ankle, shoulder, elbow, or another body part critical to blocking for C.J. Stroud.
I know they just re-signed three of those guys and drafted one they believe can be a starter, but depth and contingency plans are a way of life in the NFL. We see how important depth was this season. Why not plan ahead? Don't be surprised if the Texans spend valuable draft capital on the offensive line. By valuable, I'm talking about first through third or fourth rounders. Those are prime spots to draft quality offensive lineman. Whether day one starters or quality depth, those are the sweet spots. The only guy on the two deep depth chart for this offensive line that wasn't drafted in one of those rounds was George Fant, who was an undrafted rookie free agent. While I highly doubt they spend any significant free agency dollars on the group, I'm not totally ruling it out.
The bottom line is, this team will be okay on the line for the remainder of this season. The only way that doesn't happen, more injuries. Stroud is clearly the franchise guy. Protecting that investment is a top priority. I don't care about a number one receiver, or a stud stable or singular running back if the quarterback won't have time to get them the ball. If the pilot can't fly the plane, you know what happens. So making sure he's happy, healthy, and has a great crew is of the utmost importance.
SportsMap Emails
Are Awesome