Here's an insightful peek into the life of a local minor leaguer
Jun 30, 2020, 6:30 pm
Photo courtesy of Carson Maxwell.
Ten years ago, I created a youth travel baseball team of top Little Leaguers, mostly from West University Place plus a few players from other leagues (I hate the word "ringers"). I named the team the Van Buren Boys, after the street gang that terrorized Kramer in the pizza parlor on Seinfeld. This group of 13-year-old All-Stars played the whole summer and racked up a lot of trophies. Note: one of the Van Buren Boys' lefty pitchers slept down the hall from me, so I still have those trophies. I pretend that I actually had something to do with winning them.

The Van Buren Boys' slugging shortstop was a kid named Carson Maxwell. Man, he could hit the ball a ton, well beyond his years. He went on to play ball for Lamar High School, Galveston Junior College and McNeese State. He was drafted by the Arizona Diamondbacks and sent to the Missoula (Montana) Osprey in the Rookie Advanced Pioneer League.
This summer, with Major League Baseball and coronavirus decimating the minor league system, Maxwell will be part of the 4-team professional league hosted by the Sugar Land Skeeters at Constellation Field. Fans will be allowed to attend games, up to 25 percent of Constellation Field's usual 7,500-seat capacity. Each team, consisting of former big leaguers and free agent minor leaguers, will play 28 games, starting July 10. Single games will be played Tuesdays, Thursdays and Fridays, with doubleheaders Saturdays and Sundays. Maxwell is waiting to learn which team he'll be placed on. In the meantime, I decided to play pepper with Maxwell … 10 hard-hitting questions plus a couple of soft-toss meatballs.
1. SportsMap: How did you enjoy living and playing baseball in Montana?
Carson Maxwell: It was so much different than what I expected, but I absolutely loved it. Playing ball every day and learning from former Major Leaguers was so much fun. Not to mention, it was my first visit to the mountains out west, which was surreal.
2. SM: What was the Skeeters tryout like?
CM: It was pretty much like any other tryout. Position players ran the 60-yard dash. We had three backhand throws from shortstop to show off our arms. Then we moved to our positions to take some ground balls. We threw one to first, turned a double play, and finished with a slow roller. After that, position players got one round of batting practice to show off some pop in our bats.
3. SM: What are your baseball goals now?
CM: My immediate goal is to have a good season and get picked up by a big-league team. My long-term goals haven't changed, meaning to make it to the Major Leagues and have an outstanding career. I'm taking it brick-by-brick and focusing on what's in front of me at the moment.
4. SM:Minor league players are notoriously underpaid. How much mac 'n' cheese did you eat last season in Montana?
CM: True! Lower-level minor leaguers are extremely underpaid. I did make enough to purchase essentials I needed to survive, like bats, gloves, cleats and other equipment. The Diamondbacks took decent care of the team and would feed us before and after games. My roommates and I were fortunate to have an amazing host family. They often bought us groceries. Late nights after home games, my roommates and I would get back to the house and absolutely destroy frozen pizzas.
5. SM: What's the best part of moving back to Houston and playing ball for the Skeeters league?
CM: I'm excited to be home and playing in a stadium where I'm very comfortable. I played four years of college playoffs in Constellation Field and won the Southland Conference championship my senior year at McNeese State.
6. SM: How much different was playing minor league ball from college ball, and what are you expecting from the Skeeters league?
CM: The main differences from college to the minors were pitching and mindset. In the minors you are facing the best pitchers from college, whereas in college I didn't always face the best guy on the other team. I also say mindset because if I had a bad midweek game in college, I would have a couple of days to shake it off and work on things. In the minors games are played every day, so if you've had a bad game you better have short-term memory because you can't let that distract you the next game or everything will just snowball.
7. SM: What will the Skeeters league look like during the coronavirus pandemic?
CM: It's going to be very interesting to say the least. One of the rules that I read in my packet is that the balls will be disinfected after they've been used. As of now, the rules say we aren't supposed to give out autographs to fans or hand out foul balls. No seeds, no gum chewing, avoid spitting. Pitchers will be allowed a wet rag in their back pocket so they don't lick their fingers, and no high fives, hugs or fist bumps after a home run or run scored. We are supposed to do our best at staying distant at all times, and we will be tested weekly for COVID-19.
8. SM: When you were a kid, you were typically the best player on the team. How did you deal with pro ball, where everybody was the best player when they were young.
CM: I've definitely tapped into a new level of work ethic. It's a tough situation because you want to help the team win, but you're also fighting for a job and to get called up to the next level of the minors. I loved learning from other players who had been playing in the minors for a while and players from other countries who were taught a different way to play the game.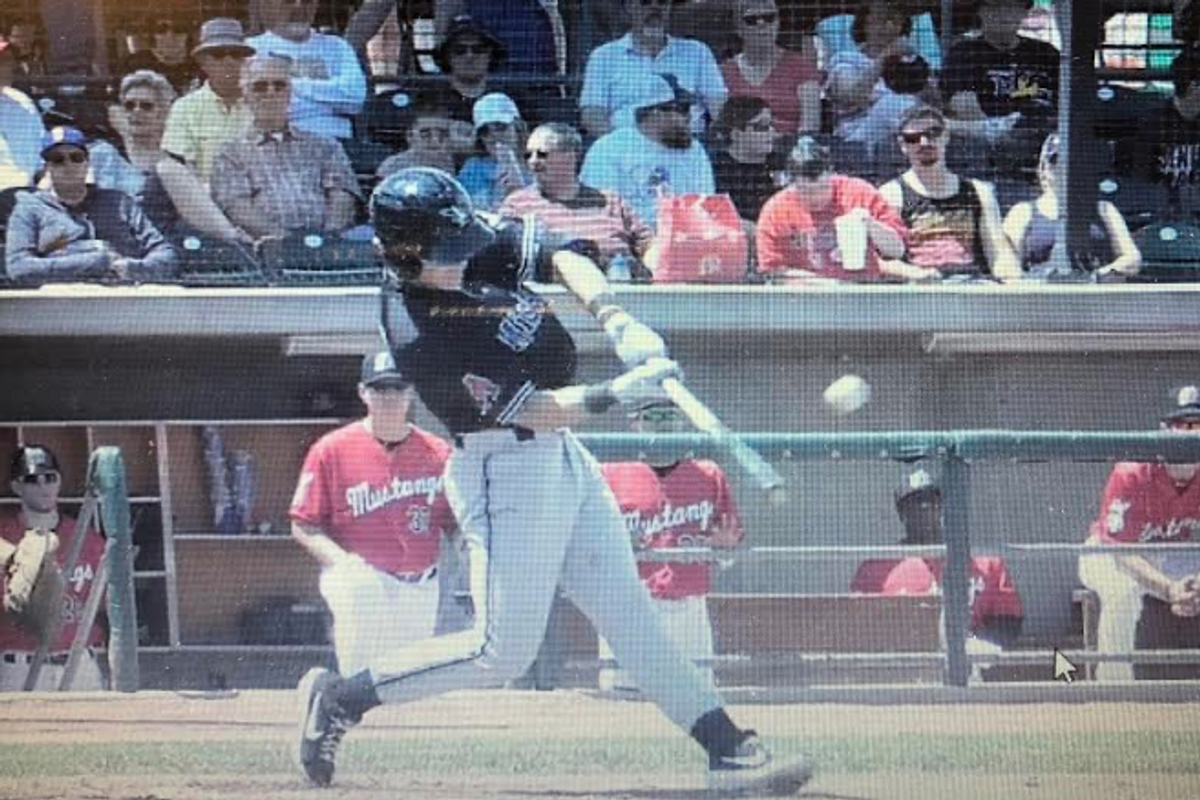 Photo courtesy of Carson Maxwell.
9. SM: Tell me everything about your first professional home run.
CM: It was my first at-bat of the day in Billings, Montana. It was against a righthander who was throwing pretty hard. First pitch he hangs a slider up around my letters and I took it like a fool. I'm thinking he's coming with a fast ball second pitch, but he hangs another slider. I recognized it early because it was the same exact pitch and this time I took it deep to left field. I don't even remember feeling the ball hit the bat, I just knew I got it all.
10. SM: Is it true that minor league teams have groupies? Pretend your mother Alice isn't reading this. And for the record, I'm more afraid of her than you are.
CM: That's hilarious! I'm pretty sure a few of the guys had a couple of fans in each town we went to.
11. SM: Players in the Skeeters league will be offered hotel rooms, while players from Houston will be allowed to live at home. Which will you do?
CM: I'm staying home for the free meals and comfort of my own bed.
12. SM:Final question: how did you rate me as owner of the Van Buren Boys? Were my $100 Cuban cigars and gaudy jewelry a distraction? How about my constant yelling at the umpires and threatening to cut 13-year-old children from the team if they made an error? Remember, I still have the Van Buren Boys jerseys in my closet, including your X-Large number 11.
CM: I rate you as a top-notch owner and, to this day, the Van Buren Boys was the most fun team I ever played on! Hopefully one day we'll be able to frame that number 11 jersey and hang it somewhere.