Here's what MLB should do to give fanless Astros games more juice
Jul 31, 2020, 11:57 am
Photo by Bob Levey/Getty Images
Earlier this week, the Reddit website ran a photo of two women standing in the parking lot outside West U Elementary School protesting HISD's decision to keep schools closed at least until October. Standing one parking space over was someone dressed like the Grim Reaper, a scythe in one hand, a sign in the other reading "Open Schools Now!" Battle lines clearly were drawn over the hot button issue of whether schools are safe for kids to return.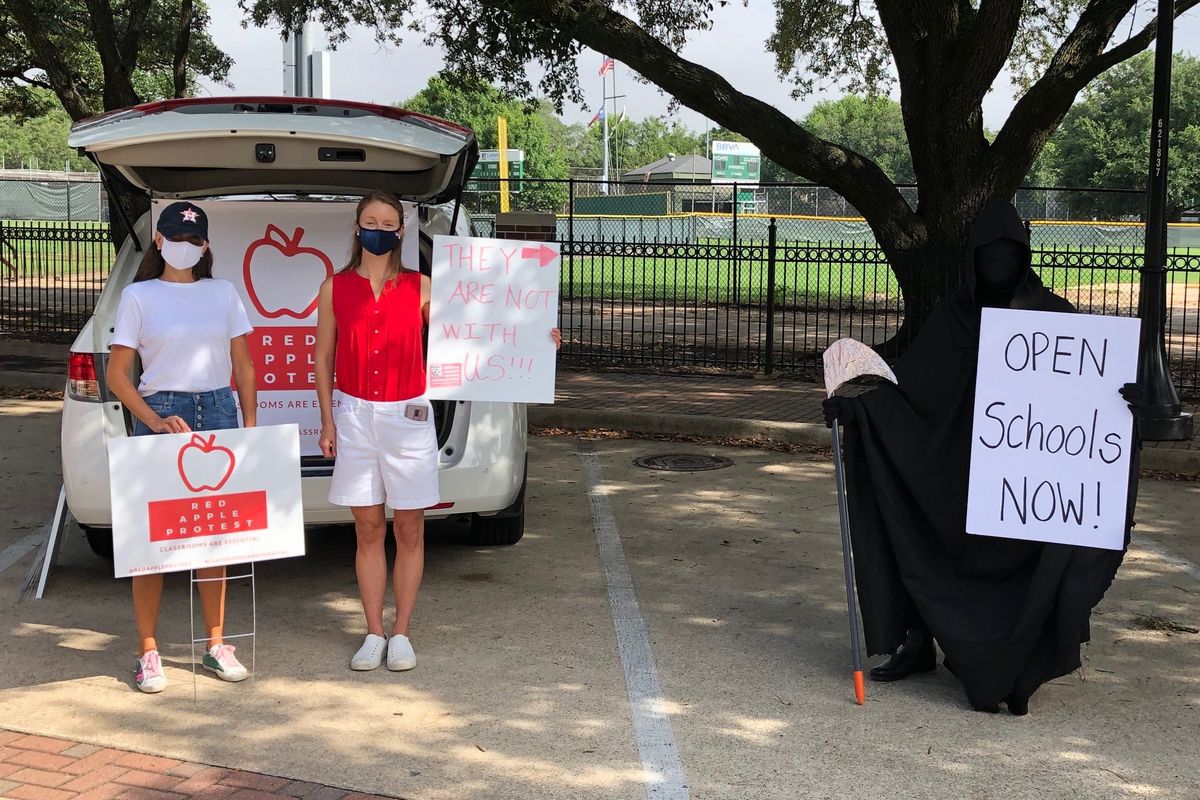 Photo by George Boehme.
Almost instantly, 2,000 Reddit followers from across the U.S. and around the world left comments. Yes, some agreed that schools should be opened immediately. Children learn best when they're in a classroom. No, more argued that it's too dangerous for students and teachers to be in face-to-face contact just yet. While children may not show symptoms of coronavirus, they can transmit the disease to their parents and grandparents.

But let's get to what's really important about that photo. Many of the comments zero'd in on one of the women's outfits. Look closely: she's wearing an Astros cap. The comments didn't exactly read like fan notes to the Astros.
"Cheaters!" "Losers" "Disgrace" "She's used to making bad decisions on what to support."
Talk about baseball as a metaphor for life. That photo and those comments are the entire 2020 baseball season reduced to a TikTok minute: Dodgers pitcher Joe Kelly tries to decapitate Astros slugger Alex Bregman with a fastball, sneers and mouths off after striking out Carlos Correa, followed by both teams erupting from their dugouts, and Astros manager Dusty Baker calling Kelly an "MF-er" clear as day over the TV.
Twenty-four hours later, Kelly was suspended by MLB for eight games, while Baker was fined for saying what every Astros fan was thinking. The TV announcers apologized for what Baker said. What did MLB expect him to holler, "Excuse me, Mr. Opposing Pitcher, would you kindly return to your dugout, and next inning, please can I have some more?" I had no problem with one uncensored, X-rated word Baker said.

Suspended? Fined? Apologized? ABC should sign Kelly and Baker to star in a remake of The Odd Couple. While Kelly was the villain here in Houston, he was a hero around the rest of the league. The Astros aren't exactly baseball's darlings, you know. Their flair-up has been the most exciting thing to happen this imperiled baseball season on the brink, if you want to call this a season.
More comments on Reddit: "Nice Astros hat. You can cheat baseball but not death." "Maybe if I bang this trash can, the vibrations will ward of COVID." And simply ... "F the Astros."
With all of baseball's problems, like more than half of the Miami Marlins testing positive for coronavirus, big-name players opting out of the season, Toronto not allowed to play in Toronto, no fans allowed at games .... baseball is worried about a live mic picking up a manager using profanity? When did baseball become such a pris?
Baseball lore is filled with Babe Ruth picking up whores along Yankee train rides to Chicago, Ty Cobb filing his cleats into razors, Roger Clemens throwing a broken bat at Mike Piazza, the Black Sox cheating to lose a World Series, the Astros cheating to win a World Series, steroids and greenies, booze and betting. Baseball history has legendary, colorful characters doing all sorts of nasty things. Now the commissioner, with his season on the edge of extinction, is worried about Dusty Baker saying a word that you'll hear on HBO a thousand times a night?
Players and managers getting chippy with each other isn't a bad thing. With empty stands, I was looking forward to eavesdropping on what players say to each other at first base and in the batter's box. I don't want anybody to get seriously hurt, but a bench-clearing brawl would be OK. Nobody really gets hurt in baseball fights, anyway. Remember the "Malice at the Palace," when NBA players rushed into the stands and punched out a couple of fans? Comic Daniel Tosh said, "if the NBA promised that would happen every game, I'd buy season tickets." The old Houston Aeros hockey team used to promote "Guaranteed Fight Night." Who didn't love when Nolan Ryan caught Robin Ventura in a headlock and gave him the greatest noogies in baseball history?
Baseball fights are fun. Instead of lightening up, Francis, baseball suspended a pitcher eight games (13-percent of the entire season) after he didn't hit a batter. And fined a manager for yelling something that Dave Chappelle uses in sold-out arenas and helped him win the Mark Twain Prize for American Humor. Do fans think that baseball players recite the soliloquy from Hamlet during games? By the way, if you want to see a baseball manager really unleash a blue streak, click on "Best Baseball Manager Ejection in History" on YouTube and enjoy the eloquence of Wally Backman expressing his opinion of an umpire's decision. It's six minutes that make Dusty Baker look like a Sunday school teacher. Now that's entertainment. Now that's what baseball needs in its cursed, plagued season.
MLB should be more concerned that the Marlins dugout is one big positive coronavirus test. The Dodgers are playing this season without big-name pitcher David Price, and the Giants are without their MVP catcher Buster Posey. Both opted out for personal reasons. Several more star players are sitting out 2020. The Astros season of vindication has turned into a nightmare with Cy Young winner Justin Verlander possibly out of the season, possibly much longer, with an arm injury. Slugging 2019 Rookie of the Year Yordan Alvarez and promising pitcher Jose Urquidy have missed several games with an "undisclosed injury." It's 2020, gee, I wonder what those injuries could be.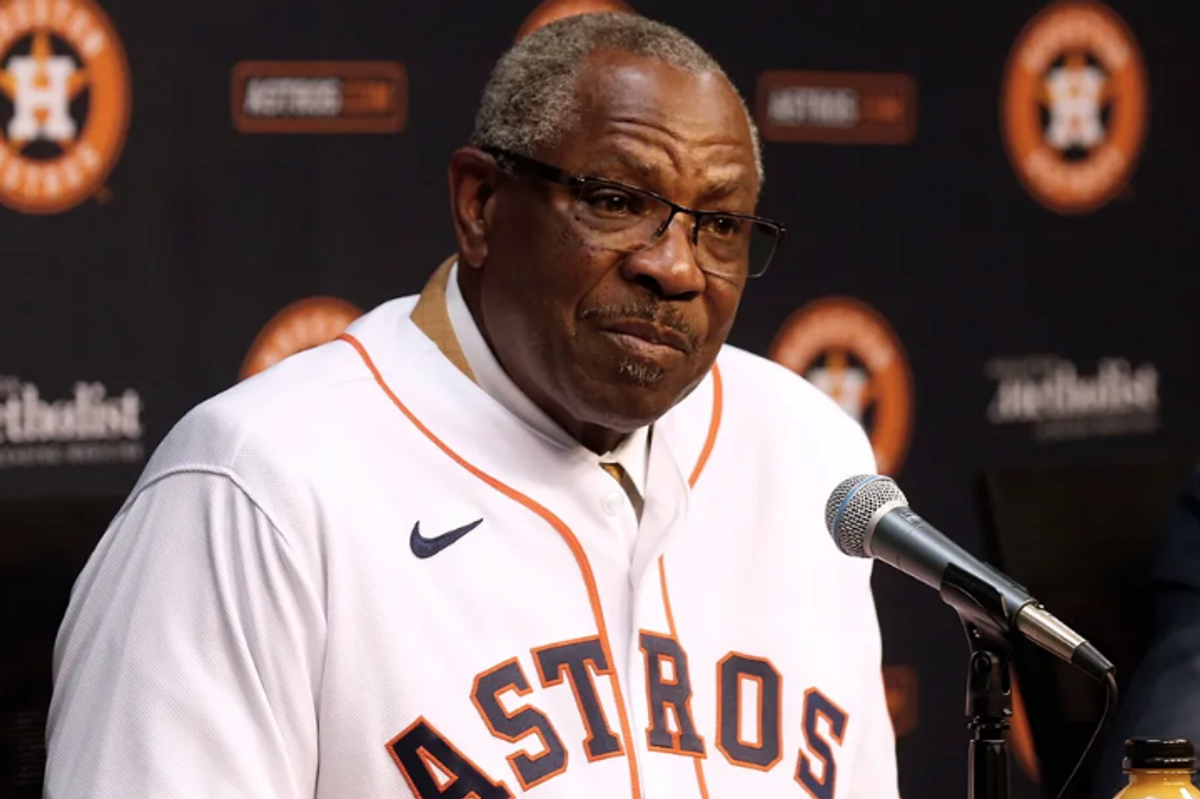 Photo by Bob Levey/Getty Images.
Televised games are a welcome relief - for now - because we've missed sports so badly. But they may get same-old, same-old pretty fast with teams playing under a cone of silence. It's a sign of the times when Jose Altuve crushes a home run and a low-level Astros staffer leisurely strolls down an aisle to retrieve the ball. It's part of baseball to watch grown men spill their $18 beer and show their butt crack diving for a $6 foul ball. We still refer to 1972, 1981, 1994 (Jeff Bagwell's MVP year) and 1995 as "strike-shortened" seasons. Will 2020 be the "pandemic-shortened" year? Let's see how shortened it will be. The coronavirus sword of Damocles is hanging over baseball. While it lasts, let's have some fun. Put a microphone on Dusty.