Enormous new baseball entertainment complex blasts a home run in Houston
Mar 29, 2023, 12:04 pm
Home Run Dugout opens this week. Photo courtesy of Home Run Dugout.
The TopGolf of baseball will make its Houston-area debut this week. Home Run Dugout will open its new location in Katy (1220 Grand W. Blvd.) this Thursday, March 30.
Timing the grand opening to the start of the Major League Baseball season is no coincidence. Home Run Dugout aims to do for baseball what TopGolf did for golf and driving ranges or Flight Club did for darts by rethinking a traditional batting cage experience and adding an extensive menu of food and drinks.

Where Home Run Dugout sets itself apart from a regular batting cage is its ground-up, soft toss pitching machine that eliminates the need for batting helmets. It also makes hitting homers easier by limiting the ball's horizontal movement.
"Now, for the first time, you don't have to put on a helmet. You don't have to get in an enclosure. You don't have to worry about getting hit with the ball," co-founder Nick Hermandorfer told CultureMap Austin in 2019. "You wave your bat over home plate and the ball pops up. You can also program different strike zones and different stadiums."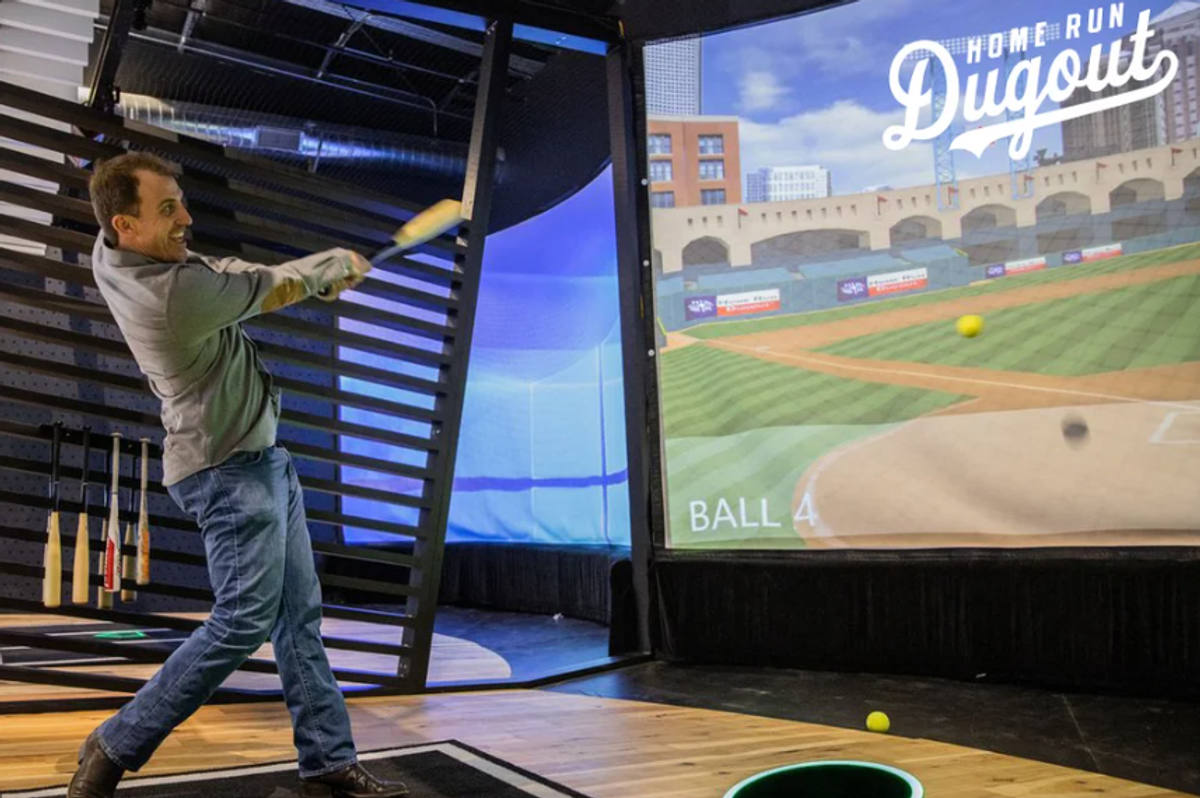 Photo courtesy of Home Run Dugout.
The venue features 12 Batting Bays that can accommodate a group of up to 12 people. Available by reservation, each bay features a 20x15-foot screen that projects different baseball stadiums — including Houston's Minute Maid Park — and five TVs for watching sports. Players may choose from 10 different sizes and styles of bats.
In addition to the Batting Bays, Home Run Dugout offers an outdoor mini field that's designed for either wiffle ball or kick ball, complete with stadium lights, an outfield net, and a vintage scoreboard. Available on a first-come, first-served basis, the field will eventually host leagues, tournaments, contests, and concerts.
Surrounding the field is a patio and biergarten that seats almost 500 people. Designed to look like the concourse at a baseball stadium, the outdoor seating area features fire pits, Adirondack chairs, and a main dining area with a bar. An indoor, private events space — complete with two Batting Bays and a dedicated bar — offers room for 65 people.
Food options start with four kinds of hot dogs: Chicago, New York, chili dog, and a classic ballpark. Diners may also opt for crispy chicken sliders, smoked chicken wings, salads, flatbreads, burgers, or other sandwiches.
Continue on CultureMap to learn more!