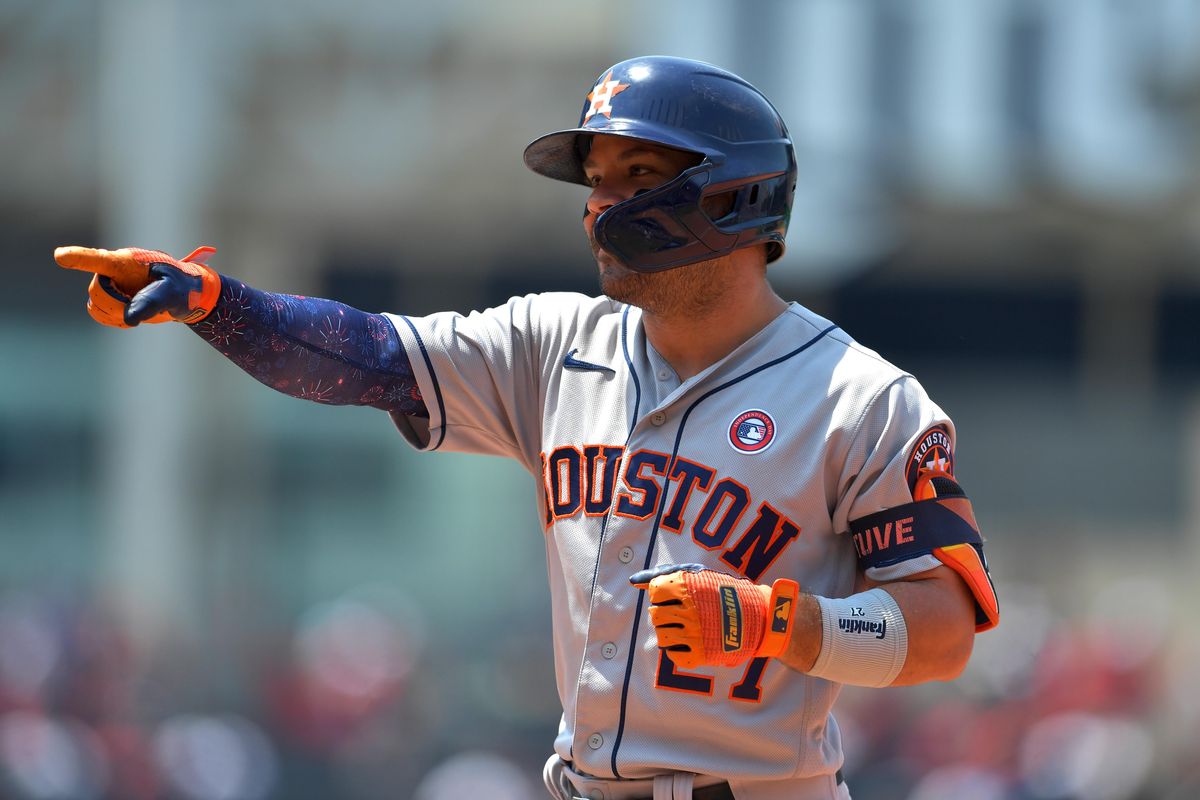 Jose Altuve has a chance to take home some more hardware. Photo by Jason Miller/Getty Images.
Each year, all MLB clubs nominate a player as a finalist for the Roberto Clemente award, which then goes to a fan vote. The award aims to honor players that have gone above and beyond in their team's communities to leverage their reach to have a beneficial impact.

For the past few years, Alex Bregman has been Houston's nominee due to his volume of work with his charity, Bregman Cares, and multiple different initiatives with Houston-based programs to help those in need. For the 2022 award, the Astros have selected Jose Altuve.
"For the past two years, Altuve has hosted the "Uncork for a Cause" fundraiser through the Astros Foundation, which focuses on raising money and awareness for youth sports and education programs, the nation's military, childhood cancer, domestic violence awareness and reducing homelessness." - mlb.com
The disparity is drastic for Altuve in MLB. He is cherished and cheered by fans in Houston and his clubhouse. When he steps into the batter's box anywhere else, boos (and worse) rain down on him as if he had single-handedly ruined the game of baseball and their team's success, often shortly after Altuve took time out of his pre-game routine to meet with young fans of both teams. Why is that?
Altuve rightfully became the face of the Astros franchise and will continue to be during his current contract, which goes through 2024. Most know the underdog story by now of how he ended up on the team, and it's no secret about his stature and how exciting it is to see his performance despite it.
The reason fans outside of Houston turned on him harshly lands squarely on the sign-stealing scandal of 2017-2018. With Altuve being the most prominent and identifiable part of the Astros during that period when the scandal came to light, he became the face of Houston's cheating, even though it's been widely proven that he personally did not partake in the scheme.
There is a valid argument that even though he didn't receive the benefits of knowing what pitch was coming when he was batting, those in front of him probably did. That could have given him a boost in stats like RBI, which may have played a role in him winning the 2017 AL MVP over Aaron Judge. Another argument is that he could have stopped the scheme altogether, but we may never understand the true clubhouse culture surrounding the cheating and who did or didn't do or say things at the time.
That level of argument is not why most people who despise him continue to do so, though. The age of misinformation has instead been the driver of leading people to their conclusion about Altuve, and unfortunately, it's far more difficult to disprove lies and spread facts. I'd argue that most people that continue to hate Altuve don't know the work that earned him the Roberto Clemente award nomination, and even if they did, they would diminish it.
Many out there still believe, despite the overwhelming evidence otherwise, that he not only took part in the trash can portion of the sign-stealing (which he didn't) but wore buzzers and used other widely debunked methods to cheat. The video below says it all. (Graphic language)
Altuve is so admired in his own clubhouse that the initial hate he got, including Cody Bellinger stating that Altuve stole the MVP award from Judge, is what led to Carlos Correa's infamous "If you don't know the facts, you gotta shut the f--- up."

It's also telling of Altuve's character that despite no direct involvement in the scandal, he still went to the initial press conference and apologized on behalf of himself and the team. He didn't make things about himself and try to clear his name on his own; instead, he went back to playing baseball and being the same person he's always been, which as this award nomination shows, is a good one.
He likely will not win the fan vote for the Roberto Clemente Award, despite all of Houston behind him, and the underlying reason for that is unwarranted and, maybe over time, as more people embrace the facts, can change.
As Astros fans patiently wait for the club to make some moves in free agency, the Alex Bregman trade talk is picking up steam across several media outlets.
MLB Network Radio's Jim Duquette (also a former MLB GM) believes the Astros are listening to offers for Bregman because the team isn't planning on signing him to a massive contract extension.
The Astros are right up against the tax threshold, and dealing Bregman would give the team more flexibility to maneuver in free agency. He's set to make around $30 million in 2024.
This is certainly something Houston fans are used to. Owner Jim Crane has made a habit of letting his top tier players walk in free agency. They'll likely offer him a contract, like they did with Carlos Correa. But the Astros aren't usually willing to pay market value, and other teams certainly will.
To be fair to the Astros, signing Bregman to an 8-10 year deal probably isn't the best way to spend their money. So if they don't plan on re-signing him, they have two choices. Keep him for one more year, or trade him.
However, this would be a departure from their standard operating procedure. Trading Bregman before his deal expires would at least provide the team some value for one of their best players.
On the flip side, moving Bregman would absolutely weaken the team, and decrease their odds at winning a championship in 2024.
Let's face it, all good things come to an end. And the Astros have been serious World Series contenders for the last seven years. At some point, they'll have to replenish their weak farm system, and trading Breggy could help with that.
When should they trade him?
If they trade him before the season, they'll get a bigger haul than at the trade deadline. Either way, we shouldn't expect a massive return for Alex. Teams don't like trading top prospects AND having to hand out mega contracts.
Astros GM Dana Brown spoke this offseason about being creative. And doing something like this would certainly qualify.
Who would replace him?
We know the farm system is thin, so it could be as simple as playing Mauricio Dubon at third. Grae Kessinger could fill the utility infield role, and the team has plenty of options in the outfield with Jake Meyers, Chas McCormick, Yordan Alvarez, and Kyle Tucker. Corey Julks could also add some depth.
Is there a chance the Astros would consider moving their Gold Glove shortstop to third base?
Be sure to watch the video above as we cover all the angles on a potential Bregman trade!
If you enjoy the videos, subscribe to SportsMapHouston on YouTube!
Presented by Coors Light.
SportsMap Emails
Are Awesome