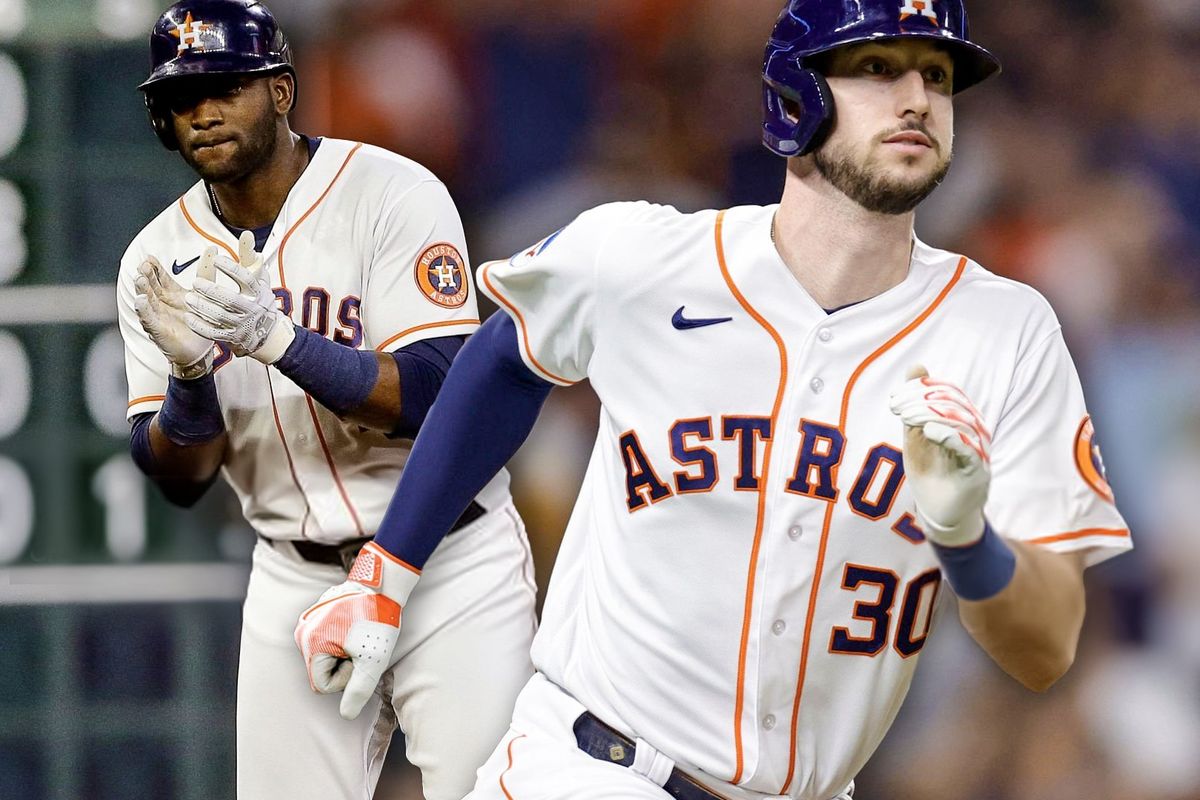 Kyle Tucker could do some serious damage in Yankee Stadium. Composite Getty Image.
With Major League Baseball's Winter Meetings less than three weeks away, we are at the time of the baseball year when rumors become grossly overpriced at a dime per dozen. It's also a time for thinking aloud and "what if" scenarios. Hence a suggestion this week out of New York that the Astros could or should trade Kyle Tucker with him being two years away from free agent eligibility. Tucker would be a great addition to the Yankees' lineup. Yeah, and? Tucker was the Astros' best player in 2023. Best until the postseason that is, in which Tucker stunk like rotten eggs batting .150 with a sub-.520 OPS and one run batted in in eleven games. If the Astros HAD to trade away Tucker or Yordan Alvarez, in a fan vote trade, Tuck would presumably be the goner in a landslide. There's a reasonable case in such a scenario that Yordan should be the man to move. And trading Alvarez would be RIDICULOUS.
Kyle Tucker turns 27 in January, Yordan Alvarez turns 27 in June. While Yordan is the obviously better hitter, Tucker is clearly the better outfielder and baserunner. Attendance is also part of the grade. Over the last two seasons Tucker has missed a total of 17 games, Alvarez has missed 75. In 2024 Alvarez enters the second season of the six year 115 million dollar contract extension he signed in June 2022. That averages about 19.2 million dollars per season, expiring when Alvarez will be 31 years old. Yordan took the generational wealth when he was still three seasons from free agency. Tucker is two seasons away, meaning he can hit the open market when about to turn 29. Unless Tucker's postseason debacle has lingering performance effects, barring injury a 29-year-old Tucker would command at least a five-year contract. Heck, last offseason players 29 and older like Trea Turner and Xander Bogaerts laughably got 11-year deals. So, Jim Crane should be willing to do seven years, which would equal the longest obligation into which the Astros have ever entered.
When Jose Altuve signed his extension during spring training 2018 it locked him in for seven seasons. If Altuve doesn't get another extension done this offseason he can become a free agent heading into his age 35 season. Seven years for Tucker starting now would have him free before his age 34 season. The Astros have no outfielder in their farm system likely to become close to the player that Tucker is. Unless the Astros had an immediate quality pivot ready to go (signing Cody Bellinger would qualify but he'd cost way more than Tucker will cost the next two seasons), trading Tucker for prospects would do serious damage to their 2024 changes. If Tucker scoffs at seven years 150-175 million (that's over 21.4 to an even 25 mil per) and Crane opts to go no longer, so be it. If the Astros are contending, just play out the next two seasons.
Now, if you want to talk about entertaining offers for Framber Valdez…
It may feel like way longer, but we only have to go back to 2019 to find the last time the Astros, Texans, and Rockets were all good concurrently. The 2019 Astros won more regular season games than either of their World Series winning teams, though lost the '19 World Series to the Washington Nationals. The 2019 Texans won the AFC South, had a dramatic come from behind playoff win over the Bills, then led at Kansas City 24-0 in the second quarter before pulling off one of the biggest in-game collapses ever. The 2019-2020 Rockets were slipping but still good before getting blown out of the "bubble" in the second round of the playoffs.

Since then the Astros have maintained excellence while until less than two months ago the Texans and Rockets were dueling dumpster fires. In recent years the Astros could have been bad and still been vastly better than their local brethren. The winds of change are blowing. The time is coming when the Texans will have a better NFL team than the Astros have an MLB team. The same can be said of the Rockets as an NBA team relative to the Astros. With the Texans seemingly have hit the Daily Double with the DeMeco Ryans/C.J Stroud combo and the Rockets having much upgraded their talent and hired a legitimate head coach, it's possible that the Astros' stranglehold on being best of the "Big Three" in town slips sooner than later.
The Astros have no intention of seeing that happen unless it means the Texans are playing in a Super Bowl and/or the Rockets reach the NBA Finals. Despite the Astros winning only 90 games in 2023 and seeing the Texas Rangers seize the World Series title, they did come within one victory of a fifth Fall Classic appearance in seven years. Still, they obviously slipped a couple of notches from the standard set 2017-2022. A solid core remains but missing the playoffs in 2024 is a clear possibility. So how do the Astros thread the needle of staying in the championship mix presently while also building up their callow farm system to give them a bright future? And doing so without the roster becoming prohibitively expensive. Prohibitively as determined by Jim Crane. There is no salary cap in MLB, the competitive balance tax is not harsh for teams within 20 million dollars of the tax threshold, and the Astros minted money in 2023.
Can't get enough Astros coverage?

Other than the occasional off week in the offseason, Stone Cold 'Stros is the weekly Astro-centric podcast I am part of alongside Brandon Strange and Josh Jordan. On our regular schedule a first video segment goes up at 4PM Monday on the SportsMapHouston YouTube channel, with the complete audio available in podcast form at outlets such as:
The Houston Astros were in need of some serious help in the bullpen with Phil Maton, Hector Neris, and Ryne Stanek likely leaving this year in free agency.
While some fans were getting concerned about the quiet offseason, the club has made two moves this week to get the ball rolling.
First the team signed Victor Caratini to be the backup catcher, and now they have added some relief pitching.
The Astros traded pitching prospect Carlos Mateo to the Royals for RHP pitcher Dylan Coleman.
Coleman appeared in 96 games in the past three seasons for KC, including 68 games in 2022 and 23 games last season. He has a career 3.88 ERA and 1.37 WHIP. He's fastball (95 mph), slider (81) and cutter (90) and walked 57 batters and struck out 99 in 92 2/3 innings.
— Brian McTaggart (@brianmctaggart) December 6, 2023
Coleman is under club control for the next several years, and made just over $700,000 in 2022. With the Astros right up against the tax threshold, this is a good way to add to the bullpen without having to hand out a large contract.
The Royals had a tough roster decision to make with Coleman, and the Astros made the decision easy for them by making the trade.
Something to note
There's a reason Kansas City wasn't determined to protect Coleman from the Rule 5 Draft. Despite his decent numbers over the last three seasons, 2023 was a rough year for him, posting an 8.84 ERA over 23 games.
In fact, Coleman pitched more innings (30.2) for the Royals AAA team than he did for the big league club (18.1) in 2023.
Hopefully, the Astros can get him back on track this season with some help from their highly touted player development program.
You can watch some of his 2022 highlights above.
SportsMap Emails
Are Awesome