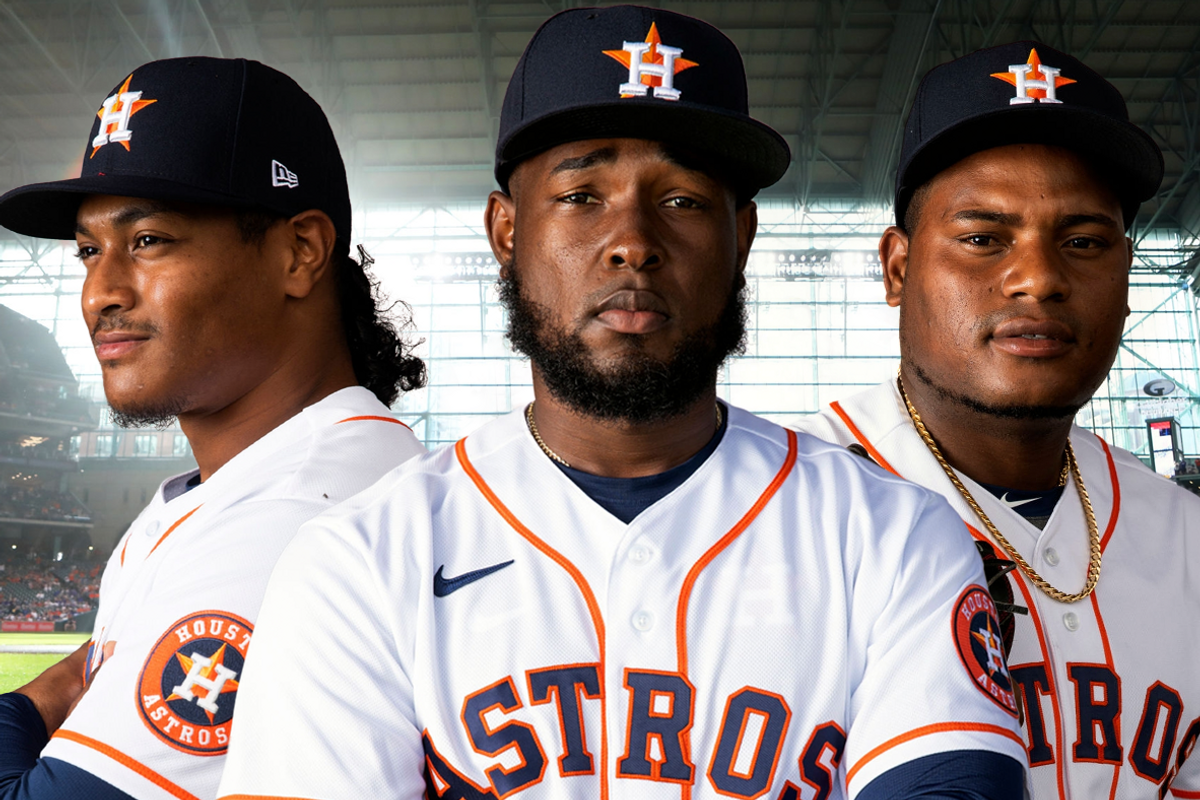 Cristian Javier has proven he's a quality starting pitcher. Composite image by Jack Brame.
The 2022 regular season is nearing its end and while for the Houston Astros the true test will begin in the postseason, now is a good time to look ahead at what the team's starting rotation could look like in 2023.
The big question will be whether long-time ace Justin Verlander returns to the team. Heading into 2022, there was doubt whether he would even be with the Astros coming off Tommy John surgery. Verlander re-signed with Houston on a two-year deal with a player option for 2023.
His production in 2022 has been nothing short of sensational. Verlander has the most wins for the Astros with a week left in the season. He has a 1.82 ERA, 0.84 WHIP and 5.2 wins above replacement. More importantly for both Verlander and the Astros, is that he has played in 26 games and counting this season.
Whether Verlander remains with the Astros will likely depend on whether Houston is willing to spend. It is highly likely Verlander opts out of his player option following the strong 2022 campaign he has put together and looks for a bigger payday. Houston has shown it is not afraid to let key players walk in the offseason, so let's take a look at a potential rotation with and without Verlander.
If the 39-year-old, who will be 40 by the time the 2023 regular season starts, stays with the Astros, he will undoubtedly be either the No. 1 or No. 2 pitcher in the rotation along with Framber Valdez, who is right behind Verlander in wins this season at 16. If Verlander leaves, Valdez should be the new Astros ace at No. 1.
Behind those two should be pitcher Lance McCullers Jr., who in seven games in 2022 has a 2.38 ERA and has cooled the concerns about his right flexor tendon strain being a long-term concern. He suffered the injury last postseason.
After those three, things begin to get interesting. Let's say Houston opts to stay with a six-man rotation. The fourth starter could be Luis Garcia, who has a 3.90 ERA in 2022. The 25-year-old has shown he is more than a capable starter for the Astros.
The big question is if Hunter Brown can lock himself a spot in the rotation. Numbers wise, he makes a solid case to be more than Houston's fifth starter as he has garnered 1.13 ERA through four appearances and two starts.
Brown's starts have been against the Texas Rangers and Detroit Tigers, so there is a bit of a caveat there, but the upside undoubtedly should put him in the conversation for a starting role in 2023.
If Verlander leaves Houston, it should be more of a guarantee that a spot in the rotation as a starter for Brown is locked. Another factor in whether Brown is a starter could be if the Astros keep Dusty Baker as manager. Baker has shown at times he is willing to side with veterans over younger talent.
Other factors in Brown's role will also be Jose Urquidy and Cristian Javier. Urquidy has a 3.88 ERA in 28 games, all of which have been starts. Javier has a 2.65 ERA in 29 appearances, 24 of which have been starts.
Javier's role for the Astros the last couple of years has involved starting and coming out of the bullpen, but this season he has shown that he is a capable starter. Based on this season's play, Javier should have the edge for a starting spot, which leaves the question, what should the Astros do with Urquidy?
If Verlander walks, and Houston opts to keep a six-man rotation, then he just slides in and becomes starter No. 6. If Verlander stays, then is he willing to accept a role out of the bullpen, or do the Astros continue to use Brown out of the bullpen? Over the course of the season, both Brown and Urquidy will undoubtedly have chances to start throughout 2023.
Because of the long grind of an MLB schedule, the Astros should not trade whoever doesn't get a starting role if Verlander stays, but how likely is it that it is even a problem for Houston? Regardless of who leaves or stays, the Astros should also continue with a six-man rotation because over the course of 162 games, it is what is best for your starters.
If the Astros bring back general manager James Click, based on how the Astros have seen players like George Springer and Carlos Correa walk in the past under his leadership, it is likely Verlander leaves Houston, but at the same time, many didn't believe he was going to be back at all for 2022.
One thing is for sure, the Astros have a great problem to have. So many starting pitcher candidates, many of whom can be under team control for several years. So even if Verlander walks, an unforeseen injury happens, or a player ends up being disgruntled, Houston has more than enough flexibility to remain among the American Leagues's best.
The Houston Astros were in need of some serious help in the bullpen with Phil Maton, Hector Neris, and Ryne Stanek likely leaving this year in free agency.
While some fans were getting concerned about the quiet offseason, the club has made two moves this week to get the ball rolling.
First the team signed Victor Caratini to be the backup catcher, and now they have added some relief pitching.
The Astros traded pitching prospect Carlos Mateo to the Royals for RHP pitcher Dylan Coleman.
Coleman appeared in 96 games in the past three seasons for KC, including 68 games in 2022 and 23 games last season. He has a career 3.88 ERA and 1.37 WHIP. He's fastball (95 mph), slider (81) and cutter (90) and walked 57 batters and struck out 99 in 92 2/3 innings.
— Brian McTaggart (@brianmctaggart) December 6, 2023
Coleman is under club control for the next several years, and made just over $700,000 in 2022. With the Astros right up against the tax threshold, this is a good way to add to the bullpen without having to hand out a large contract.
The Royals had a tough roster decision to make with Coleman, and the Astros made the decision easy for them by making the trade.
Something to note
There's a reason Kansas City wasn't determined to protect Coleman from the Rule 5 Draft. Despite his decent numbers over the last three seasons, 2023 was a rough year for him, posting an 8.84 ERA over 23 games.
In fact, Coleman pitched more innings (30.2) for the Royals AAA team than he did for the big league club (18.1) in 2023.
Hopefully, the Astros can get him back on track this season with some help from their highly touted player development program.
You can watch some of his 2022 highlights above.
SportsMap Emails
Are Awesome