5 phenomenal moments from Houston Astros World Series win
Nov 8, 2022, 1:32 pm
Lance McCullers, Jr. shares a moment with wife Kara and daughter Ava. Photo by Steven Devadanam
As the city settles into the warm afterglow of its second World Series title courtesy of the Houston Astros, we look back at some of the best moments of Game 6 on Saturday, November 5. Not surprisingly, some of the most magical memories came from the Astros we joined who also celebrated the first World Series title in 2017: José Altuve, Alex Bregman, and Lance McCullers, Jr.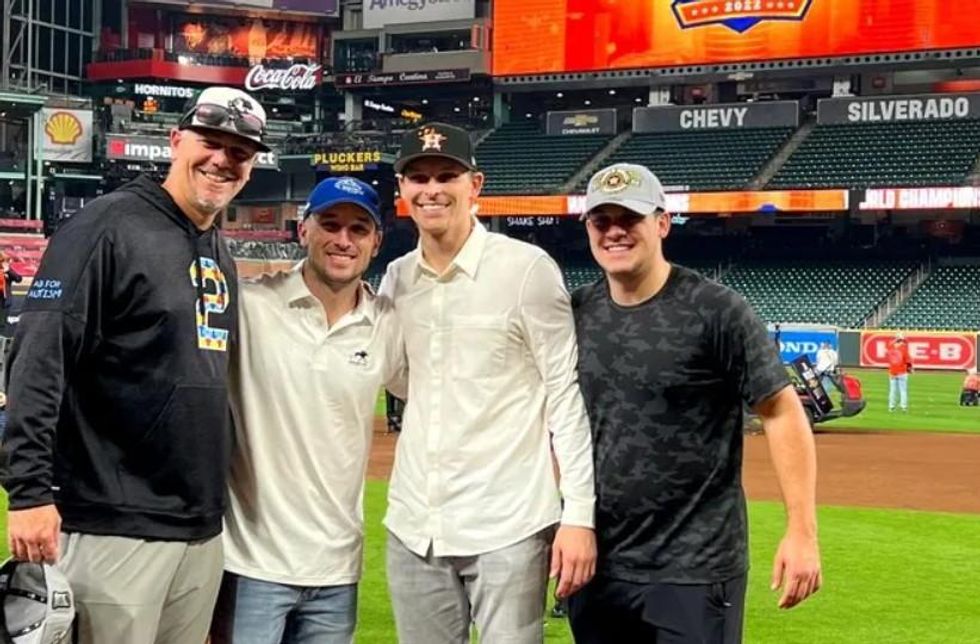 Team Bregman poses on the mound.Photo by Steven Devadanam
The Bregman Family on-field

When CultureMap reminded third baseman and fan favorite Bregman that he predicted "big things ahead in 2022" — back in January, he grinned big at the mention, especially of his son, Knox. "Man," he said as he stood on the mound after the game and posed for family photos, "we did it."
"Moments like this when we win and when things go right, it's the best thing ever to have him with us and celebrate with him," his wife Reagan Bregman said about little Knox, whom she cradled on the field. "This is the best year of our lives."
Reagan also shared the change in her husband since Knox came along. "He is just the most incredible father and it's really cool to see how motivated he is on the field and at home."
LMJ's love for his teammates

McCullers, perhaps the official team spokesman, minced no words when asked to again state the impact of the new Astros. "I don't think we're here without those new guys," he told us. "Some guys weren't even in the organization, some guys were still in college, other guys like [pitcher Hector] Neris were on other teams. They're the reason we're here."
Altuve's big grin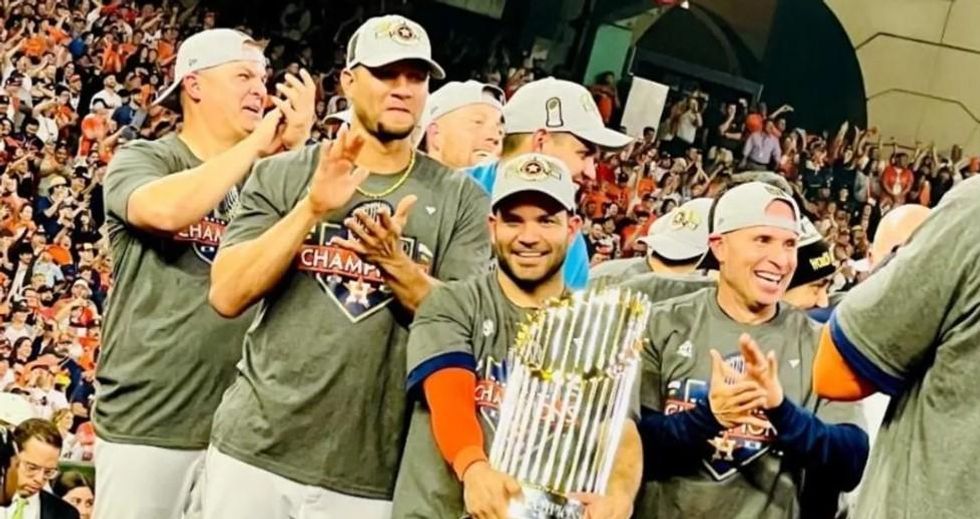 Altuve grinned big as he held the trophy.Photo by Steven Devadanam
Hoisting the Commissioner's Trophy after the win on the big stage, Altuve looked like less like an Astros legend and more like a kid with his first trophy. He knowingly smiled wide when we yelled "vamos!" at him.
Big Papi bear hugs Breggy
We followed Tyler Straub, Bregman's best friend and manager, as he watched Bregman on the Fox Sports post-game show. As Bregman stood behind the hosts, analyst and MLB legend David "Big Papi" Ortiz — who was totally rooting for the 'Stros — walked onto the set and lifted Bregman in a massive bear hug as fans cheered. The slugger-to-slugger moment was a pure, inside-baseball celebration.
Continue on CultureMap to learn about the fifth phenomenal moment.