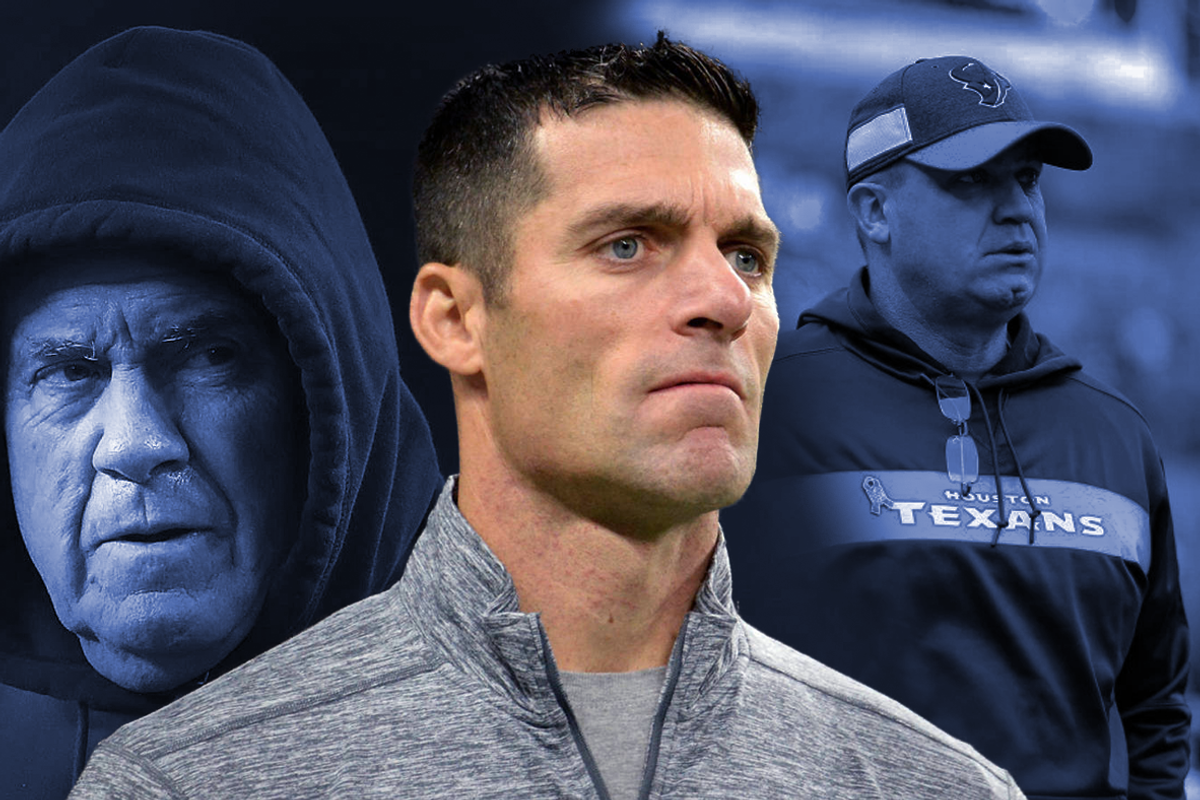 Nick Caserio had a front row seat with Bill Belichick. Composite image by Jack Brame.
When Texans general manager Nick Caserio took the job, he knew what he was up against. He knew there was an uphill battle in trying to rebuild this team into a playoff caliber team worthy of fan angst over not advancing to an AFC Championship game. The team was saddled with bad contracts, stars that wanted out, not enough talent, and a reputation for being dysfunctional. Factor all of that along with the fact that Caserio was long the apple of their collective eyes for at least two years or so, and you get why he accepted the job and got a six-year contract. I mean, the ship isn't going to steer itself straight.
Long before J.J. Watt made that video about demanding his release and well before Deshaun Watson's whole mess, there was a video of the pair leaving the field at the end of the 2020 season that foreshadowed how difficult a road Caserio would have.
Watt was recorded apologizing to Watson about wasting one of his prime years. The irony was heavy because Watt was just about past his prime while Watson was entering his. Neither would play another down for the team. Enter Caserio on his white horse from the Northeastern team the folks on Kirby worship. He was seen as their savior then. Now, he's on the clock to prove whether the hype is real, or just cap.
The Watson trade provided Caserio with enough ammo this draft and the next two that he can shoot his shot in a myriad of ways. Season that with getting the cap under control, and you have the beginnings of a decent meal. With not having a first-round pick or a winning record since 2019, the fans are starving for some real excitement. While this quarterback class lacks star power, the team is set on giving Davis Mills a shot this season at being the man. That means they'll most likely draft best player available. Next year's quarterback class is expected to be much better. They own two first rounders in that draft as well (theirs and the Browns).
Cheap labor boosts profit margins because it lowers operating costs. In NFL terms: guys producing at a high level on rookie contracts gives you more cap space to fill in the roster with vets that command higher salaries. If Caserio wants to set his legacy more towards the right Bill (Belichick, not O'Brien) in this category, he'll be off to a great start. Belichick found guys that fit his system at almost every level. From first rounders to undrafted free agents to the occasional vet free agent, he found a way to field a team that fit his coaching style. Caserio had a front row seat to it all. O'Brien seemed to tie his decisions to his feelings/emotions. Hence, why guys like DeAndre Hopkins found themselves traded for pennies on the dollar and the cupboard left bare for Caserio.
Armed with this much ammo, Caserio has to hit and hit big. It all starts with numbers three and thirteen overall in this draft. Those two guys, along with this whole rookie class, will go a long way into determining what Caserio's legacy will be. If Mills can defy the odds and become even a low-end franchise quarterback, Caserio will look even better. Nico Collins has shown promise going into his second year as well. But last year's draft class won't be held to the same standard as Caserio's first full draft class. Especially since some of these picks are the result of trading Watson. It's time for Caserio to bleep or get off the pot, as I've been told. No more excuses.
Trevor Lawrence went down with an ankle injury in a loss to the Bengals, which puts the Texans within reach. Can they overcome the injury to Tank Dell and win the AFC South?
Watch the video above to learn more!
SportsMap Emails
Are Awesome