TE Darren Fells on his return to the Texans, "It's awesome to have a home"
Apr 9, 2020, 7:00 am
Up 14-0 with 1:27 left in the first quarter, the Houston Texans stood 2nd and goal after recovering a muffed punt by Chiefs' wide receiver, Tyreek Hill. With a chance to capitalize on Kansas City's misfortune, Deshaun Watson connected with tight end Darren Fells to complete a four-yard touchdown pass.
It was Fells' eighth touchdown of the season, as the Texans took a 21-0 lead over the Chiefs. By the time Houston walked off the field at Arrowhead Stadium, the Chiefs mounted a 51-31 comeback victory to advance to the AFC Championship Game.
"We let one get away," Fells told Houston SportsMap. "It was a lot of shock at the beginning, as we did not expect the game to go the way it did in the first quarter. The biggest thing was we lost focus too soon, and it is extremely tough to play against a team like Kansas City when you let them score too many points so fast. It is one of the most heartbreaking ways to end your season, but I know for sure we will be more hungry this upcoming year."
The Texans postseason elimination marked a bitter end to a career year for Fells. In 2019, he started 14 out of a possible 16 games played and finished the season with 34 receptions for 341 yards. With a career-high seven touchdowns, Fells set a franchise record for the most end-zone receptions by a tight end and finished the year ranked third in the league at his position.
For the first time since his departure from the Cardinals in 2017, the 33-year-old California native is entering a season with a sense of stability. Fells played for two different organizations (Lions and Browns) before he arrived in Houston during the spring of 2019. He exceeded expectations on a one-year contract, which led to the Texans' decision to retain his services on a two-year deal worth $7 million.
"It meant a lot to me and my family," he said. "We love Houston and the Texans. They were like a family to us, and being able to come back to our family in a sense is awesome. Talking with [Bill] O'Brien and how excited they are to have me back, it's just awesome being able to come back and have a home."
The #Texans have signed K Ka'imi Fairbairn and TE Darren Fells to contract extensions. 📰 » https://t.co/6F6GUJKggp https://t.co/y91PAhChr3

— Houston Texans (@Houston Texans) 1583873629.0
Under the stewardship of O'Brien, the former pro basketball player flourished during his first season in Houston. Unlike his previous two stops, the Texans game-plan to utilize Fells on the field allowed him to showcase his full potential as a versatile tight end, and one who could contribute beyond his blocking.

"The Texans wanted to use me differently than the other teams," Fells said. "Every other team I've been on I was a blocking tight end, and that was first and foremost. Houston felt I could help them out in different ways, and during OTAs and training camp, they saw me more as a complete tight end versus just a blocker. I always felt I had all the aspects of a tight end, and this was the first time a team wanted to utilize that part of my game."
The biggest beneficiary from Fells' game play was that of Watson. An on-field relationship based on trust, Fells provided Watson with a reliable target each week — most notably due to their connection in the red zone. On a Sunday afternoon inside NRG Stadium in Houston, the Watson to Fells tandem was on full display during the Texans' 27-24 victory against the then-Oakland Raiders.
Down by four midway through the fourth quarter, Watson threw a nine-yard touchdown pass to Fells as the Texans took their first lead of the game. It was the second time the duo connected in the end zone, as two of Watson's three touchdown passes came from Fells — who ended the day with six catches for 58 yards on six targets.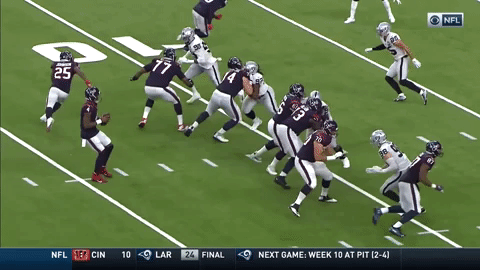 Deshaun Watson's TD pass to Darren Fells media.giphy.com
"That play is the definition of who Deshaun Watson is," he said. "With his skill sets, he is one of those guys where the play is never over, and he can make things happen out of nothing. And his knowledge of the game is amazing as well. For him to get kicked in the eye and still manage to throw that touchdown pass — it shows what kind of player and person he is."
The chemistry and familiarity built with Fells is one Watson may rely heavily on to start the 2020 season. The Texans made some drastic changes to their roster this offseason, including parting ways with their All-Pro receiver, DeAndre Hopkins. With Hopkins delt to the Cardinals, the trade will reunite Fells with his former teammate — running back David Johnson (2014-2017).
"I am extremely excited to be back with my former Cardinal teammate [Johnson]," Fells said. "He's an extremely dynamic running back who can do a little bit of it all. If you look back at his highlights on what he has done in the past, when he is out there healthy and feeling good, he is an extremely dominant running back."
As Fells tries to build off the success of a career season, he is met with the same challenges and hurdles millions of Americans are facing in their day-to-day lives due to the on-going pandemic of COVID-19.
Residing in Arizona at the moment, the closing of gyms and facilities across the state has hindered Fells' capability to train for the upcoming season. While trying to prepare for the 2020 season, the uncertainties surrounding the NFL are far from his daily concerns as a husband and a father.
"My biggest worry right now isn't the season," Fells said. "My biggest concern right now is my family and making sure everyone is okay. If the season is cut in half by any chance, I know my teammates and I will make the best of it."