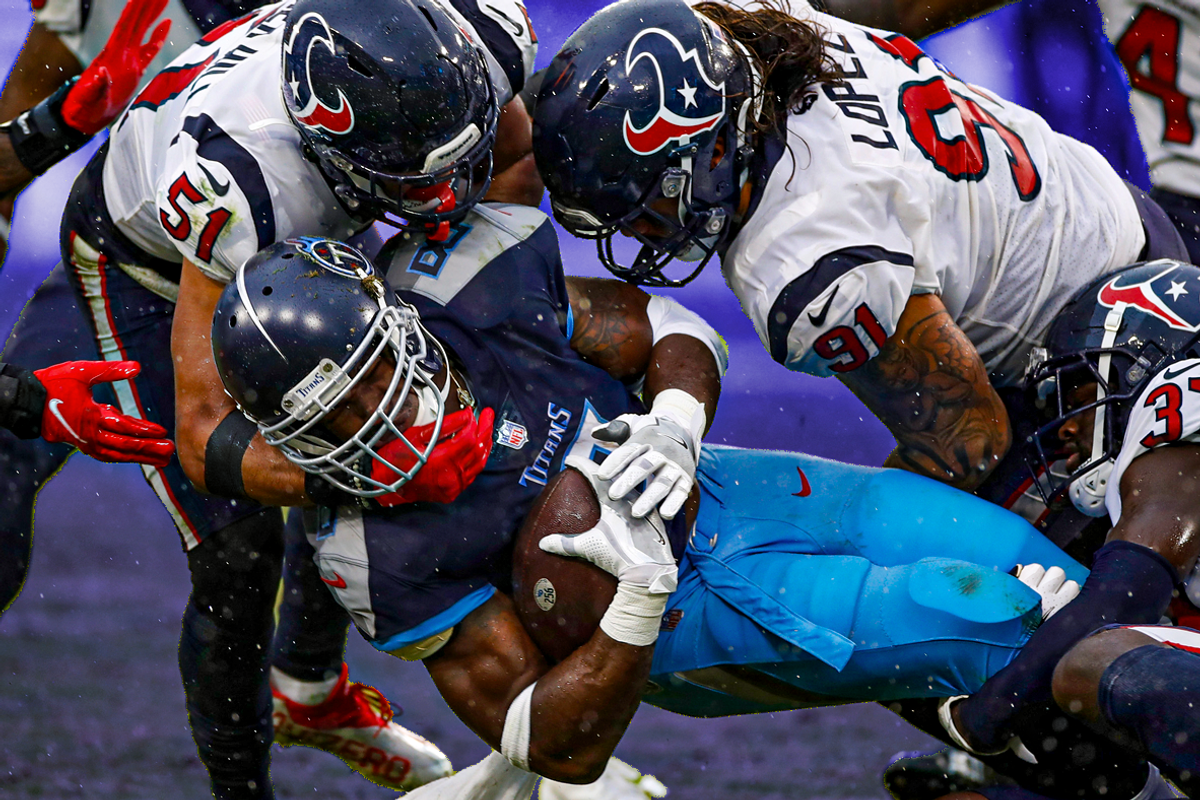 Free agency could prove to be tricky for Houston. Composite image by Brandon Strange.
Houston Texans new head coach Lovie Smith held court Wednesday at the NFL combine in Indianapolis.
Smith said, "If I'm a defensive lineman, I would like to come to a place like the Houston Texans. We start up front. Again, it's about, as I said, about the defensive line. We kind of read on the run, athletes getting up the field, making sacks and things like that. I think it's a defensive line friendly system."
To his credit, Smith punctuated his prayer with "if" and "would" and "kind of" and "I think."
This year's top free agent defensive linemen and pass rushers are Chandler Jones, Von Miller, Jadeveon Clowney, Randy Gregory, Harold Landry, Haasan Reddick and Emmanuel Ogbah.
"If" Smith believes they're coming to Houston, I "would" doubt it, and "I think" he's "kind of" dreaming.
Lovie Smith isn't just drinking the Texans' Kool-Aid, he's chugging the whole pitcher. (Fun fact: the record for guzzling a 2-liter bottle of a soft drink is 18.5 seconds, held by Eric "Badlands" Booker. The mass consumption record belongs to late pro wrestler Andre the Giant, who emptied 119 bottles of beer over six hours.)
Star NFL free agents sign with new teams for several reasons. No. 1, of course, is a chance to play for a contender and possibly win a Super Bowl.
The Texans were 4-13 last season and 4-12 in 2020. Vegas sports books have the Texans at plus-20,000 to win next year's Super Bowl, tied with the New York Jets at the longest odds on the board. Vegas thinks the Jacksonville Jaguars and Detroit Lions have a better shot of winning the Super Bowl.
Star free agents may want to play for a heritage NFL team with a history of winning.
In 20 years, the Texans have never won a Super Bowl. They've never even played in an AFC title game.
Or they want to play for a team with a solid owner who's respected by local fans and a proven front office with a track record of success.
Texans fans hate the owner, think he's a hillbilly dunce 10 IQ points below Jethro Bodine. Fans want the owner's Grand Wizard Jack Easterby run out of town. And the general manager Nick Caserio's explanation of how the Texans wound up hiring Lovie Smith is, well …
Or they want to play in a football-rabid market with adoring fans who pack the stadium, who bequeath season tickets to their next of kin and players can make lots of money in endorsements.
Houston Texans fans are not happy with their team. The stadium is half-empty, security confiscates fans' signs imploring the owner to sell the team. As far as endorsements, Texans players can't land a supermarket gig these days. Can you even name the star of the team?
Stars want to play with a generational quarterback who singlehandedly makes a team an instant contender, like Rob Gronkowski followed Tom Brady to Tampa and wound up catching two touchdowns in the Super Bowl.
The Texans don't know who their quarterback will be next year. Could be second year Davis Mills, could be a free agent pickup.
Free agents are lured to Houston because Texas doesn't have a state income tax.
This has to stop. It's not true. A Texans fan could count all the star free agents who've signed with Houston on one hand and still have a finger left to tell the owner where to go. Last year, the Texans signed the following free agents: Tyrod Taylor Justin Britt, Donte Moncrief, Vernon Hargreaves, Cameron Johnston, Christian Kirksey, Mark Ingram, Phillip Lindsay, Kevin Pierre-Louis, Desmond King, Andre Roberts, Kamu Grugier-Hill, Maliek Collins, Terrence Brooks, Joe Thomas, Justin McCray.
You got any of them on your fantasy team?
The Houston Astros and catcher Victor Caratini agreed Tuesday to a $12 million, two-year contract, a person familiar with the deal told The Associated Press.
The person spoke on condition of anonymity because the agreement was subject to a successful physical and had not been announced. Caratini can earn additional performance bonuses.
The 30-year-old Caratini spent the last two seasons with the Milwaukee Brewers and hit .259 with seven homers and 25 RBIs in 62 games this year as a backup to William Contreras.
Caratini is a .236 career hitter with 38 homers and 171 RBIs in seven major league seasons with the Chicago Cubs (2017-20), San Diego (2021) and Milwaukee (2022-23).
Yainer Díaz is expected to the Astros' starting catcher next year, and the agreement with Caratini could mean Houston won't re-sign Martín Maldonado. The 37-year-old has been with the Astros since 2019.
"I've been talking to Yainer once a week," new manager Joe Espada said Monday. "We're going to do some things in January leading into spring training to prep him for spring training. I don't want us to get to spring training and start from scratch. So this is going to be starting right now having conversations about our staff, how to attack certain lineups, things that we know that we can help him with, receiving, throwing."
Based on the value of the contract, it looks like the Astros will be going over the CBT. Which means more deals could be coming, in theory.
Astros will definitely be going over the CBT with a $6M AAV for Caratini. Since that's the case, time to get Jordan Hicks https://t.co/AYBgMexACl
— Michael Schwab (@michaelschwab13) December 6, 2023
Here's a look at his ability to frame pitches.
Victor Caratini was ranked 8th in MLB in "Catcher Framing Runs" in 2023.

CFR is a framing stat that converts strikes to runs saved.

Caratini's arm isn't the strongest though. pic.twitter.com/YD7bYespPv
— Michael Schwab (@michaelschwab13) December 6, 2023
SportsMap Emails
Are Awesome