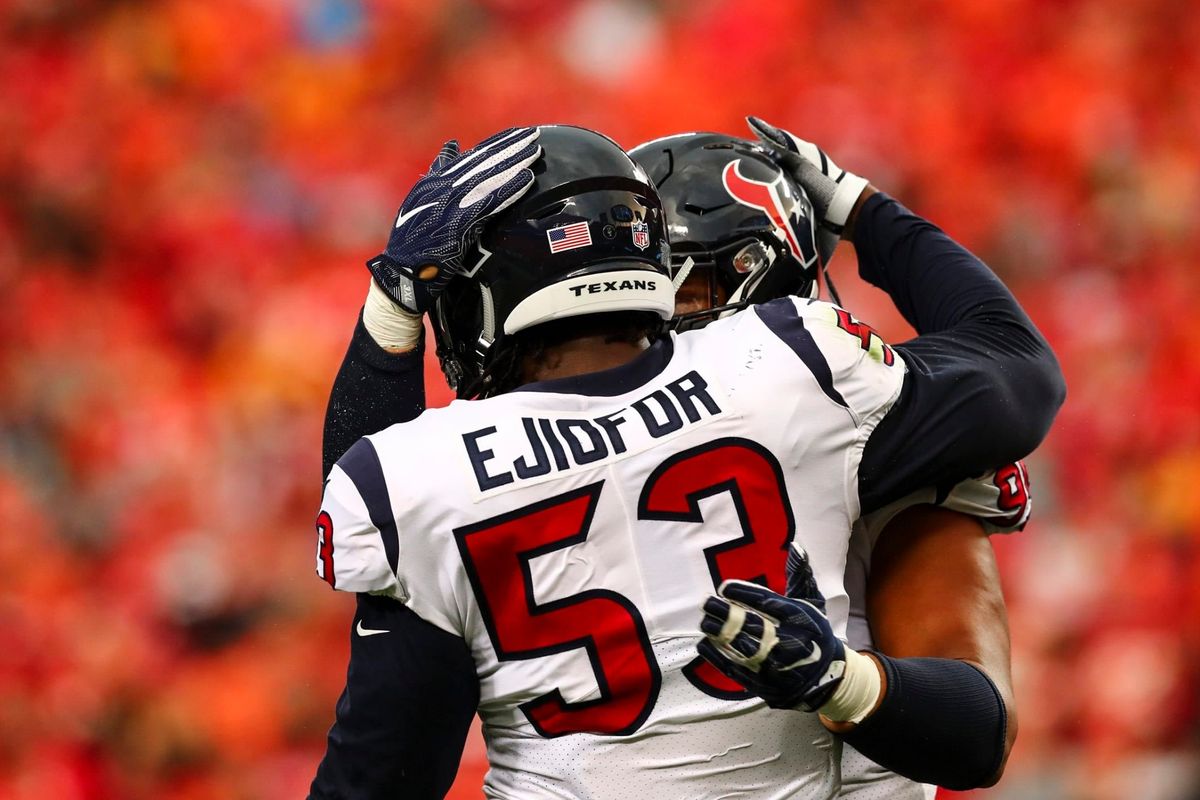 Photo by Zach Tarrant/Houstontexans.com
The Houston Texans announced late Friday afternoon that OLB Duke Ejiofor sustained an ACL injury during the first day of padded practice — originally reported by Aaron Wilson of the Houston Chronicle. With no timetable on his return, Texans' head coach Bill O'Brien expects a long rehab process for the 25-year-old Houston native.
"Duke Ejiofor suffered a knee injury in practice," head coach Bill O'Brien said Saturday morning. "Duke has been through a lot...It's a tough blow for him, and it's going to be a long rehab for him. We'll place him on IR in the next couple of days."
In 2018, the Texans selected Ejiofor in the sixth-round of the 2018 NFL Draft. During the 12 games he played as a rookie, Ejiofor showed promise recording nine tackles, a sack, two pass breakups and a fumble recovery in 158 defensive snaps and 56 on special teams. He suffered a torn Achilles' tendon last training camp and missed all of the 2019 season.
Bill O'Brien confirmed that OLB Duke Ejiofor did tear his ACL during yesterday's practice. #Texans

— Coty Davis (@Coty Davis) 1597499208.0
With Ejiofor out, O'Brien says he expects to increase the role of Jacob Martin to help fill in the void. Acquired in a trade from the Seattle Seahawks in exchange for Jadeveon Clowney, Martin recorded 11 tackles (six solo hits), seven quarterback hits and 3.5 sacks in 221 defensive snaps in 2019.

"He brings a lot of energy to practice," O'Brien said. "Really quick first step in pass rush game. Gotten better at understanding our system. Body type that helps us on special teams. Great guy, really good pro, brings a lot of juice to our defense."
In addition to Martin, the Texans will rely on rookie Jonathan Greenard and third-year linebacker Peter Kalambayi to step in for the injured Ejiofor.
The Houston Astros were in need of some serious help in the bullpen with Phil Maton, Hector Neris, and Ryne Stanek likely leaving this year in free agency.
While some fans were getting concerned about the quiet offseason, the club has made two moves this week to get the ball rolling.
First the team signed Victor Caratini to be the backup catcher, and now they have added some relief pitching.
The Astros traded pitching prospect Carlos Mateo to the Royals for RHP pitcher Dylan Coleman.
Coleman appeared in 96 games in the past three seasons for KC, including 68 games in 2022 and 23 games last season. He has a career 3.88 ERA and 1.37 WHIP. He's fastball (95 mph), slider (81) and cutter (90) and walked 57 batters and struck out 99 in 92 2/3 innings.
— Brian McTaggart (@brianmctaggart) December 6, 2023
Coleman is under club control for the next several years, and made just over $700,000 in 2022. With the Astros right up against the tax threshold, this is a good way to add to the bullpen without having to hand out a large contract.
The Royals had a tough roster decision to make with Coleman, and the Astros made the decision easy for them by making the trade.
Something to note
There's a reason Kansas City wasn't determined to protect Coleman from the Rule 5 Draft. Despite his decent numbers over the last three seasons, 2023 was a rough year for him, posting an 8.84 ERA over 23 games.
In fact, Coleman pitched more innings (30.2) for the Royals AAA team than he did for the big league club (18.1) in 2023.
Hopefully, the Astros can get him back on track this season with some help from their highly touted player development program.
You can watch some of his 2022 highlights above.
SportsMap Emails
Are Awesome