How a simple adjustment will allow the Texans to get the most out of Will Fuller
Aug 21, 2020, 10:06 am
Composite image by Jack Brame.
Will Fuller's health has become an intricate concern for the Houston Texans. Over the past three seasons, a plethora of injuries has forced Houston's former first-round pick (2016) to miss 20 out of a possible 48 games. Albeit an ACL tear in 2018 makes up 45 percent of his absence, a series of hamstring issues are ascribable for the latter.
Fuller endured his first hamstring injury in 2018, and it sidelined him for one game. A year later, that same injury caused Fuller to miss four games during the 2019 season.
The Texans' success in 2020 will weigh heavily on Fuller's durability — unlike in prior years. He is entering a season where his role will increase — most likely to Houston's No. 1 receiver — in the aftermath of DeAndre Hopkins' jettisoning.
In a Zoom video conference, Fuller declared to Houston media that his primary goal in 2020 is to play all 16 regular-season games. In hindsight, it's a reasonable ambition to achieve. And new offensive coordinator Tim Kelly could help Fuller accomplish this goal by reducing the number of go-routes to help his hamstring sustain the wear and tear of a full season.
"As far as my health, I'm feeling good," Fuller said. "The surgery I had at the beginning of the offseason, it's not bothering me anymore at all. If I can play 16 games, which I believe I will this year, the sky is the limit. I say the same thing all the time, when I'm out there, I just try to do my best to help the team win and wherever that lands me, stat wise or whatever, at the end of the season, we'll see when we get there."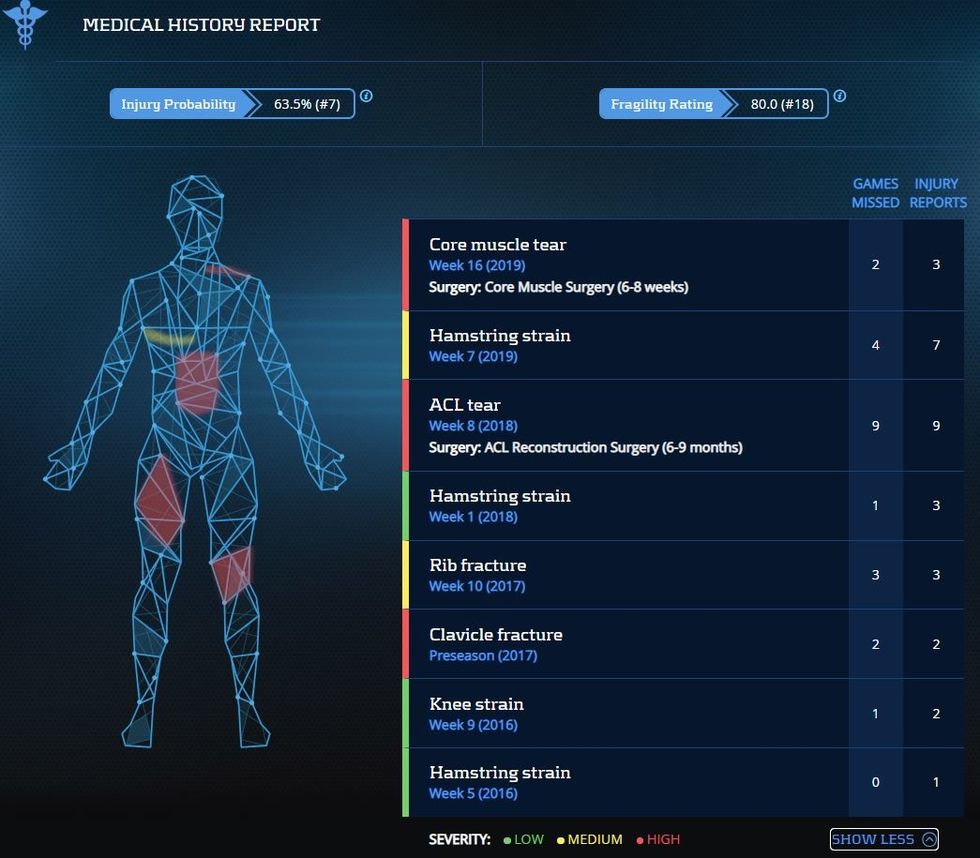 Will Fuller's Injury HistoryVia PlayerProfiler.com
Fuller's best on-field attribute has always been his ability to get down the field due to his speed, and has established himself as one of the NFL's best deep threat receivers. Last season, 32 percent of Fuller's targets came on a deep route — placing him in the 19th percentile in 2019. Although this has become his bread-and-butter, Fuller's major strength could be the underlying principle to the hamstring issues he has suffered over the past two seasons.
According to the National Health Service, a hamstring injury often occurs when the muscle is stretched beyond its limit — normally during a sudden sprint. An overextension of the tissue could be what Fuller's hamstring endures each time he explodes off the line of scrimmage in a full sprint. If the Texans were to call more intermediate routes, the adjustment could be beneficial to Fuller's health. Instead of the sudden burst, shorter routes would give Fuller's hamstring an adequate amount of time to ramp up on the run.
The 6-foot-0 prodigy from Notre Dame is not a one-dimensional receiver, and his finest attribute could be just as valuable.
In the video clip above, Deshaun Watson connected with Fuller for a short left pass to obtain the first-down on 3rd-and-1. What could have ended in a little over a two-yard gain concluded with a 34-yard reception. Fuller's quick stutter-step and explosive speed in the opening field sent him right past Dolphins' defensive backs, Bobby McCain and Raekwon McMillan as he cut towards the outside.
This time around, Fuller is coming out of the slot. And this is something the Texans may experiment with more often next season — given the similar skill sets among their core of receivers. Fuller proceeds to run a five-yard flat to make the completion from Watson on 2nd-and-8. Again, what could have been a short gain concluded as a 15-yard reception due to his speed.
"I think Will runs the whole route tree," Texans head coach and general manager Bill O'Brien said. "I know he is known for the deep shots because he is really good [at] those, and he has had connections with Deshaun over the years. But he is a really good route runner. We use him in a lot of different ways, and we will continue to do that."
As a career 60.5% pass-catcher, shortening Fuller's routes can also help him become a more efficient receiver as the incumbent to Hopkins.
Intermediate routes have been one of the most vital contributors in helping Saints' All-Pro wideout Michael Thomas unlock his full potential. In 2019, Thomas only attempted nine go-routes but completed 80.5% of his targets on the season — 78.1% for his career. Of course, Fuller may not ever reach the highs of Thomas. But it's a great example that demonstrates how intermediate routes can make a receiver a more efficient pass-catcher.
Fuller recorded 49 catches for 670 yards and three touchdowns in 11 games for Houston last season. With the offseason acquisition of Brandin Cooks — arguably the league's most reliable deep threat receiver — the Texans no longer need Fuller to stretch the field on a daily basis.
For the first time in his career, there are high expectations set for Fuller as he enters the final year of his contract. And the health of his hamstring will determine if Fuller can live up to the promise. However, despite the concerns, Watson remains confident that 2020 will be the year Fuller establishes himself as one of the NFL's best receivers.
"Will's going to ball out," Watson said. "Will's going to be one of the best receivers in the league. He came back a lot stronger, a lot faster. Will's really good, very confident in himself and what he did over the offseason. I'm very confident in what he can do. We all are as an organization and as a team. There's no doubt that Will can take that role and do great things with it."